Intro
Discover my detailed review on the Phoenix Facial Oil from the "clean beauty" American skincare brand, Herbivore.
My first experience with the brand Herbivore wasn't a success, as you may remember. However, not being one to give up and surrender, I still wanted to try one of their most popular products, Herbivore Phoenix Facial Oil.
Herbivore made a name for itself with its luxurious facial oils. In the beginning, in 2011, they were the only products in the range!

I already mentioned it in a previous article, I don't really agree with way the brand communicates.

As you know, brands claiming "non-toxic" products are not really my cup of tea (I explain this in more detail in the article I just linked to).

But a few months ago, I decided to give Herbivore a chance, because I was hearing a lot of good things about their products, so I took advantage of the Black Friday discounts to order several products on their website.

And, I'm the first surprised, I must say that Herbivore Phoenix Facial Oil didn't leave me at all the same impression as Herbivore's Pink Cloud moisturizer (you'll see my review just below if you want to know more about this disaster).

On the contrary, I was even frankly pleased with this Phoenix oil!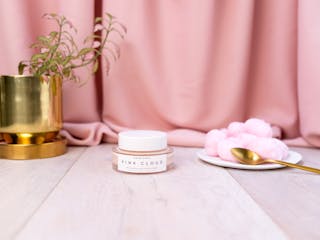 Skincare
Review: Herbivore Botanicals Pink Cloud Rosewater Moisture Creme
This review of the Herbivore Botanicals Pink Cloud Rosewater Moisture Creme moisturizer wasn't easy to write, to say the least…
Read more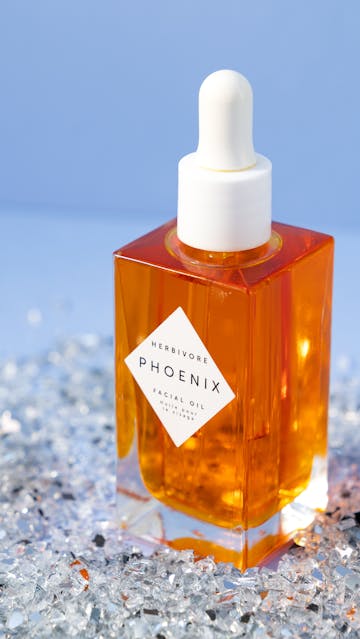 My review:
I won't go into more detail on the history of Herbivore, I already mentioned it in my last review.
If there is one product I like to buy from the so-called "clean beauty" brands, it's facial oil! I find them the most pleasant to use, the most luxurious also, and their ingredients list is usually quite great.
The Phoenix Facial Oil is no exception to the rule and is probably one of the most pleasant oils I've ever used!
In recent years, I started to regularly use an oil in my skincare routine (whether it's morning or evening).
I have a combination skin, but with air conditioning all year round (mandatory here in Dubai!), it gets completely dehydrated. Using an oil (or a mixture of oils) allows me to maintain its hydration a little better. In any case, more than if I just applied a moisturizer (I saw a real difference in the comfort of my skin, which now lasts all day).
And depending on the finesse of the one I use, it doesn't make me look shinier than usual. I'm careful to use natural oils that are compatible with my skin type, so they're rather lightweight in texture, and everything goes fine!
Herbivore Phoenix Facial Oil is perfect for my combination dehydrated skin type. The carrier here is jojoba oil, which is very fine and similar to the sebum naturally contained in the skin, so the skin tolerates and therefore absorbs it very easily.
It also contains other precious natural oils such as rosehip, sea buckthorn, chia seeds, meadowfoam, which are also very light in texture. This mix is, therefore, one of the finest I've used in this format. In a few seconds, my skin absorbs it completely.
I appreciate the fact that they also contain antioxidant ingredients, such as the famous coenzyme Q10 in particular! The natural oils I mentioned above are also naturally antioxidant for the most part, so the whole mix is a great shield against environmental aggressions!
I chose rather to apply it under my day cream because I really want to favour a more in-depth absorption, which is less guaranteed with a moisturizing cream that acts as a barrier underneath (I know that many people prefer to do the opposite, but with an oil so fine in texture, it makes much more sense to me to use it a little as I would with a serum, so under my day cream).
I've been using it for more than two months now and I must say that I'm very pleased with it! I particularly appreciate its texture, especially in this season, and I must add that the fragrance is also very pleasant (it smells like rose and neroli, but in a very subtle way).
Regarding the results, it's done a good job of preventing dehydration, IMO. My skin remains comfortable all day long.
For its antioxidant and anti-aging action, it's always complicated to judge in a few months, knowing that this kind of ingredient works on the very long term. But I've been an antioxidant enthusiast for years, so I'm a believer 😉
Like the other products in the Herbivore range, the Phoenix oil doesn't contain preservatives, but here, unlike their Pink Cloud cream, it doesn't matter as much because the oils don't risk contamination like water-based products. The brand recommends using it within 1 year after opening it, which shouldn't be a problem for me!
The only thing that bothers me about this product, which I like as a whole, is its price: $88 for 50ml is not cheap!
I find the price quite high for a mixture of natural oils. OK, the quality is probably excellent and it's true that the texture is really good too, you can definitely feel they put a lot of work in it. But hey, I'm still glad I waited for a promotion to buy it! 😉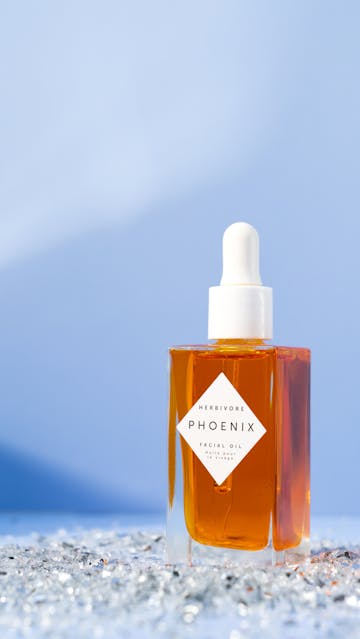 In conclusion:
Herbivore Phoenix Facial Oil is a very pleasant face oil, I can't deny it. A very pretty bottle, a product with a fine and silky texture, as well as a delicate natural scent… It's definitely a great experience!
It's a great touch of luxury that I enjoy using every morning!
The brand has two other face oils in its range (I will talk about Lapis in a future review) and they also have sets with travel sizes that are great if you want to test them first before "investing" in the larger format 😉
The Herbivore Phoenix Facial Oil retails for $88 for 50ml (it also exists in a travel size format/ 8ml).
Product Review in detail
Summary
Herbivore Phoenix Facial Oil
"Like a Phoenix being reborn from the ashes, renew your skin with a blend of luxe botanical oils and CoQ10. Phoenix Facial Oil dramatically re-hydrates and revitalizes dry skin or any skin in need of replenishment and deep renewal."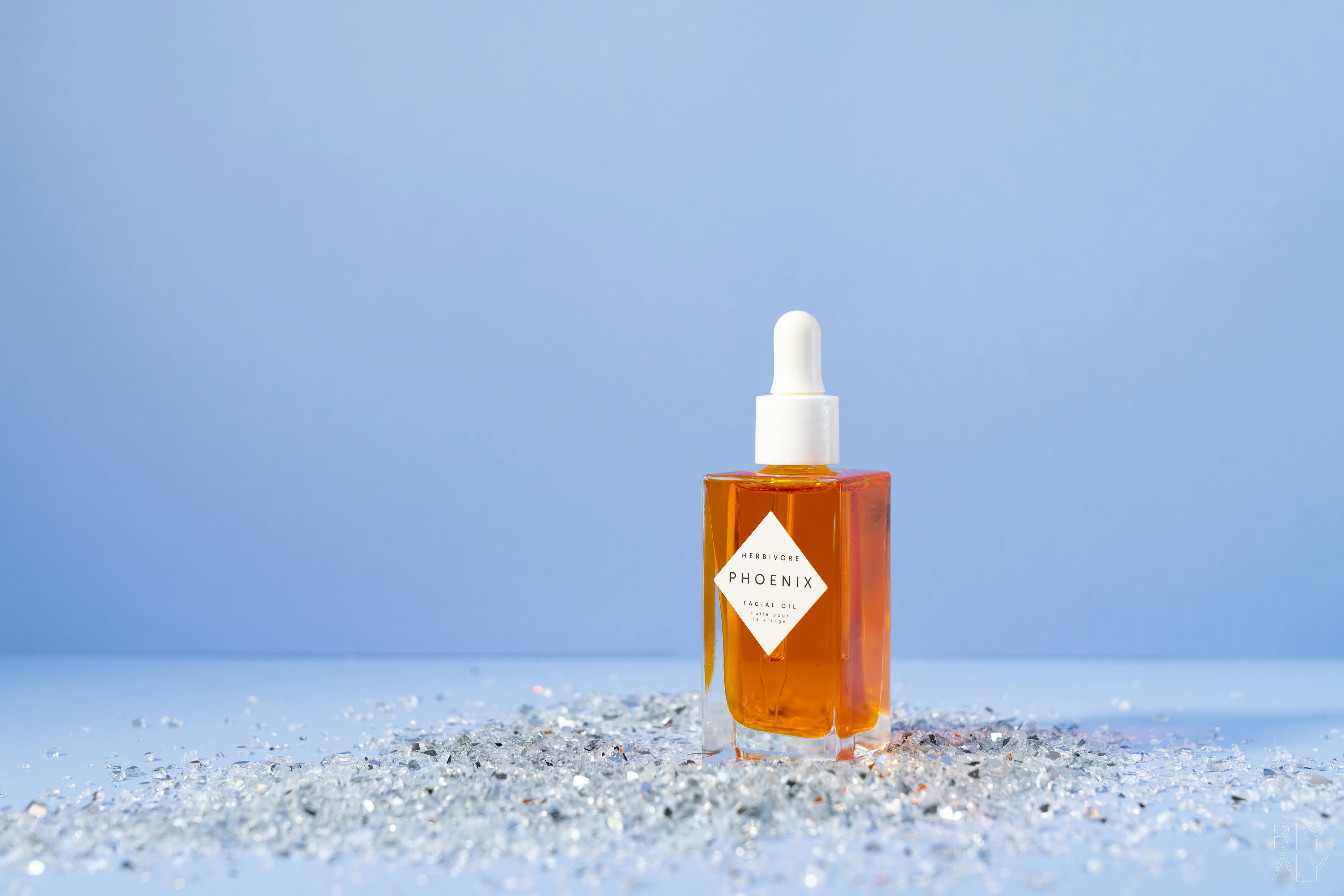 Recommendation
A-
A good product, quite expensive though.
Pros
- the packaging is so pretty (and very Instagram-friendly ;) ),
- it has a beautiful formula, simple and with only noble ingredients,
- it has a very pleasant scent,
- its ultra-fine texture, which penetrates very quickly into my skin,
- it's perfect to retain moisture, without leaving the skin greasy,
- it leaves my skin comfortable, for a long time,
- its anti-oxidant properties, perfect to protect the skin from environmental factors.
Cons
- it is frankly expensive to buy, even if it lasts quite long with its 50ml size (that being said, it also exists in a small 8ml format, if you want to try it before maybe buying the big one).
product name
Phoenix Facial Oil
packaging
A very luxurious glass bottle, with a pipette to dispense the product.
fragrance
A subtle aromatic scent, very pleasant.
texture
A very fine and lightweight oil, which leaves the skin comfortable.
For Who
– dehydrated skin,
– all skin types,
– all ages.
Concerns
– dehydrated skin,
– lack of radiance,
– those who want to protect their skin from environmental aggressions,
– wrinkles, fine lines.
Method
You can use the Phoenix Facial Oil morning and evening but I apply it in the morning for its antioxidant effect.
After applying my serum(s), I use 3 to 5 drops of oil and massage my face and neck with it for about 1 minute. Once it's absorbed, I apply my day cream on top.
Key Ingredients
In the Phoenix Facial Oil, we find in particular:
– Jojoba oil, naturally close to the sebum found on the skin. This oil is very effective to protect and nourish the skin without greasing it.
– Rosehip oil naturally rich in omega 3, 6 and 9 fatty acids to repair the skin. It also contains trans-retinoic acid, a natural form of vitamin A, which helps to even out the complexion and restore radiance.
– Sea Buckthorn oil, a natural source of beta-carotene and omega 7. It prevents dehydration and is antioxidant.
– Chia seed oil, a natural source of alpha lipoic acid to improve the skin's natural radiance. It's also anti-oxidant and restorative.
– Meadowfoam oil, which repairs and prevents skin dehydration.
– Coenzyme Q10 (Ubiquinone), a powerful antioxidant.
Ingredients
Simmondsia Chinensis (Jojoba) Seed Oil, Rosa Canina (Rosehip) Seed Oil, Limnanthes Alba (Meadowfoam) Seed Oil, Salvia Hispanica (Chia) Seed Oil, CoQ10, Hippophae Rhamnoides L (Sea Buckthorn) Oil, Tocopherol (Vitamin E), Rosa Damanscena (Moroccan Rose) Absolute, Citrus Aurantium (Neroli) Essential Oil.
Ingredients not included
– mineral oil,
– synthetic fragrance,
– dyes,
– silicones,
– according to the brand: without additives, "harmful" chemicals or preservatives (you know my stance on this topic).