Intro
Disclosure:
We, or the author, purchased this item.
We may receive commission (from a sale) if you click on and purchase from affiliate link(s) below. You'll be helping to support the magazine.
My test and thoughts on the Honey Halo nourishing moisturizer with honey and ceramides from the American skincare brand Farmacy.
I don't know about you, but for me, the sensorial aspect is very important when it comes to choosing a night moisturizer! Obviously, if it's effective, that's all that should matter, granted. But if I can find one that does the job AND is pleasant to use, I don't want to miss out! Well I found one that ticks all the boxes: the Farmacy Honey Halo moisturizer. Let me introduce it to you!
I'm not really new to Farmacy, I already had the opportunity to try the Farmacy Honey Drop, a light moisturizing cream with echinacea honey, which I loved to use as a day moisturizer three years ago!
And it's precisely because of this first positive experience that I wanted to try their latest release, the Honey Halo repairing balm-cream, which I thought had a more appropriate texture for night time use!
A quick reminder about Farmacy:
The brand's products primarily focus around a flower, Echinacea GreenEnvy, which was first discovered in the wild in upstate New York.
This plant, patented and exclusive to Farmacy, contains 300% more natural antioxidants in its roots than regular Echinacea. So the brand uses it in all its products in various forms, including honey grown from this Echinacea GreenEnvy, as is the case in the Honey Halo moisturizer.
Farmacy is a "green" but above all an ethical brand. They work with local farmers to ensure better quality ingredients, grown in an environmentally friendly way. They notably have partnerships with two organic farms: Willow Wisp Organic Farm in Pennsylvania and Patent Wall Organic Farm in the Catskills, both grow the echinacea flowers used in Farmacy products.
Having a "clean" requirement in the formulation of their products, they also avoid using certain ingredients in their formulas (for example, silicones, parabens, formaldehyde, synthetic perfume, dyes, phatlates, mineral oils, SLS/SLES, TEA, DEA, DEA, MEA, GMOS…).
You probably know (well, I hope you know by now!) that I don't really care if a cosmetic is "clean" or not. I'm more interested in what a product contains than what it doesn't 🙂
And clearly, the formula of this Honey Halo moisturizer made me very curious about it… Let me tell you more!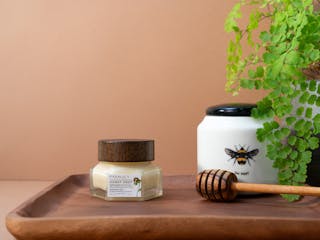 Skincare
Mini-review: Farmacy Honey Drop Lightweight Moisturizer
A moisturizing cream with a yummy texture, perfect for the season and that doesn't cost an arm and a leg, seems quite tempting, doesn't it? Let me introduce you in more detail to Honey Drop, a lightweight moisturizer echinacea honey from the American "green" brand  Farmacy!
Read more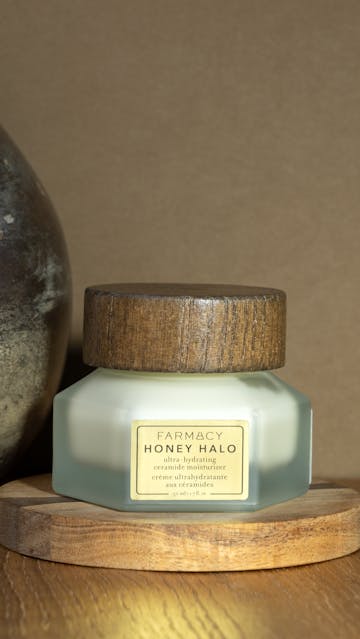 Farmacy Honey Halo moisturizer, product presentation:
I spotted the Honey Halo moisturizer when it first launched last Fall on the Sephora US website.
I just read "honey" and "ceramides" and poof, it was in my cart! I'm kidding (although it's true that these two ingredients are among my favorite!), I still looked at the rest of the formula and read some reviews to give me an idea of its texture etc..
But I must admit that the list of ingredients alone could have convinced me! Judge for yourself:
– some moisturizing and repairing honey, propolis, royal jelly,
– lots of ceramides to restore a healthy skin barrier,
– some nourishing Shea butter,
– hydrating glycerin, betaine and sugars,
– and soothing ingredients like panthenol, and bisabolol…
All this in a delicious creamy balm texture that melts when you apply it on the skin and a super yummy honey smell: you want to eat it!
Farmacy Honey Halo moisturizer, my experience:
I ordered this Honey Halo cream at the end of Fall, and started using it mid-December (I'm finishing it now). With my drier skin these days due to tretinoin and the dry climate of winter in Dubai, it seemed ideal!
I was a little worried that the texture would be too rich for me, but not at all! It's buttery soft and melts beautifully on the skin, but it also has the ability to be absorbed very easily into the skin.
For me and my dry skin, I find it better as a night moisturizer, but I can see someone with a drier skin than mine using it morning and night without any trouble and without any greasy feeling!
But I love it as a night cream: its texture, its honey scent, its nourishing and repairing properties that I can feel on my skin when I wake up in the morning… It's the perfect cuddling evening moisturizer!
However, unfortunately, it's still a bit difficult to find if you live in Europe. I thought that the brand would have launched this product with their European retailers by the time I write this post but apparently, they're taking their time!
You can still order it from an American website that ships internationally, the link is at the end of the article 😉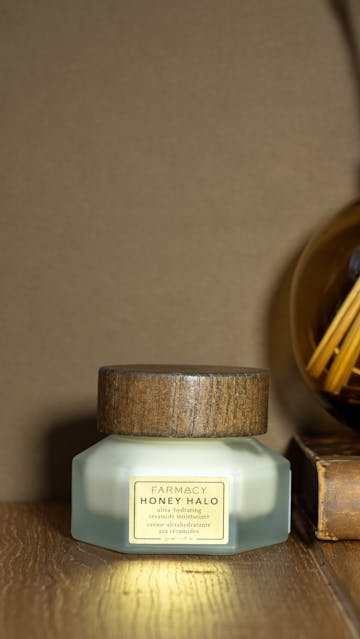 In conclusion:
I just love this Farmacy Honey Halo moisturizer: it's super sensorial, which I really appreciate in my evening routine and it does the job perfectly! It's great for keeping my skin moisturized and feeling super soft and comfortable for a long time.
In short, I feel like this brand's moisturizers are working pretty well for me!
The Farmacy Honey Halo retails for $45 for 50ml.
Product Review in detail
Summary
Farmacy Honey Halo
"An intense moisturizer that replenishes dry, distressed skin with lasting hydration to visibly plump and improve the look of fine lines."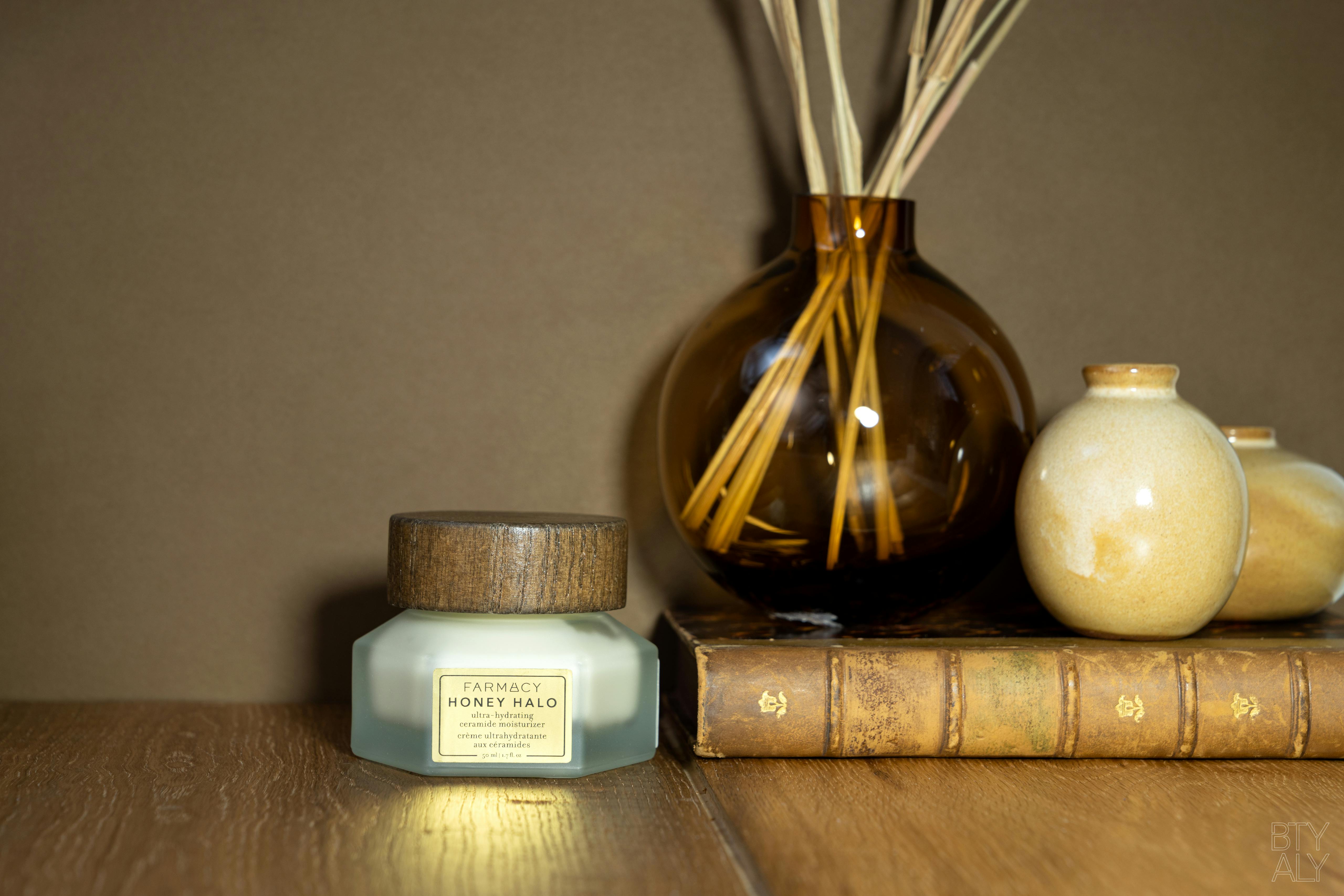 Pros
- this cream is packed with good skincare ingredients, the kind of formula I love!
- for me, it's a perfect night moisturizer, with its repairing and nourishing ingredients (but if you have a drier skin than mine, it will probably suit you during the day too),
- the super-pleasant texture to use, a balm/cream that melts into the skin and is absorbed very quickly, without greasy effect,
- the delicious scent of honey,
- it's clearly a sensorial product,
- the long-lasting feeling of comfort, the skin remains supple and nourished for several hours,
- the nice packaging with the magnetic wooden cap for the metal spatula, it's quite fun (and it looks very nice in picture!).
Cons
- if I'm being picky, I'd say that I would have preferred an air-less jar packaging, I'm not a fan of classic jar packaging that doesn't protect the formula from the air as well.
- the product is not yet easily available outside the US, you have to order it from overseas.
packaging
A glass jar with a magnetic wooden cap.
fragrance
A lovely honey scent, not sickening at all.
texture
A very pleasant melting cream-balm, which absorbs into the skin without leaving a greasy residue.
For Who
All ages.
Combination to dry skin types, but also very dry, dehydrated skin.
Concerns
– dehydrated skin,
– if you want to prevent the first signs of aging,
– lack of comfort, dryness,
– altered skin barrier.
Method
I use it in the evening because for my skin, its texture feels better at night, but it can be used morning and/or evening.
I take a small amount of cream with the spatula that I apply on my face and neck at the end of my routine, after my serums.
I massage it in for a few seconds to help it absorb.
Key Ingredients
A rich and yummy formula with:
– Shea butter and ceramides for the nourishing and repairing effect,
– betaine, a hydrating osmolytic ingredient, which controls the balance of hydration in the skin,
– humectant sugars (xylitylglucoside, xylitol, anhydroxyxylitol) that help retain the hydration naturally present in the skin
– some soothing bisabolol and panthenol,
– Sea buckthorn berry oil (Hippophae Rhamnoides) for its nourishing and anti-oxidant effect,
– humectant honey,
– anti-bacterial, soothing and repairing propolis,
– and some Royal jelly to repair the skin.
Ingredients
Water/Aqua/Eau, Glycerin, Butyrospermum Parkii (Shea) Butter, Vegetable Oil/Olus Oil, C13-15 Alkane, Cetearyl Alcohol, Pentaerythrityl Tetraisostearate, 1,2-Hexanediol, Bis-Diglyceryl Polyacyladipate-1, Diisostearyl Malate, Xylitylglucoside, Honey Extract, Betaine, Panthenol, Phytosterols, Ceramide Np, Propolis Extract, Royal Jelly Extract, Tocopherol, Ficus Carica (Fig) Fruit Extract, Hippophae Rhamnoides Oil, Glucose, Bisabolol, Xylitol, Anhydroxylitol, Cetearyl Glucoside, Triolein, Acrylates/C10-30 Alkyl Acrylate Crosspolymer, Hydroxyethyl Acrylate/Sodium Acryloyldimethyl Taurate Copolymer, Arginine, Flavor (Aroma)*, Hydroxyacetophenone, Xanthan Gum, Glyceryl Dioleate, Sodium Dilauramidoglutamide Lysine, Sodium Phytate, Sorbitan Isostearate, Citric Acid, Potassium Sorbate, Sodium Benzoate (*Natural Flavor / Arome Naturel).
Ingredients not included
– silicone,
– mineral oil,
– alcohol,
– fragrance,
– dyes.