Intro
Disclosure:
A sample or samples were provided by the brand / company.
My detailed review of the Omega+ Complex Moisturizer from the American skincare brand Paula's Choice.
The Paula's Choice Omega + Complex Moisturizer is really close to perfection… Almost from the very first time I applied it, I knew it was going to be one of my favourite winter products!
However, I was convinced that it would probably be too rich for me, as Paula's Choice recommends it for dry skin.
The brand was kind enough to give it to me as a PR sample when I went to meet Paula Begoun in Paris last June.
I didn't want to start it right away (in June, it's already 45 degrees in Dubai) and I left it aside for the colder months.
And when I started it last December, I knew I'd taken the right decision. It's a perfect cream for winter when you have dehydrated combination skin like me!
Let me tell you why I fell in love with the Paula's Choice Omega+ Complex Moisturizer! 🙂
Brands
Focus on: Paula's Choice, interview of Paula Begoun
I had the great opportunity of meeting and interviewing Paula Begoun, founder of the American skincare brand Paula's Choice, when she came to Paris in May.
Read more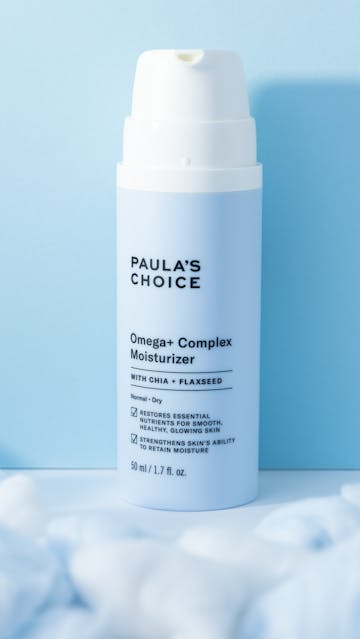 The Paula's Choice Omega+ Complex Moisturizer, my thoughts:
As I've often stated, I usually prefer to invest in premium, specific serums rather than moisturizers. But that doesn't mean that I'm not demanding on the quality of the latter, ah ah ah, you know me! Once a pain, always a pain!
I typically expect my moisturizer to provide a lot of comfort to my skin, without being too rich and heavy, and if, as a bonus, it's pleasant to use, that's perfect. I'm not against a little luxurious feeling with my moisturizer, quite the opposite!
And actually, the texture of this cream feels luxurious and dreamy!
It's the first thing you notice with it, this amazing whipped cream texture! And when you read the ingredients list, you don't expect it at all.
It's indeed very rich in various vegetable oils, which will help the skin to stock up on omega 3, 6 and 9, these essential fatty acids that are very effective in maintaining a healthy skin barrier!
When you have sensitized skin like mine (because of retinol), it's exactly these kinds of ingredients that you want in your moisturizer!
The essential fatty acids and ceramide it contains help the skin maintain its optimal hydration level and they're also very effective in calming inflammation for a softer, healthier skin!
And, once again, all this is in an almost airy texture, while remaining super "rich". This moisturizer feels legit like a duvet! I don't know how they managed to do it, knowing that the formula doesn't even contain silicones, but really, hats off, Paula's Choice!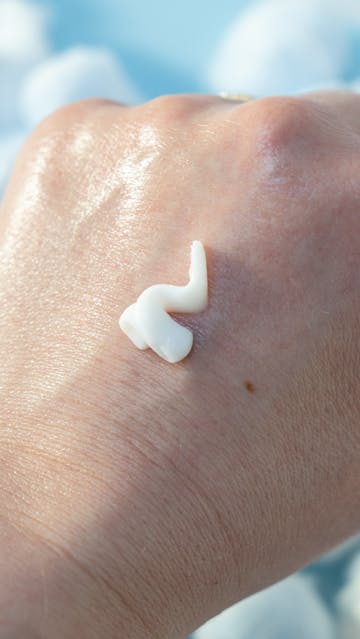 I first used it as a night cream, and I found it particularly pleasant to apply under my retinol, to avoid irritation. Sometimes, if my skin feels very tight that night, I would also use it on top of it to make a "hydration sandwich".
I also use it as a day cream, and even with my combination skin, it's perfect! When I travelled to France last month (I bought several travel tubes!), I loved it. It didn't make me look shiny more than usual during the day, nor did it make my makeup fade any faster than usual.
My skin absorbed it without any problem! And I don't need to use a lot of it, 2 to 3 pumps are enough for my face and neck.
And the icing on the cake, I don't find it super pricey and I intend to repurchase one bottle as soon as my current one is finished!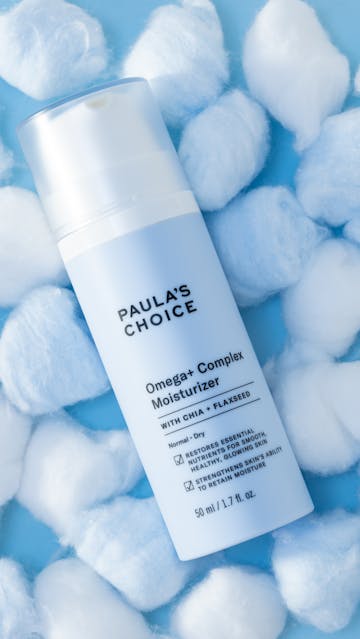 In conclusion:
This Paula's Choice Omega+ Complex Moisturizer is definitely a great addition to my stash.
Not only will I finish it gladly, but I will repurchase it right away because it has officially become one of my favourite winter moisturizers of all time!
The Paula's Choice Omega+ Complex Moisturizer retails for $35 for 50ml.
Product Review in detail
Summary
Paula's Choice Omega+ Complex Moisturizer
"Omega+ Complex Moisturizer instantly hydrates, soothes, and addresses signs of dry, flaky skin. A network of natural replenishing ingredients restore youthful suppleness, resilience and vibrancy."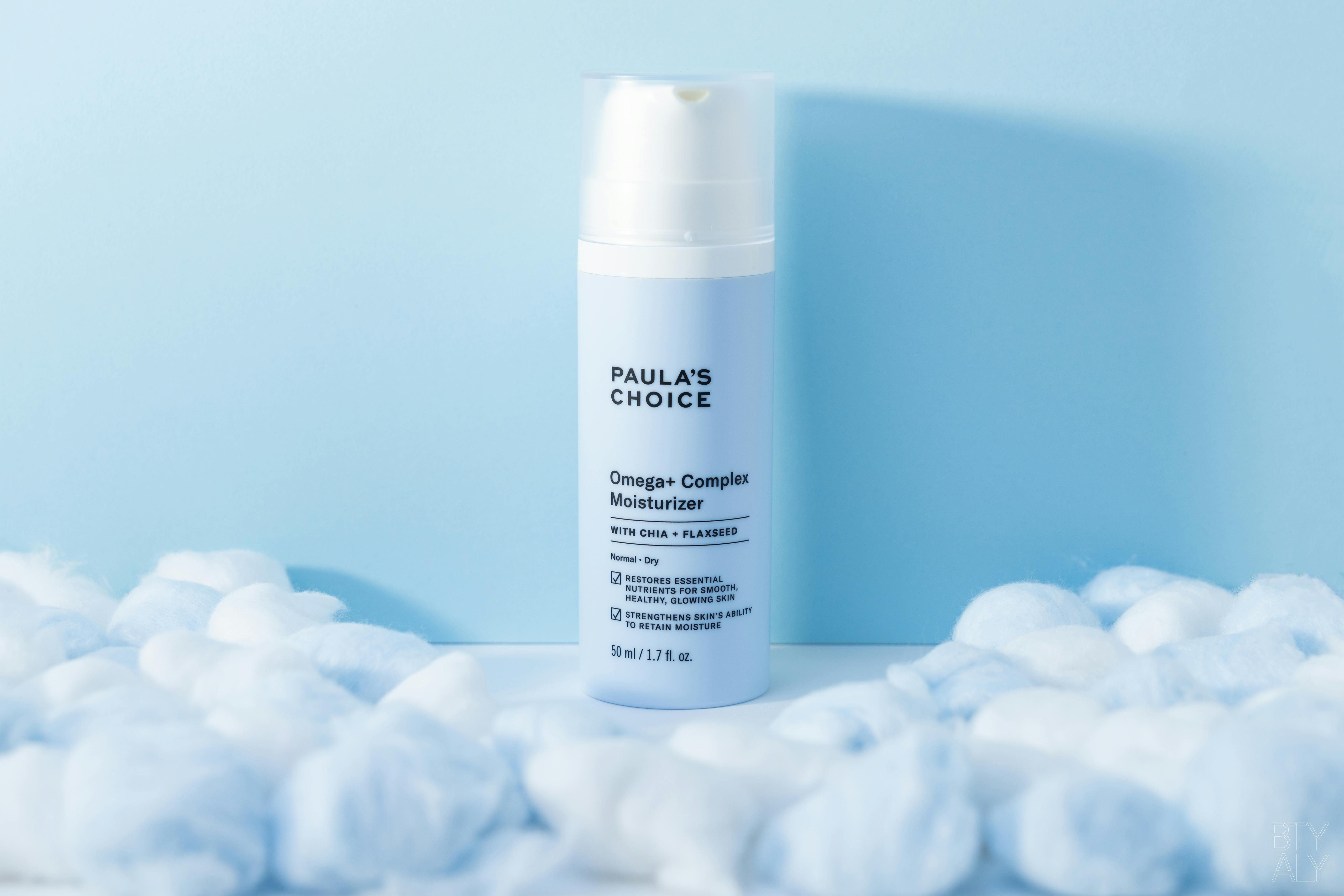 Pros
- a lovely natural formula, with lots of good comforting ingredients for the skin,
- a nice, simple and chic packaging, which protects the formula perfectly (loving the pump bottle!)
- it provides a long-lasting skin comfort, with a deep nourishing effect,
- some antioxidant ingredients for protection against free radicals,
- the texture is super sensorial, it's amazing, it's like a whipped cream!
- the effective soothing effect.
Cons
- nothing, it's a great product!
product name
Omega+ Complex Moisturizer
brand name
Paula's Choice
packaging
A baby blue plastic pump bottle, with a plastic cap that closes with a very satisfying sound (yes, this detail is very important ;) ).
fragrance
Fragrance-free (but it smells slightly like oils and cereals).
texture
A whipped cream texture that manages to be both rich and very light. A true sensorial delight!
For Who
– dehydrated skin,
– sensitive and/or sensitized skin,
– dry skin.
Concerns
– need for hydration,
– need for comfort,
– need for environmental protection,
– sensitized skin,
– wrinkles, fine lines,
– lack of radiance.
Method
I use it in the morning and/or evening.
I take a small amount of cream (2 to 3 pumps), which I apply at the end of my routine, after my serums.
I massage my face and neck for a few seconds until the cream is absorbed.
Key Ingredients
The formula is a real promise of comfort, and is full of interesting ingredients for the skin! Judge for yourself:
– several vegetable oils such as olive oil, borage oil, flax seed oil, chia seed oil rich in omega 3, 6 and 9 for the nourishing and repairing effect;
– shea butter and squalane for a long-lasting nourishing effect,
– ceramides to repair the skin,
– anti-aging adenosine,
– glycerin, sodium PCA and hyaluronic acid (low molecular weight) moisturizers,
– amino acids for the anti-dehydrating and protective effect,
– antioxidant guava and passion fruit extracts.
Ingredients
Water (Aqua), 
Butyrospermum Parkii (Shea) Butter, 
Ceteareth-6 Olivate, 
Butylene Glycol, 
C13-15 Alkane, 
Glycerin, 
Glyceryl Stearate,
Polyglyceryl-4 Laurate, 
Decyl Oleate, 
Linum Usitatissimum (Linseed) Seed Oil, 
Salvia Hispanica (Chia) Seed Oil, 
Olea Europaea (Olive) Fruit Oil,
Passiflora Edulis (Passion Fruit) Seed Oil, 
Borago Officinalis Seed Oil,
Hydrogenated Olive Oil, 
Psidium Guajava (Guava)Fruit Extract, 
Olea Europaea (Olive) Oil Unsaponifiables, 
Limnanthes Alba (Meadowfoam) Seed Oil, 
Linoleic Acid, 
Linolenic Acid, 
Oleic Acid, 
Euterpe Oleracea (Acai) Sterols, 
Ceramide AP, 
Ceramide Eop, 
Ceramide NP, 
Serine, 
Alanine, 
Glycine, 
Proline, 
Lysine Hcl, 
Threonine, 
Arginine, 
Squalane,
Cholesterol, 
Phytosphingosine, 
Anastatica Hierochuntica Extract, 
Lecithin, 
Sodium Hyaluronate, 
Sodium Lactate, 
Boerhavia Diffusa Root Extract,
Adenosine, 
Phytic Acid, 
Glutamic Acid, 
Betaine, 
Pullulan, 
Pca,
Sodium PCA, 
Carbomer, 
Sodium Polyacrylate Starch, 
Sclerotium Gum, 
Xanthan Gum, 
Sodium Lauroyl Lactylate, 
Phenoxyethanol,
Ethylhexylglycerin.
Ingredients not included
– mineral oil,
– silicones,
– perfume,
– dyes.