Intro
I tried the Mugwort Essence from the Korean skincare brand I'm From and gave you my thoughts!
I mentioned it last year, Mugwort (Artemisia) has become an inevitable ingredient in South Korean cosmetics! There are countless "100% Artemisia" essences now on the shelves of the K-Beauty shops! Today, I want to introduce you to one of the most popular, the Mugwort Essence from I'm From.
If the Missha Time Revolution Artemisia Treatment Essence is the one essence that made me want to discover this ingredient, I was also very eager to try the I'm From version.
I loved the I'm From Rice Toner, so I had a very nice feeling about this one too! Clearly, at the moment, none of the brand's products let me down, on the contrary.
I'm From often highlights the star ingredients in their product names, as they did here with this Mugwort Essence.
They go even further with the transparency by even mentioning the origin of the main ingredient of their product and the name of the farm where it was harvested. Hence the brand name, "I'm From".
I'm From manufactures all of its products in Korea (it's true that they have some great skincare ingredients there!).
Let me tell you more about the I'm From Mugwort Essence!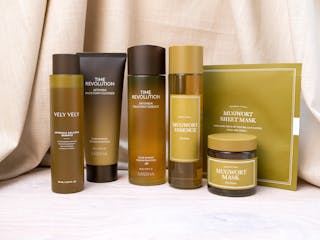 Ingredients
Focus on: Mugwort/ Artemisia
When South Korea comes up with a new miracle ingredient for skin damaged by pollution, you can be sure that I want to tell you more about it! After the huge popularity of the Cica trend in skincare, let's focus today on Mugwort (or Artemisia), which will be everywhere this year, at least in K-Beauty products.
Read more
I'm From Mugwort Essence, product presentation:
I often mention it in most of my essence reviews, if I'm a fan of this kind of products, it's because for me, they are true liquid treatment products. (I explain the difference between toners and essences and the concept of essences in my dedicated article if you want more info 😉 ).
I'm From Mugwort Essence is no exception to the rule! It's a soothing skincare product that repairs and provides an immediate feeling of comfort to the skin.
It's also a great product if you have a tendency to get acne.
I'm From uses the benefits of Artemisia Princeps, known to relieve sensitive skin, with its anti-bacterial, anti-inflammatory and calming effects. It comes from the island of Ganghwa, South Korea.
It has been fermented for an even deeper action into the skin.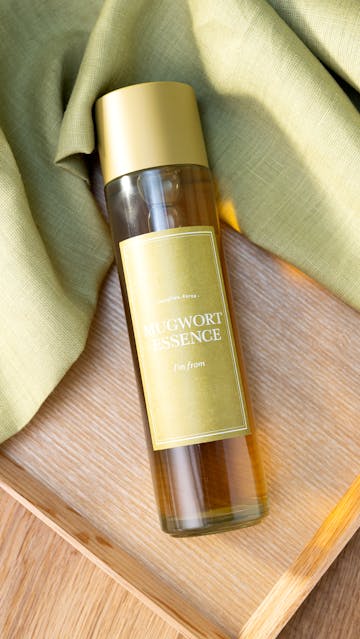 I'm From Mugwort Essence, my experience:
I started using the Mugwort Essence quite a while ago, last Fall, I believe.
I wanted to compare it with the Missha Time Revolution Artemisia Treatment Essence that I reviewed last year, which I liked!
It's a rather similar product: a single-ingredient mugwort based essence (well, single-ingredient, so to speak! It's an extract of mugwort, which also contains a solvent and a preservative).
The Missha essence was very liquid, very soothing and I enjoyed it very much when the weather was hot!
This one has a slightly more "viscous" texture and as a result, it's more comfortable, IMO. Which is good for the season (and my retinol skin)! 🙂
I use it rather in the evening, because I still use products with exfoliating acids (less than before, I will need to tell you more about it later, but for now, I'm still looking for the right product/application frequency).
I find this essence very pleasant to use. It's also very aromatic, a herbaceous scent very "oriental medicine" inspired.
I apply it by hand pressures. I also used it several times as a "mask" (I soak cotton pads and leave them on my skin for a few minutes) and it's really super soothing!
In short, a very nice product that I've already repurchased!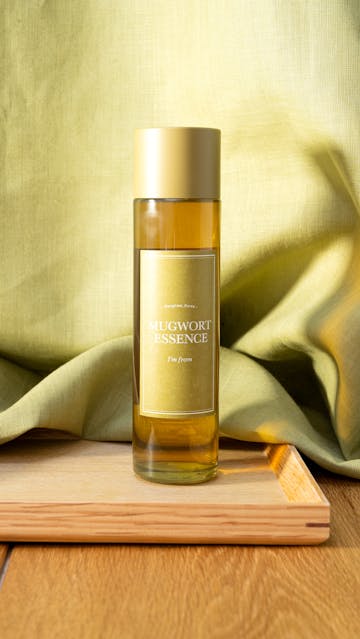 In conclusion:
I find the I'm From Mugwort Essence really pleasant to use, and it does a great job of soothing and comforting my skin quickly.
This is typically what I expect from this kind of mugwort product, so if you're curious about this ingredient, this essence is definitely a good option!
The I'm From Mugwort Essence retails between $35 and $40 for 160ml depending on the retailers.
Product Review in detail
Summary
I'm From Mugwort Essence
"This is a soothing essence made with the single ingredient of Mugwort Extract. The refreshing fluid formula adheres and absorbs into the skin to soothe sensitive skin and recharge moisture from within."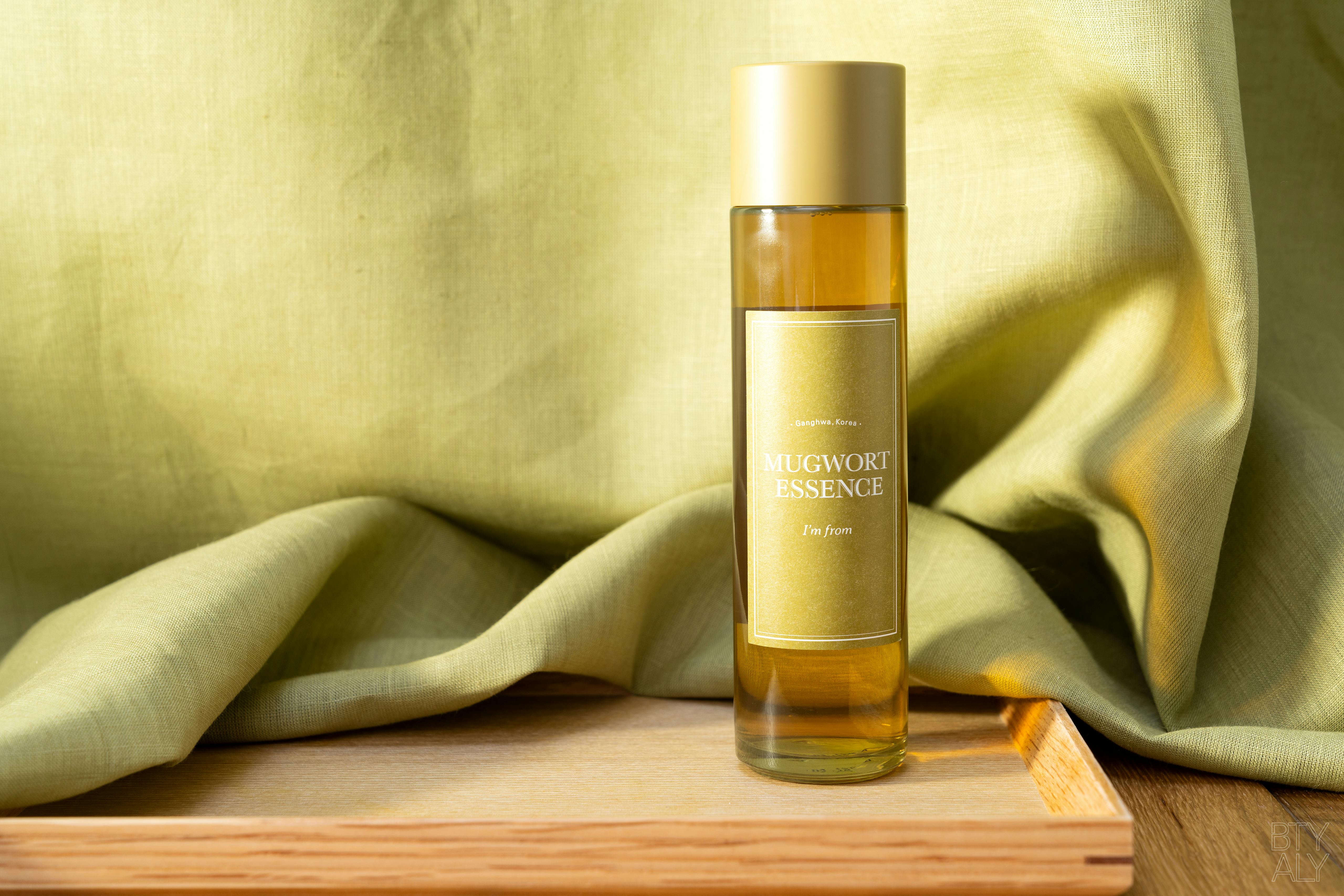 Recommendation
A
I really like this product!
Pros
- the simple minimalist packaging,
- the super simple formula with just one star ingredient,
- the liquid texture that the skin absorbs very quickly, but which leaves it comfortable,
- the clarifying and soothing effect,
- the moisturizing effect,
- I like its herbaceous scent, quite strong, but in a good way.
product name
Mugwort Essence
packaging
A glass bottle with a green plastic cap.
fragrance
Aromatic herbal scent.
texture
Liquid, but with a little bit of viscosity, to keep the skin comfortable.
For Who
– all skin types, all ages.
Concerns
– irritated skin,
– redness, reactive skin,
– acne prone skin,
– skin exposed to pollution.
Method
I use the I'm From Mugwort Essence every night, after I have cleansed my skin and used my acids, and before my other treatments and moisturizer.
I apply it to my face, including my eye contour and neck.
I pour the essence directly into the palm of my hand. I sprinkle it about two to three times, in order to have enough product in my palm. You can also use a cotton pad to apply it, but I personally find that you lose far too much product with that method.
I then apply it directly onto my skin, with a light pressure using the palms of my hands until the essence is absorbed.
I finish by dabbing my skin lightly to ensure complete penetration.
Key Ingredients
It contains mainly Artemisia Princeps extract, known to relieve sensitized skin, with its anti-bacterial, anti-inflammatory and calming effects. It comes from the island of Ganghwa, South Korea.
Ingredients
Water, Artemisia Princeps Extract, 1,2-Hexanediol.
* I'm From only mentions the Artemisia Princeps extract as the one and only ingredient for this product, but in Korea, cosmetic legislation doesn't require brands to detail the ingredients contained in plant extracts. In general, plant extracts also contain water and at least one preservative.
Ingredients not included
– alcohol,
– fragrance,
– dyes,
– silicones,
– mineral oil,
– essential oils…