Intro
Discover my detailed review of the soothing Time Revolution Artemisia Treatment Essence from the Korean skincare brand Missha.
I was so excited to try this Missha Time Revolution Artemisia Treatment Essence! It's thanks to this product that I discovered the wonderful world of Mugwort/ Artemisia products and I really wanted to know if it would keep its promises!
Over the years, essences became an essential step in my skincare routine.

I first used a lot of essences for their moisturizing properties, but in recent months, I've been experimenting with much more targeted treatments versions to address different skin problems.

In Korea, this category of products is so wide, you can basically find an essence for every type of skin concern!

Nowadays, there are also essences that contain only one ingredient extract, for an intense treatment effect for very specific skin problems.

This is the case for Missha with its Time Revolution Artemisia Treatment Essence, which contains only 100% Mugwort and uses its intense soothing action on irritated skin.

I'll tell you about my experience with this product below!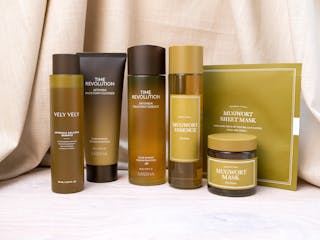 Ingredients
Focus on: Mugwort/ Artemisia
When South Korea comes up with a new miracle ingredient for skin damaged by pollution, you can be sure that I want to tell you more about it! After the huge popularity of the Cica trend in skincare, let's focus today on Mugwort (or Artemisia), which will be everywhere this year, at least in K-Beauty products.
Read more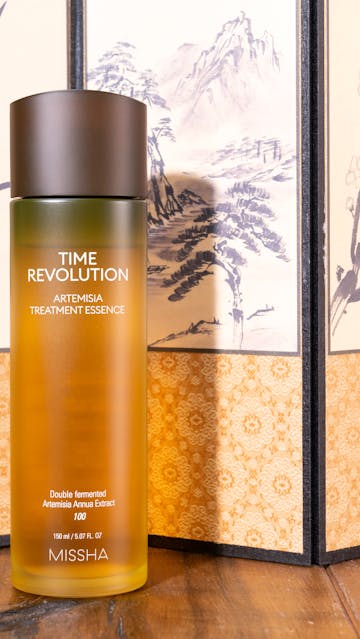 Product presentation: Missha Time Revolution Artemisia Treatment Essence
In my opinion, the Time Revolution Artemisia Treatment Essence is really like a liquid targeted treatment product.
Like all essences, it has a moisturizing effect but not only! It claims to be very soothing, thanks to its very specific formula.
The Time Revolution Artemisia Treatment Essence is a single ingredient essence. It's a liquid product based solely on Artimisia Annua extract, a plant from Ganghwa, an island in the West Sea off the west coast of Korea.
When you have sensitive and irritated skin, it's indeed interesting to use products with very short formulas, because it allows you to limit as much as possible the interactions with potentially irritating ingredients.
Artemisia Annua, or Chinese wormwood, is a herbaceous plant species, widely used in traditional Chinese medicine. In cosmetics, it has soothing and calming effects, and it also helps to retain moisture in the skin.
The particularity of this formula is that here, Artimisia Annua is naturally fermented twice, once in a warm environment and a second time under a cooler temperature inside a traditional terracotta jar. This is a technique I've heard about several times, and always for Korean cosmetic products.
If you read my article Focus on fermented ingredients, you'll know that they're perfect to strengthen the skin's barrier function, an interesting action in the case of sensitized skin.
Artemisia Annua, which already has a natural soothing and calming effect, reinforces its repairing action thanks to this fermentation!
My experience:
I'm a fan of Missha products, especially their Missha First Treatment Essence , I even wrote a mini-review last year about it.
So when I noticed that they were releasing a Mugwort/ Artemisia version, I was definitely interested! Lucky me, my friend Subin who is from Korea and has a great Youtube channel received it when it launched in Korea and she seemed to like it very much.
As I'm easily influenced (especially when it comes to anything Subin says!), I thought this essence probably had a great potential. And when I realized that it was a soothing treatment, I was definitely interested!
For a few months, I used a retinol cream (which I promise I'll tell you more about in an upcoming article in a few months) that irritated my skin a lot. I thought it was normal, but right now I'm using another retinol product, with the same dosage and ingredient, and my skin is not irritated at all. So I guess the first one was not for me…
Anyway, what is certain is that my skin was really in a bad state: reactive, irritated, it was even flaky in some areas.
So I decided to try this Time Revolution Artemisia Treatment Essence. I ordered it as soon as I could and started using it every night in my routine at the beginning of April.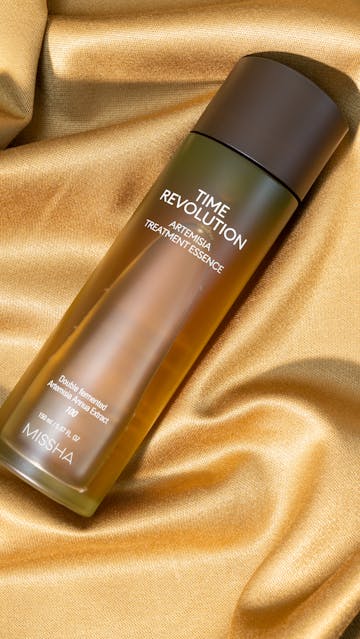 Result:
I find it really very pleasant to use! Its very liquid texture makes it a very refreshing product, which my skin literally drinks. I like to layer several layers if my skin feels more irritated than usual!
It has a slight herbal scent, quite subtle and not unpleasant at all.
It soothes my skin from the moment I apply it and I also find it moisturizing, which I didn't necessarily expect since it wasn't really a claim the brand made. It was a very good surprise!
I use it in the evening because my skin needs to be soothed at this time of the day (because of the anti-aging treatments I use) but I could totally use it morning and evening!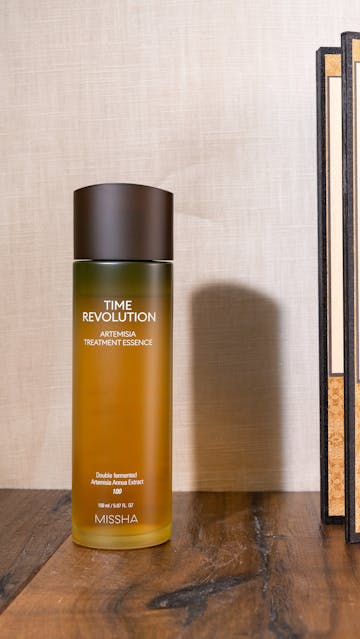 Value for money:
The price of Time Revolution Artemisia Treatment Essence is a little higher than the brand's other essences, which is actually common for this type of product (if I judge the price of its competitors).
For me, its price remains reasonable for a product that will probably last me several months (probably between 6 and 8 months).
Its price varies between $32 and $52 for 150ml depending on the retailers.
Availability:
The Missha Time Revolution Artemisia Treatment Essence is mainly available online (I added some affiliate links at the top and bottom of the page). You can easily find it in Korean products shops.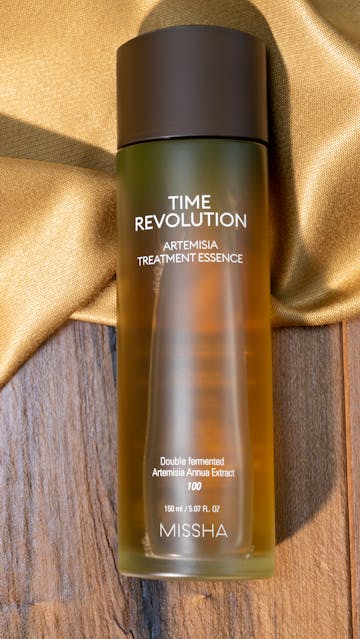 In conclusion:
Missha Time Revolution Artemisia Treatment Essence is a product I really enjoy using and it helps a lot to soothe my skin.
I am delighted to have it in my routine and I also appreciate the fact that it's also moisturizing! It's clearly its big advantage over the Vely Vely Artemisia essence I used before it (I talked about it in my Focus article about Mugwort).
The Missha Time Revolution Artemisia Treatment Essence retails for $32 to $52 for 150ml depending on the retailers.
Product Review in detail
Summary
Missha Time Revolution Artemisia Treatment Essence
"A concentrated, soothing essence that formulated with double fermented Artemisia Annua Extract to soothe, balance skin."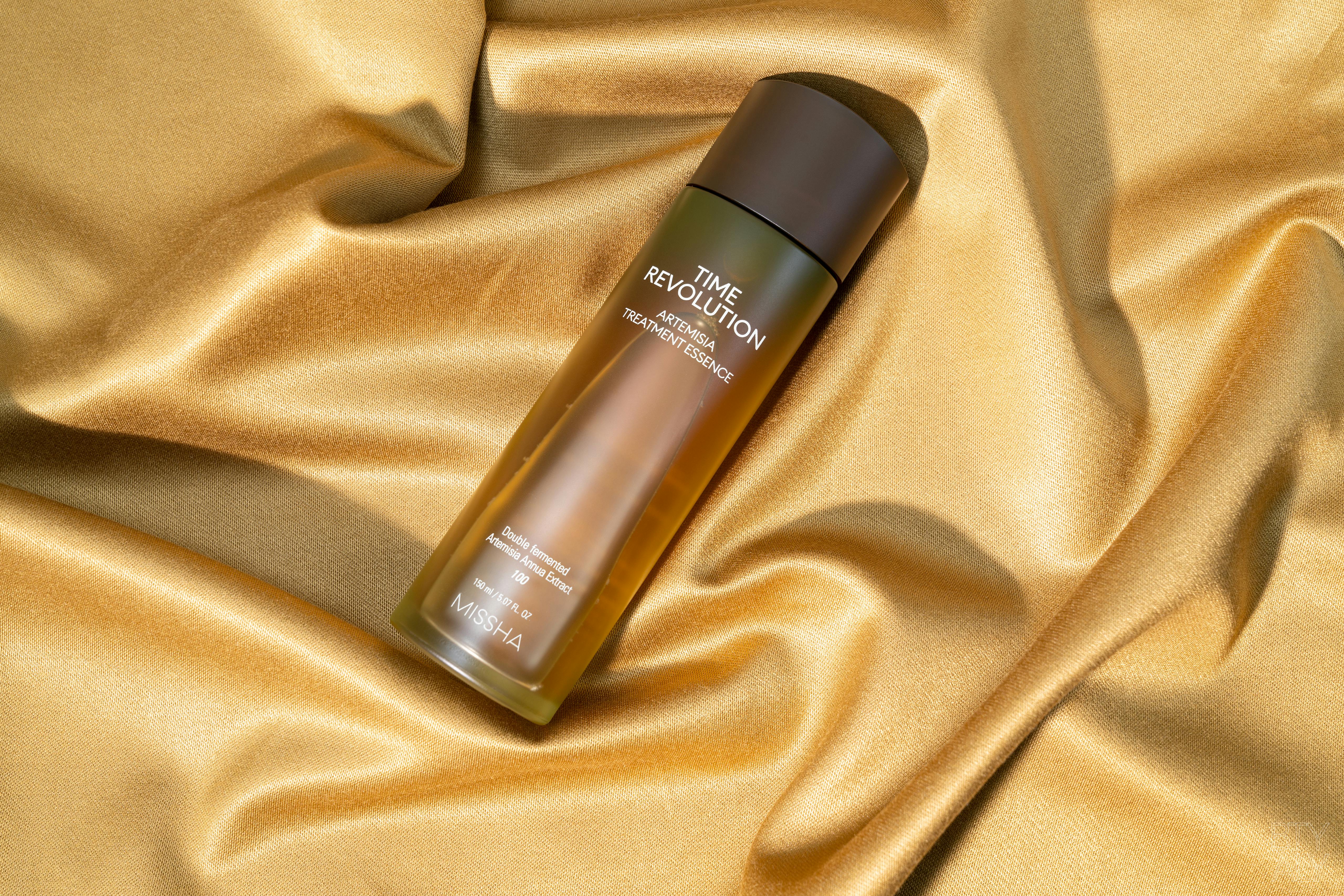 Recommendation
A
A very soothing product!
Pros
- the simple, elegant packaging, which has a luxurious touch,
- the super simple formula with just one ingredient,
- the liquid texture that the skin absorbs like water,
- the clarifying and soothing effect,
- the moisturizing effect,
- I also like its herbal scent.
Cons
- the price, a little more expensive than other essences,
- you have to order it online to buy it if you live outside of Korea.
product name
Time Revolution Artemisia Treatment Essence
packaging
A bottle made of frosted glass with a green tint, heavy for a luxurious effect. The cap is made of matte plastic and is screwed on top.
fragrance
Subtle herbal scent.
texture
Very liquid, like water.
For Who
– all skin types, all ages.
Concerns
– irritated skin,
– redness, reactive skin,
– acne prone skin,
– skin exposed to pollution.
Method
I use the Missha Time Revolution Artemisia Treatment Essence every night, after I cleansed my skin and used my acid toner, and before my other treatments and moisturizer.
I apply it to my face, including my eye contour and neck.
I pour the essence directly into the palm of my hand. I sprinkle it about four times, in order to have enough product in my palm. You can also use a cotton pad to apply it, but I personally find that you lose far too much product with that method.
I then apply it directly onto my skin, with a light pressure using the palms of my hands until the essence is absorbed.
I finish by dabbing my skin lightly to ensure complete penetration.
Key Ingredients
Missha Time Revolution Artemisia Treatment Essence essence contains only Artimisia Annua extract, nothing else.
It has calming properties but it is also supposed to have antibacterial, antifungal, anti-inflammatory properties and also helps to calm skin rashes, itching and irritation. It also has an anti-oxidant effect, for a preventive anti-aging action
Ingredients
Artimisia Annua extract
Ingredients not included
– alcohol,
– synthetic perfume,
– dyes,
– silicones,
– mineral oils,
– SLS….