Intro
Discover my review of the soothing, calming and purifying serum Spot Saver Mugwort Ampoule from the Korean skincare brand Isntree.
It's happening, the word "mask-ne", a contraction of "mask" and "acne", has officially arrived in the cosmetics marketing vocabulary! And I know that many of us are suffering from it right now… So I thought it was the perfect opportunity to introduce the Isntree Spot Saver Mugwort Ampoule Serum that is perfect to treat this skin condition (but not just that)!
Wearing a mask when you leave the house is a new concept for many of us. And our skin doesn't always appreciate this "new normality" and makes us pay the price with sudden breakouts that can remind us of our best memories of teenage years (not really!).
I don't know about you, but for the past few weeks, my skincare routine has been focused on soothing my skin first and foremost. But I'm also interested in purifying treatments that can help me get rid of those pesky new pimples that have started to settle on my face!
Enters Isntree Spot Saver Mugwort Ampoule Serum! You'll see, this multi-tasking serum has a lot to offer.
It's also been a while since I wanted to talk to you about Isntree, a Korean skincare brand that can be described as "clean" (but as you know, it's not my style 😜).
Their products remind me a lot of the brand Iunik: short and sweet formulas, that contain great skincare ingredients, and all about effectiveness. In fact, the brand tends to focus on natural ingredients but doesn't make the same mistake as some "non-toxic" brands (🙄🙄🙄) of overlooking the most effective synthetic ingredients because they are "chemical" (🙄🙄🙄 again).
Let me introduce you to the complete treatment that is the Isntree Spot Saver Mugwort Ampoule Serum!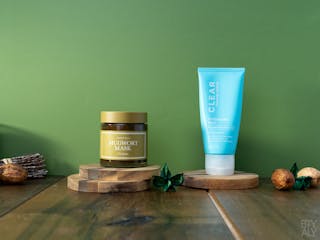 Skincare
How to deal with "quarantine acne"?
Clearly the situation we're experiencing at the moment is exceptional from every point of view, causing big changes in our lives… and also our skin! One of them is what I would like to call "quarantine acne".
Read more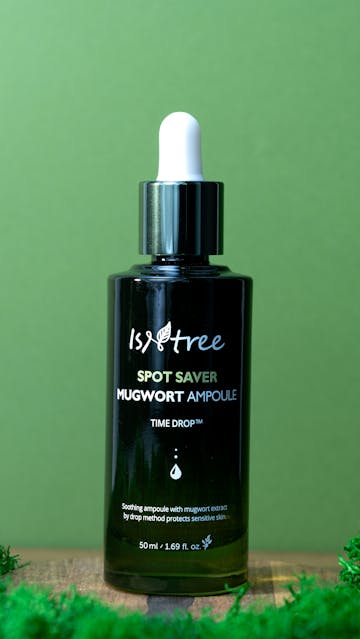 The brand Isntree:
To understand the philosophy behind Isntree, I need to give you some context!
At the end of 2008 in South Korea, the "Cosmetics Act" required all Korean cosmetic brands to list all the ingredients of their products on their packaging. On this occasion, Jinwoo Kim, a South Korean cosmetics enthusiast (future CEO of the brand Isntree) decided to launch the very first skincare blog in Korea! Initially, the aim of his blog was to give his readers a greater visibility on the formulas of their products so that they can learn more about the ingredients contained in their cosmetics.
The blog was a hit thanks to its original content and expertise on the subject! Soon, Jinwoo Kim was flooded with requests from his readers to develop his own brand of skincare products. In January 2012, Isntree is launched!
The name "Isntree" suggests the concept of a clean and healthy world. "IS" is for Island, a pure and clean space of the earth, "N" is for Nature (the use of natural raw materials) and "Tree", which evokes generosity and growing nature.
From the beginning, Isntree has taken a very transparent approach, and favours direct communication with its customers. They show on their website the way they manufacture their products at their production site, and they like to interact with their customers in a way that is visible to all!
The brand focuses on the essential, with formulas that contain only the ingredients that the skin needs, and they favour natural ingredients.
The products are also vegan and cruelty-free.
Finally, Isntree has an eco-friendly approach; they use minimal packaging for their products. The containers they use are all environmentally friendly and recyclable.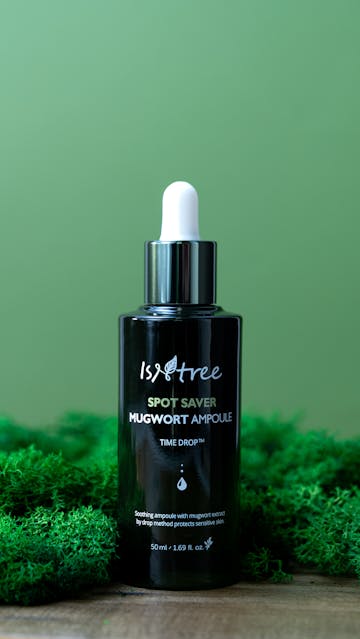 Isntree Spot Saver Mugwort Ampoule Serum, product presentation:
I'm not new to this product, I had the opportunity to use the Isntree Spot Saver Mugwort Serum Ampoule last year, right after its launch! So this is my second bottle.
It's a soothing, calming, purifying serum, but also quite hydrating.
I've already mentioned Mugwort many times, which has been a very trendy ingredient in Korea for several months now. In this formula, mugwort is at its peak of effectiveness thanks to a cold extraction, made with a drop by drop system (the "Time Drop" method). This method takes a little longer but preserves and enhances the quality and effectiveness of the mugwort.
Its soothing, anti-inflammatory, purifying and anti-oxidant properties make it a highly appreciated ingredient in the South Korean peninsula, which is often affected by pollution and micro-particles from China.
Mugwort extract is the base of this serum (85% of the formula). But it also contains many other soothing ingredients (kava kava, calendula, liquorice extract, panthenol, allantoin), moisturizing ingredients (glycerin, beta-glucan, betaine) and even repairing ceramides!
A short and sweet formula, but quite powerful!
The Isntree Spot Saver Mugwort Ampoule Serum is therefore ideal if, like me, you have combination, acne-prone skin. And if your skin is more irritated than usual, and it's breaking out because of a certain mask that you have to wear as soon as you step outside, you might be interested in this too!
It's moisturizing but still very light! It may be a bit too light if you have dry skin, but you can definitely add an oil afterwards to bring back comfort.
Isntree Spot Saver Mugwort Ampoule Serum, my experience:
I added Isntree Spot Saver Mugwort Ampoule Serum to my morning skincare routine a few weeks ago (after I finished the Iunik Beta-Glucan Power Moisture Serum), and I find it to be just perfect for the season; it's super refreshing and absorbs very well without leaving my skin feeling sticky!
And what I really like about this serum is that it helps my skin to stay clear and calm, even at times like these, when my skin is more irritated than usual.
In short, it's a good multi-tasking serum: soothing, purifying and moisturizing!
The size of the bottle is quite generous for a serum (50ml), and I only use 1/3 pipette a day, so it may last me a long time (probably at least 5 months in my opinion)!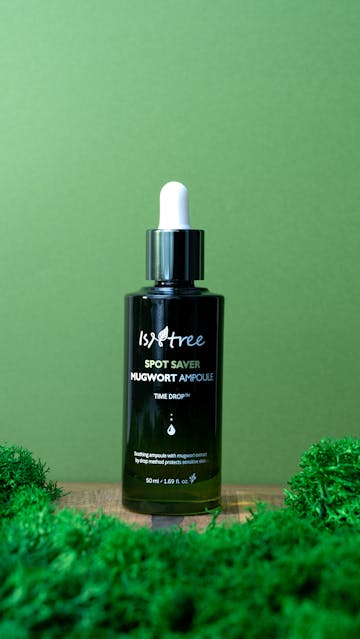 In conclusion:
I think I'll probably get a chance to talk to you again about the brand Isntree, because a lot of their products are in on my radar.
It's typically one of those brands that I enjoy having in my skincare routine: simple and effective formulas, with prices that won't break the bank!
The Isntree Spot Saver Mugwort Ampoule Serum is a product that fits the bill for me: it does the job and can be a good skincare asset in many different situations.
It could just as well suit a dehydrated combination skin that is looking for a light purifying moisturising serum, or a more sensitive skin that wants some skin relief, or even a teenager who wants to gently purify their acne-prone skin!
In short, I think it's definitely an interesting product to have in your skincare arsenal 😉
The Isntree Spot Saver Mugwort Ampoule Serum retails between $28 and $40 depending on the retailers.
Product Review in detail
Summary
Isntree Spot Saver Mugwort Ampoule
"Soothes irritated skin, restores water-oil balance, supports the natural skin barrier, and provides skin texture care."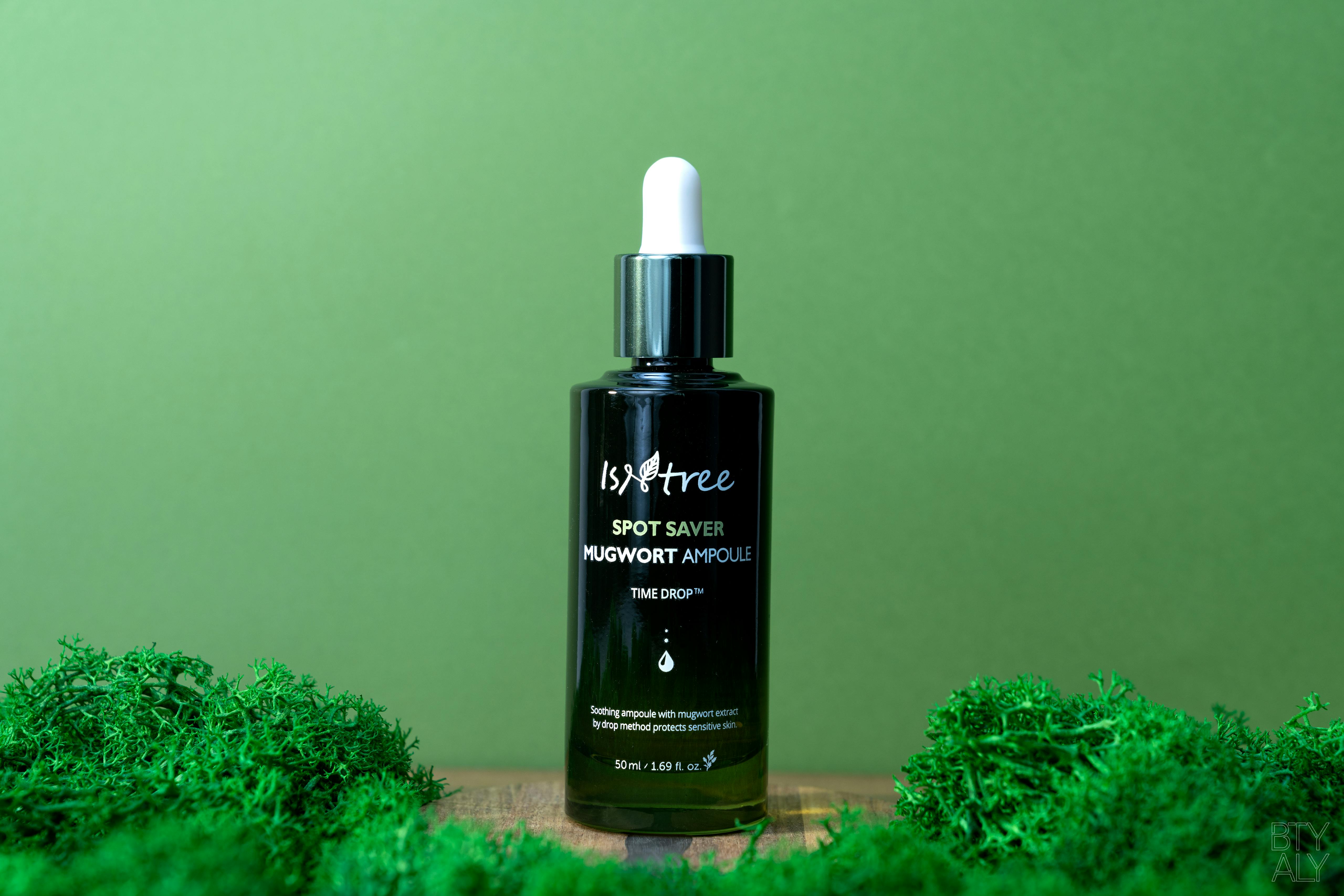 Recommendation
A
An effective light soothing serum!
Pros
- the pretty packaging,
- the formula packed with good skincare ingredients, and very complete,
- the light texture, perfect for the season,
- the soothing effect,
- the light hydrating effect.
product name
Spot Saver Mugwort Ampoule
packaging
A nice moss green glass bottle with a dropper.
fragrance
Fragrance-free.
texture
A gel-like serum texture, quite liquid, which absorbs quickly into the skin and doesn't leave it sticky.
For Who
For all skin types but especially:
– sensitive or sensitized skin with a damaged protective barrier,
– reactive skin,
– skin with rashes,
– acne-prone skin.
Concerns
– dehydration,
– redness,
– sensitive, sensitized, damaged skin,
– acne-prone skin.
Method
You can use the Isntree Spot Saver Mugwort Ampoule Serum morning and evening but at the moment, I apply it in the morning for its light soothing and moisturizing effect, perfect for the season (it's already 35°C in Dubai).
After I applied my essence(s), I use the amount of 1/3 of a pipette and massage my face and neck with it. Once it's almost absorbed, I finish by dabbing gently my skin with my hands and then continue with the rest of my routine.
Key Ingredients
The formula is quite short, but still very rich in skincare ingredients! Judge for yourself:
– Mugwort extract: soothing, antibacterial, anti-fungal, anti-inflammatory, antioxidant… It represents the majority of the formula here (85%) and replaces water as a base.
– kava kava extract: soothing,
– moisturizing ingredients: glycerin, beta-glucan, betaine,
– soothing ingredients: calendula, liquorice extract, pantenol, allantoin,
– and repairing ceramides.
Ingredients
Artemisia Princeps Extract, 
Glycerin, 
Butylene Glycol,
Glycereth-26, 
Erythritol, 
Betaine, 
Glycyrrhiza Glabra (Licorice) Root Extract, 
Calendula Officinalis Flower Extract,
Piper Methysticum Leaf/​Root/​Stem Extract, 
Panthenol,
Propanediol, 
Beta-Glucan, 
Dipotassium Glycyrrhizate,
Hydrogenated Lecithin, 
Ceramide NP, 
Allantoin,
Carbomer, 
Tromethamine, 
1,2-Hexanediol.
* Please be aware that ingredient lists may change or vary from time to time. Please refer to the ingredient list on the product package for the most up-to-date list of ingredients.
Ingredients not included
– mineral oil,
– silicones,
– alcohol,
– dyes
– fragrance/ essential oils.