Intro
My review, test, and thoughts on the Antioxidant Pore Purifier Serum from the American skincare brand Paula's Choice.
I already talked about them several times (and I will probably continue to do so), I'm a big fan of antioxidant ingredients. One of my favorite skincare brands, Paula's Choice, has several antioxidant products in its catalog and I definitely intend to try as many as possible! Today, let me introduce you to the Antioxidant Pore Purifier Serum!
If there is one category of ingredients that has always been, and will always remain in my routine, it has to be antioxidants!
I use many different ones, which I combine and in my morning and evening routine!
They're indeed the most effective anti-aging ingredients for the protection and prevention against skin aging!
In short, they're able to prevent the oxidation of the skin (also known as oxidative stress), which is responsible for the production of free radicals, those unstable molecules that cause chain reactions in the body and a lot of damage to the skin. Free radicals are one of the main sources of accelerated skin aging.
These free radicals are caused by several factors: stress, lack of sleep, pollution, tobacco, skin infections and inflammation, sun exposure/UV rays, even the blue light on our screens, it seems… In short, an active life!
As their name suggests, antioxidant ingredients are therefore inhibitors of oxidation and help to protect the skin by eliminating excess free radicals in the cells.
Vitamin C is often mentioned when you think about antioxidant ingredients. But there are many others that work great as oxidative anti-stress shields!
Today, let's explore other antioxidant options with a ery interesting serum from Paula's Choice's: the Antioxidant Pore Purifier Serum.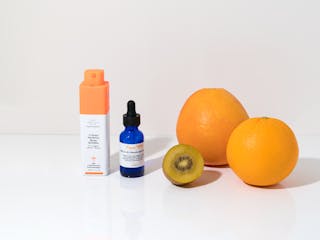 Ingredients
Focus on: Vitamin C (L-ascorbic acid)
Vitamin C (L-ascorbic acid) products are everywhere at the moment. It's not really surprising because this ingredient is really magic to give radiance to the complexion, the famous glow that everybody wants these days. But it's also a very unstable ingredient that needs a certain environment to be able to deliver all its benefits.
Read more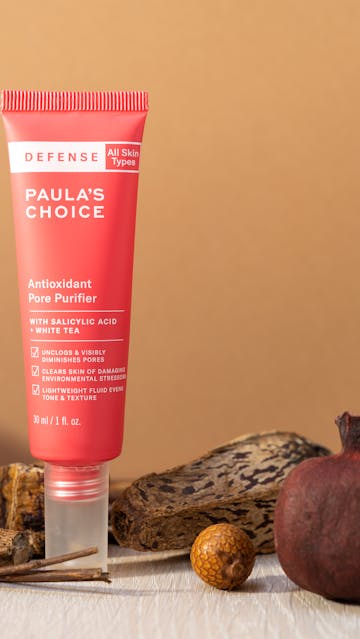 Product presentation: Paula's Choice Antioxidant Pore Purifier Serum
Paula's Choice Antioxidant Pore Purifier Serum is an antioxidant serum that helps to preserve the youthfulness of the skin, and to protect it against oxidative stress.
Paula's Choice has a lot of different antioxidant serum options, as I mentioned earlier (and there are also boosters that I really like, like the one with Vitamin C or Niacinamide).
To be honest, I hadn't spotted this one until I saw a Gothamista video, where she talked about it and super enthusiastically. After reading the list of ingredients, I immediately ordered it with a lot of enthusiasm, too!
Not only it's full of super interesting antioxidant ingredients (green tea, ginseng, niacinamide, coenzyme Q10…), but it has a little twist in addition in its formula.
It also contains 0.5% salicylic acid (or BHA) which is a perfect ingredient to refine pores! Add to that it also has the advantage of helping the product to penetrate deeper into the skin (as the skin is freed of dead cells thank to the BHA, the product can work its magic where it should!).
There's also a derivative from azelaic acid (Potassium Azeloyl Diglycinate) in the formula, which is great to help to control the excess of sebum. It also has a brightening effect.
I have a combo skin, so I definitely appreciate these kind of ingredients!
I have already mentioned this, regarding antioxidants, some are more effective than others.
But by combining several antioxidants in your routine, you increase the chances of having a more effective anti-radical shield!
I've said it many times already, but I'll repeat it once again: antioxidant ingredients are great to boost the sun protection you apply on top, so, really, feel free to use a good sunscreen in addition to this serum! 😉
The formula of the Antioxidant Pore Purifier Serum is also very comfortable thanks to glycerin and hyaluronic acid, without being greasy at all. It absorbs fairly quickly into the skin and doesn't leave a greasy effect!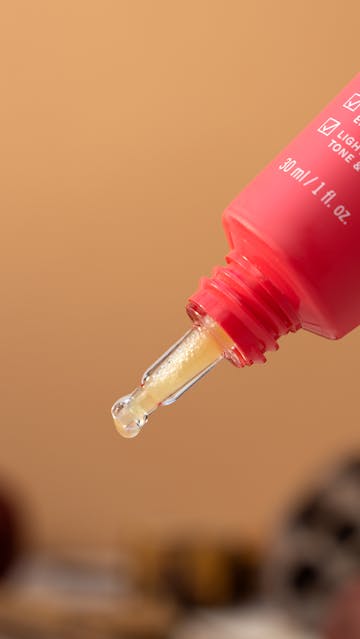 My experience:
I started using Paula's Choice Antioxidant Serum Pore Purifier Serum a little over 2 months ago. I use it in the morning to protect my skin from environmental aggressions during the day.
It's a slightly viscous liquid gel (you can definitely smell the glycerin in the formula!). It's easy to spread and penetrates easily, leaving the skin a little bit sticky at first, but this feeling doesn't stay (it has no greasy effect whatsoever, though).
As always with this type of product, the result of the anti-aging effect is not really visible after a few weeks of use. It's a long-term action, prevention for the future!
However, I find that it helps my skin to stay clearer, whereas very often, especially at this time of year, it always tends to break out a little bit. I don't find it at all drying, nor irritating, which I was a bit scared about at first knowing that I already use a lot of acids in my routine.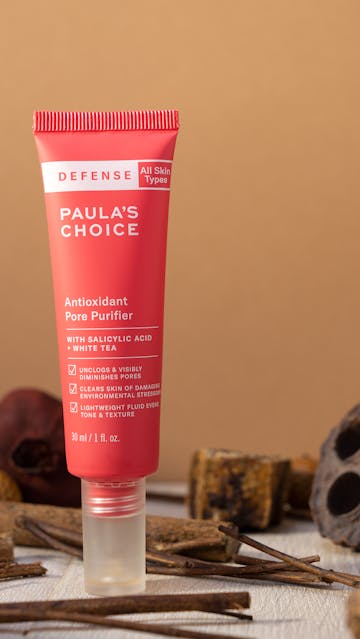 In conclusion:
In short, for me, it's an ideal autumnal anti-oxidant serum!
For the anti-aging action, it's difficult to judge now, but the clarifying effect is definitely appreciable!
The Paula's Choice Antioxidant Pore Purifier Serum retails for $31 for 30ml.
Product Review in detail
Summary
Paula's Choice Antioxidant Pore Purifier Serum
"Clear pores of daily debris and pollution plus brighten skin with a blend of antioxidants, salicylic acid, and other skin-fortifying ingredients.
- It helps protect skin from environmental damage.
- Salicylic acid clears and refines pores.
- Ultra-lightweight fluid texture.
- Apply once or twice daily after cleansing."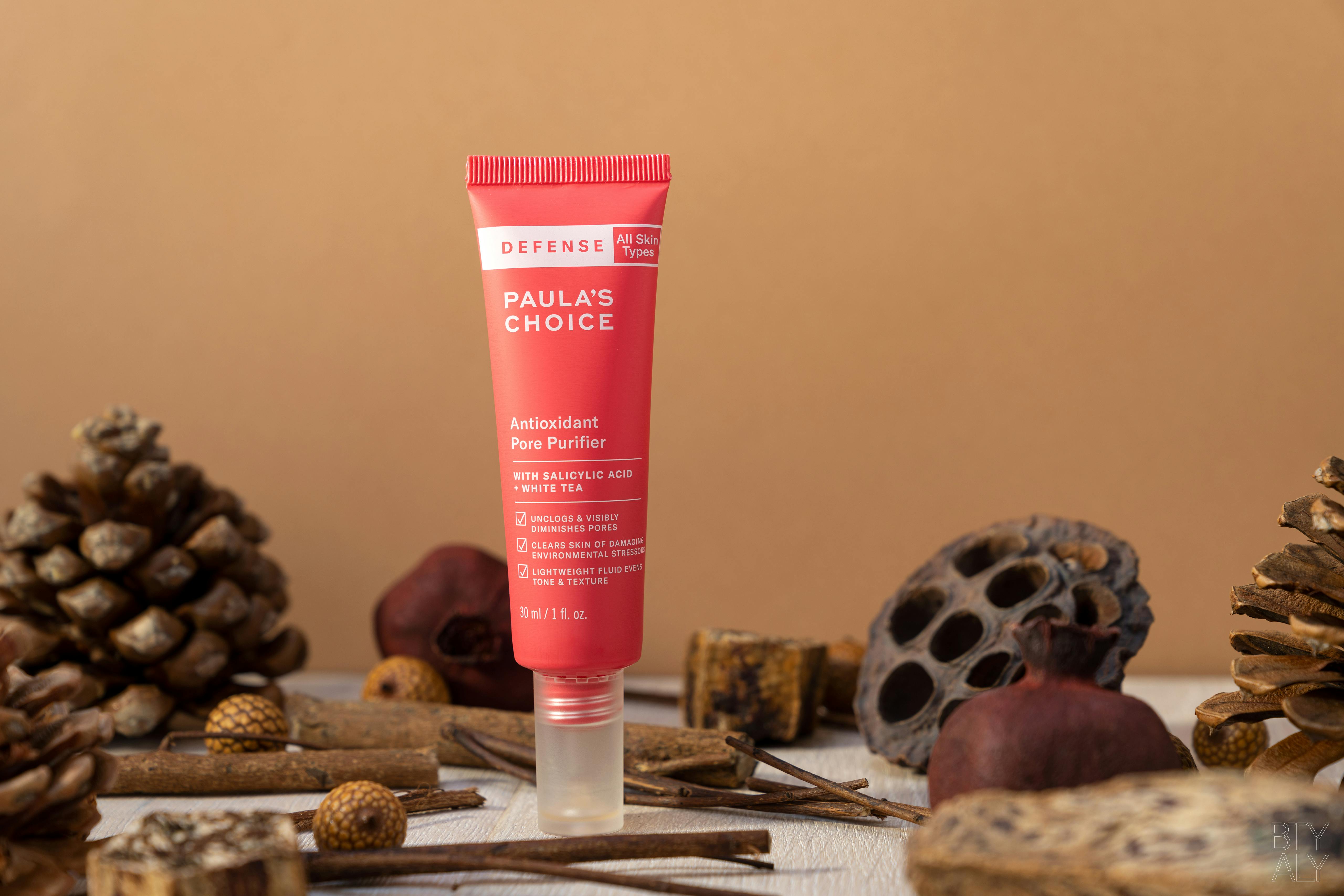 Recommendation
A
A good multitasker and protective serum!
Pros
- the formula is impressive, with many super interesting skincare ingredients,
- its powerful antioxidant effect, it's a perfect daytime serum,
- its moisturizing effect (it's comfortable),
- its purifying action, not at all irritating,
- it's a good anti-aging product,
- the packaging is nice, quite colorful and I appreciate that it's a practical tube,
- the brand is easily available online.
Cons
- for me, it's an extra product, not necessarily an essential one, because I already use a lot of other antioxidant ingredients in my routine, but I must admit that I found the formula too interesting, I had to try it out!
product name
Antioxidant Pore Purifier Serum
brand name
Paula's Choice
packaging
A bright red plastic tube with a cool practical dispensing tip.
texture
It looks a little viscous at first, but it finally absorbs quite well, leaving the skin comfortable but not greasy.
For Who
– those who are concerned by the aging signs of their skin, who are looking for an anti-aging solution and prevention (even if, after 40, it's maybe better to rely on more powerful antioxidants, in my opinion),
– suitable for all skin types, but it's great if you have large pores.
Concerns
– anti-aging prevention,
– large pores.
Method
I tend to use the Antioxidant Pore Purifier Serum in the morning, to take advantage of its anti-free radical effect as much as possible, after my essence(s), and before my moisturizer.
I apply a small amount of serum that I massage onto the skin of my face and neck. It's not the most light-weight serum I have tried, but it absorbs relatively quickly, and leaves a very slightly sticky feeling that fades quickly once I apply something else on top.
Key Ingredients
The formula of the Antioxidant Pore Purifier Serum is truly impressive! It contains:
– some salicylic acid (BHA) for its refining effect on the pores and purifying effect. It also allows the other ingredients of the formula to penetrate more deeply,
– a derivative from azelaic acid (Potassium Azeloyl Diglycinate), great to help to control the excess of sebum and it also has a brightening effect,
– lots of antioxidant ingredients: a vitamin C derivative (Ascorbyl Glucoside), white tea extract, coffee seed extract, grape seed extract, ginseng, green tea (Epigallocatechin Gallate), coenzyme Q10 (Ubiquinone),
– soothing extracts: Calendula and Centella Asiatica,
– but also glycerin and hyaluronic acid for their moisturizing and comfort effects,
– repairing ceramides,
– niacinamide for its anti-aging, purifying and antioxidant properties,
– adenosine for its anti-aging action,
– and licorice extract for its soothing and radiance-boosting effect.
Ingredients
Water, Propanediol, Butylene Glycol, Ethoxydiglycol, Glycerin, Ascorbyl Glucoside, Panthenol, Salicylic Acid, Camellia Sinensis (White Tea) Leaf Extract, Glycyrrhiza Glabra (Licorice) Root Extract, Potassium Azeloyl Diglycinate, Coffea Arabica (Coffee) Fruit Extract, Ceramide Np, Vitis Vinifera (Grape) Seed Extract, Panax Ginseng Root Extract, Niacinamide, Phytic Acid, Epigallocatechin Gallate, Adenosine, Ubiquinone, Calendula Officinalis (English Marigold) Extract, Lonicera Caprifolium (Honeysuckle) Flower Extract, Sodium Hyaluronate, Lecithin, Centella Asiatica Extract, Sucrose Stearate, Glycine Soja (Soybean) Seed Extract, Hydrogenated Lecithin, Carbomer, Tetrasodium Glutamate Diacetate, Caprylic/​Capric Triglyceride, Caprylyl Glycol, Polysorbate 20, Polyglyceryl-10 Stearate, Hydroxyethylcellulose, Sodium Hydroxide, Ethylhexylglycerin, Phenoxyethanol
Ingredients not included
– alcohol,
– mineral oil,
– silicone,
– fragrance,
– dyes.