Intro
My review and thoughts of the Fundamental Ampule Mist, a moisturizing mist from the Korean skincare brand Klairs.
A fresh, light mist that is so moisturizing that it can replace a serum? That's the promising claim of the Fundamental Ampule Mist from the Korean skincare brand Klairs!
Convinced by the Fundamental Watery Oil Drop serum from Klairs that I reviewed a few weeks ago, I decided to try the mist from the same range!
In summer, I love the super refreshing mist format! Most of the essences I'm using right now are mists, and if they're not, I don't hesitate to pour them into a spray bottle 😉
But not all mists are created equal, far from it! Some are fresh at the moment, but the feeling of hydration doesn't last, and depending on the ingredients they contain, they can even be drying sometimes.
The Klairs Fundamental Ampule Mist claims to provide intense hydration and long-lasting comfort. Let's see if it lives up to its promise!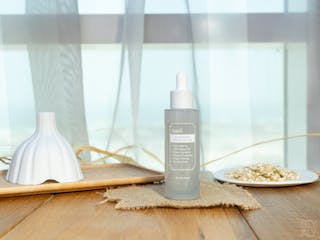 Skincare
Review: Klairs Fundamental Watery Oil Drop serum
I started mentioning "oils-in-serums" a few months ago (with the iUNIK Noni Light Oil Serum, which didn't completely convince me, by the way). I continue to explore this category of hybrid products with a product that left me a much better impression: the Klairs Fundamental Watery Oil Drop Serum!
Read more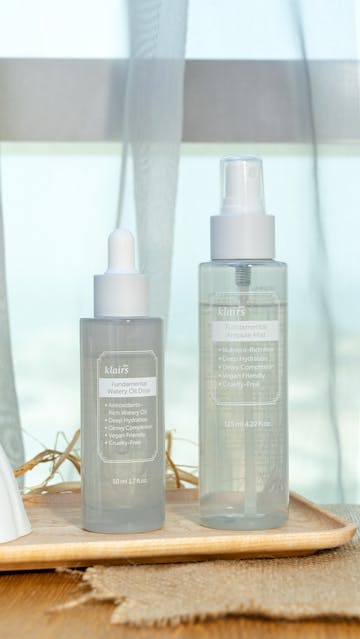 Klairs Fundamental Ampule Mist, product presentation:
I've already introduced Klairs' Fundamental range in my review of the Watery Oil Drop serum, but just in case, here's a reminder!
The Korean skincare brand Klairs prides itself on creating products that are simple and minimalist, and that focus on the essential needs of the skin.
Their Fundamental line takes this approach to the next level as their goal is to get back to the fundamentals of skincare!
Which are: to moisturize, repair and protect the skin, or in other words, to restore its balance.
The products in the Fundamental range therefore focus primarily on hydration, soothing and antioxidant protection. And as in Korea, simplicity is not incompatible with sophistication, the entire range benefits from really sensorial and beautifully crafted textures.
Simple products, certainly, but pleasant to use, that's even better, isn't it? And Korean cosmetic formulators clearly know how to design these great products you really want to use every day!
The Klairs Fundamental Ampule Mist, as its name implies, is a kind of "serum concentrated in mist".
Historically, this term "ampoule" (or "ampule" for some strange spelling reason here) used to refer to products in ampoule format, those little glass vials that you have to break at the end, as you can find in French pharmacies (the Ampoules Coup D'éclat to name the most famous). But over time, ampoules have started to look more and more like serums, with classic bottle formats, probably because they are more practical to use like that!
So now, the term "ampoule" refers to a kind of more concentrated serum.
And obviously, Klairs decided to give it another shape here, even more liquid, even lighter in texture, in the form of a mist.
However, when it comes to effectiveness, it's definitely not light!
This ampoule mist has a very nice list of skincare ingredients, which allows it to be super effective for hydration in particular (more details on the ingredients at the bottom of the page).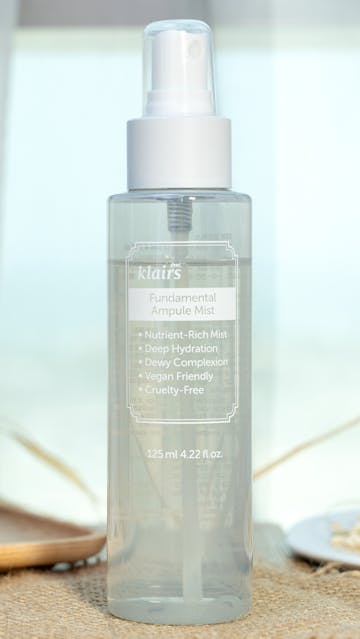 Klairs Fundamental Ampule Mist, my experience:
I started using the Klairs Fundamental Ampule Mist a few weeks ago.
And I enjoyed it almost instantly!
With this product, my skin feels comfortable for the whole day. This mist is definitely not like the ones that refresh superficially but end up being even more dehydrating as the hours go by.
When I apply it, I feel that it "has body". Two or three sprays of mist are enough for my face and when I massage it in, I can immediately feel that this hydration won't be superficial.
I even think that if I were more minimalist, it could definitely replace my moisturizing serum!
But hey, I'm an die-hard fan of the #moreismore approach and right now, my skin is even drier than usual with tretinoin, so I still "need" to add another serum afterwards 😉
If you have combination and dehydrated skin, however, this might do the trick! 🙂
Its texture is not oily, not sticky. It is comfortable, but lightweight. Personally, I use it in the morning, and I can apply makeup on top of it without any problem!
I also think it's a good value for money; with its mist format, it will probably last me for a while, because I don't need to use much and the bottle is 125ml!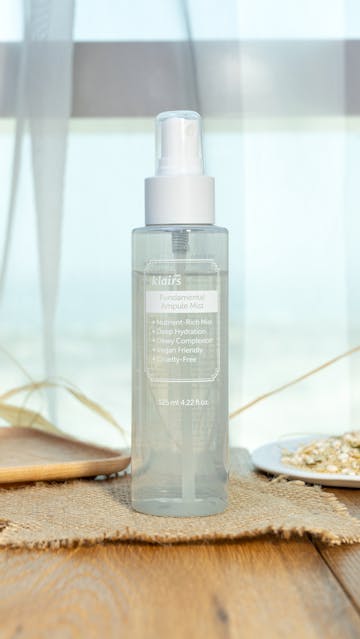 In conclusion:
This Fundamental range from Klairs is definitely living up to its promises!
This mist is perfect when paired with the "stronger" actives I'm using at the moment; it does the job and is very pleasant to use: what's not to love?
The Klairs Fundamental Ampule Mist retails for between $25 and $30 for 125ml depending on the retailers.
Product Review in detail
Summary
Klairs Fundamental Ampule Mist
"Made with Jeju Green Tea Water, Cucumber, Rice, Okra, Laminaria Japonica Extract and moisture-locking Trehalose, this mist ampoule provides outstanding moisturization even after spraying."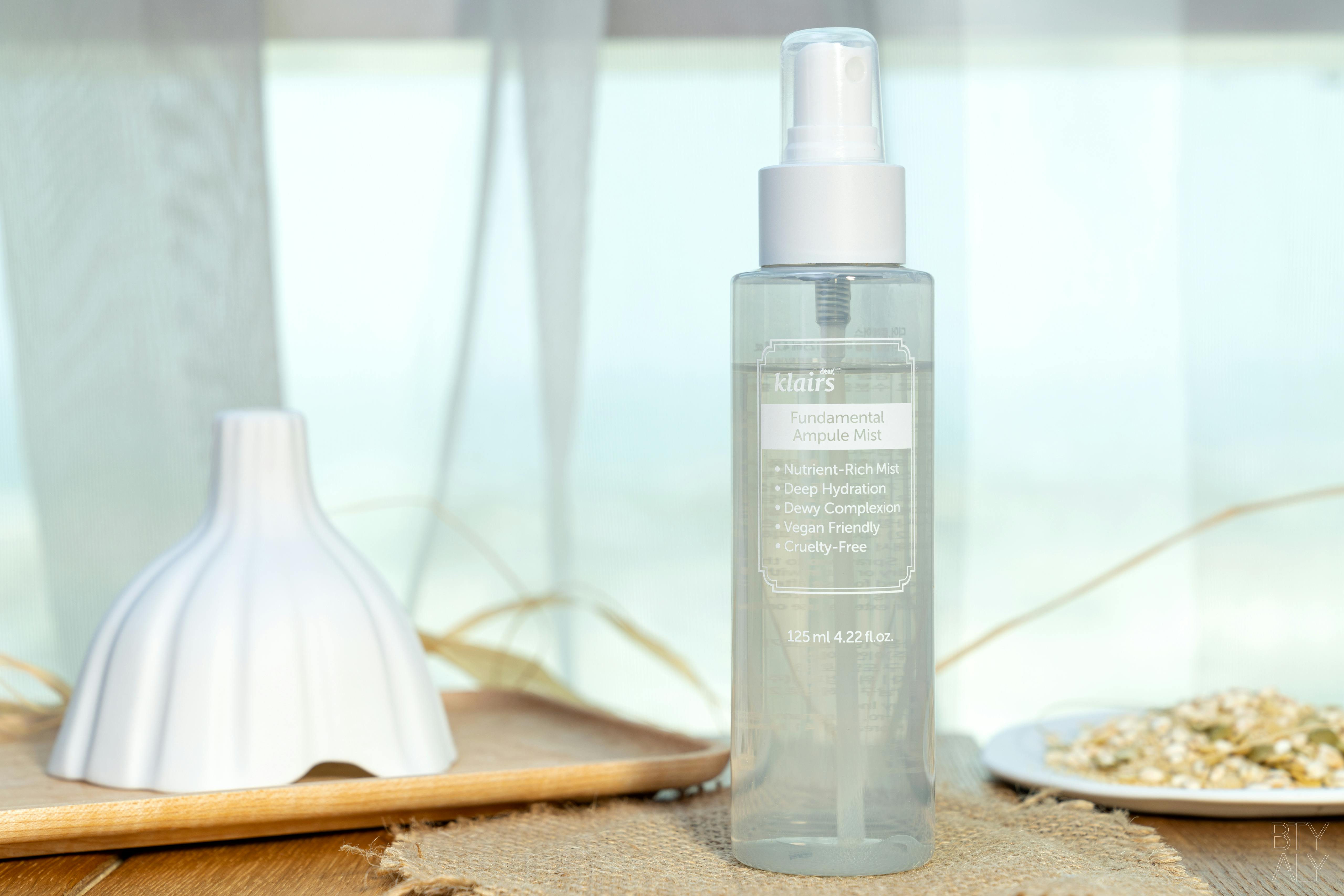 Recommendation
A
A good product, lovely to use and that does the job!
Pros
- a lovely formula with lots of interesting skincare ingredients,
- a hybrid texture that's great for uncomfortable skin,
- the mist format, super pleasant to use,
- its versatility: it can be used as a replacement for a moisturizing serum!
- I can use it during the day, and still apply my makeup without any problem,
- it moisturizes durably, the skin feels very comfortable throughout the day,
- its antioxidant effect, perfect for daytime use,
- its soothing effect,
- the formula is suitable for sensitive skin (no fragrance, no dyes...).
Cons
- nothing to report here!
product name
Fundamental Ampule Mist
packaging
A plastic bottle with a spray nozzle. It's translucent and white, very simple and minimalist.
fragrance
It's fragrance-free.
texture
A light mist that leaves the skin very comfortable.
For Who
– all skin types,
– all ages.
Concerns
– need for hydration,
– need for comfort,
– need for environmental protection,
– lack of radiance.
Method
You can use the Fundamental Ampule Mist morning and night. At the moment, I use it in the morning because I appreciate the feeling of the mist when I wake up! It's very refreshing.
After applying my essence(s), I mist my face and neck 2 or 3 times and then massage for a few seconds. Once it' s absorbed, I proceed to apply my serum(s). If I wanted to be more minimalist, this mist could totally replace my moisturizing serum, by the way! :
Key Ingredients
The formula is relatively short but it gets to the point!
It contains:
– green tea water, which is the base of the formula: soothing, antioxidant and balancing,
– some moisturizing ingredients: ceramides, hyaluronic acid, glycerin, betaine, trehalose and sorbitol (the latter two are sugars that retain moisture in the skin),
– and soothing panthenol and mugwort.
Ingredients
Camellia Sinensis Leaf Water, Butylene Glycol, Glycerin, Luffa Cylindrica Fruit Extract, Oryza Sativa (Rice) Extract, Hibiscus Esculentus Fruit Extract, Betaine, Trehalose, 1,2-Hexanediol, Aqua(Water), Artemisia Vulgaris Extract, Panthenol, Sorbitol, Sorbitan Sesquioleate, Ethylhexylglycerin, Laminaria Japonica Extract, Sodium Hyaluronate, Hydroxyethylcellulose, Disodium EDTA, Hydrogenated Lecithin, Ceramide NP.
Ingredients not included
– mineral oil,
– fragrance,
– dye,
– alcohol,
– silicone.