Intro
My test and review of the Fundamental Watery Oil Drop "oil-in-serum" from the Korean skincare brand Klairs.
I started mentioning "oil-in-serum" a few months ago (with the iUNIK Noni Light Oil Serum, which didn't completely convince me, by the way). I'm continuing to explore this category of hybrid products with a product that left me with a much better impression: the Klairs Fundamental Watery Oil Drop Serum!
I've already mentioned it several times: I like the idea of facial oils for my skin (especially right now as I'm using tretinoin, my skin has started to peel again, yay lol) but my combination skin always has a bit of trouble absorbing them completely.
I'm a fan of the glowy effect it gives, but on me, it can quickly make me look like a grease ball. From glass skin to French fries, real quick! 😆
I'm therefore very interested in these "oil-in-serum" products that are hybrid product, between a face oil and a serum. Their texture is generally more appropriate to the needs of my skin, which needs comfort, but which doesn't really love overly rich textures, especially during the day!
The texture of some of these "oil-in-serums", looks like a rather liquid gel, which leaves a slightly oily feeling on application.
They are "lighter" in texture than a face oil (or an oil blend). If like me, you have dehydrated combination skin, this is clearly a product category that might interest you!
The "oil-in-serums" are indeed nourishing without leaving an "oily" effect on the skin and can be used in the morning for example, even before applying make-up. They generally give a nice glow to the skin and above all, they allow it to stay comfortable longer than with a moisturizer (of course, I use both #moreismore 😁).
Last summer, Klairs, which I particularly like, released its version of "oil-in-serum" in its new Fundamental skincare line. And I must say that I was very pleasantly surprised by this Klairs Fundamental Watery Oil Drop!
Let me tell you all about it!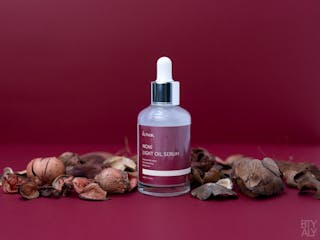 Skincare
Review: iUNIK Noni Light Oil Serum
Today, I want to tell you more about a special category of serums: "oil-in-serum" hybrid serums. Let's start with one of my favorite K-Beauty brands, iUNIK, and its new-ish Noni Light Oil Serum!
Read more
The Fundamental line, by Klairs:
I've mentioned Klairs several times already, because I really like this skincare brand!
Their philosophy? Simple, minimalist, eco-friendly products, and with formulas that are mostly natural. They are also cruelty-free.
You could even call the formulas "clean" if this term was regulated (which it is not 😜). In any case, the brand aims to be accessible to the greatest number of people, including those with sensitive and even acne prone skin.
And it's a concept they've pushed even further in their Fundamental range, which goes back to the fundamentals of skincare!
The aim of the Fundamental line is to restore the skin's balance with a simple strategy: moisturize, repair and protect.
This may sound basic, but the brand really wants to focus on the essentials by highlighting the high quality of its formulations. Klairs describes the Fundamental line as "fundamental care achieved with premium formulation". The price of the products in this range is a little more expensive compared to the classic range (it's still quite affordable).
This kind of skincare line is great paired with powerful anti-ageing treatments, which are certainly effective but tend to be quite irritating sometimes (retinol, acids, vitamin C… the usual suspects of anti-ageing!).
The Fundamental range includes 5 products: a mist, two eye contour products, a moisturizing cream and the Fundamental Watery Oil Drop serum, which I will introduce today in more detail.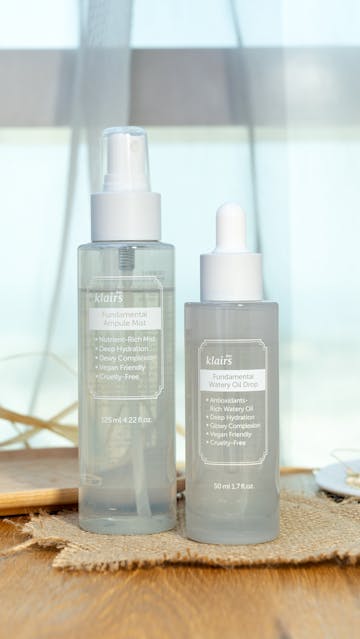 The Klairs Fundamental Watery Oil Drop serum, product presentation:
The Klairs Fundamental Watery Oil Drop is an "oil in serum", a hybrid serum that balances the hydration and moisture of the skin.
However, what is quite confusing with this serum is that despite its name "Watery Oil Drop", it doesn't contain any oil at all in its formula!
Its texture is slightly oily when applied to the skin, but not at all as oily as a true facial oil.
I imagine that with this product name, Klairs wanted to take part in the very trendy segment of facial oil serums and that they probably worked on the texture of the product to create this illusion…? I'm speculating here obviously, but who knows!
That being said, marketing aside, it's still a very effective moisturizing product. I think it can work for many different skin types, although the very dry skin will probably need to add a rich cream on top. For my dehydrated combination acne prone skin, it's perfect!
It prevents moisture loss throughout the day, and makes the skin feel comfortable for a long time, without leaving a sticky feeling.
Its formula is full of beautiful skincare ingredients:
– anti-oxidant, soothing and purifying green tea water and green tea extract from Jeju Island,
– purifying Oryza Sativa rice extract,
– calming Bifida Ferment Filtrate and Aspergillus/Rice Ferment soothing ferments,
– anti-aging and soothing peptides: Acetyl Hexapeptide-8, Copper Tripeptide-1 (it's a copper peptide!),
– moisturizing ingredients such as arginine, betaine, hyaluronic acid, glycerine…
– and repairing ceramides.
The formula contains no added fragrance, essential oil or alcohol, which is always a plus if you have sensitive skin.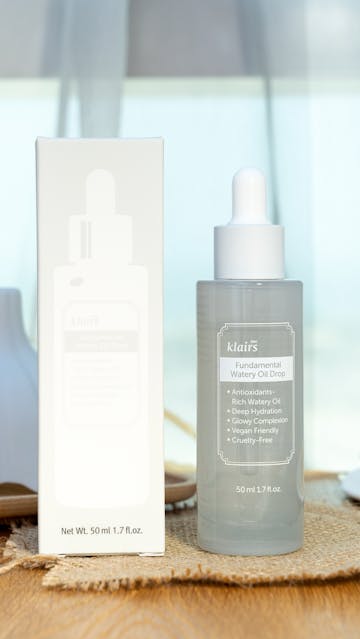 The Klairs Fundamental Watery Oil Drop serum, my experience:
I bought the Klairs Watery Oil Drop serum a little while ago on Wishtrend.com (affiliate link). The Wishcompany behind the Klairs website is the same company that owns the Klairs brand. Which means that the brand's new products are usually released on the Wishtrend website first.
Wishtrend is a store that I use more and more for my K-Beauty purchases. They don't have as large a selection as YesStyle for example, because they mainly focus on their own brands (Klairs and By Wishtrend for example). But I actually really like these brands, and the delivery time is much faster than YesStyle (especially the Expedited Shipping option which takes only 2 to 3 days). This fast delivery isn't free but there are always promo codes lying around online (this month, the discount code AUG10 gets you -10% on your order, for example) and in the end, I think I never paid for the delivery 😅.
I started this Watery Oil Drop serum a few weeks ago now. I have recently increased the concentration of my tretinoin product and we're at that time of the summer in Dubai where it's too hot to go outside, but it's less humid outside and I basically survive on air conditioning. Which means my skin is dehydrated as hell!
So my skin is definitely craving for hydration and moisture right now, but I don't want to look greasy in this heat either.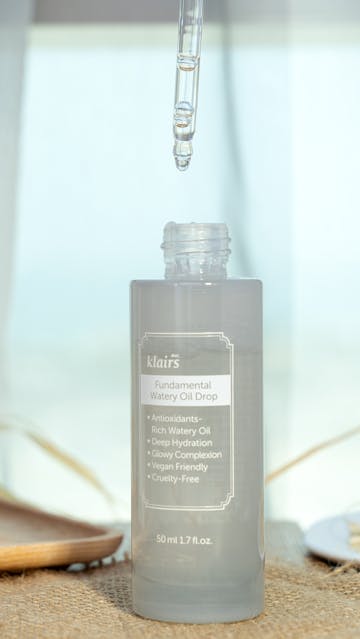 The texture of the Watery Oil Drop serum is exactly what I need at the moment! This very liquid, slightly oily serum that leaves my skin comfortable but without any "heavy" effect! It's a super silky texture when you applied it, and it's quickly absorbed. It's a very nice to use product!
It leaves a lovely glow on the skin, #glassskin-like but subtle, quite natural. I really like it!
My skin feels comfortable all day long and I find that it doesn't enhance my pilling (lol, I just hope it's because I'm done with pilling skin, but I'm afraid it's just a temporary break!)(retinization is no joke).
I really think that if you want a minimalist routine, and you have combination skin, you could totally just use this Watery Oil Drop serum as a very simple one-step skincare routine this season! (well obviously, with a vitamin C serum underneath, it would be even better #moreismore 😜)
For me in any case, this Klairs Watery Oil Drop serum fits perfectly into my more complex routine and I find it lovely to use and very effective!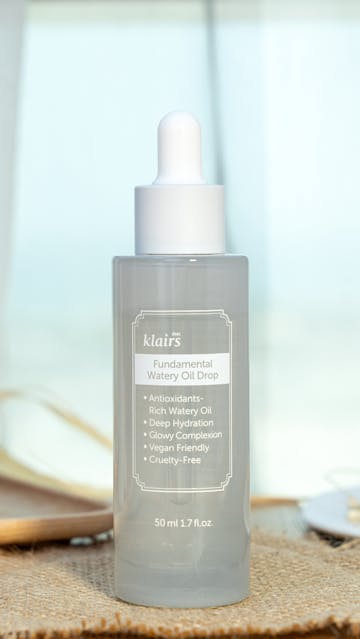 In conclusion:
I definitely fell in love with this Klairs Watery Oil Drop serum! The formula is simple, but also very well done and I find that its texture makes it a real pleasure to use!
It gives me a long-lasting comfort for the whole day without feeling heavy on my skin and it gives it a nice glow in the morning!
In short, it's a perfect product and I'm delighted to use it this summer!
The Klairs Watery Oil Drop serum retails for $31 for 50ml.
Product Review in detail
Summary
Klairs Fundamental Watery Oil Drop
"Incorporated with green tea leaf water, ceramides, peptides, sodium hyaluronate alongside rice and kelp extracts, this water-based serum deeply hydrates kin while fostering cell regeneration. Non-sticky formula is readily absorbed into skin."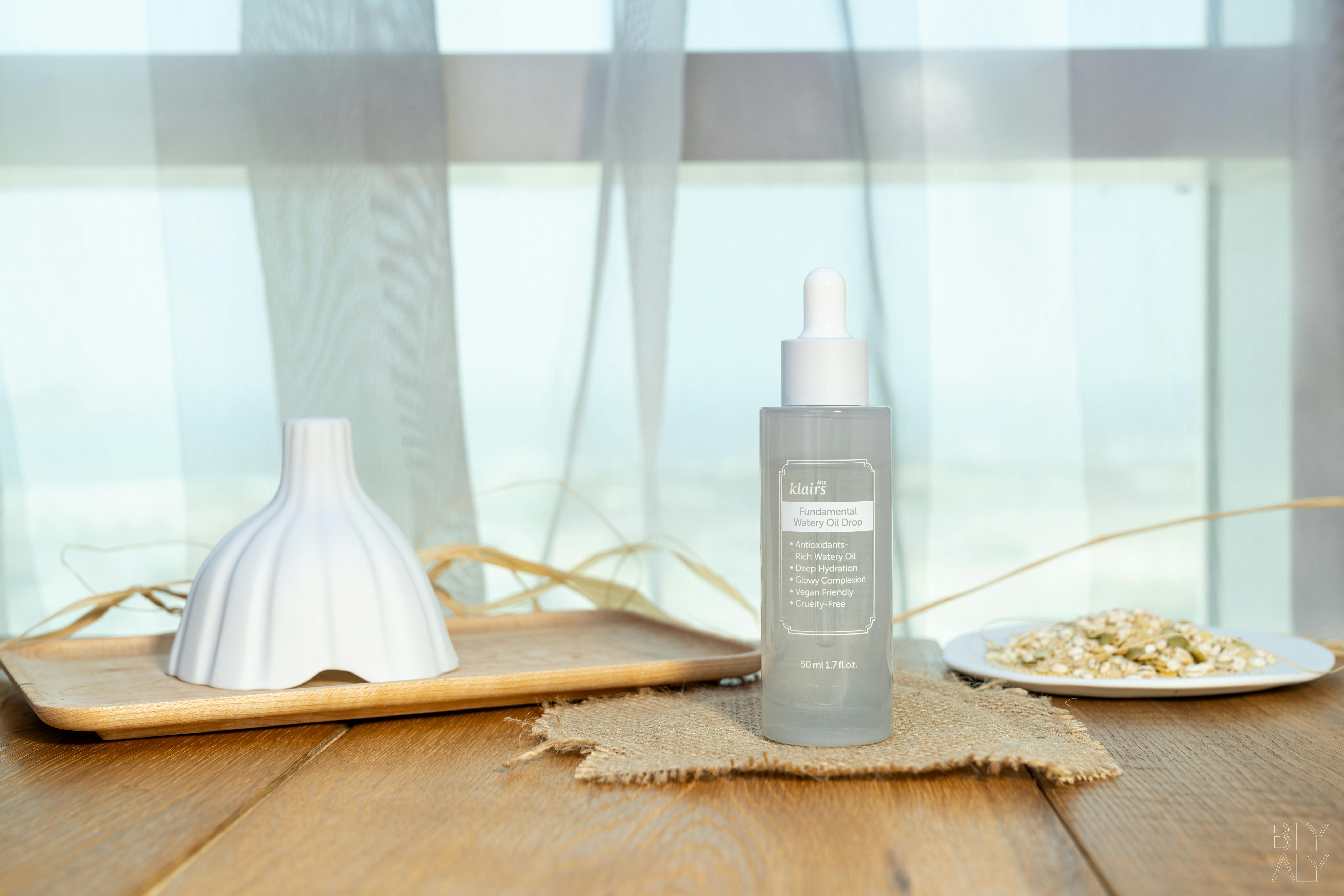 Pros
- a great formula, rich in beautiful skincare ingredients,
- a perfect hybrid texture for my combination skin: it gives comfort without feeling heavy, and without stickiness,
- It's an ideal product for the morning, it doesn't leave my skin oily and my makeup still lasts perfectly on top of it,
- it gives a nice glow, skin-glass style but very subtle,
- it moisturizes and nourishes lightly, the skin is very comfortable,
- its antioxidant effect, always welcome (I'm 41, I need all the help I can get 😆),
- it's soothing,
- the formula is suitable for sensitive skin (no fragrance, no dyes...).
Cons
- nothing to report, I love this product!
product name
Fundamental Watery Oil Drop
packaging
A glass bottle with a pipette, white and translucent, very simple and minimalist.
fragrance
Fragrance-free (and it doesn't smell like anything)
texture
A very silky gel-oil texture that melts into the skin and leaves the skin nicely glowy but not at all "oily" after a few minutes.
For Who
– all skin types,
– all ages.
Concerns
– need for hydration,
– need for comfort,
– need for environmental protection,
– lack of radiance.
Method
The Fundamental Watery Oil Drop serum can be used morning and night. Right now, I use it in the morning, and it feels great during the day!
After applying my water-based serum(s), I take about 1/4 of a pipette and I massage my face and neck with it for a few seconds. Once it is absorbed, I apply my daily moisturizer on top of it.
Key Ingredients
Oddly enough, while the brand describes this serum as an oil, it doesn't contain any in its formula! However, the formula is full of lovely ingredients. Judge for yourself:
– Green tea water and green tea extract: antioxidant, soothing and purifying,
– Oryza Sativa rice extract: purifying,
– Bifida Ferment Filtrate and Aspergillus/Rice Ferment: soothing,
– Acetyl Hexapeptide-8, Copper Tripeptide-1 (this is a copper peptide): anti-ageing and soothing,
– Some moisturizing ingredients: arginine, betaine, hyaluronic acid, glycerine…
– and finally some repairing ceramides.
Ingredients
Aqua (Water), Glycerin, Butylene Glycol, Camellia Sinensis Leaf Water, Oryza Sativa (Rice) Extract, Bifida Ferment Extract, Betaine, Dipropylene Glycol, Sorbitol, 1,2-Hexanediol, Aspergillus/Rice Ferment Extract, Camellia Sinensis Leaf Extract, Dipotassium Glycyrrhizate, Sorbitan Sesquioleate, Ethylhexylglycerin, Sodium Acrylate/Sodium Acryloyldimethyl Taurate Copolymer, Sodium Hyaluronate, Hydroxyethylcellulose, Xanthan Gum, Arginine, Carbomer, Tocopheryl Acetate, Acrylates/C10-30 Alkyl Acrylate Crosspolymer, Laminaria Japonica Extract, Ceramide NP, Hydrogenated Lecithin, Copper Tripeptide-1, Acetyl Hexapeptide-8.
Ingredients not included
– mineral oil,
– fragrance,
– dye,
– alcohol,
– silicone.