Intro
A detailed review of The Blue Cocoon balm from the luxury green skincare brand May Lindstrom.
The Blue Cocoon is definitely a cult product among green beauty worshippers. Today, let's take a closer look at May Lindstrom's lovely blue treating balm.
Although I was first interested in the May Lindstrom's cleansing products (which I already reviewed: The Problem Solver and The Honey Mud), I was also very intrigued by The Blue Cocoon balm.

This balm is adored by those who love skincare products, impeccable ingredients lists and who have a capricious skin (without forgetting you clearly need a nicely garnished wallet!).

Of course, I wanted to see if it was up to its reputation and also test its soothing power.
I've been using The Blue Cocoon balm for several months now and here is my review:
Even if my skin isn't particularly sensitive, I still use a lot of potentially sensitizing ingredients in my routine (acids, vitamin C, retinol…).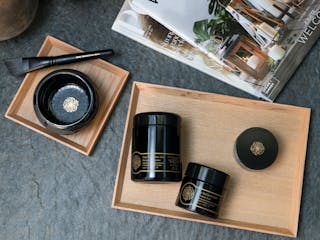 Brands
Focus on: May Lindstrom, luxurious green skincare
When you think of a green skincare brand, that doesn't compromise on the quality of its formulas but remains very sensory and luxurious, only one name comes to mind: May Lindstrom.
Read more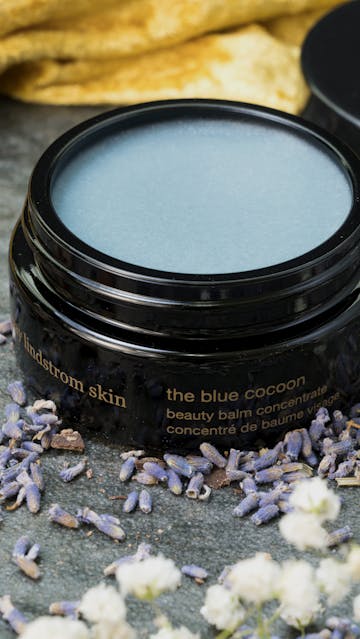 Product presentation: May Lindstrom The Blue Cocoon
I confess that I struggled to understand what was The Blue Cocoon at first.
May Lindstrom, the designer and the face of the brand, describes it as a multi-functional product. It's even the only product she uses on herself to hydrate/protect and treat her skin.
It can indeed be used in several ways:
– instead of your day and/or night cream, as a protective and treating product at the same time,
– on top or underneath your moisturizer, like you would do with a face oil or a serum (that's how I use it),
– locally, on areas where the skin is very irritated, as a soothing balm (on the face or body),
– to do a very, very luxurious and super relaxing facial massage, using a little bit more of product (considering the price, it's clearly something to do only for special occasions!).
It's ideal for fragile and/or sensitive skins that need a soothing treatment but it's also great for skins that need more comfort.
It contains a mix of naturally calming ingredients including the very trendy blue tansy oil (it's everywhere at the moment), which has very powerful soothing virtues thanks to its high content in chamazulene (the source of its stunning blue color). The Blue Cocoon is also very aromatic, and it amplifies the relaxing effect. The smell of blue tansy oil is quite characteristic and personally, I find it intoxicating and I like it very much!
The Blue Cocoon only contains natural ingredients, without any preservatives (the essential oils in the formula are used to naturally preserve the formula). This product is hand-made by May Lindstrom and her team and also includes a label with a lot number at the bottom of the jar, with the date it was prepared as well as the best use by date after opening.
It comes in a glass jar in the May Lindstrom's signature dark purple packaging. It's very beautiful and luxurious, like the rest of the range; the black and light blue colors together are stunning.
The size is pretty generous. The jar weight is 50 g. It lasts a really long time, I've been using it for over 6 months now and I still have a good third of the product left!
My experience:
The Blue Cocoon has been part of my routine for several months now.
I use it at night, in a very small amount. If I apply too much, it sometimes tends to clog my pores a little (it contains a lot of shea butter, not really recommended when you have acne-prone skin like me).
Clearly, I shouldn't use it in summer because of all the heat and sweat involved (they tend to clog my pores too), but with 24/7 air conditioning, my skin still needs TLC. I try to limit the amount of product I use and everything is fine!
The texture is super buttery and it melts with the warmth of the skin, and a slight amount of pressure, which feels very nice! It smells extremely good, it's sweet and aromatic at the same time, a true delight!
I massage it for a few seconds (or several minutes if I want a more relaxing experience) and then I apply my night cream (or not, it depends, especially in summer).
If you want to do a longer massage, the brand recommends to apply it on your damp skin (it also amplifies the absorption of the active ingredients). I do it sometimes, especially after having done a deep cleansing treatment with The Problem Solver and The Honey Mud. It's like a true spa ritual experience!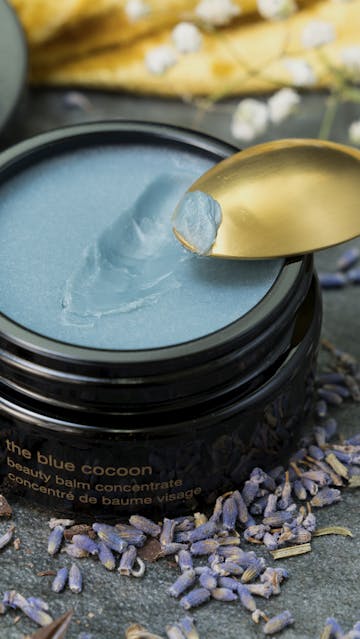 Result:
It's a bit complicated to judge the result because my skin is not the best candidate for this product. I use it more to maintain my skin's balance than to actually treat it.
However, my husband has the perfect skin condition to use The Blue Cocoon: his skin is super dry, sensitive, and eczema prone. He tried it several times and he really likes it. The Blue Cocoon helps him to soothe his skin and reduce the irritation (I will probably end up giving my product to him, I think his skin will benefit more from it than mine)(and I also want to try other products ah ah ah).
The Blue Cocoon is definitely a real luxury to use, it's an extremely pleasant experience from all points of view!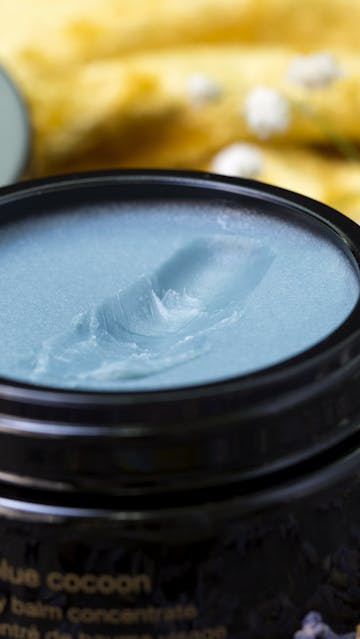 Value for money:
This is probably the most expensive skincare product I ever tried! Even if it lasts a very long time, The Blue Cocoon remains a very expensive product.
Clearly, I probably wasn't the best candidate to review this product, let's be honest!
I'm glad I'm able to try it and I really appreciate it! But I don't think I'll repurchase, unless my skin changes and becomes ultra-sensitive. I can probably find good soothing and balancing products at a lower price.
It will certainly be complicated to find such a "clean" composition but to be honest, I am not a green beauty fanatic to the point of paying this price for this type of product!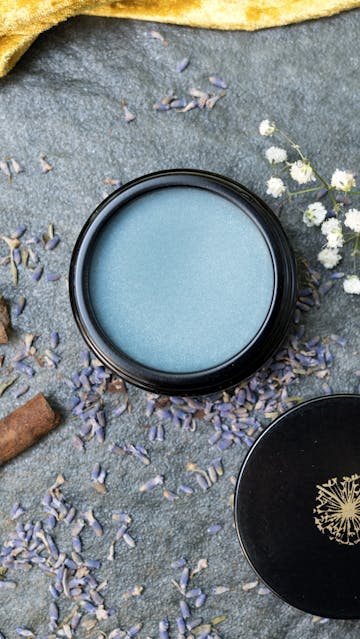 In short:
If you have a difficult skin, prefer completely natural products and want a super luxurious treatment, The Blue Cocoon is clearly a product worth trying!
The composition of this balm is indeed impeccable, with exceptional quality and ethical origin ingredients (following May Lindstrom's ethical principles).
So if you can afford it, it's a real pleasure and a very effective product both at the same time!
The May Lindstrom The Blue Cocoon balm retails for around $180 for 50g of product.
Product Review in detail
Summary
May Lindstrom The Blue Cocoon
"Our balmy blue enchantress greets your skin with cool serenity, melting on touch to a fluid potion that tenderly envelopes you in the most decadent azule calm. Mystical blue tansy eases feelings of emotional anxiety while releasing heat and providing nourishing hydration and relief."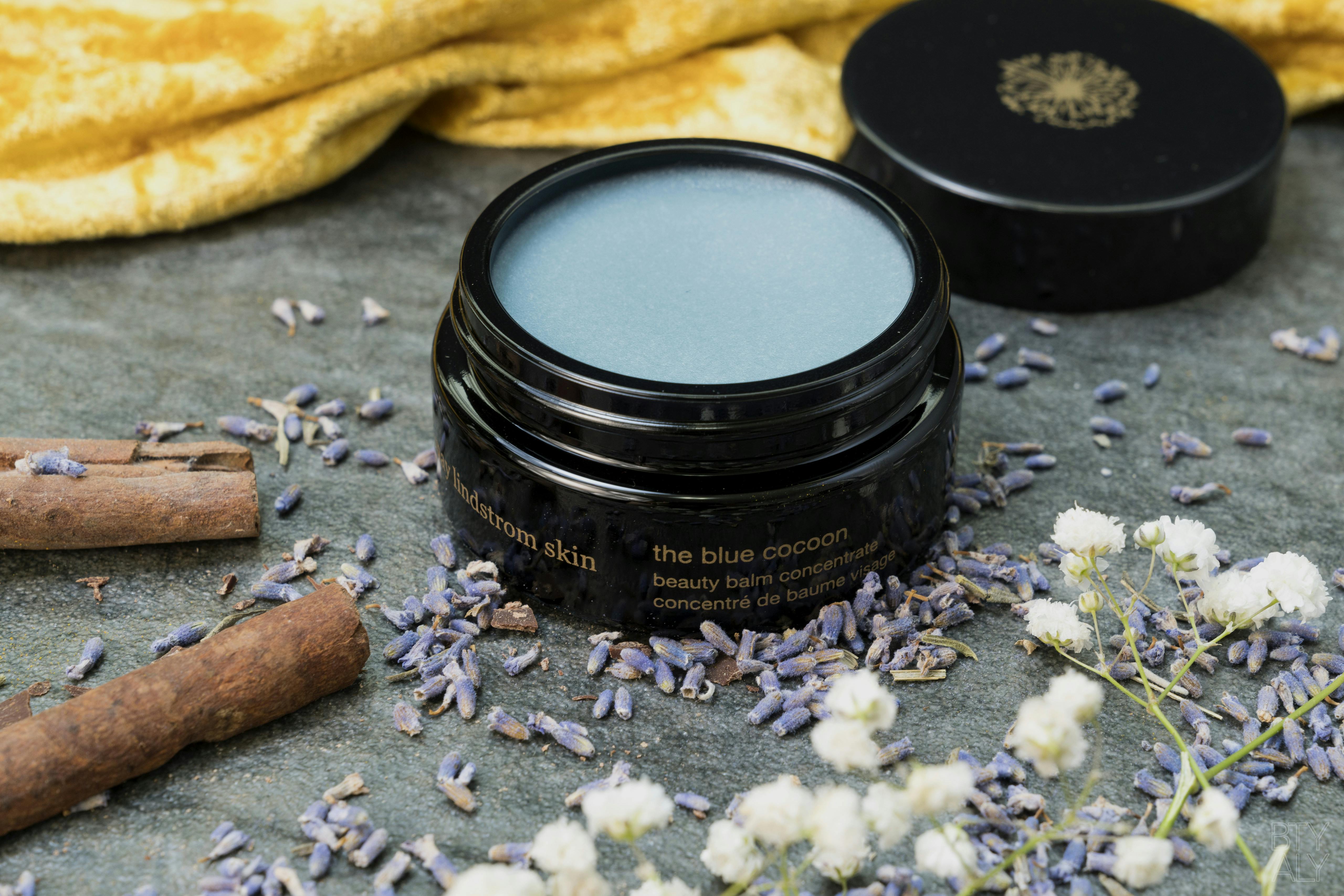 Recommendation
A
Perfect for skins in distress who can afford it
Pros
- the gorgeous, very luxurious packaging,
- the super "clean" formula, with very high-quality natural ingredients,
- the delicious scent (chocolate, vanilla, and a very aromatic herbal scent: an unexpected but very pleasant mix),
- the yummy texture that melts on the skin,
- the soothing effect, the skin is really calmed after the treatment,
- the comfort, the skin is nourished durably and it doesn't stay greasy, the skin absorbs it easily,
- the quantity/price ratio: you really don't need a lot of product, so the jar lasts a very long (at least 10 months).
Cons
- I have to be careful of how much I use because if I apply too much, it can be too rich for me and may tend to congest my skin a little (especially in summer),
- the retail price but the quality/price and quantity/price ratios are excellent,
- I'm very clumsy, I'm always afraid with heavy glass jars (they look nice and fancy but they're likely to break easily!), I think maybe I need a protective case like for my phone!,
- the distribution is quite selective, it's not an easy product to find (it's mostly available online).
product name
The Blue Cocoon
packaging
A stunning and luxurious glass jar in a very dark purple color (it looks black). It's lacquered with the logo of the brand in gold edging on the lid.
fragrance
A surprising and delicious scent of chocolate, vanilla and aromatic plants.
texture
A balm that melts with the heat of the skin.
For Who
For all skin types, even sensitive skin and more particularly:
– mature skins,
– damaged skins,
– dry and/or dehydrated skins,
– sensitive, sensitized skins with some redness,
– acne-prone skins.
Concerns
– sensitized, damaged skin
– redness, sensitivity
– eczema
– dryness
– acne, inflammation.
Method
I use it every night on my face and neck, after my serum(s) and before my night cream when I use one.
I apply the equivalent of half a pea of product that I massage first between my hands to melt it and then I apply it on my skin with light massaging strokes. I use it on my face, my neck but also on my lips (it's super effective on dry lips).
Key Ingredients
– Camellia oil: deeply softens and nourishes dry, fragile or damaged skins.
– Shea butter: soothes, protects, nourishes, softens the skin with a lack of comfort. Be careful however, on certain skins, it can be comedogenic.
– Cocoa butter: nourishing, prevents dehydration, antioxidant, healing.
– Marula oil: a very fine oil with an high absorbency, rich in omegas 6 and 9, it helps to nourish the skin and preserve its radiance. It's also anti-bacterial.
– Yangu oil: a fine sebum-regulating and balancing oil, perfect for combination to oily skin.
– Baobab oil: a non-greasy oil, regenerating, soothing, healing and repairing. It also has anti-aging properties thanks to its natural content of vitamin E.
– Blue Tansy oil: this oil gives The Blue Cocoon its fabulous blue color! With powerful soothing virtues thanks to its chamazulene content, it's very calming and healing. It also helps to bring comfort to sensitized skin.
– Myrrh, Lavender, Incense, Geranium Rose, Vanilla, Schisandra Chinensis, Immortelle, Ravensara Aromatica Essential oils: they have various benefits but they are mostly anti-bacterial, anti-inflammatory and also very aromatic (which is very pleasant!).
Ingredients
*Camellia Oleifera Seed Oil, ***Butyrospermun Parkii (Shea) Butter, ***Theobroma Cacao Seed Butter, ***Sclerocarya Birrea (Marula) Seed Oil, *Adansonia Digitata (Baobab) Oil, *Tanacetum Annuum (Blue Tansy) Oil, **Commiphora Myrrha (Myrrh) Oil, *Lavandula Angustifolia (Lavender) Oil, **Boswellia Serrate Gum (Frankincense) Oil, *Pelargonium Graveolens (Geranium Rose) Oil, *Vanilla Planifolia (Vanilla) Co2 Oil, Schisandra Sphenanthera Co2 Fruit Extract, *Helichrysum Italicum (Immortelle) Oil, Ravensara Aromatica Oil, +Linalool, +Citronellol, +Geraniol, +Limonene
*Certified Organic **Wild Harvested ***Fair Trade, Raw, & Unrefined +Component of Essential Oil
Ingredients not included
– parabens,
– propylene or butylene glycols,
– mineral oils,
– sulfates,
– PEG, TEA, DEA,
– phthalates,
– GMO,
– silicones,
– pesticides,
– artificial colors,
– synthetic fragrances,
– soy, wheat, gluten.