Intro
An in-depth review of The Problem Solver face mask by May Lindstrom, an uber-luxury green brand.
May Lindstrom's skincare range is a green beauty lovers' dream. Among its most popular products, the multi-tasker face mask The Problem Solver is probably the product I was the most curious about.
My skin has been quite well balanced for the last recent months but I still enjoy using a good clay face mask to deeply cleanse it from time to time.
May Lindstrom The Problem Solver is not just a simple clay mask, it's the Rolls of clay masks! The brand claims it's also a skin treatment, it's supposed to go further than just deep cleansing of the skin. This is often the case with May Lindstrom products, it's difficult to categorize them, the products rarely have just one single action.
And if the brand May Lindstrom has such a great reputation among green beauty lovers, it's also because the formulas in these products, are quite exceptional.
No filling ingredients, the compositions are 100% pure and beneficial for the skin.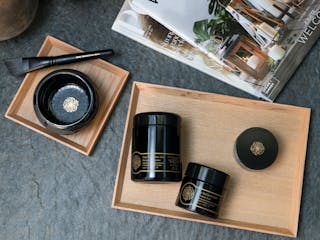 Brands
Focus on: May Lindstrom, luxurious green skincare
When you think of a green skincare brand, that doesn't compromise on the quality of its formulas but remains very sensory and luxurious, only one name comes to mind: May Lindstrom.
Read more
This is partly what explains the high prices of the products in this range.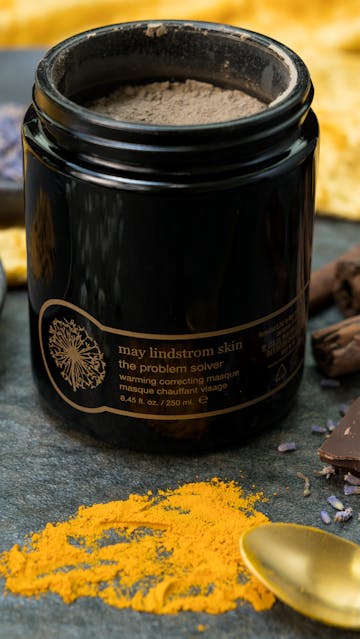 Product presentation: May Lindstrom The Problem Solver
The Problem Solver is a purifying face mask that deeply cleans the skin and tightens the pores. It also has a calming effect ideal for irritated and damaged skin. The brand claims that it can also treat acne-prone skin, stimulates blood circulation and gives a lot of radiance.
At first glance, you might think that this product is primarily aimed at oily skin. But for me, a deep cleansing mask, which can "detoxify" the skin, to facilitate the absorption of your skincare products is definitely good for everyone.
The Problem Solver is an […] SOS cure to soothe and treat damaged skin, like a beneficial cataplasm.
The brand also describes it as a real treatment, which helps to rebalance the skin, especially if there are rashes and damaged areas.
The creator of the brand, May Lindstrom, suffered from significant skin problems (eczema, rashes, etc.) and she first created her range of products to meet her own needs.
The Problem Solver is really for her, as an SOS cure to soothe and treat her skin, like a beneficial cataplasm.
It has no exfoliating effect. I always use it after I have exfoliated my skin (with a chemical scrub or an acid toner).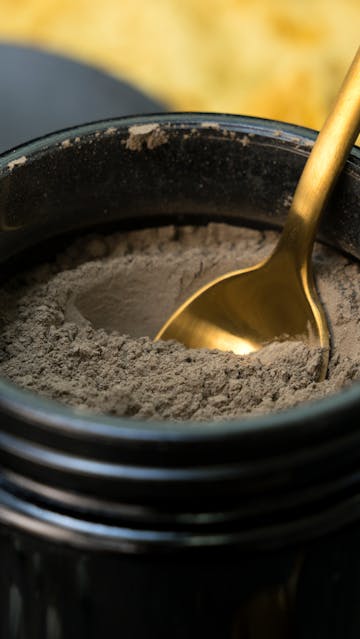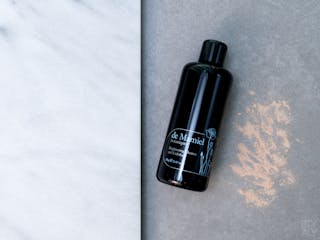 Trend
Trend: water-free cosmetics
With climate change, water is becoming a rare and precious resource. The awareness of consumers about the preservation of the environment now requires manufacturers to focus more on solutions and water-free cosmetics could be one of these solutions.
Read more
The Problem Solver contains only natural ingredients, without any preservatives. This product is hand-made by May Lindstrom and her team and also includes a label with a lot number at the bottom of the jar, with the date of preparation as well as the best use by date after opening. I would love to see this practice spread a little more in the beauty business, it's really convenient to ensure that you are using a "fresh" product, especially if it doesn't contain preservatives.
One of the characteristics of The Problem Solver is its powder form, which must be "activated" when you add some water.
The advantage of this type of formula is that there is no need for it to be preserved since it doesn't contain any water. For a green brand, it's the best possible scenario!
The other positive point is that you have an impressive amount of product! You don't need a lot to prepare a treatment and the jar has 250g of the product. The jar lasts for a very long time (at least 6 months if you're using once a week).
My experience:
I've been using The Problem Solver for about 1 month, once to twice a week (twice when I feel that my skin is a little more "angry" than usual, which is usually down to hormonal reasons).
I usually try to plan a quiet moment where I have time to use it because it's a product that must be left a long time on the skin. To really benefit from all its great ingredients power, you need to leave it on your skin (the brand recommends leaving it for 45 minutes) for a certain amount of time.
Regarding the methodology, I had a bit of trouble managing the amount of water to add to the powder. At first, I followed the brand's instructions: 1 teaspoon of powder, 1 teaspoon of water. But the texture was way too liquid and runny.
So I decided to halve the amount of water and the resulting texture was way better in my opinion: it forms a soft foamy paste that applies easily, and is far less messy.
When I bought the products, I got a good deal because I bought it during Black Friday. The Problem Solver was gifted for each purchase over $200 (given the price of the products, you can achieve this amount quite quickly…).
I also purchased:
And I also got the brush and the bowl, because they look so pretty (but clearly, they're not essential to use with the products, it works the same with a normal bowl and a flat foundation brush).
I love to add The Honey Mud in my preparation with The Problem Solver, I find the mix of the two products is super comfortable on my skin.
However, even when you use it alone, The Problem Solver always takes a long time to dry on the skin and I don't feel that it has an unwanted drying effect on my skin at all.
Result:
The action on the radiance of my complexion was visible immediately after I rinsed the mask. The skin was clear, bright, feeling deeply clean and no with redness at all.
The texture of my skin is super smooth when I use The Problem Solver, it feels very soft and the pores look tighter (in my case, it doesn't last very long, after a few days, they return to their usual large state…).
I didn't find that it was doing much on my pimples, though. I guess it may take a little more time (I've only be using The Problem Solver for 1 month).
But on the other hand, I tried the treatment on my husband who sometimes suffers from eczema and psoriasis and the result was rather impressive on his skin. It really helped soothe and calm the very "angry" areas. If only he used it regularly, I think it would be great for him in the long run (but hey, since he always asks me to apply his treatment and I'm not devoted enough to be his personal beautician… It will remain an occasional treatment! #badwifey)
Value for money:
Clearly, The Problem Solver is not a cheap product. It retails for $100 which is quite pricey for a mask.
But as I said above, the amount of product is really huge compared to other clay masks from competitiors. Well, OK, I know that you can find clay powders for less than $10 for 3 kilos. But clearly, your not comparing the same category of products.
May Lindstrom product fomulas are extremely well formulated. Each ingredient is hand-picked for its exceptional quality (May Lindstrom only works with trusty producers whom she has known for years and who can guarantee her a superior quality); the formulas are pure and 100% beneficial for the skin. May Lindstrom products are definitely of remarkable quality.
Also, there is in this product a real dimension of "ritual" very spa-like, with the whole preparation to be completed just before using it. And it's a very sensory product as well thanks to:
– its very surprising texture, that stays comfortable on the skin for a long time,
– its delicious scent of chocolate spices, a real pleasure of the senses,
– the fact that it super easy to rinse (if you've used other clay masks, you'll know it's definitely not a given!).
In short, The Problem Solver is a very luxurious product, with a price tag that goes with it.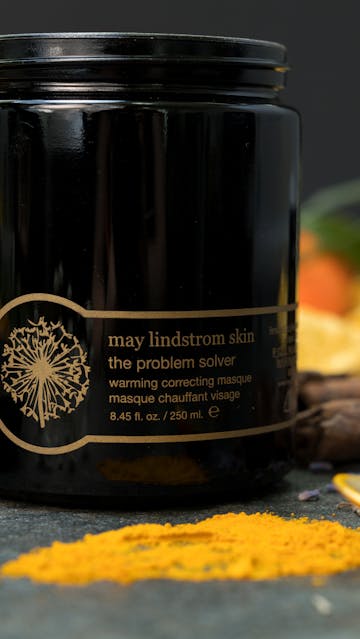 In summary:
I would say that May Lindstrom The Problem Solver is an excellent product. For me is worth the price, especially if you agree with the philosophy of the brand's founder.
If you're hunting for a product of superior quality and a formula where each ingredient is scrupulously chosen for its purity and effectiveness on the skin, look no further.
So, if you can afford it, I think The Problem Solver is an excellent face mask. I'm not sure I'll repurchase it right away (and anyway, it's going to last for a while!), but I'd say it's a safe bet if I want a real, pure and effective treatment in my skincare stash.
May Lindstrom The Problem Solver retails for $100, for 250ml.
Product Review in detail
Summary
May Lindstrom The Problem Solver
"The May Lindstrom problem solver is a jet-black fusion of antioxidant-rich raw cacao, healing bamboo charcoal, soil nutrients, salts, and exotic warming spices go deep on a mission to reveal your most radiant self."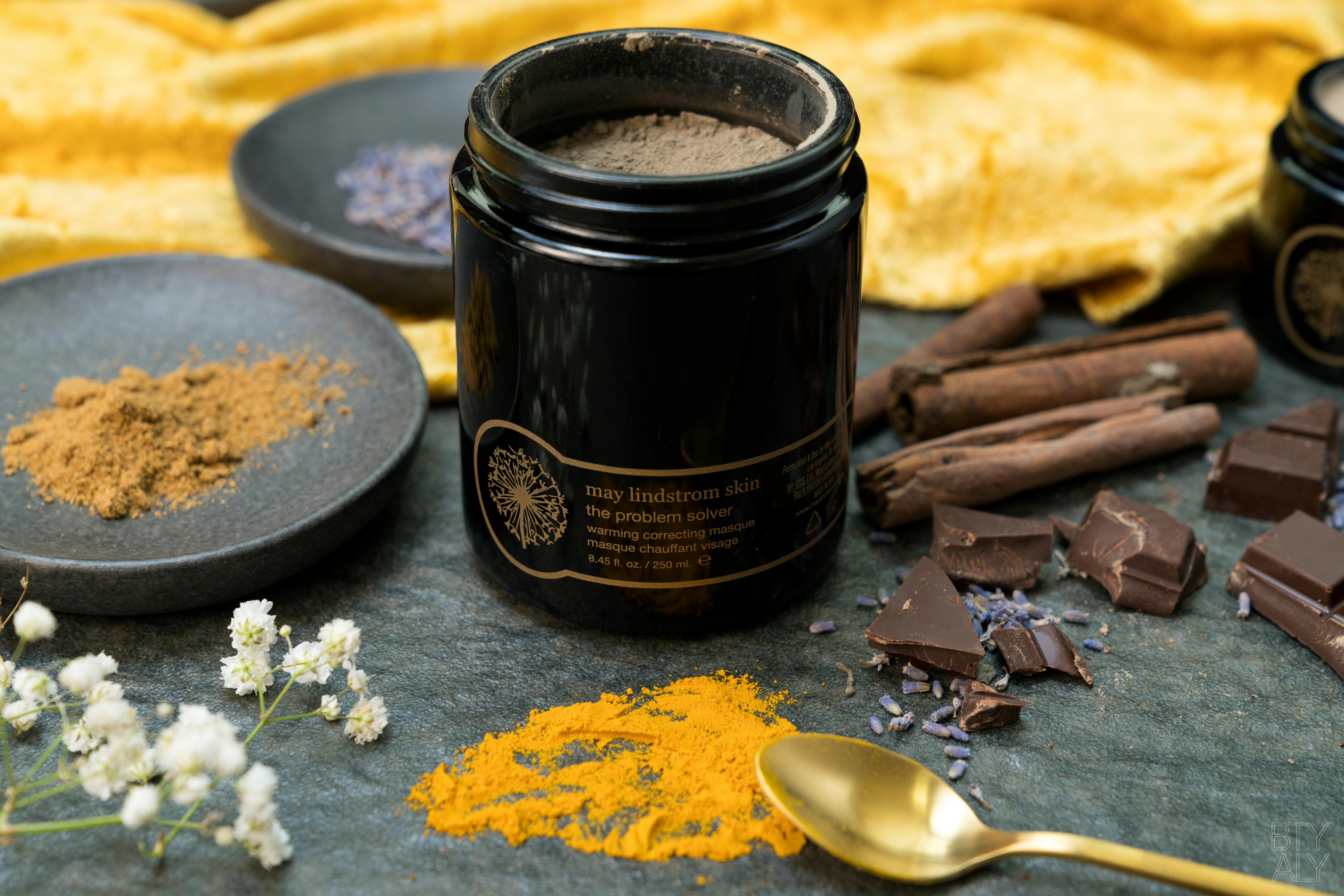 Recommendation
A
Excellent product if you can afford it
Pros
- the gorgeous packaging, very luxurious,
- the very "clean" formula, with natural high-quality ingredients,
- the scent to die for (chocolate and spices, yummy!),
- the fact that you have to prepare it, which gives an impression of a ritual, very spa-like,
- it takes a long time to dry, and has no drying effect like some other clay masks do,
- it gives a beautiful glow,
- it helps to even the complexion, it reduces the skin redness,
- it smoothes the skin,
- it lasts a very long time (it's a powder and you don't need a lot so it lasts for months).
Cons
- the price but considering the quantity of product, the price is finally lower than that you would think,
- I'm very clumsy, I am always afraid with heavy glass jars (they look nice and fancy but they likely break easily!),
- the distribution is quite selective, it's not an easy product to find (it's mostly available online).
product name
The Problem Solver
packaging
A stunning and luxurious glass jar in a very very dark purple color (it looks black). It's lacquered with the logo of the brand in gold edging.
fragrance
Chocolate and spices (it's a warm scent, super comforting and very pleasant).
texture
It's a powder that you need to mix with water in order to obtain a surprising foamy paste.
For Who
For all skin types, even the sensitive ones and more particularly:
– dull skin, with a lack of radiance,
– tired skin,
– very visible pores,
– acne-prone skin.
Concerns
– tired skin
– sensitized skin
– lack of radiance
– smokers
– skins exposed to pollution
– visible pores
– irregular skin texture
– acne-prone skin (blackheads, whiteheads…).
Method
Once or twice a week, I mix one teaspoon of powder of The Problem Solver with a small amount of purified or mineral water (about 1/2 teaspoon) in a bowl. I use a brush to mix and activate the mask. It becomes a kind of foamy paste (the brush allows you to obtain this foamy texture, it works less well using a spatula, I tried and failed). I then apply this foamy paste with the brush on my clean face and neck (I avoid the eye and lip contour).
Tip: for dehydrated skin, you can also add a teaspoon of The Honey Mud in the mix for an even more comfortable effect on the skin.
The brand recommends leaving the mask on the skin for 45 minutes or, if you prefer, until it's completely dry (it takes quite a long time to dry). During this time, the brand warns that there may be a slight tingling and warming sensation on the skin (on me, I can't really feel it).
After 45 minutes, I simply rinse it with warm water. The mask is very easy to remove, no need to rub it. I just continue with the application of a toner and the rest of my skincare routine.
Key Ingredients
The Problem Solver is composed entirely of active and beneficial ingredients for the skin. There is no "filling" ingredients here. Here are the main ones:
– Fuller's Earth clay, which is a natural sedimentary clay composed mainly of alumina, silica, iron oxide, lime, and magnesium. It's widely used for its lightening properties on the skin. And due to its powerful purifying properties, Fuller's Earth Clay is very effective at absorbing excess oil and is ideal for oily or acne-prone skin.
– Rhassoul clay, ultra effective to clarify the skin. It's very rich in oligo-elements such as silica, magnesium, iron, calcium, potassium and sodium. Because of its high mineral content, it has astringent properties (it tightens pores) and it absorbs impurities that clog the pores very effectively,
– powerful antioxidant raw cocoa powder (the cocoa bean naturally contains 621 antioxidants) (in comparison, a blueberry contains 32 antioxidants),
– red Alaea salt is a sea salt created by the natural evaporation of seawater during volcanic eruptions. During this evaporation, the salt mixes with red volcanic clay. Its red color comes from the extremely high amount of iron contained in this clay. Alaea Red Salt contains 80 different natural minerals and has detoxifying and remineralizing abilities,
– vitamin C (ascorbic acid),
– baking soda for its purifying action. I would have preferred that this mask didn't contain any. I know that this ingredient is very popular among the natural beauty lovers (it can be used in many different ways: on the pimples, as a deodorant, toothpaste etc) but I think it's a little too abrasive (its pH is very alkaline, which is not necessarily a good thing for the skin and its naturally acidic pH). That being said, even if The Problem Solver contains baking soda, I didn't feel that my skin was sensitized by this ingredient,
– activated bamboo charcoal. In many parts of Asia, this ingredient has been used for centuries for its ability to deeply and gently cleanse the skin, absorbing toxins and impurities. It's known there as the "black diamond" and is used to treat all kinds of skin issues, from acne to eczema. Once activated with water, bamboo charcoal releases many beneficial minerals for the skin, such as calcium, potassium and magnesium,
– nutmeg and clove for their antifungal and antibacterial effects, to reduce rashes. Nutmeg is also a natural skin lightener and clove has a stimulating effect,
– cinnamon which facilitates the synthesis of collagen in the skin,
– turmeric for its anti-bacterial and anti-inflammatory effect,
– cayenne pepper to stimulate cutaneous microcirculation, and for its anti-inflammatory effect.
Ingredients
Fuller's Earth Clay, Red Moroccan Rhassoul Clay, **Theobroma Cacao (Raw Cacao), Red Alaea Sea Salt, Ascorbic Acid (Vitamin C), Sodium Bicarbonate, Bamboo Carbon Charcoal Powder, *Vanilla Planifolia Bean, *Lavandula Angustifolia (Lavender) Flower, *Althaea Officinalis (Marshmallow) Root, ***Boswellia Carteri (Frankincense), *Centella Asiatica (Gotu Kola), *Archangelica (Angelica) Root, *Cinnamomum Zeylanicum (Cinnamon), *Myristica Fragans (Nutmeg), *Syzygium Aromaticum (Clove), *Curcuma Longa (Turmeric), *Capsicum Annuum (Cayenne) Pepper.
*Certified Organic **Fair Trade Certified ***Wild Harvested
Ingredients not included
– parabens,
– propylene or butylene glycols,
– mineral oils,
– sulfates,
– PEG, TEA, DEA,
– phthalates,
– GMO,
– silicones,
– pesticides,
– artificial colors,
– synthetic fragrances,
– soy, wheat, gluten.