Intro
Discover my mini-review of the Time Revolution First Treatment Essence Intensive from the Korean skincare brand Missha!
The Missha Time Revolution First Treatment Essence Intensive (which probably would win the contest for the world's longest name ever) is the first from the "first essence" category that I tried.
I remember it very clearly, I bought it a year ago.

It lasted me months (at least 8 months, easy)!

Basically, what happened is that I wanted to try the super popular Japanese essence, the SK-II Facial Treatment Essence and after doing some research online, I found that this Missha essence was often referenced as a dupe for the SK-II.

Comparing prices, I thought I might as well start with the Missha one, as the SK-II costs almost 5 times more than the Missha!
Skincare
Do you need an essence?
Recently, and probably thanks to the influence of Asian beauty, a new type of product appeared on most skincare addicts radar: essences. Like a kind of "beauty water" or "liquid skincare", an essence is a hybrid liquid product that is a cross between a toner and a serum. Can it replace them or do you have to add it to them? I'll tell you everything you want to know about essences!
Read more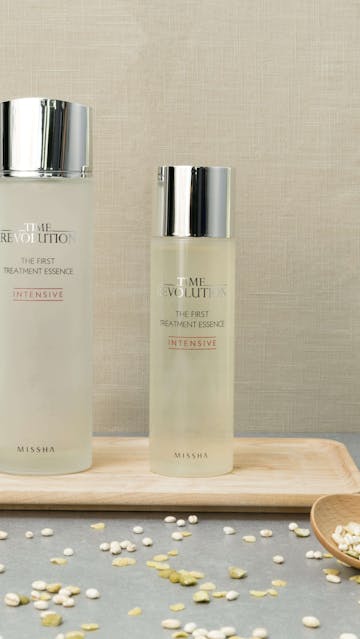 The brand Missha:
While I was doing more research on Missha, I realized that this Korean cosmetic brand was quite specialized in dupes of popular beauty products.
They're definitely not counterfeits but you can clearly see that some of the products are very inspired by other products. Their Time Revolution Night Repair Science Activator Ampoule is supposed to be a dupe of the Estée Lauder's Advanced Night Repair. Their eye cream MISA Geum Sul Vitalizing Eye Cream is apparently very similar to the Sisleÿa eye cream by Sisley (I'm not sure about this last one, but FYI, I use it at the moment, and it's very nice and rich!) (my review is here).
At first, I felt like Missha didn't really have a very harmonious identity as a brand. And this impression was confirmed when I went to Korea and was able to visit one of their shops. It definitely looked like a multi-brand store in there. But it wasn't, it was a 100% Missha shop. The different products ranges had just nothing in common. I feel like they recently tried to change that because they target an international clientele now, and this lack of harmony is quite disconcerting for customers.
Just take a look at their US website that doesn't have the new packaging yet and you'll see what I'm talking about! From what I can tell, they have several ranges of skincare:
– Time Revolution, their classic anti-age range (where you can find the First Treatment Essence Intensive),
– Super Aqua, their moisturizing range,
– Misa, more traditional and premium (the packaging look like a mix of Sulwhasoo and The History Of Whoo, two Korean luxury brands),
– Near Skin, their range of dermo-cosmetics, more "medical" looking,
– and their range for men.
They definitely look like five different skincare brands! But despite this disparity, Missha still deserves to be mentioned because you can find hidden gems in these diverse ranges! And it's totally the case with the Missha Time Revolution First Treatment Essence Intensive.
Missha Time Revolution First Treatment Essence Intensive mini-review:
I already talked a bit about it in my article on essences, this is a First Essence, which preps the skin to receive the other products you apply on top. In its formula, it includes a good concentration, 80%, of Saccharomyces (that's yeast, I spoke about it in my Focus on fermented ingredients) which help to smooth skin texture while also bringing a lot of radiance to the complexion. They are worshiped in Asia because they're also lightening (but more in a sense of brightening, not whitening).
Compared to other yeast-based First Essences I tried, the Missha First Essence Intensive Essence is probably the most moisturizing of all. But, looking closer, I feel that this particular essence of Missha is no longer available everywhere. The new version is the Intensive Moist, even more focused on hydration (it contains a little bit of dimethicone, which I try to avoid because my skin doesn't like it very much) (but to be honest, this silicone is really not very high up in the ingredient list, so I don't think it would cause a big issue on my skin).
Here is the complete list of ingredients for the Missha Time Revolution First Treatment Essence Intensive:
Saccharomyces Ferment Filtrate, Bifida Ferment Lysate, Propanediol, Niacinamide, Polyquaternium-51, Ulmus Davidiana Root Extract, Betaine, Amaranthus Caudatus Seed Extract, Pirper Methysticum Leaf/Root/Stem Extract, Beta vulgaris (Beet) Root extract, Phellodendron Amurense Bark Extract, Cassia Alata Leaf Extract, Hydrogenated Lecithin, Sodium Hyaluronate, Pentylene Glycol, Water, Trehalose, Disodium EDTA, Hydrolyzed Corn Starch, Adenosine, Ethylhexylglycerin, Butylene Glycol, Glycerin, Raffinose, Tromethamine, Acetic Acid, Lactic Acid, 1, 2-Hexanediol, Caprytyl Glycol, Hexapeptide-9 Phenoxyethanol, Potassium Sorbate
There are a lot of interesting ingredients in this formula: the saccharomyces as explained above, but also a probiotic (the Bifida Ferment Lysate) which is anti-oxidant and moisturizing, niacinamide (a super-star ingredient which I spoke in details on my blog), hyaluronic acid (Sodium Hyaluronate), but also many plants extracts with brightening effects.
I used the Missha Time Revolution Essence Intensive Essence for several months in my evening skincare routine, after my Biologique Recherche Lotion P50W. I applied it directly with the fingertips, dabbing the skin gently (you can use a cotton pad if you prefer but I think it wastes too much product). It's very liquid and has a fresh but very subtle scent.
Regarding the results on my skin, it's difficult to be certain of its direct benefits on my skin's radiance (mainly because I use a lot of other active ingredients like acids and retinol, which are strong glow givers), but I think it helps and I really like the moisturizing feeling it gives me.
In conclusion:
It's a very nice step in my routine and when I stopped using it (mostly when I was traveling), I saw the difference on my skin. My skin definitely likes this Missha essence!
What about you, have you already tried this Missha Time Revolution First Treatment Essence Intensive ? What did you think of it?
Product Review in detail
Summary
Missha Time Revolution First Treatment Essence Intensive
"The First Step for Clear, Glowing Skin!
Concentrated Essence:
Creates the perfect base for your skincare routine by conditioning skin with powerfully concentrated 80% Fermented Yeast Extract.
Brightens & Balances:
Clarifies tone, refines skin texture, and minimizes the appearance of redness for a clean & bright complexion.
Moisture Infusion:
Deeply hydrating fluid enriched with hyaluronic acid & niacinamide to moisturize and replenish skin's texture."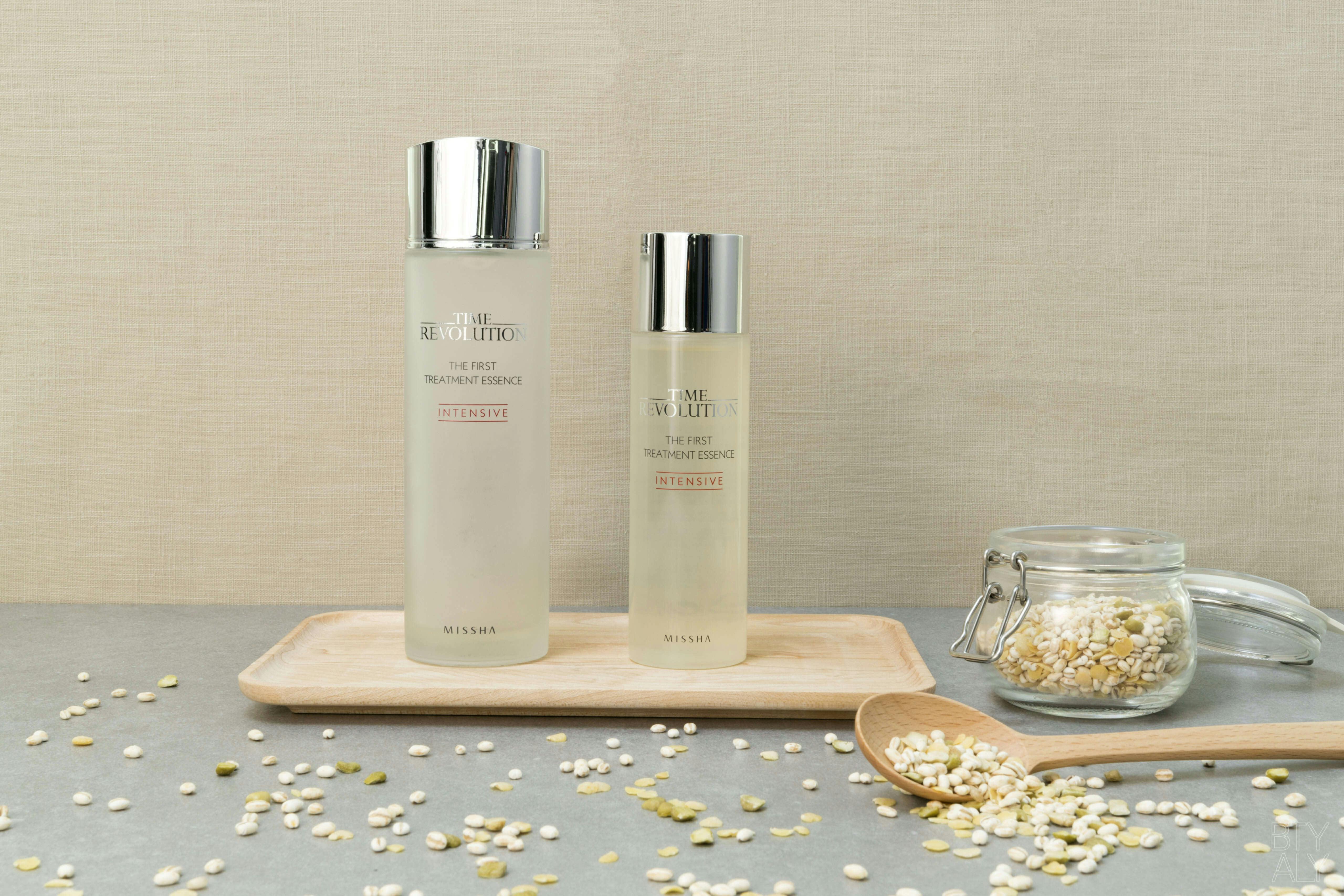 product name
Time Revolution First Treatment Essence Intensive