Intro
My detailed review of Pat McGrath Labs luxurious foundation, the Skin Fetish Sublime Perfection Foundation. My test, thoughts, and swatch.
It's undoubtedly the most luxurious foundation in my collection! Today, let me introduce the Skin Fetish Sublime Perfection Foundation by Pat McGrath Labs, and I'll also answer the question that everyone is asking: does this $68 foundation give you a top model skin? 😉
When I went to Canada last summer, I was able to experience the 'foundation season' from the inside…
Wait a minute, you don't know what the 'foundation season' is?
You know, it's this time of the year when all makeup brands decide to launch a new foundation at the same time!
And apparently this year, it was in August, with more than 25(!) new foundation launches (probably more than that, I lost count)!
Since it's one of my favorite makeup products, it was difficult for me to resist the urge to buy some of them… And especially the one from Pat McGrath Labs, the Skin Fetish Sublime Perfection Foundation!
It's clearly the most luxurious of all, and with its insane price ($68), I was very curious… I really wanted to know if it was all it's cracked up to be.
I was able to go check in-store (in Sephora Canada) to choose my shade. I'll give you my thoughts about it in detail below 🙂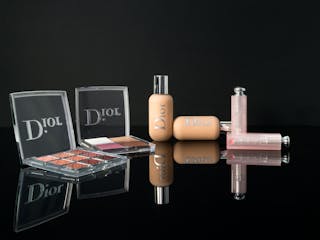 Makeup
Dior Backstage Collection: overview
Dior just launched the Backstage collection, inspired by professional makeup artists and aimed to millenials, these aspiring makeup artists, always ready for an improvised photo shoot (= a selfie)!
Read more
Copyright Pat McGrath Labs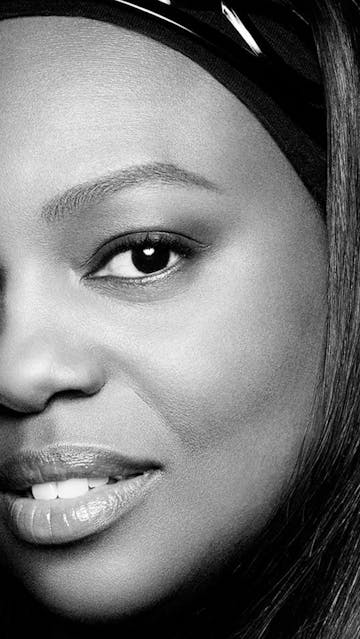 Who's Pat McGrath?
If you're interested in professional makeup, even a little bit, you've probably already heard of Pat McGrath.
For more than 20 years, this British makeup artist has been basically behind all the big makeup trends in fashion.
It's difficult to remember, especially in this era of superstar influencers from YouTube or Instagram who are now the ultimate trendsetters (Kim Kardashian, anyone?), but a few years ago, if you wanted to get an idea of what will be the future makeup launches, you had to look at fashion shows' makeup looks. These were created by creative and talented makeup artists, and even if they were rarely wearable in real life, you could still see the colors and textures of the upcoming season.
And in that world, Pat McGrath was, and probably still is, the most sought-after and influential makeup artist!
Pat McGrath, her devoted fans call her "mother", is not really a fresh new face (sorry!)… Her career began in the late 80s, when she started working on photoshoots for fashion magazines. Very quickly, she became the beauty director of the trendy British magazine i-D (she kept this position until 2014).
In the early 1990s, she joined forces with the famous fashion photographer Steven Meisel and they worked together on several fashion projects, including legendary covers for Vogue magazine and campaigns for prestigious fashion brands.
In 10 years, she became a key figure in the fashion industry, and the brands then offered her the opportunity to work on their cosmetic ranges.
In 1999, she was hired to develop the Armani makeup line. In 2004, the Procter & Gamble group requested her services for the creative design of Covergirl and Max Factor, and the creation of the Dolce & Gabbana makeup line. Gucci's followed a few years later.
She created her own brand Pat McGrath Labs in 2017 and the following launches have been eagerly awaited by long-time fans of this creative expert!
The release of her very first foundation in her own name was clearly an event in the makeup world and I was very keen to experience the complexion by Pat McGrath 😉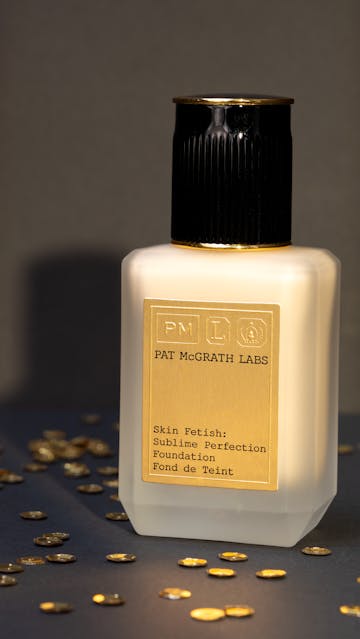 My test and thoughts: Pat McGrath Labs Skin Fetish Sublime Perfection Foundation
The brand describes it as a lightweight, long-lasting and buildable foundation, with light to medium coverage and a natural, satin "sublime skin" finish. It's available in an extensive range of 36 shades!
Let's look at it in detail!
– Its lightweight finish:
Indeed, with its very liquid texture, it reminds me of a serum foundation. You can barely feel it on your skin, which is very nice if you plan to use it every day. Be careful if you have sensitive skin, however, because this light finish is due to a high percentage of alcohol in the formula.
– It's buildable:
Yes, without a doubt, you can really layer it (4 layers maximum for me) to build the coverage and it remains rather natural. Usually, I apply it with a wet sponge and it works very well! You can also use your fingers if you want more coverage. This is what I do in the areas I want to correct more.
– A natural/ "skin-like" and satin finish:
Yes, definitely. Its finish is lovely, very skin-like, glowy and natural. By the way, I bought it at the end of August in Canada and I loved that luminous finish there, but once I got back to Dubai in early September, it was another story… Indeed, in Dubai in September, it's 45° Celsius minimum during the day, with a lot of humidity. Using a satin finish foundation with my combination skin and this sweaty weather was a disaster! I had to wait for the temperatures to drop a little bit before I could use it and enjoy its luminous finish again! 🙂
I would like to add that I always apply loose powder on top because, on my skin, I have to, if I want my makeup to last. I use a powder that sets but keeps the luminosity (By Terry Hyaluronic Hydra-Powder Tinted or Hourglass Veil Translucent Setting Loose Powder). Pat McGrath also sells a loose powder but I haven't tried it yet.
– A long-lasting effect:
Clearly, not during summer in Dubai 😉 But when the temperatures are normal, it actually lasts quite well. It gets shiny during the day (as it often does with me), but all I have to do is use a blotting paper and it looks great again. It "ages" rather well during the day, it doesn't get blotchy and it fades nicely despite a small tendency to emphasize dry areas and wrinkles after a few hours (but really, I've seen much worse!).
– A wide range of colors:
It's the case! There are 36 light, medium and dark shades with a good choice in undertones. I was lucky enough to be able to try it in-store to find my shade (I have the shade Light 5, which is Light with a slightly yellow undertone). But for those who can't go to the store, I find the "Shade Finder" tool on the Sephora US website quite practical. It allows you to find your shade by comparing it with other foundations you already tried and that match you. I tested it and it gave me my shade, Light 5, so for me, it works! 🙂
The bottle is also stunning, very elegant with its retro Art Deco look! It's also practical with its pump which makes it easy to take the right amount.
Well then obviously, I have to discuss its price…
For me, just to be clear, Pat McGrath Labs Skin Fetish Sublime Perfection Foundation foundation is a good product. But is it $68 good?
My answer is no. I don't regret buying it and I really appreciate it. Another positive point, it photographs very well (#selfieready) but, well, it's quite expensive for a selfie if you ask me, especially when you're not a professional model or star influencer on YouTube or Instagram 😉
I'm willing to pay a relatively high price for a foundation, but it really needs to have something extra (like skincare, SPF and packaging to die for, like the Sulwhasoo cushion for example).
And here, even if I think it's a good product, I'm still looking for its added value…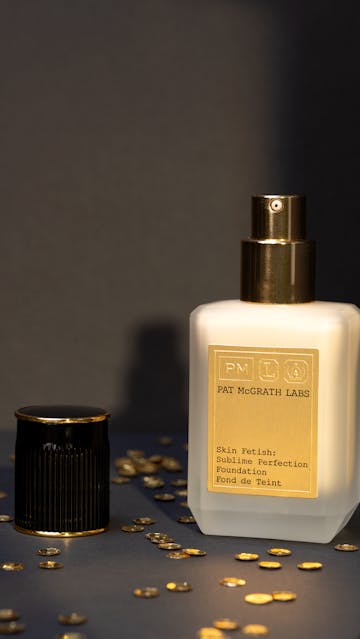 Photos and swatches:
My shade is Light 5, but in store, they also gave me the shade Light 6 to try so I swatched both of them (Light 6 was too pink for me):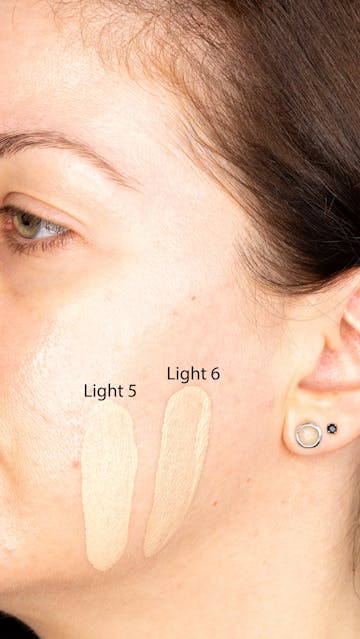 You can click on the images to expand them 😉
And this is the foundation looks like on me (on the left, you can see my bare face, and on the right, I'm just wearing the foundation on its own):
And finally, here is the foundation with the full makeup look:
On this photo, I'm also wearing a Lisa Eldridge lipstick, in the shade Love Of My Life.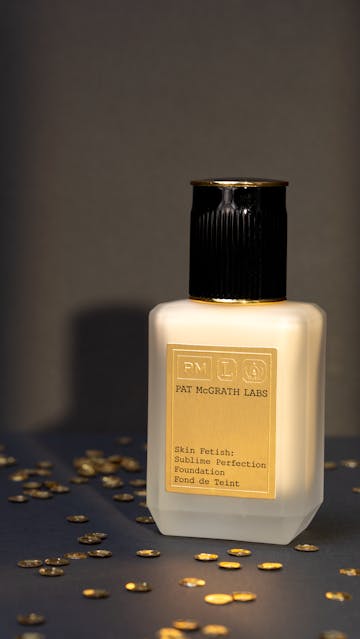 In conclusion:
In short, I find the Pat McGrath Labs Skin Fetish Sublime Perfection Foundation very good, but it's definitely better to buy it with a discount code! (that's what I did, I picked it up during the Sephora sales ;P)
Product Review in detail
Summary
Pat McGrath Labs Skin Fetish Sublime Perfection Foundation
"A long-wearing, customizable foundation that builds from sheer to medium coverage in a wide range of universal hues that manifest the ultimate sublime skin standard."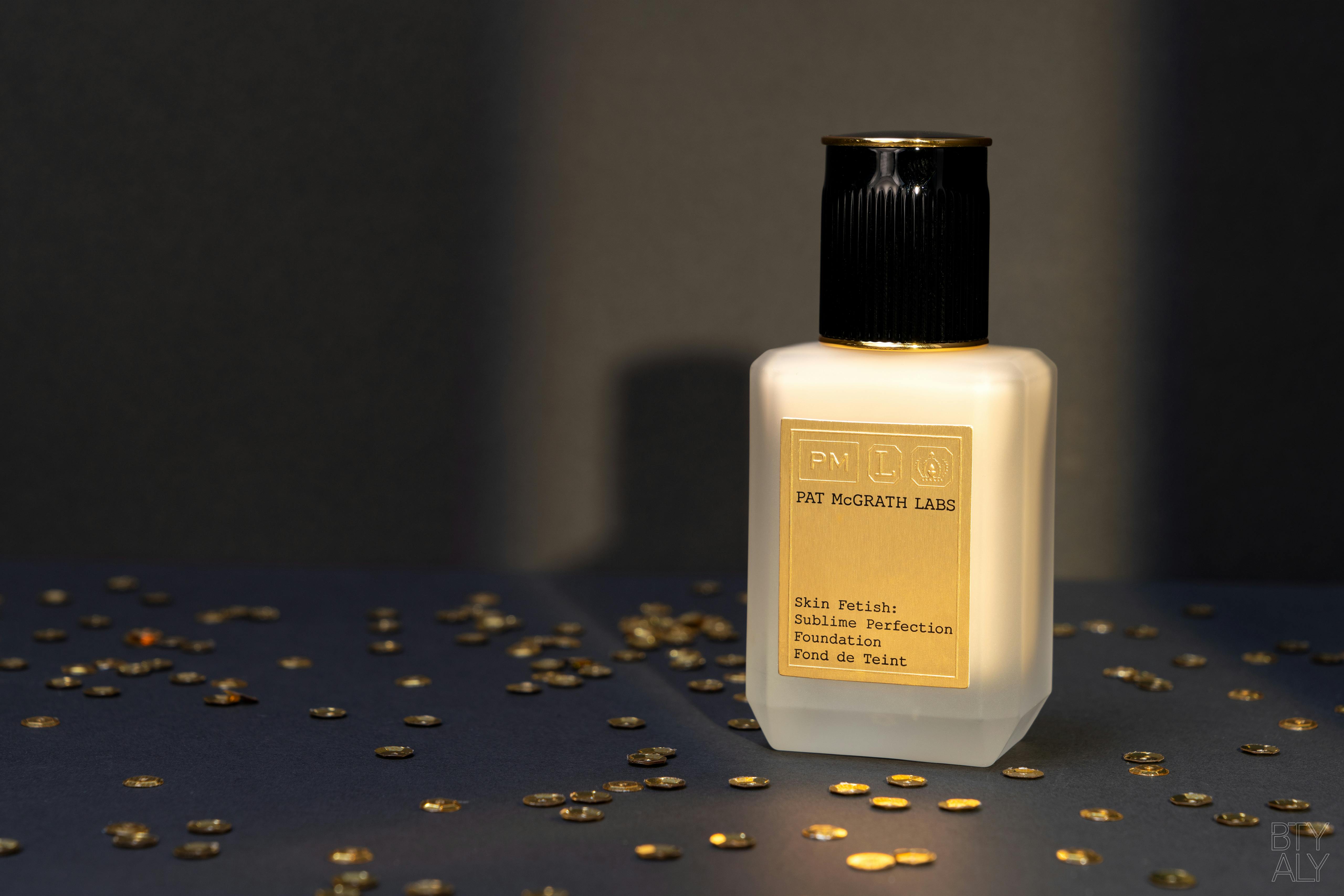 Recommendation
A-
A great foundation but (way) too expensive.
Pros
- The super elegant and luxurious packaging, I love the retro inspiration, it's very chic!
- The good pigmentation.
- The fine, lightweight texture, that you can barely feel on the skin.
- The natural and luminous satin finish, really pretty.
- The light to medium coverage, buildable: it looks pretty whether if you apply a lot, or just a little.
- It blurs pores.
- It's long-lasting, even if on me, it can get shiny, but it still lasts all day long.
- It doesn't oxidize on my skin, the color doesn't darken.
- It doesn't make me break out.
Cons
- It tends to emphasize dry areas a little, especially after a few hours.
- It also tends to emphasize wrinkles a bit.
- It contains alcohol in its formula (it didn't irritate my skin but I know it could be irritating on others).
- The price is really too high, and I'm not sure it's really justified....
product name
Skin Fetish Sublime Perfection Foundation
brand name
Pat McGrath Labs
packaging
A frosted glass bottle, with a golden pump and a black and golden cap, inspired by retro Art Deco.
texture
A fine and liquid texture, like a serum foundation.
Concerns
Those who want a natural and luminous finish.
Method
Usually, I don't apply a primer underneath (even if the brand recommends using its own, of course), so I apply it directly on my skin, after my skincare routine and the application of my sunscreen. I always wait at least 10 minutes before applying makeup so that my sunscreen has had the time to dry properly.
I tried to apply it in several ways: with a Beauty Blender type sponge, a brush and fingers.
The result is very pretty with all the different ways of applying it. I get a little bit more coverage when I apply with fingers, and it looks more natural with a sponge or a brush. My favorite way, is to apply it with the sponge, so that's how I use it most of the time.
In terms of quantity, I use 2 or 3 pumps depending on whether I have more or less to hide on my skin. It is quite buildable, you can add coverage where you want to with a little more product without any issue.
I always fix it with a loose powder because I have a combo skin that gets shiny easily during the day.
Key Ingredients
The brand emphasizes a formula focused on skincare but very honestly, if you look closely at the list of ingredients, apart from glycerin, I don't see a lot of other skincare ingredients. But quite frankly, I don't mind it. in a foundation, the skincare ingredients are a nice plus, but they're not mandatory for me.
But if that's their justification for explaining the price, I'm not super convinced 😉
In terms of makeup ingredients, the brand emphasizes polymers (Unique Polymers) and other high-tech soft-focus pigments (High-Purity Pigments + Amino Acids, Diamond Core Powder) that help to achieve this very flattering blurring and luminous effect.
It contains alcohol, which is not ideal for very sensitive skin, but it didn't bother me.
Ingredients
Water, Cyclopentasiloxane, Isododecane, Alcohol, Glycerin, Phenyl Trimethicone, Ipdi/Di-C12-13 Alkyl Tartrate/Bis-Hydroxyethoxypropyl Dimethicone Copolymer, Aluminum Starch Octenylsuccinate, Cetyl Peg/Ppg-10/1 Dimethicone, Polyglyceryl-4 Isostearate, Disteardimonium Hectorite, Sodium Chloride, Aluminum Hydroxide, Benzimidazole Diamond Amidoethyl Urea Carbamoyl Propyl Polymethylsilsesquioxane, Caprylic/Capric Triglyceride, Di-C12-13 Alkyl Tartrate, Disodium Stearoyl Glutamate, Hexyl Laurate, Pentaerythrityl Tetra-Di-T-Butyl Hydroxyhydrocinnamate, Rubus Idaeus Leaf Cell Culture, Potassium Sorbate, Sodium Dehydroacetate. May Contain / Peut Contenir / +/- : Titanium Dioxide (Ci 77891), Iron Oxides (Ci 77492, Ci 77491, Ci 77499).
Ingredients not included
– mineral oil,
– fragrance.