Intro
An overview of the Dior Backstage makeup collection with the reviews of the Backstage Face & Body foundation, the Backstage Glow Face Palette, and the Backstage Lip Palette lipstick palette.
Dior just launched the Backstage collection, inspired by professional makeup artists and aimed at millenials, for all these aspiring makeup artists, always ready for an improvised photoshoot (= a selfie)!
For the occasion, the brand took the opportunity to unveil a new look for its products.

In this collection, no luxurious metallic, heavy in the hand packaging, but rather some compact transparent plastic cases showing the color of the shadows, for a very "professional" look. The Dior logo is still visible on all products, but the look of this collection is clearly far simpler than the other products from the brand.

The Backstage collection is the link with Dior's fashion heritage. It's inspired by professional fashion makeup artists. The ones who usually do looks for fashion shows, but this collection is way more accessible and suitable for everyday wear. Here, no crazy bright colors, no glitter but a ton of nude shades available in all their harmonies. The goal of this collection leans towards bringing fashion show makeup looks within everyone's reach.

It's not the first time that Dior launches products with this kind of concept, but this time, the brand has really expanded its offer with several palettes (for the face, eyes, lips, and eyebrows).

I bought 3 products from the Dior Backstage collection: the Face & Body foundation, the Glow Face Palette, and the Lip Palette.
So let me introduce you to the Dior Backstage collection!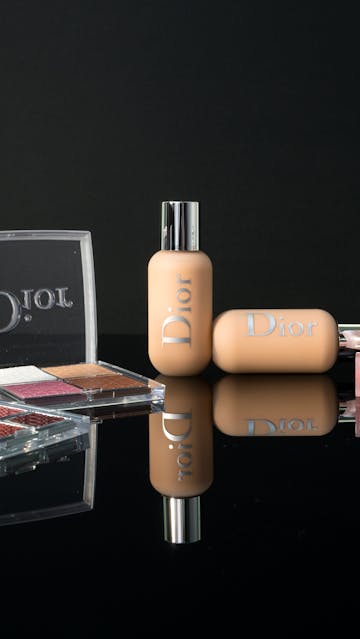 Dior Backstage collection, the concept:
This collection is definitely Millenial bait. The cosmetic brands are literally obsessed with generation Y at the moment!

Indeed, the products from the Dior Backstage collection are supposed to be intuitive, quick to use and easy to wear. If that isn't immediate gratification, I don't know what is! 😉

The packaging of the palettes is transparent, allowing you to quickly see the colors they contain. Another important detail: every product is embossed with the Dior logo, from the packaging to the actual product inside the palette.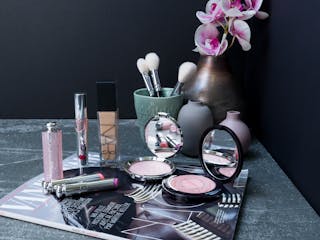 Makeup
5 makeup products I'm loving right now (Spring 2018)
Ah, the spring makeup collections with their soft pastel colors, their radiant finishes to catch the light of the first beautiful days… They're very hard to resist! Here are some new products that I recently add to my makeup bag:
Read more
There is definitely a big come-back for brand logos recently (to my great despair, I feel like it's 2000 again and at the time, I already hated this trend. As my grandmother would say: "People all just became a walking ad campaign! Brands should pay them to wear this, not the other way around!"). Of course, Instagram has something to do with that trend too, as it's a great way to show off!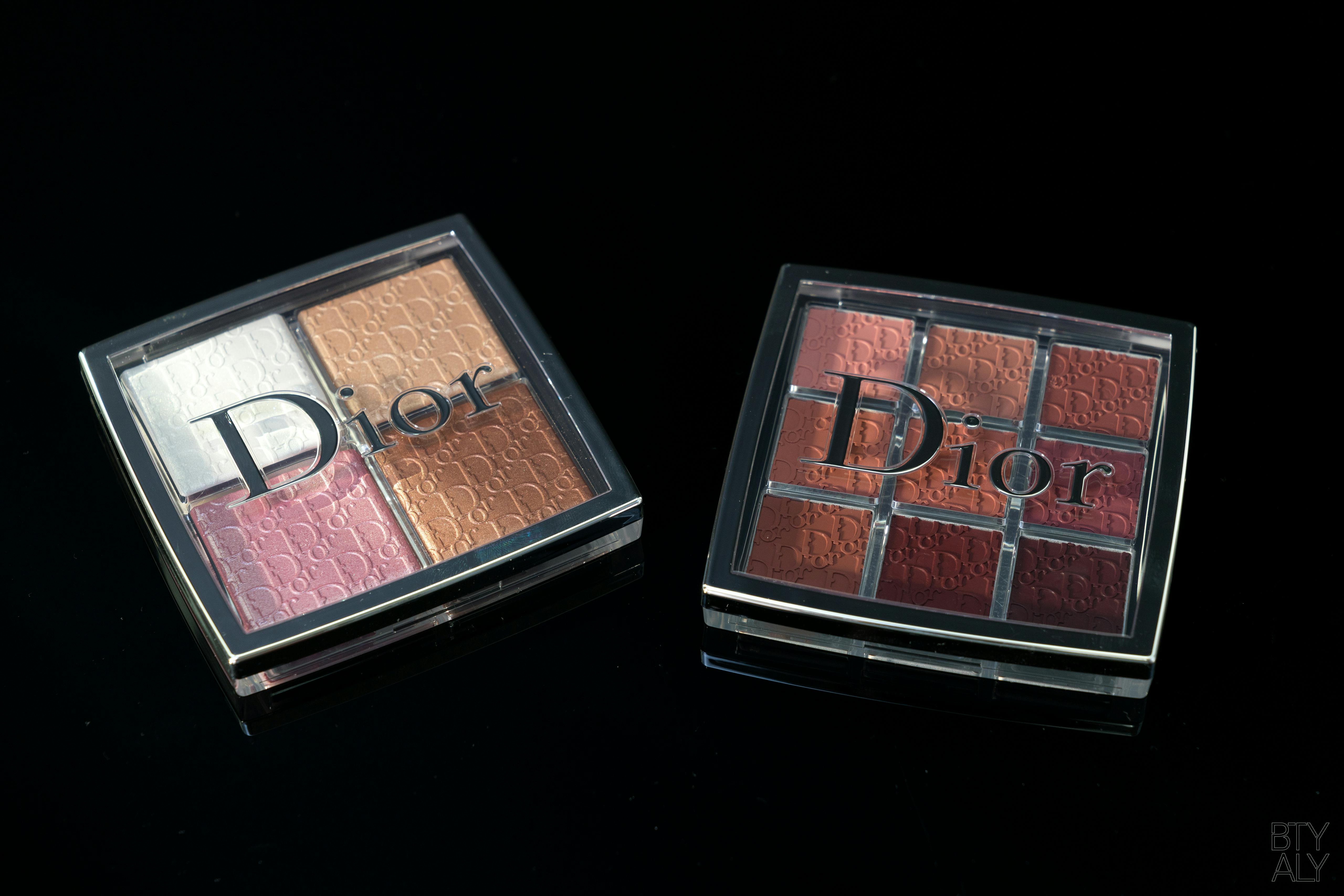 You also feel that Dior has learned a lesson from last year's successful launch of the Fenty Beauty brand (which also belongs to the same group, LVMH), advocating inclusiveness in beauty and whose slogan is "Beauty for All". The colors are made to suit the largest number of skin colors (hence the choice of nude shades) and for the foundation, the brand launched 40 shades, ranging from the lightest to the darkest. It was time for a luxury brand like Dior to offer foundation colors for all skin colors! On the other hand, I do not find that the colors (and especially the undertones) are perfect, we will speak about it in detail below!
Dior has finally made an effort on pricing. I wouldn't go as far as saying that it is inexpensive but with this collection, the prices are a bit lower than the classic Dior range (especially if you consider the quantity of product). You can tell the brand wants to refresh its target population.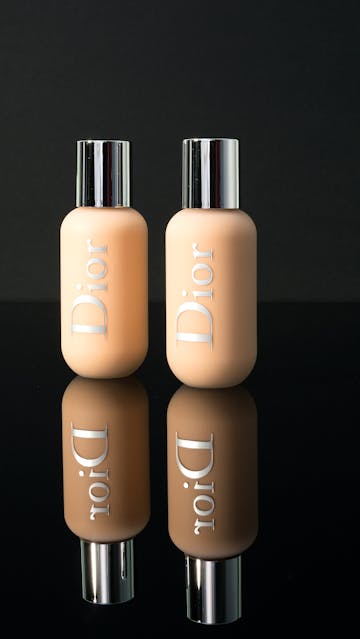 The :
I won't even try to deny it, I wanted this foundation because it's the one that the makeup artist Daniel Martin used on Meghan Markle the day of the Royal Wedding. She looked incredible that day, you could see her adorable freckles picking through her makeup. I confess, I'm one of those people who are obsessed with Meghan Markle and who wants to have everything she wears, even if objectively, I don't look like her from near or far. I don't care, I want a foundation that shows my imaginary freckles too!
Joke aside, this foundation seems perfect for the season. The brand describes it as a light and buildable foundation, with a natural, matte, long-lasting and waterproof finish. All this in a flexible plastic bottle, practical to travel with (in theory) and a multitude of shades. What's not to love?
So, let's address every claim, shall we?
– A lightweight feeling on the skin:
True, you can barely feel it at all, it's a real joy in summer. Be careful if you have sensitive skin though, because this lightweight finish is due to a high percentage of alcohol in the formula.
– Buildable:
Yes, without a doubt, you can really layer it to add coverage and it won't look cakey. You can use it on your body too (well, I have to admit that at that price, it would hurt me a bit to waste it on my legs but well, let's say that theoretically, I could do it if I wanted to). I apply it with a Beauty Blender sponge or a brush and it works like a charm!
– A natural and matte finish:
Yes, definitely. At the moment I only wear glowy foundations (see my latest review of the Sulwhasoo cushion foundation). I even felt a little weird at first when I tried it and despite my combination skin, I didn't feel as if I was applying powder on top to set it. It doesn't feel as "dry" as some very matte foundations but it clearly doesn't fall into the "glowy" foundations category. If you have dry skin, I'm not sure you will like it. Even I have to be careful with the sunscreen I put underneath. At the moment, I use a very mattifying one and the combo of the two products is too drying for my skin. But with a more emollient sunscreen and/or a good illuminating primer it works great!
– Waterproof and long-lasting:
Yes, it passed the ultimate test in Dubai during summer and it holds pretty well! It doesn't move during the day and also remains relatively matte.
– A practical plastic squeezy bottle:
I must say that, unfortunately, it's not exactly the case. Yes, the squeezy plastic bottle is great in theory to travel with but unfortunately, the opening is very messy. It spills everywhere as soon as you open it. I guess it's a manufacturing issue, (but it's not just on my bottle, I'm not the only one to have noticed as I could read it in different reviews). Personally, I wouldn't slip it into my suitcase… Such a shame!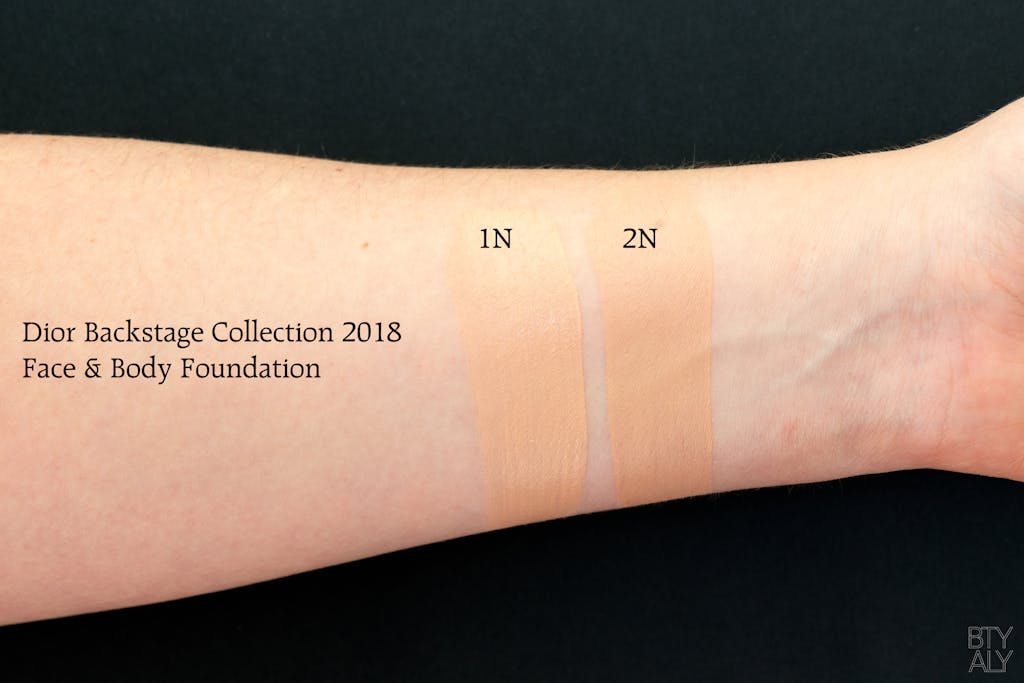 – A big choice of shades:
Technically, yes. There are 40 shades in total in the range and they are rather well distributed on the spectrum of colors (you don't have 35 light and medium colors and 5 dark colors as with others brands, like Tarte and Beauty Blender for example). On paper, the brand seems to have thought of everything, with pink, gold, neutral and even olive and peach undertones. But honestly, I wasn't convinced. I'm usually a light complexion with a neutral undertone and I made the mistake of ordering my shade on the internet by relying on their shade guide. I don't recommend using it, it's definitely better to go to the store. In my case, I realized that all the neutral undertones have a strong peach undertone. I ordered a shade too dark for me in addition, I thought I was a 2N and I am actually more of a 1N (well, I think I must be a 1W but was fed up of exchanging my foundation at this point so I made it work). According to the other reviews I read, I'm not the only one struggling with the choice of shades. Obviously, Dior didn't do a super accurate job on the choice of the undertones, so I would definitely recommend going to the store to find your perfect matching shade and don't just rely on their online color guide.
It's great to want to be inclusive and all that (for financial reasons obviously) but it would be even better to have a larger choice of colors AND an accurate range of different undertones. You can do better, Dior! 😉
One last word on its price tag: $40 for 50ml. Not bad for a luxury brand, especially when you consider its size (in general, the foundations are 30ml, not 50ml).
In short, it's a perfect foundation for summer, especially for oily and combination skin, but it's better to go and choose it in a physical store to avoid a bad surprise!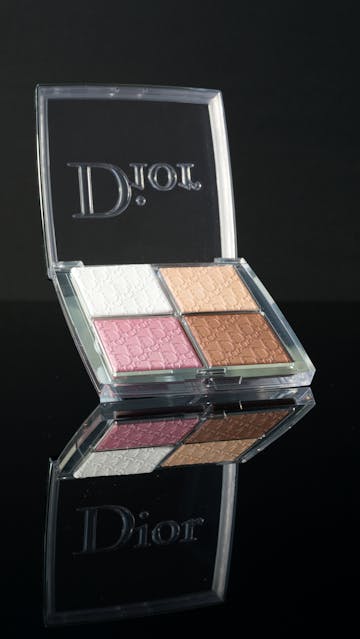 The :
Dior highlighters have a great reputation. I own one that I love (which I never mentioned anywhere because it was a limited edition I found in a duty-free long after it was sold out everywhere so technically, I can't talk about it ah ah). They're supposed to be super creamy and intense and I must say that this palette does them justice!
The Dior Backstage Glow Face Palette is composed of two highlighter shades: a very pale golden white and a golden champagne and two more colorful shades: a very iridescent pink blush and a bronzy shade to apply as a blush or as a bronzer.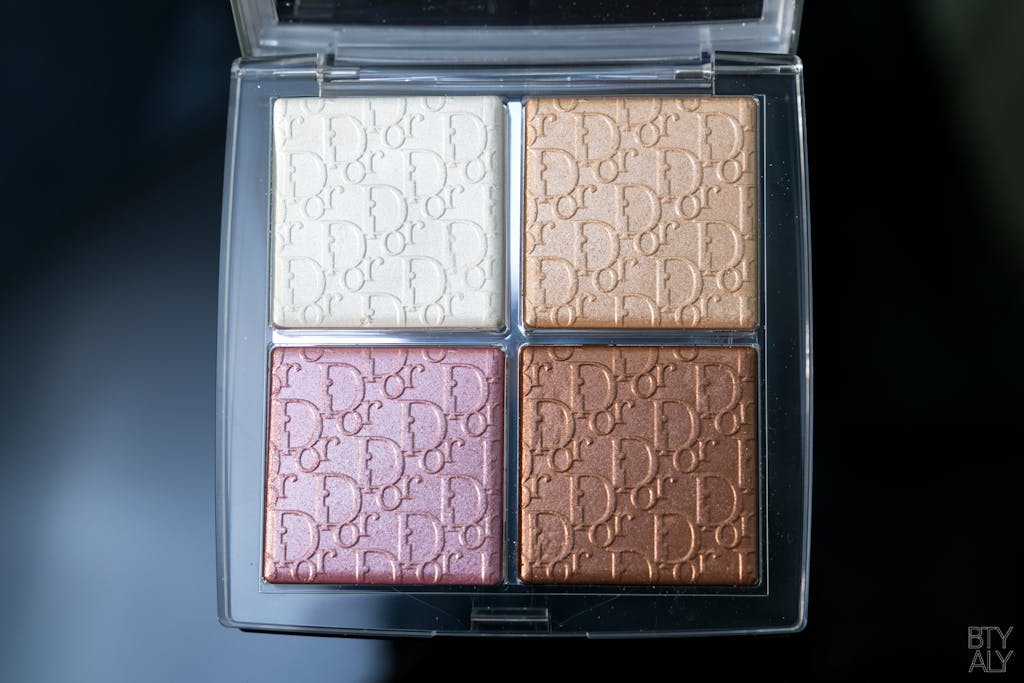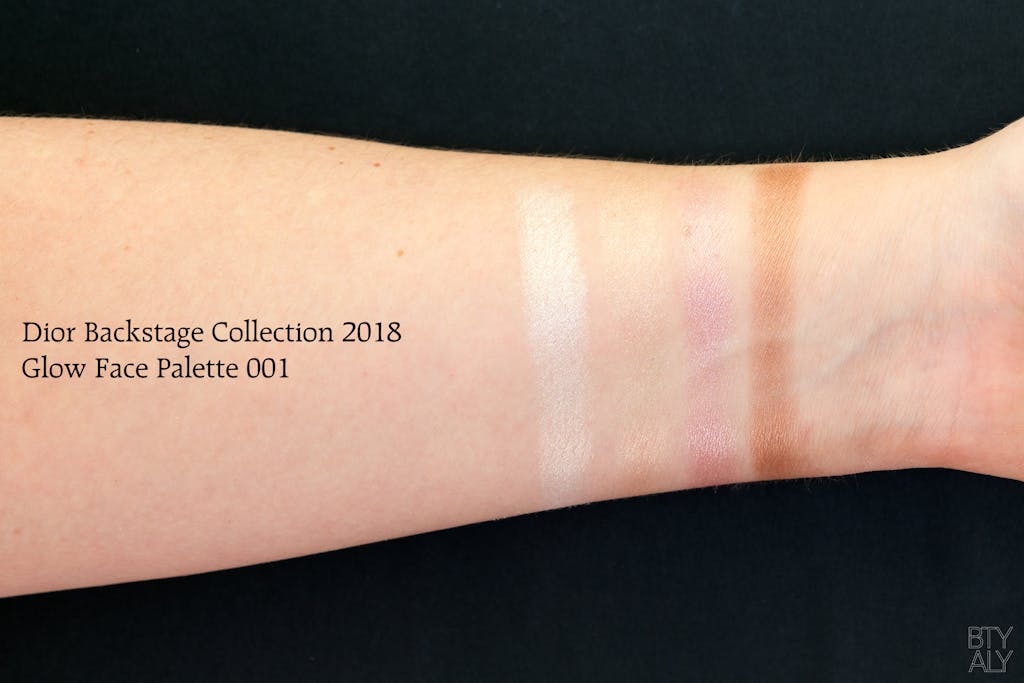 On my skin, the two blush shades aren't necessarily ideal to use on the cheeks. The pink color is too iridescent and not pigmented enough to make a good blush but when I mix it with the highlighter colors, it adds a nice pink shift. The bronzy shade doesn't look great on my skin color but it's very pretty used as an eyeshadow (see my pictures below 😉 )!
The two light shades are great highlighting colors, on their own or mixed together. They're not subtle, be aware! If you love a dramatic effect, you'll really like these. Dior says they're buildable but I find that the shades are intense even if you have a light hand. I use a fan brush if I want to "soften" them a bit.
The colors don't contain any glitter, nor are they outrageously metallic. It looks more like a shimmer that I personally find quite elegant. They don't really enhance my pores, which is always a plus.
They last pretty well on me, 6 to 8h.
The Dior Backstage Glow Face palette retails $45 for 10g of product in total (on average, a highlighter weighs between 6 and 10g, so it's not bad for the quantity of product).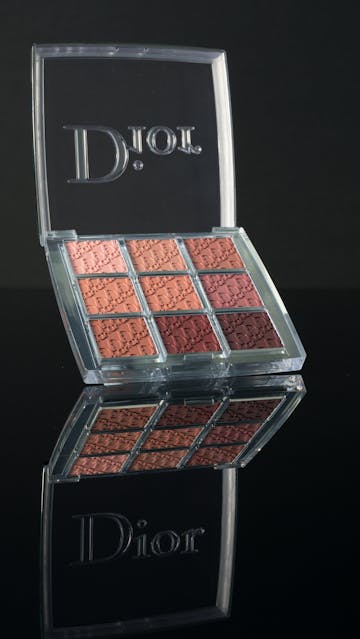 The :
Even though I'm the ultimate lipstick fanatic, I've never been very tempted by palettes. I don't find them very practical, you need a lip brush because using your fingers is not very hygienic. I don't know, they just seem a little bit unnecessary if you're not a pro.
So why didn't I stick to my first impression and leave that palette aside, you might ask? Great question, thank you for asking. Well, I'm very weak when it comes to lipsticks. And apparently, I can't resist a palette of nude lip shades with the beautiful CD logo (yes, I'm pretty ashamed of myself).
Dior describes this palette as "multi-textures" with 3 matte shades, 3 satin ones, and 3 lip glosses. The idea here is to mix colors and textures to create different combos and effects on the lips.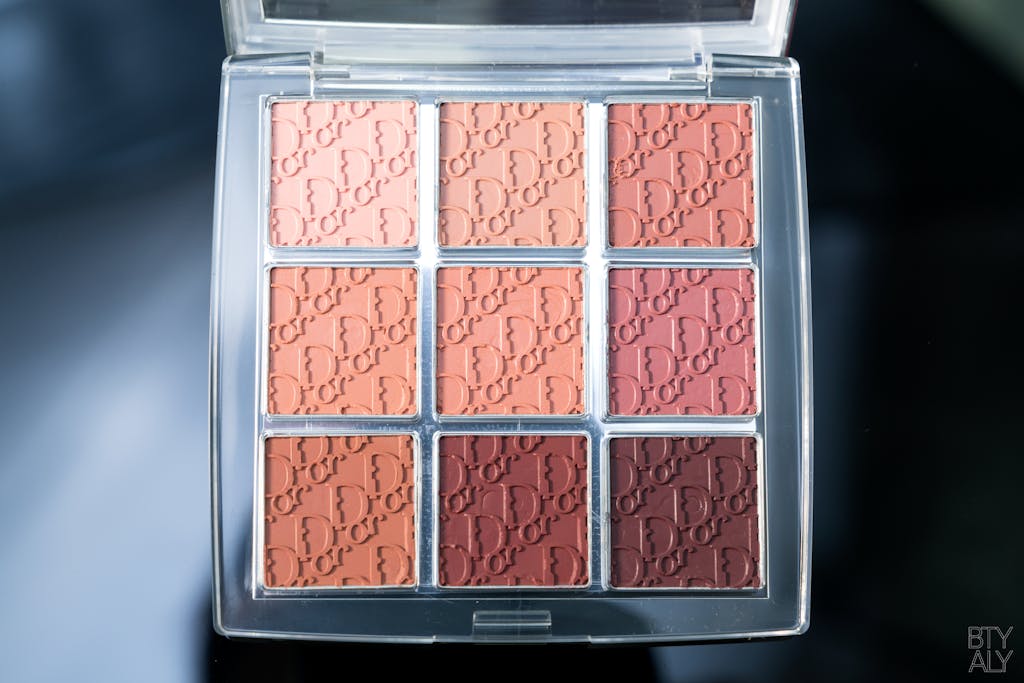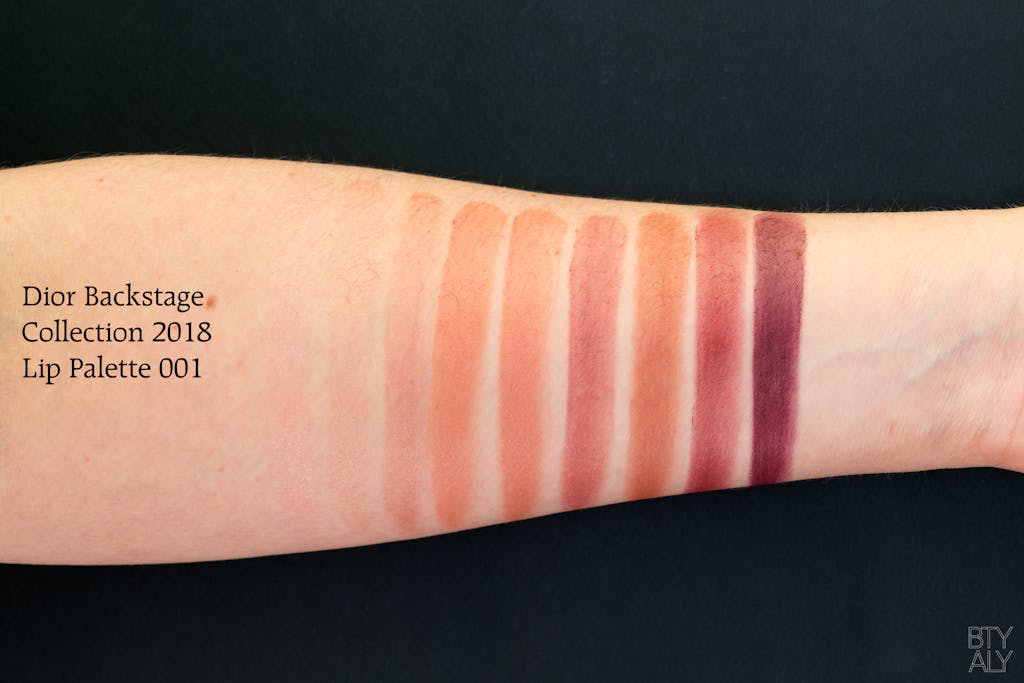 On the photo, from left to right, from lightest to darkest: the gloss, satin and matte textures.
And well, I believe that's what I didn't like about this palette. I also find that with neutral shades, everything ends up looking the same and it's hard to create really different looks. I tried to make several looks to take pictures of them but frankly, the difference was really not that obvious.
Plus the pigmentation of the shadows is really not that great. I don't find them very comfortable either and they don't last very long on my lips.
The ratio price / quantity of product is not too bad, especially for the brand: 8g in all for $49 (a Dior lipstick usually weighs around 3.5g and its price is between $35 to $37).
But as you probably understood already, I wasn't blown away with this Lip Palette. I think these type of products in general doen't really work for me anyway.
Dior Backstage collection, the makeup look:
On the pictures below, I'm wearing the Backstage Face & Body foundation in the shade 1N, the Glow Face palette (the two lighter shades mixed as a highlighter on my cheeks, the pink shade used as a blush and the bronzy shade on my eyelids) and several shades of the Lip Palette mixed on my lips.
As you can see, the look is quite natural overall, very nude but also glowy thanks to the Glow Face Palette! 🙂
In summary:
In short, I would say that the Dior Backstage collection is quite nice (at least for the products I own) and I like the direction the brand is taking with these products.
It's not perfect, and I don't love every single product but I still think it's a good collection nonetheless.
Have you tried any of the products from the Dior Backstage collection? What are your thoughts? Feel free to tell me in the comments!