Intro
My detailed thoughts on the Lisa Eldridge Plush True Velvet Lipsticks, with photos and swatches!
Lisa Eldridge launched 3 Plush True Velvet Lipsticks, and I absolutely needed them all! I know they're out of stock at the moment but Lisa Eldridge already announced that there will be a new production run for 2019. So my goal here is to try to convince you to subscribe to the future pre-order list!
Lisa Eldridge? Lipsticks? 3 different shades of red? I'm in!

Lisa Eldridge is an extremely talented, world famous professional British makeup artist with her own YouTube channel for over 10 years now. And the least you can say is that she's definitely one of a kind in the YouTube game.

Her YouTube makeup channel has been one of my favorites for a while. It's super technical and informative without being boring or too "commercial". Lisa Eldridge never does sponsored videos or paid product placements in her videos. Believe me, these days, it's very rare!

YouTube is not her main activity, despite almost 2 millions subscribers. She has been a professional makeup artist for a very long time, she works with prestigious fashion magazines, television and film celebrities, and she's also the artistic director of makeup for the French brand Lancôme since 2015.
She's very classy and the makeup looks she shows on her channel are definitely super elegant!
I was definitely looking forward to her developing her own line, because she is a true makeup enthusiast. She's even a fan of vintage make-up products, which she has always collected.
She took her time to create these three lipsticks, and these were supposed to only be a limited edition, but given their huge popularity, Lisa Eldridge has already responded to the popular demand and announced that the Plush True Velvet Lipsticks would be back next year, probably along with new shades (hooray!).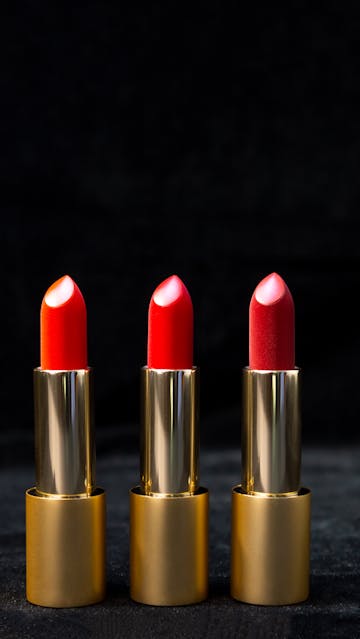 The lipsticks, detailed:
The outer packaging:
Usually, I don't talk about it, but here it was so well done that I have to mention it! When I received my package and opened the box of my lipsticks, I realized that each lipstick was wrapped in a sheet of black tissue paper, in its cardboard box. You have to delicately unroll the paper to discover the lipstick case!
It was a really nice experience and that's when I started to realize that Lisa Eldridge really took care of every little detail about this launch. Wow!
The packaging:
From what I've read here and there, many people were expecting a retro packaging, a bit like Charlotte Tilbury because of Lisa Eldridge's professed love for ancient makeup.
But Lisa Eldridge isn't where you expect her most, and she explained in her launch video that she didn't necessarily want to create a line inspired by vintage makeup. On the contrary, she was aiming for modern and up-to-date packaging and formula.
The least I can say is that the packaging of these lipsticks is very well done! They're made in a gold metallic finish, not bling at all. It looks like a "brushed metal" effect, on which you can't leave visible fingerprints and the closure is magnetic (this would be their only small flaw: they're so magnetic that the tubes repel each other if you try to store them side by side).
On the cap at the top is Lisa Eldrige's engraved logo, her signature with a small drawn mouth, very elegant.
I understand that this packaging is a limited edition, just for the holidays. So I don't know if the next restock will be the same or another.
The bullet:
That's where I see that Lisa Eldridge really worked hard. The outside of the lipstick bullet looks like real velvet tissue! I can barely imagine the technical achievement it was to create this effect!
It's pretty amazing to look at, and I tried to show it as much as I could in the photos! Lisa Eldridge explained that she created this effect with lipstick powder, and it was something that nobody did before.
Clearly, it's even more impressive in real life, you have to see it with your own eyes!
The formula:
The formula is quite conventional, there are not really any additional skincare ingredients, even if it's not at all drying on the lips, quite the contrary.
The ingredients list:
dimethicone · octyldodecanol · polyethylene · polysilicone-11 · nylon-12 · caprylic/ capric triglyceride · bis-peg-12 dimethicone beeswax · methyl methacrylate crosspolymer · dicalcium phosphate · stearalkonium bentonite · polyhydroxystearic acid · propylene carbonate · laureth-12 · pentaerythrityl tetradi-t-butyl hydroxyhydrocinnamate.
The Plush True Velvet Lipsticks are made in Italy and cruelty-free.
The finish:
These are matte, with a velvet effect (obviously!). They have a very slight "shine", they are not completely 100% matte but personally, I find that it makes them more elegant to wear!
The application:
They're really easy to apply on the lips, they are creamy and glide on the lips. The shape of the bullet is precise enough to draw the contours quite precisely.
That being said, I also like to use a lip pencil with these lipsticks. I found some colors from MAC that match them perfectly, by the way!
For Velvet Morning, I use Redd.
For Velvet Ribbon, it's Cherry.
And for Velvet Jazz, Burgundy is perfect!
The texture and the feeling on the lips:
I was amazed by the texture of these lipsticks! Despite their matte finish, they're very creamy, they feel comfortable on the lips and they even have a smoothing effect. They don't emphasize the dry patches at all, even after several hours!
It's probably one of the best formulas of matte lipsticks I've ever tried!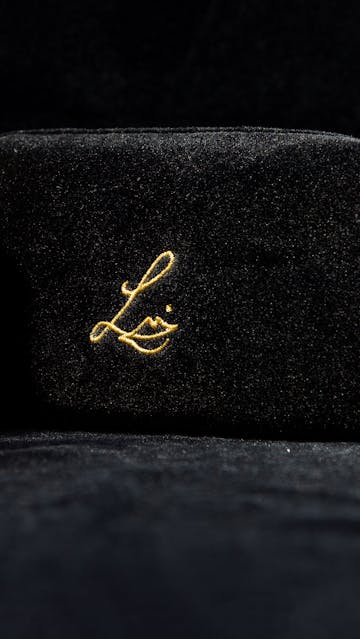 The fragrance:
They're fragrance-free.
The pigmentation and opacity:
They're buildable. You can apply by stamping the bullet on the lips for a "lip stain" effect or use them in a classic way, directly applied on the lips with the bullet for a completely opaque effect with one slide.
They're super pigmented. With colors like that, I just love it!
The colors:
I love the work on the red color done by Lisa Eldridge! In this collection, there are indeed 3 timeless stunning red shades:
– a warm, almost neon orangy red, Velvet Morning,
– a neutral classic, elegant red, with a slightly blue undertone, Velvet Ribbon,
– a darker brick red, very chic, Velvet Jazz.
The latter is described by Lisa Eldridge as a "chameleon" color, which looks differently according to each person's skin tone. As you'll see below on the pictures, on me, it comes out more plum than brick, which I'm not mad about!
A great point about these 3 red shades is that they'd look good with all skin tones!
Their lasting power:
They last really well! On me, they stay on my lips at least 5 to 8 hours without budging (if I don't eat, of course).
Of course, they're not like matte liquid lipsticks, which dry completely, so they transfer a little on glasses or mugs. They're not really "kiss-proof" either! But the color stays in place on the lips, no smudges, crumbling and most of all, they don't look horribly dry after a few hours, like most of the drying matte lipsticks I tried.
After a meal, you just need to reapply them in the center of your lips, and it will last for the rest of the day!
The value for money:
Honestly, I expected them to be more expensive than $34. All the details are very well thought, they're clearly luxury lipsticks.
Knowing that Lisa Eldridge started her own company to produce these lipsticks, without the help of a big investor behind, I'm quite impressed!
The availability:
They're only available via Lisa Eldridge's website, and delivery is worldwide (pretty fast).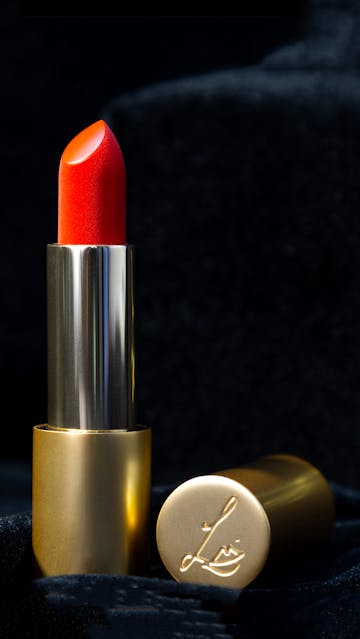 Photos and swatches:
I did my best to capture this famous "velvet effect" of the bullet in my photos!
Feel free to click on the pictures to enlarge them if you want to see the details!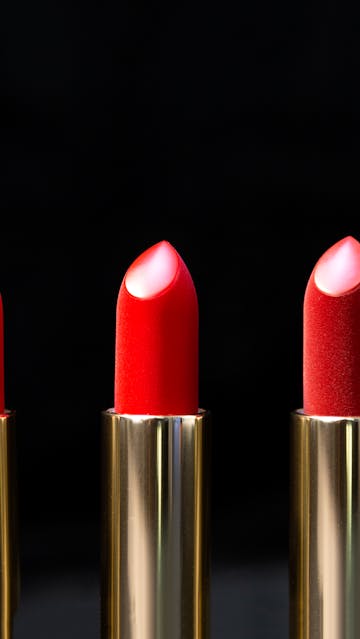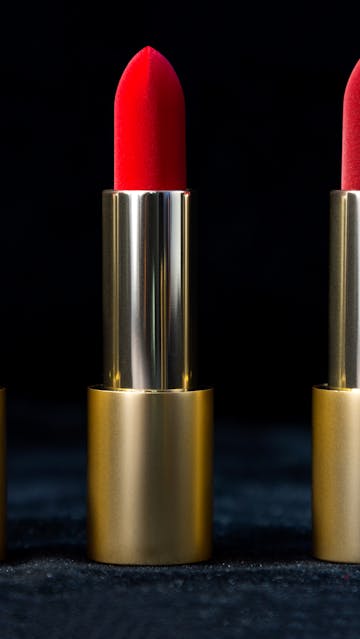 And here are the swatches of these Plush True Velvet Lipsticks:
The lip swatches:
Velvet Morning: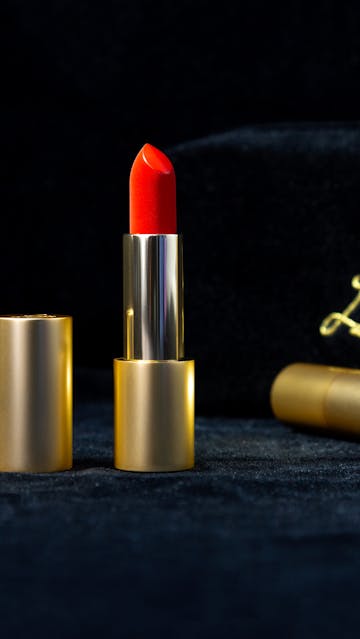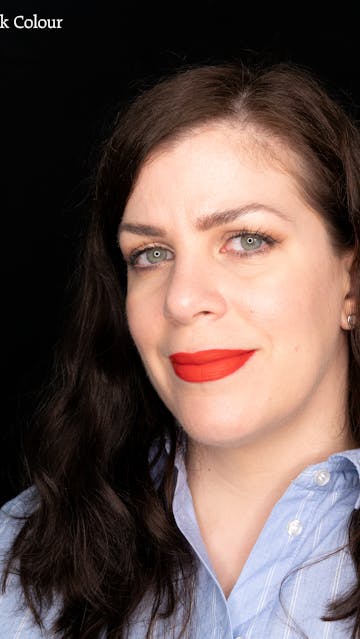 Velvet Ribbon: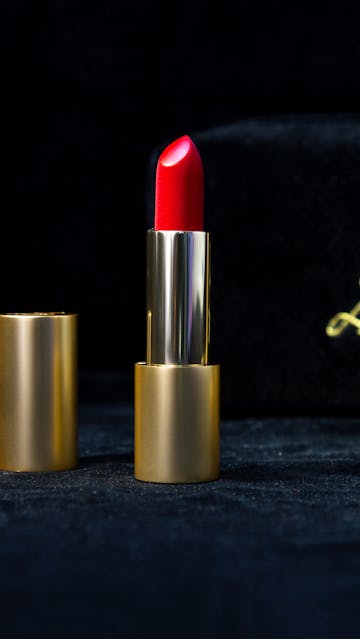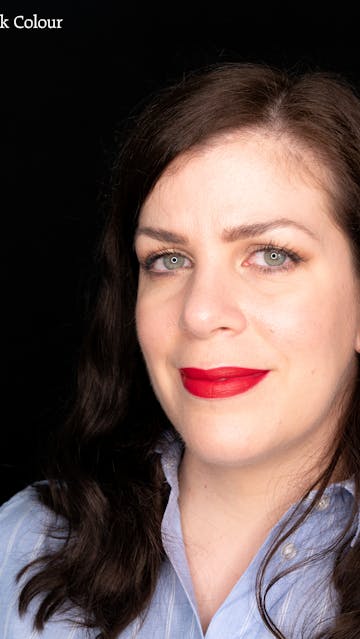 Velvet Jazz: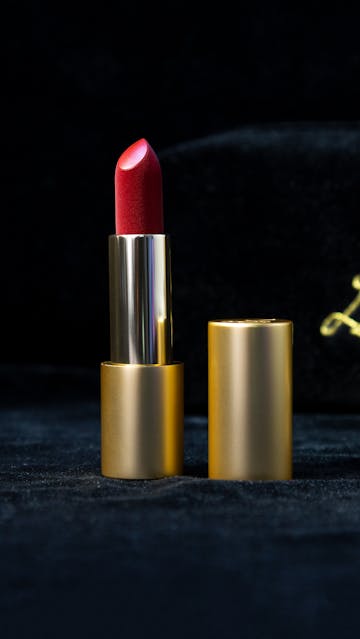 In short:
It's not just lipsticks that Lisa Eldridge offers us here, it's definitely a whole experience: the lovely discovery when you receive your package, the gold packaging so chic and elegant, the velvet texture of the bullet (so unique!), the impeccable formula with its pigmentation and the lovely comfortable feeling on the lips, the long-lasting power… All the details of these products have been meticulously planned and thought out! It's definitely a work of art!
I expected nothing less from Lisa Eldridge, a true perfectionist in the best sense of the word!
I can't wait for Lisa Eldridge to finally release her whole range of makeup. Given her great attention to detail, it will probably take some time but I don't mind, I'll wait as long as it takes because I know it'll be worth it!
The Plush True Velvet Lipsticks will be available on Lisa Eldridge's website soon:
The Plush True Velvet Lipsticks retail for $34 a piece.
The three lipsticks with the velvet pouch, aka The Ultimate True Velvet Collection , retail for $95 (that's what I bought).
The Plush Velvet Makeup Pouch retails for $23.
A word of advice: if Lisa Eldridge soon offers to subscribe to a pre-order list for these, don't walk, run! 😉