Intro
Disclosure:
A sample or samples were provided by the brand / company.
My thoughts and test of the Omega+ Complex Serum from the American skincare brand Paula's Choice, a nourishing serum ideal to repair the damaged skin barrier.
My new dry skin and I are continuing our journey to find better nourishing and repairing products! Today, we (yes, we!) will focus on a product that is much appreciated by sensitive and/or uncomfortable skin: the Paula's Choice Omega+ Serum Complex!
I'm already a big fan of the moisturizer from the same range, which I reviewed last year (Paula's Choice Omega+ Complex Moisturizer) and has been my winter skin's savior.
The Omega+ Complex range is truly interesting if, like me, your skin feels tight at the moment. The key concept behind this line is skin nourishment, and that's precisely what I need right now.
My skin is finally starting to get used to tretinoin (which I started about ten months ago), so it's less sensitized, but on the other hand, it's clearly drier than before. I should point out that as an ex-oily skin, it doesn't really bother me. I always had to look at the rich and creamy textures from afar without being able to use them (and I wanted to 😍)!
Its comforting texture is precisely one of the strengths of the Paula's Choice Omega+ Complex Serum. Let me tell you more about this plush lovely serum!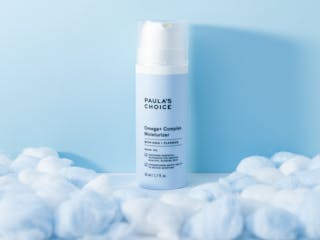 Skincare
Review: Paula's Choice Omega+ Complex Moisturizer
The Paula's Choice Omega + Complex Moisturizer is really close to perfection… Almost from the very first time I applied it, I knew it was going to be one of my favourite winter products!
Read more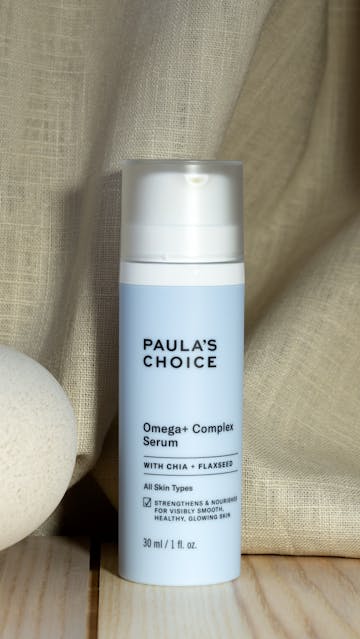 Paula's Choice Omega+ Complex Serum, product presentation:
This Omega+ Complex range is definitely lovely! After the cream that I loved to use last winter with its aerial whipped cream/ cloud-like BUT rich texture (crazy I know, read my review if you don't believe me 😉 ), here is the nourishing fondant serum Omega+ Complex (yum!).
Who said Paula's Choice products lacked sensoriality? Certainly not me.
So, yes, Paula's Choice is a technical, functional, fragrance-free brand, more focused on effective ingredients than on marketing that makes you dream, but yes, the textures are refined and make you want to try them! The two are not incompatible, proof is in the pudding 😉
The Omega+ Complex Serum is a nourishing and repairing treatment for dry and/or dehydrated skin. It doesn't claim to be a soothing serum, but I really felt a calming effect when I applied it, and in the morning when I woke up (I use it in the evening).
It's the ideal product if your skin barrier is weak! Basically, if your skin feels tight after cleansing, or even during the day (even if you've used a moisturizer in the morning) and you have dry, pilling patches.
The skin barrier, in short, is your skin's protective layer. It can be compared to a brick wall, where the bricks would be the skin cells, and the mortar, a mixture of fatty substances that can protect the skin from external aggressions and hydration loss.
A skin with a strong and healthy skin barrier is healthier and more resistant to aggressions. In contrast, a damaged skin barrier translates into a feeling of tightness, a dry or even rough appearance, and above all a skin that is more reactive and will be more easily irritated.
The skin barrier is generally quite strong, but it can be damaged by external aggressions such as cold, dry weather, the friction from the mask, or aggressive skincare treatments (hello tretinoin, in my case!).
The formula of Paula's Choice Omega+ Complex Serum can help to restore this barrier thanks to its ideal trio of ingredients: ceramides + cholesterol + fatty acids / omega 3, 6 and 9, which the skin can recognize particularly well because they are naturally present in our skin's moisture barrier.
This trio allows the epidermis to be intensely repaired, without making it greasy, and the skin tolerates it perfectly (since all 3 ingredients are already in the skin).
This serum also includes nourishing and antioxidant plant oils (chia seed, flax and passionflower oils, olive oil) as well as nourishing Shea butter, and hydrating glycerin and hyaluronic acid.
In short, a very complete formula, and in a very pleasant and yummy texture (and it smells like cereals!)!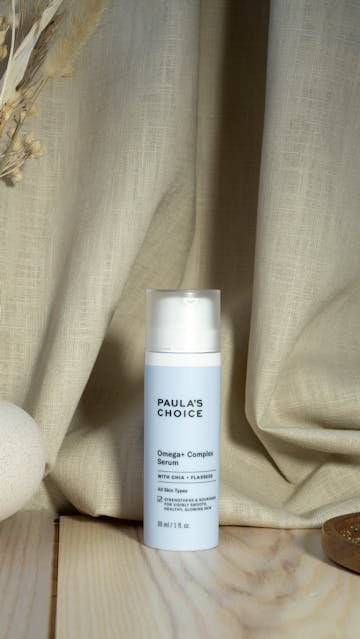 Paula's Choice Omega+ Complex Serum, my experience:
I have already mentioned my growing interest in ceramide-based products in several of my reviews (including this one, the Stratia's Liquid Gold)!
Since I started tretinoin, they have become my best weapon to fight dryness. So I started tracking all products containing them. And as I kept reading about them, one serum kept popping up all the time: the Paula's Choice Omega+ Complex Serum.
When the brand offered to send it to me last fall, I jumped on the opportunity! And as soon as I finished my Stratia Liquid Gold, I introduced it into my routine to replace it.
And even though I find the Liquid Gold formula more complete than this one, I think I have a slight preference for this Paula's Choice serum. At least in terms of user experience, that's for sure! For the formula and the quality/price ratio, the Liquid Gold is undoubtedly more interesting.
But in terms of results, they are equal: my skin is nourished without feeling greasy and it' s also immediately soothed, which is very pleasant!
I use it in my evening routine, I particularly appreciate its repairing and "cuddly" effect at the end of the day. Its melting texture is a real pleasure to apply!
I still use a night cream on top and even a sleeping mask (yes, at the moment, I'm doing the hydration sandwich method I told you about in my article on how to use retinol effectively 😉 ).
The bottle has a pump system and it doesn't deliver a lot of product in quantity, so I use 3-4 pumps each time and as a result, I finished my 30ml bottle in 2 months. (oopsie)
Also, the texture is not the most "stretchy", so I tend to use a lot of it to be able to massage it properly into my skin.
As you can't see when you're about to finish it since the bottle is opaque, I ended up with an empty product three days ago (well, fortunately; I had re-order another one but no luck, it will only arrive this weekend!)(I feel like I'm going to place another order, just in case, anything to avoid reliving such a trauma again 😆).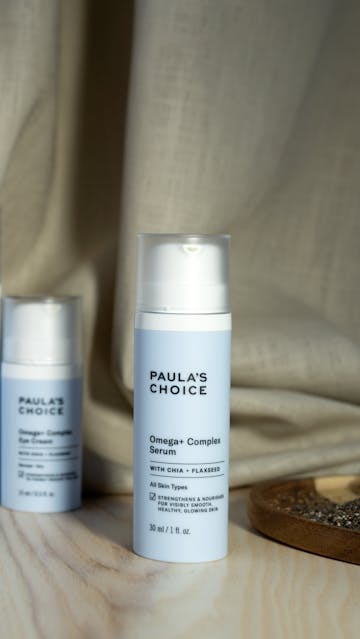 In conclusion:
I think that the Paula's Choice Omega+ Complex Serum will be one of my must-haves as soon as my skin starts to feel drier than usual. I haven't tried it yet with the cream from the same line (because I have another night cream right now that I need to tell you about very quickly) but I plan to! I'm sure the combo of the two will be a delight 🥰
Long live the Paula's Choice Omega+ Complex range 🙌
The Paula's Choice Omega+ Complex Serum retails for $37 for 30ml.
Product Review in detail
Summary
Paula's Choice Omega+ Complex Serum
"Superfood for your skin! Omega fatty acids in this serum strengthen skin's surface with the essential nutrients needed for healthy, hydrated, visibly stronger skin."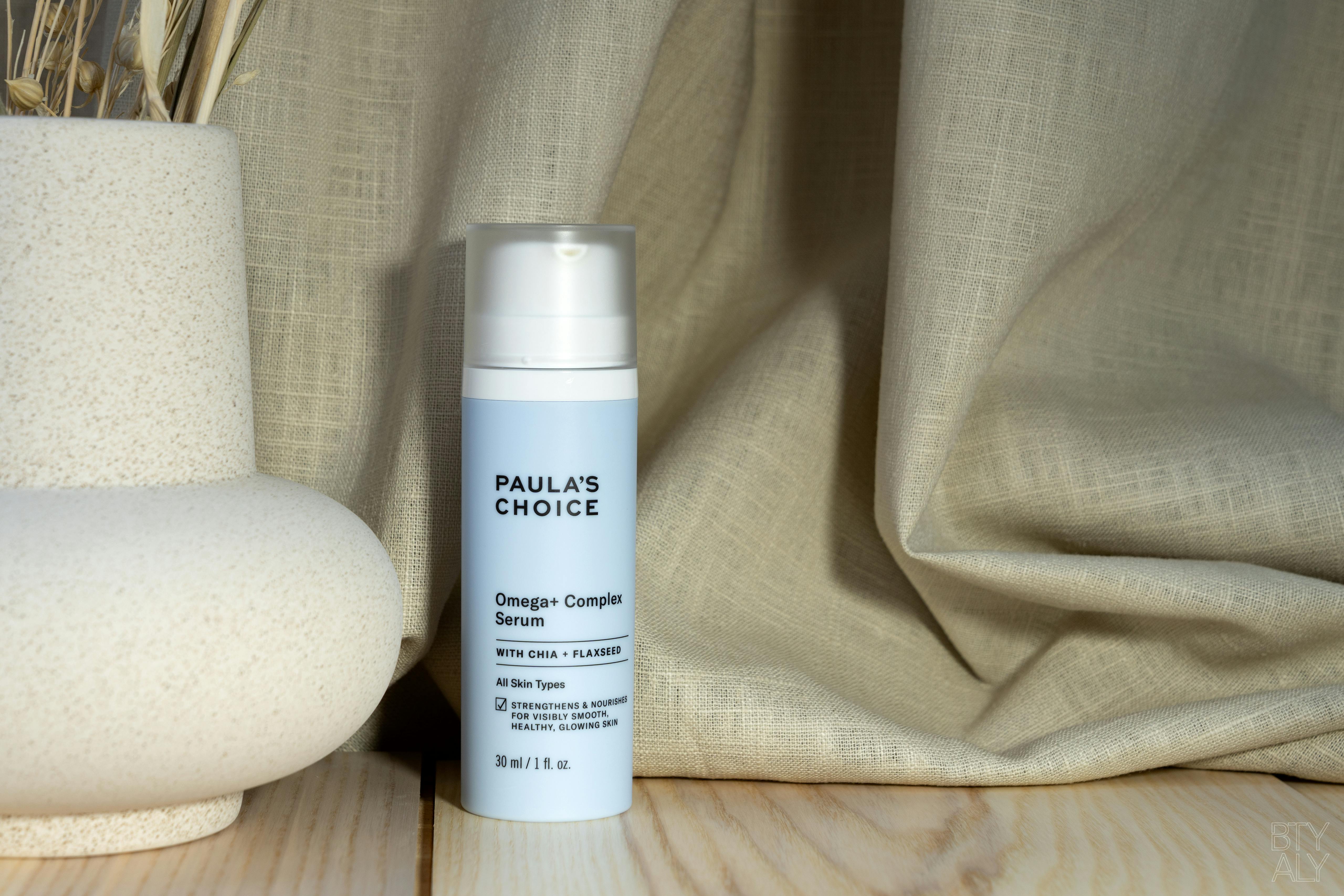 Pros
- a superbly well made formula with lots of interesting skincare ingredients (as always with Paula's Choice),
- a rich and buttery soft texture that leaves the skin comfortable but not feeling greasy or sticky,
- the almost immediate soothing effect, a real bandage effect,
- the repairing effect on the skin barrier thanks to the holy trilogy ceramides + cholesterol + fatty acids,
- it moisturizes and nourishes in a light way, the skin is very comfortable without "heaviness",
- the formula is suitable for the most sensitive and sensitized skins,
- it has no added fragrance but I love the smell of the formula, it reminds me of cereals,
- the practical bottle, which allows me to not lose a drop of product (on the other hand, you don't see when you're about to reach the end, ouch).
Cons
- it's too small! 50ml would be better, am I right or am I right? ;)
- the opaque bottle, you can't see when you're about to finish it,
- the quantity of the pump is too small, IMO (I use at least 3 or 4 pumps each time).
product name
Omega+ Complex Serum
brand name
Paula's Choice
packaging
A blue opaque plastic air-less pump bottle, very practical and simple.
fragrance
It's fragrance-free but it still smells nice (it reminds me of cereals).
texture
A lovely emulsion texture (like a fluid cream) that is rich, and buttery soft but not greasy at all; it leaves the skin comfortable and not sticky.
For Who
– drier skin types,
– all ages.
Concerns
– damaged skin,
– irritated skin,
– sensitive and/or sensitized skin,
– dry and/or dehydrated skin,
– skin in need of comfort,
– dull skin,
– mature skin.
Method
The Omega+ Complex Serum can be used morning and night. At the moment, I use it in the evening, and it's perfect to soothe my skin at the end of the day.
After applying my aqueous serum(s), I take the equivalent of 3-4 pumps and massage my face and neck with it for a few seconds. Once it's absorbed, I apply my night moisturizer on top.
Key Ingredients
A really nice formula! There's clearly a focus on repair and nutrition:
– with the perfect trio of ceramides + cholesterol + essential fatty acids / omega 3, 6 and 9: the three main ingredients that constitute our skin's moisture barrier. This trio allows to repair the skin intensely, without making it greasy, and the skin tolerates it perfectly (since they're ingredients that it contains naturally).
– several nourishing and anti-oxidant vegetable oils: chia seed, flax seed and passionflower oils, olive oil,
– nourishing Shea butter,
– low molecular weight hyaluronic acid and glycerine: hydrating,
– antioxidant vitamins: vitamin E, and a derivative of vitamin C (Tetrahexyldecyl Ascorbate).
Ingredients
Water (Aqua), Glycerin, Diheptyl Succinate, Candelilla/​Jojoba/​Rice Bran Polyglyceryl-3 Esters, Linum Usitatissimum (Linseed) Seed Oil, Linoleic Acid, Linolenic Acid, Passiflora Edulis (Passionflower) Seed Oil, Salvia Hispanica (Chia) Seed Oil, Ceramide EOP, Ceramide EOS, Ceramide NP, Ceramide NS, Caprooyl Sphingosine, Olea Europaea (Olive) Oil Unsaponifiables, Caprooyl Phytosphingosine, Sodium Hyaluronate, Cholesterol, Ceramide AP, Butyrospermum Parkii (Shea) Butter, Tocopherol, Hydroxyethyl Acrylate/​Sodium Acryloyldimethyl Taurate Copolymer, Prunus Domestica Seed Oil, Lauryl Laurate, Glyceryl Behenate, Hydrogenated Lecithin, Sodium Phytate, Trehalose, Isohexadecane, Sodium Stearoyl Lactylate, Capryloyl Glycerin/​Sebacic Acid Copolymer, Xanthan Gum, Rhizobian Gum, Cetyl Alcohol, Tetrahexyldecyl Ascorbate, Agar, Copernicia Cerifera (Carnauba) Wax, Glyceryl Stearate, Ceteareth-25, Polysorbate 60, Cetearyl Alcohol, Behenic Acid, Glyceryl Rosinate, Citric Acid, Benzyl Alcohol, Phenoxyethanol, Dehydroacetic Acid, Ethylhexylglycerin.
Ingredients not included
– silicone,
– fragrance,
– dye,
– alcohol.