Intro
Discover my detailed review of the Comfy Water Sun Block mineral sunscreen from the Korean brand Purito.
I often read that a mineral sunscreen with high protection (50+) necessarily leaves a white cast on the skin. That the only way to avoid this is to use nano mineral filters and that it's otherwise impossible. It seems that the word impossible is not in the Korean dictionary, because the Korean skincare brand Purito just achieved a completely transparent mineral sunscreen, without using any nano filter. Let me introduce you to the Purito Comfy Water Sun Block!
This year, so many "clean" sunscreens were released! Especially among Western brands, with, for example, the REN Clean Screen Mineral SPF 30 (which I reviewed), but also Oh My Cream in France, and Pai in the UK, to name just a few.
Most of these sunscreens use the same ingredient, zinc oxide, which is a non-nano mineral filter and they claim to be a broad-spectrum sunscreen, which protects against UVA and UVB rays.
I tried one, the REN, and I was moderately convinced (feel free to read the review if you're curious).
A "clean" sunscreen is definitely complicated to formulate. In this type of formula, you must avoid:
– chemical filters, which are much more transparent than mineral filters, but they've been accused of being irritating and also endocrine disrupters,
– nano mineral filters (more transparent as well but also highly criticized)
– any "controversial" ingredients (alcohol, mineral oil, silicone… the list is getting very long!).
But in the end, consumers still want a product that provides effective protection (SPF30 minimum), that is pleasant to use: not too greasy, not too thick, not too white, and that is also a good makeup base.
Personally, I confess that the priority for me isn't that my sunscreen is "clean" (I talked about it in my article on "non-toxic" cosmetics ), I really want it to provide great UV protection and not be a pain to use, because I apply it every day, and not just a little!
But hey, if I find a "clean" formula that matches all my preferences, I'm definitely willing to try it!
So when the Korean brand Purito announced the release of its sunscreen Comfy Water Sun Block SPF50+ PA++++++, with non-nano mineral filters, supposed to be non-greasy and completely transparent, I was frankly curious to know more about it!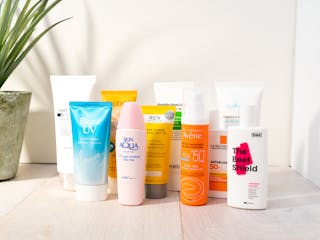 Skincare
Face Sunscreen Guide 2019
Hello, my name is Bonnie, and I am a pathological face sunscreen tester. My ultimate goal: finding the perfect everyday sunscreen! So I test a lot of them, all the time. Here is my Face Sunscreen Guide for 2019! 😉
Read more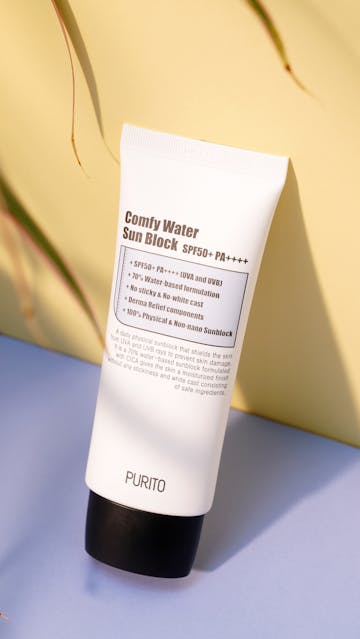 Product presentation: Purito Comfy Water Sun Block
Purito is a "clean skincare"Korean brand that I already mentioned when I reviewed their brilliant Centella Green Level Buffet Serum.
Named after the English word "purity" and the Chinese character for "soil" (土), Purito is a totally transparent skincare brand. They want their customers to know what they apply to their skin. They prefer natural ingredients, and they make sure that they are as pure and pesticide-free as possible.
Aware of the greenwashing in the beauty industry at the moment, Purito wants to be open and honest with its customers, providing them natural and safe products.
They prefer to invest in R&D and finding great ingredients for their products rather than focusing on their appearance. They also try to use environmentally friendly packaging whenever it's possible, they are also cruelty-free, and they also believe that skincare should be accessible to as many people as possible. The prices of their products are indeed very affordable!
I'm a big fan of their first sunscreen based on chemical filters, the Purito Centella Green Level Safe Sun, so I was super interested in the launch of the Comfy Water Sun Block sunscreen!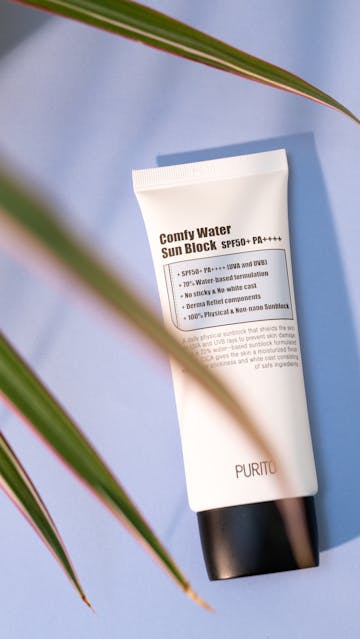 A sunscreen based on mineral UV filters, with an SP50+, a PA+++++, silicone and alcohol-free, and which claims to have a lightweight texture and no white cast, is quite unprecedented!
It's indeed quite rare to find a mineral sunscreen with high UV rays protection (here, an SPF50+) that don't use silicones and/or alcohol. They can indeed considerably lighten the texture of sunscreens and avoid the greasy effect often associated with mineral sunscreens.
Mineral filters are fat-soluble, so they're usually added into creamier formulas containing a lot of oil(s). They're also thicker than chemical filters and less easy to spread in a formula. This explains why the mineral sunscreen formulas of natural brands are often less "cosmetically elegant" than the formulas of sunscreen products based on chemical threads.
Most "clean" brands still prefer these mineral filters because they're less controversial than chemical filters (the latter are reputed to be more irritating for sensitive skin, more allergenic, they're also accused of being endocrine disrupters and polluting the oceans for some of them).
As I said above, I'm not necessarily the target consumer for these brands, because I think there are many misconceptions about these cosmetic "controversies", and above all, regarding sun protection, I really want a product that is effective against UV rays, that is my first concern!
But if I can have a more natural product, environmentally friendly, that is effective, with high UV protection and pleasant to use on a daily basis, I'm in!
Purito formulated its sunscreen Comfy Water Sun Block with a specific technology. They chose to use a formula that is very rich in water (70%), which is quite unusual for a mineral sunscreen. I don't know the details because the brand doesn't communicate much about it, but I must admit that I'm very intrigued!
The formula also contains a lot of soothing skincare ingredients (Centella Asiatica, Niacinamide…), which is a plus, especially if you have sensitive or sensitized skin!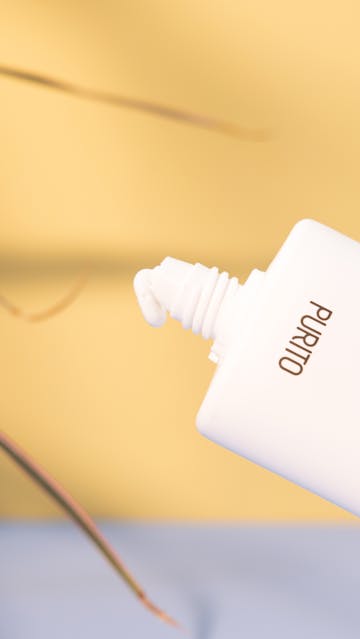 My experience:
I ordered the Comfy Water Sun Block in June and to my dismay, it took some time to be delivered, unfortunately. So I've only been using it for a few weeks.
The texture is really pleasant, it's quite insane actually. You can definitely feel that it's made of 70% water!
It's very refreshing when you apply it on the skin. This fresh feeling lasts quite a long time, which is perfect in this season.
It's completely transparent, on my fair skin anyway. No white cast like I had in the past with other mineral sunscreens!
I find it comfortable on my dehydrated combination skin. I'm not 100% sure that it will be enough on a drier skin than mine, but personally, I don't find it drying.
You need to massage it quite well, as it may tend to pill a little in the hairline and in the eyebrows, but nothing dramatic.
With makeup, it can look blotchy sometimes. With my more matte foundations, in particular, I noticed that it could sometimes emphasize pores or drier areas. It's pretty light, again, nothing terrible, but I just wanted to point it out to you.
I actually noticed that if I used a sponge to apply my foundation, it helped a lot with that!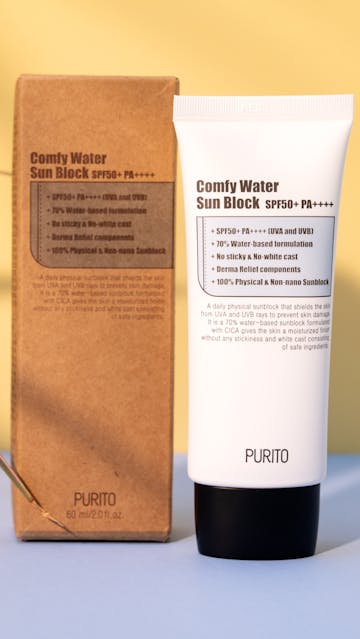 The Purito Comfy Water Sun Block in 16 questions:
∎ Price?
Between $16 and $18 for 60ml.
∎ Protection?
SPF50+, PA++++
∎ Made in?
South Korea
∎ Texture?
A very fresh creamy texture, full of water. The refreshing feeling remains on the skin for a long time after I applied it.
∎ UV filters?
– Zinc Oxide: UVA and UVB.
– Titane Dioxide: UVA and UVB.
∎ Effects on the environment?
Low, they are non-nano mineral filters (but I couldn't find any information from the brand on this subject).
∎ Silicone-free?
Yes.
∎ Alcohol-free?
Yes.
∎ Fragrance-free?
No, it contains essential oils.
∎ Anti-oxidants?
Yes, niacinamide, a multi-tasker, and cosmetic hero ingredient.
∎ Other skincare ingredients in the formula?
– Centella Asiatica: soothing, repairing, healing, anti-aging…
– adenosine: repairing, anti-aging.
– glycerine: hydrating.
∎ White cast?
No, it's transparent.
∎ Irritant? Comedogenic
No.
∎ Mattifying?
Yes, a bit (but it's not drying).
∎ How does it look with makeup?
With some foundations, it may tend to emphasize pores and/or dry areas (but not always).
∎ Would I repurchase?
Probably. I find it comfortable to wear every day. It may have a small issue with some of my foundations, but it's mostly fine.
Otherwise, I find it very pleasant to use, it's very fresh and in this season, it's just perfect! It's also excellent value for money. The formula is not waterproof though, so I don't recommend it if you plan to go swimming.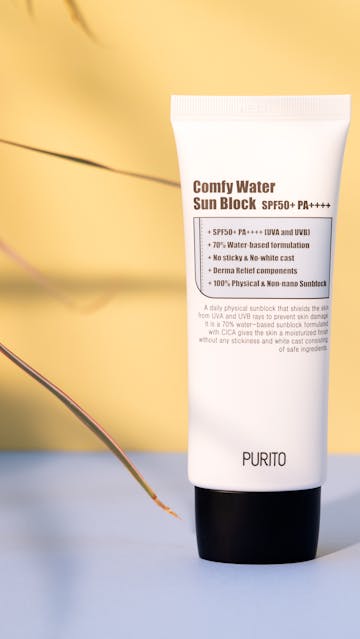 In conclusion:
Overall, I really like this Purito Comfy Water Sun Block sunscreen!
The texture is super nice and despite its small flaws, I find that it does the job well and I find it comfortable to use on a daily basis.
In short, I already love their chemical sunscreen, the Purito Centella Green Level Safe Sun, I find this mineral version a very nice addition to the range 🙂
The sunscreen Purito Comfy Water Sun Block retails between $16 and $18 for 60ml.
Edit 03/07/2020:
Apparently, the brand has reformulated this sunscreen and it no longer contains essential oils. I haven't tried this new fragrance-free version.
Product Review in detail
Summary
Purito Comfy Water Sun Block
"Block harmful UV rays with this mild sun block powered by SPF50+ PA++++. Its lightweight formula is comfortable on skin and does not leave a sticky feeling."
Recommendation
A
A good mineral sunscreen option for a daily use
Pros
- its "clean" formula, without "controversial" ingredients (not easy for a sunscreen),
- SPF 50+ (generally impossible with this type of formula, without using nano-filters) (but the word impossible is apparently not in the Korean dictionary), and complete UVA and UVB protection, which provides great anti-aging protection,
- the use of two mineral filters (zinc oxide and titanium dioxide Non-Nanos) perfect for sensitive skin,
- the addition of skincare ingredients in the formula, which are always a plus,
- the insane texture, super fresh and drenched with water, very pleasant for the season,
- it doesn't leave a white effect, it's quite amazing for a mineral sunscreen!
- it smells good,
- it has a slightly mattifying effect (but it doesn't dry out my skin).
Cons
- for those who are sensitive to essential oils, the formula contains a few of them,
- it may have a tendency to pill slightly at the hairline, you need to massage it well when you apply it,
- I noticed that with some of my foundations, it tended to look blotchy and emphasize dry areas and pores a little bit (but not systematically),
- it's not the most comfortable sunscreen formula on the market, but on my dehydrated combination skin, it's fine (on dry skin, I don't really know though),
- you must order it online (even if you live in Korea!).
product name
Comfy Water Sun Block
packaging
A white plastic tube with a black cap.
fragrance
A light, rather pleasant aromatic scent.
texture
A very fresh creamy texture, full of water. The refreshing feeling remains on the skin for a long time after I apply it.
For Who
For all those who want to protect themselves against UV rays.
Concerns
– sun exposure,
– presence of UV rays,
– anti-aging prevention,
– hyperpigmentation.
Method
I apply the Comfy Water Sun Block after I have finished my morning skincare routine (after my moisturizer). Usually, I wait for a few minutes after applying my moisturizer (roughly the time to get dressed) before using my sunscreen.
Regarding the amount, I use about 1/2 teaspoon for my face, neck, neckline, and ears to be properly protected. I apply them in successive layers to make it easier and massage them a lot so that the cream blends, as much as possible, into my skin.
The product tends to stick a bit to the eyebrows and my hairline.
I usually wait for about ten minutes (at least) before applying my makeup. This gives the product time to set properly to form a good protective layer, undiluted by the application of other products on top.
Key Ingredients
The Comfy Water Sun Block sunscreen contains great skincare ingredients such as:
– two mineral UV filters: non-nano zinc oxide and titanium dioxide for UVA and UVB protection,
– moisturizing glycerin,
– antioxidant, anti-inflammatory, lightening niacinamide… It's one of my favorite cosmetic ingredients, it is good for (almost) everything!
– soothing, anti-inflammatory Centella Asiatica.
Ingredients
Water, Cetyl Ethylhexanoate, Butylene Glycol, Glycerin, Dipropylene Glycol, Zinc Oxide, Silica, Niacinamide, 1,2-Hexanediol, Polyglyceryl-3 Methylglucose Distearate, Titanium Dioxide(CI 77891), Sodium Polyacryloyldimethyl Taurate, Cetearyl Olivate, Sorbitan Olivate, Stearic Acid, Madecassoside, Asiaticoside, Madecassic Acid, Asiatic Acid, Citrus Aurantium Dulcis (Orange) Peel Oil, Lauroyl Lysine, Disodium EDTA, Acrylates/C10-30 Alkyl Acrylate Crosspolymer , Melaleuca Alternifolia (Tea Tree) Leaf Oil, Lavandula Angustifolia (Lavender) Oil, Adenosine,
Hydroxyethyl Acrylate/Sodium Acryloyldimethyl Taurate Copolymer.
Ingredients not included
– alcohol,
– mineral oil,
– silicones,
– synthetic fragrance,
– dye.