Intro
Discover my detailed review of the face sunscreen Clean Screen Mineral SPF 30, from the English "clean" skincare brand, Ren Clean Skincare.
The Clean Screen Mineral SPF 30 is a sunscreen with a "clean" formula, a tempting proposal from the British skincare brand REN. Here is my detailed review!
The search for the perfect sunscreen for everyday use is a relentless quest!

I have already mentioned it many times, I use a sunscreen every day for health reasons (I live in Dubai) but above all, let's be honest, out of pure vanity because it's indeed the most effective product to slow down skin aging (yes, it is!).

But an effective sunscreen that is nice to wear and doesn't mess up my makeup is like the Holy Grail!

If you add on top other criteria because you prefer to use a "clean" product (with no silicones, no alcohol, no filters that pollute the oceans, no chemical filters…), it's even more complicated!

UV filters are not easy ingredients to add into a formula and many of the sunscreen options offered by "clean" (or "green", or "natural"…) brands are usually quite uncomfortable to use on a daily basis.

Too white, too greasy, too thick… It can be a real chore to use them (and applying makeup on top can quite complicated, to say the least!).

So when the British skincare brand REN announced that they were going to release a sunscreen, all the "clean beauty" enthusiasts were definitely intrigued!

REN is indeed a beloved brand in the clean beauty addicts community because it avoids many of the infamous "controversial ingredients" but still offers formulas that also contain ingredients that are certainly less natural, but recognized for their effectiveness.

On paper, the REN Clean Screen Mineral SPF 30 sunscreen seems to be a perfect candidate for effective daily protection, and it's also "clean" and environment-friendly as a bonus!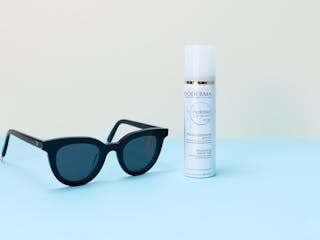 Skincare
Sun protection: Q&A and common myths
Even if sun protection is relevant all year long, I definitely feel this topic interests more people at the moment, with summer just around the corner…
Read more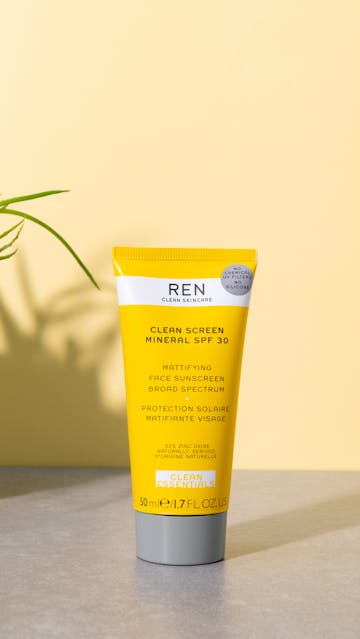 Product presentation: REN Clean Screen Mineral SPF 30
I bet a lot of you wonder why there are not more REN products in my reviews.
According to the description on their website, REN looks like a "clean" brand as I like them: which favors natural ingredients, without neglecting effective synthetic active ingredients, leaving aside those that are "useless" for the skin (texture agents, for example). And I definitely appreciate their "planet-friendly" approach!
But the vocabulary they use in their communication is definitely not my favorite. I'm not a fan of brands that talk about "harmful" or "toxic ingredients" (see my dedicated article on the topic).
And the few REN products I've tried in the past didn't really impress me. I don't think they're bad at all, far from it, but well, I don't really feel the urge to repurchase.
That being said, I was still very intrigued by their launch of Clean Screen Mineral SPF 30 sunscreen. A sunscreen based on mineral UV filters, silicone-free and alcohol-free, that's interesting!
It's indeed quite rare to find a sunscreen with high protection (here, an SPF30) that doesn't use silicones and/or alcohol in its formula. They indeed make it possible to considerably lighten the texture and avoid the greasy feeling that you usually have with sunscreen with mineral filters.
Mineral filters are usually added into creams containing a lot of oil(s), because they are fat-soluble (= they dissolve in fats). Mineral sunscreens are also thicker in texture than chemical filters based products, and they spread less easily.
Most natural brands still prefer these mineral filters because they're less controversial than chemical filters (the latter have a reputation for being endocrine disrupters and also polluting the oceans for some of them).
As someone who uses a lot of sunscreens all year round, I was therefore very seduced by the idea of a more natural and environmentally friendly product that is also pleasant to use on a daily basis!
Indeed, REN describes its Clean Screen Mineral SPF 30 sunscreen as "a cream that's easily absorbed, and easily incorporated into your daily skincare routine".
It's also supposed to be mattifying, which is a plus for my combination skin that tends to be shiny throughout the day!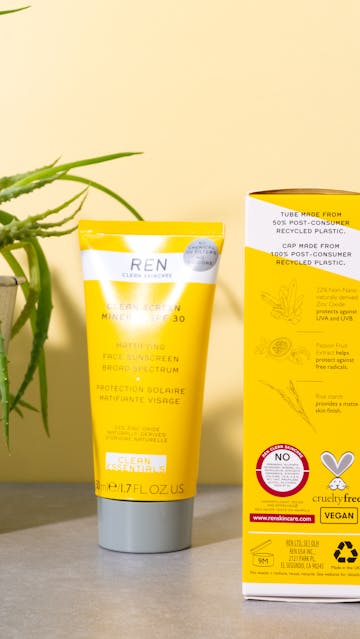 My experience:
I bought REN Clean Screen Mineral SPF 30 sunscreen when I was in France a few weeks ago (I ordered it online and it was waiting for me when I got back in Dubai). I came back from my stay with very dry and irritated skin (due to the weather, the flight, the stress, maybe a reaction to a product I used there… I don't really know what happened, but my skin was very angry).
And the experience was really not conclusive at first….
The texture of this cream is indeed quite "dry". It absorbed fairly quickly (it's quite lightweight) but it also enhanced dry areas of my skin a lot.
Also, there's definitely a white cast. It's not the whitest cream I've ever tried, you can see that they really made an effort about it but still, you can see it. And I have rather fair skin!
See above: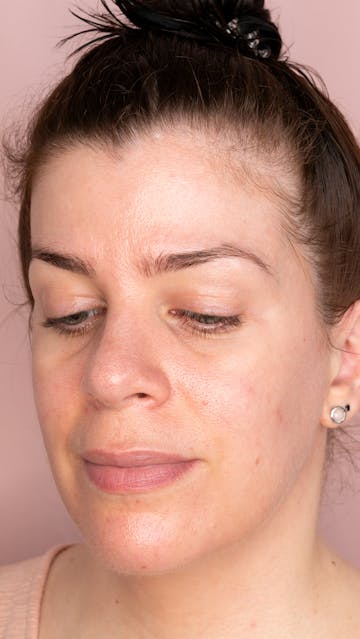 In this picture, my skin is "naked" (without sunscreen, without makeup).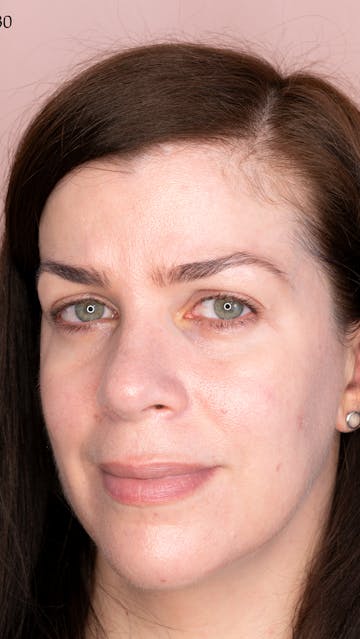 In this one, I applied about 1/4 teaspoon of product (which is the amount needed to be effectively protected) and massaged it very well. The picture was taken about 10 minutes after application.
You can definitely see the white cast, even on my fair skin.
And if you look at the picture closer, you can also see all the areas where my skin is drier because the cream tends to enhance them quite a bit…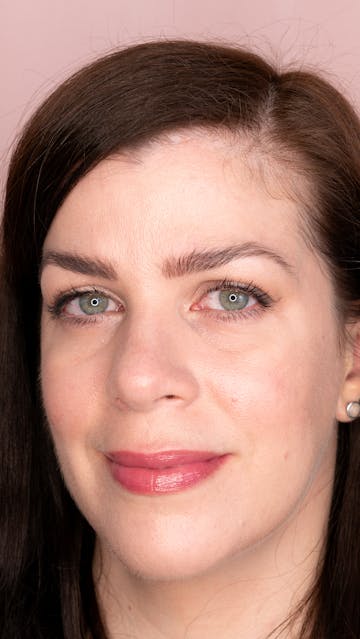 And that's how it looks with makeup on top. As you can see, I could hide the whitening effect of the sunscreen but, I'm not sure that a darker skin tone than mine can achieve the same result…
I must admit that I find it very unfortunate that cosmetics brands don't think about their dark skin tones customers. It's 2019 and unfortunately, the myth of dark or black skins that don't need to protect themselves from the sun is still there (spoiler alert: no matter what your skin color is, the sun isn't your skins BFF ?). Perhaps offering tinted versions to avoid this "white cast" effect could solve this problem?
In the last few days, my skin has been much better and I have used it again. I must admit that even if the white cast is still there, I really appreciate its mattifying effect now that my skin has returned to its usual combo state that tends to shine during the day!
It helps to make my makeup last longer and I think I'll probably enjoy it when the temperatures rise to the unbearable levels they get to here!
Value for money:
REN Clean Screen Mineral SPF 30 is a pretty good sunscreen product, with a lot of extra skincare ingredients (anti-oxidants for the anti-aging effect, moisturizing ingredients also for the feeling of comfort, and also a mattifying ingredient).
The brand's "clean" approach is also great, especially if you are sensitive to this kind of argument (you know, I'm quite mixed on the topic).
I really appreciate the environmentally friendly side of the packaging and the formula of this ethical product, it's a real plus!
All this has a price and REN Clean Screen Mineral SPF 30 sunscreen isn't really a very cheap product ($36 for 50ml). I must admit that I can't help but compare it with the Drunk Elephant Umbra Sheer Physical Daily Defense SPF30 sunscreen, which is on a fairly similar formula (more moisturizing though) with an equivalent price but for a quantity of 90ml…
The REN Clean Screen Mineral SPF 30 in 13 questions:
∎ Texture?
A cream that is a little thick at first but absorbs rather well if you massage it. The finish is quite "dry", no greasy effect with this product.
∎ UV filters?
Zinc Oxide (22%): UVA and UVB filters.
∎ Effects on the environment?
Low, it's a non-nano mineral filter.
∎ Silicones in the formula?
No.
∎ Alcohol in the formula?
No.
∎ Fragrance in the formula?
No (but it contains essential oils).
∎ Antioxidant ingredients in the formula (for the anti-aging and blue-light protection)?
Yes: sea buckthorn berries, vitamin E, rosemary, passion fruit, cranberry.
∎ Autres ingrédients de soin notables dans la formule?
Yes, moisturizing aloe vera and glycerin, and mattifying rice starch.
∎ White cast?
Yes, especially if you apply the correct amount (= a lot) to be well protected.
∎ Irritating? Comedogenic?
No.
∎ Mattifying?
Yes, I wouldn't recommend it for dry skin because it enhances dry skin areas.
∎ How does it look with makeup on top?
Beware of dry areas, which it tends to enhance and that makeup usually accentuates (especially powder). On the other hand, base makeup lasts longer with it thanks to its mattifying effect.
∎ Would I repurchase?
Maybe. I found it drying when I used it in the spring but I may appreciate its mattifying effect in the middle of summer. However, I find it quite expensive compared to other sunscreens I'm currently using.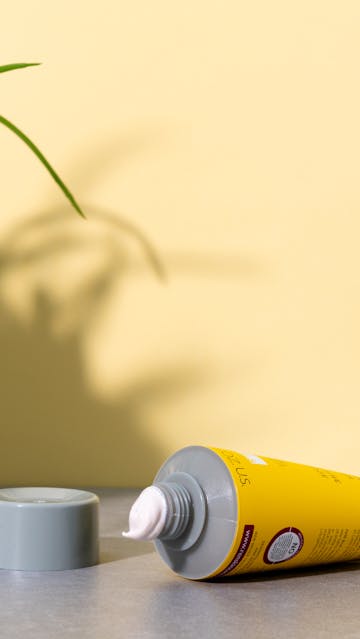 In conclusion:
After a rather inconclusive first try, I started to appreciate the REN Clean Screen Mineral SPF 30 sunscreen more recently.
However, I don't think it's suitable for dry skin and darker skin than mine (which means a lot of people!).
But if you have fair skin that tends to shine during the day, it can be interesting for you!
I appreciate its ethical aspect but if I am honest, sunscreen products are so essential in my skincare routine that if I have a choice between the REN sunscreen and a slightly less ethical, but more efficient and economical product that I like, I would still tend to choose the latter…
Living in Dubai, I don't really have the luxury of not using sun protection!
The REN Clean Screen Mineral SPF 30 retails for $36 for 50ml.
Product Review in detail
Summary
REN Clean Screen Mineral SPF 30
"Mattifying face sunscreen with Broad spectrum UVA/UVB protection, blue light protection, non-nano technology, vegan and made with naturally derived ingredients."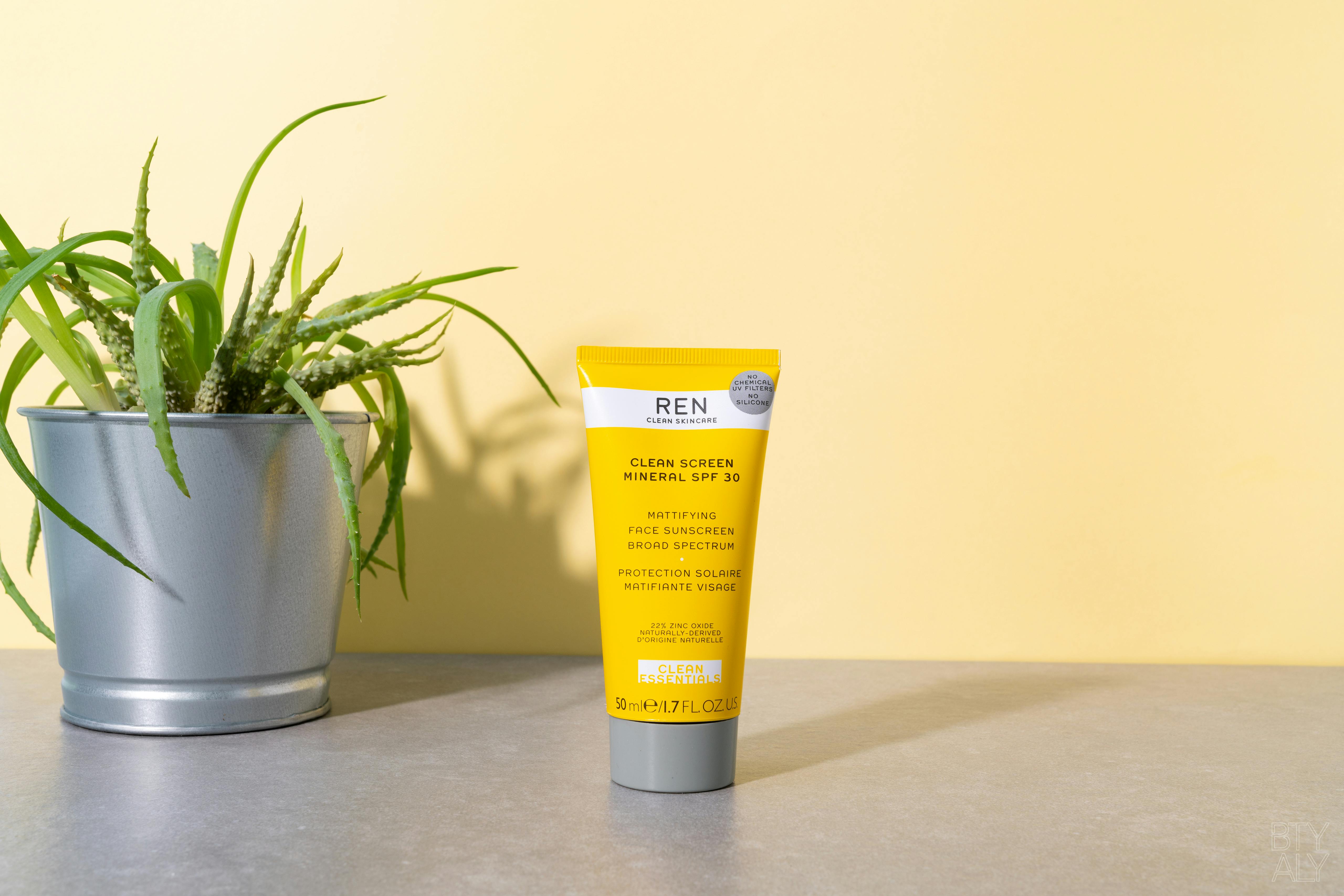 Recommendation
B+
Not a bad product IMO, but you can find better.
Pros
- its formula, it is undoubtedly very "clean" and without any controversial ingredients (which is quite an achievement for a sunscreen),
- the strong SPF (30), and the great protection against UVA and UVB rays, which provides good anti-aging protection,
- the use of a mineral filter (non-nano zinc oxide) which is suitable for sensitive skin,
- the addition of antioxidant ingredients to the formula that boost anti-aging protection,
- the mattifying effect, interesting for my combination skin,
- the "0 waste" packaging (the tube is 50% made with recycled plastics and the cap 100%),
- the formula doesn't pollute the oceans.
Cons
- too bad it's not an SPF50, it would have been better than 30,
- the white cast is quite important, which makes it completely inappropriate for darker skin tones (I think it's a real shame to exclude a large part of the clientele; it's 2019, it's time for brands to offer some tinted versions for darker skins!),
- the finish is quite dry, and it really enhances the dry areas of the face (if you have dry skin, it's not for you),
- the price is not cheap, especially for a product that you'll finish quickly if you're using as you should be ( = every day and using a good amount).
product name
Clean Screen Mineral SPF 30
packaging
A yellow tube made from 50% recycled plastic, and a grey plastic cap made from 100% recycled plastic.
fragrance
A natural plant scent (no synthetic perfume but it contains essential oils).
texture
A creamy texture quite thick, but not greasy.
For Who
– for combination to oily skin,
– for anyone who wants to protect their skin against UV rays.
Concerns
– sun exposure,
– presence of UV rays,
– anti-aging prevention,
– skin prone to hyperpigmentation.
Method
I apply the Clean Screen Mineral SPF 30 after I have finished my morning skincare routine (after my moisturizer). Usually, I wait for a few minutes after applying my moisturizer (usually the time to get dressed) before using my sunscreen.
Regarding the amount, I use about 1/2 teaspoon for my face, neck, neckline, and ears to be properly protected. I apply them in successive layers to make it easier and massage them a lot so that the cream blends, as much as possible, into my skin.
The product tends to stick a bit to the eyebrows and my hairline.
I usually wait for about ten minutes (at least) before applying my makeup. This gives the product time to set properly to form a good protective layer, undiluted by the application of other products on top.
Key Ingredients
The REN Clean Screen Mineral SPF30 sunscreen contains many interesting ingredients such as:
– a mineral sunscreen: zinc oxide (22%) for UVA and UVB protection,
– moisturizing ingredients: aloe vera, glycerin,
– antioxidant ingredients: sea buckthorn berries, vitamin E, rosemary, passion fruit, cranberry,
– rice starch for a mattifying and soothing effect.
Ingredients
Aqua (Water), Zinc Oxide, Caprylic/Capric Triglyceride, Aloe Barbadensis Leaf Juice, Glycerin, Caprylyl Caprylate/Caprate, Propanediol, Arachidyl Alcohol, Cetearyl Alcohol, Coco-Glucoside, Oryza Sativa Starch, Pongamia Glabra Seed Oil, Microcrystalline Cellulose, Behenyl Alcohol, Phenoxyethanol, Arachidyl Glucoside, Isostearic Acid, Lecithin, Polyglyceryl-3 Polyricinoleate, Polyhydroxystearic Acid, Passiflora Edulis Fruit Extract, Ethylhexylglycerin, Glyceryl Oleate, Vaccinium Macrocarpon (Cranberry) Seed Oil, Xanthan Gum, Cellulose Gum, Sodium Chloride, Hippophae Rhamnoides Oil, Citrus Nobilis (Mandarin Orange) Peel Oil, Anthemis Nobilis Flower Oil, Cinnamomum Camphora Linalloliferum (Ho Wood) Leaf Oil, Pelargonium Graveolens Flower Oil, Glucose, Parfum* (Fragrance), Helianthus Annuus (Sunflower) Seed Oil, Tocopherol, Rosmarinus Officinalis (Rosemary) Leaf Extract, Hydrogenated Palm Glycerides Citrate, Citric Acid, Sodium Hydroxide, Citronellol, Geraniol, Limonene, Linalool.
Ingredients not included
– parabens,
– alcohol,
– mineral oils,
– silicones,
– synthetic fragrance,
– dyes.