Intro
Disclosure:
A sample or samples were provided by the brand / company.
We may receive commission (from a sale) if you click on and purchase from affiliate link(s) below. You'll be helping to support the magazine.
My test and thoughts on the hydrating and soothing sleeping mask Cica Care Sleeping Pack from the Korean skincare brand Rovectin.
At the end of this quite dreadful year (#2020), I thought it would be nice to get out of my comfort zone and use something other than the Cica Sleeping Mask by Laneige that I love and I talk about all the time! As a matter of fact, the Korean brand Rovectin recently launched a soothing and moisturizing sleeping mask, the Cica Care Sleeping Pack. Allow me to introduce it to you!
Let's be clear, the Rovectin Cica Care Sleeping Pack is not at all a dupe for the Laneige mask, but it definitely falls into the same category.
Since I've increased my retinol use, I love using sleeping masks instead of or in addition to my night moisturizer to really help my skin to heal and replenish my hydration levels!
Rovectin is a brand I have only known by name before. I saw them in Seoul last year at Olive Young. I was intrigued by the concept of the brand but I hadn't yet stepped up to try the products.
So when the brand offered to send me their new sleeping mask, I enthusiastically accepted! I had just finished a second jar of the Cica one from Laneige and I thought it would be a good idea to try something else for a change.
Let me tell you about the brand Rovectin and their Cica Care Sleeping Pack!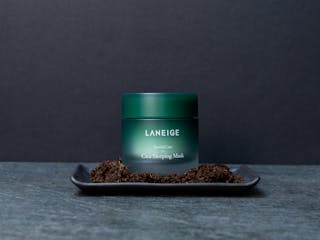 Skincare
Review: LANEIGE Cica Sleeping Mask
LANEIGE latest releases were definitely a big hit for me. Their latest sleeping mask, the LANEIGE Cica Sleeping Mask has even become a true favorite of mine! Here is my detailed review.
Read more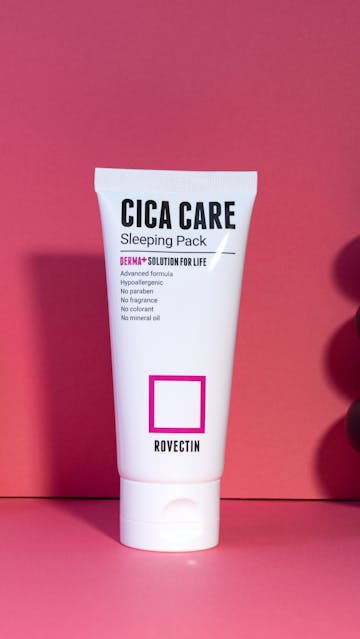 The brand Rovectin:
Rovectin has a rather unique concept in the world of Korean beauty.
The brand was created based on the founders' belief that beautiful, healthy skin is an integral part of a person's life and can, if it's damaged, dramatically affect their quality of life.
Rovectin first wanted to create a range of products for cancer patients who, due to chemotherapy and/or radiotherapy, suffer from very unpleasant skin side effects on a daily basis, such as irritation and extreme dryness of the skin. Initially, the products were mainly known in Korea in hospitals and dermatologists' cabinets.
Rovectin is therefore what could be called a "dermo-cosmetic" line, and is mainly focused on skin repair and healing.
For some time now, the brand has expanded its range of products and also provides solutions adapted to acne-prone skin. And it's perfect timing to do so, because right now, we are all suffering from maskne!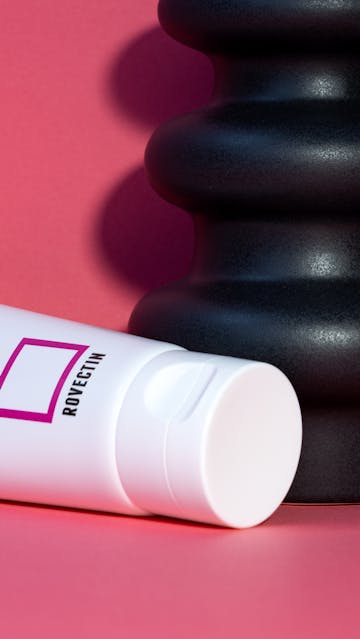 What is a sleeping mask, reminder:
The sleeping mask Cica Care Sleeping Pack is the junction between these two aspects of the brand: it will repair and calm as well as help the skin to heal and purify itself gently.
And I love this sleeping mask format! But I know the concept can be confusing, and that it's not easy to differentiate it from a night moisturizer. So here's a little reminder!
Lack of sleep is a widespread problem all over the world. The concept of a beauty product that promises a nice, plumped skin like you get after a good night's sleep, is therefore very attractive to many of us!
We know that good sleep is one of the keys to skin beauty, and in Asia, people talk a lot about "Golden Time" (=the first 3 hours of sleep), which would be the most repairing for the body.
Lots of Korean skincare brands developed a specific product to imitate the effect of this "Golden Time", and even boost this night repair to make the skin look well rested, even if you don't get enough sleep.
The texture of Sleeping Masks is quite specific. They're quite different from a good old night cream that's usually very rich and heavy.
Sleeping Masks are usually lighter in texture, with a water concentration that is often quite high because you must be able to apply them on top of your evening moisturizer if you want to. The aim here is to "trap" skin moisture with hydrating ingredients, for a fresh, smooth and plumped skin when you wake up.
Their formula therefore contains more humectant ingredients (= able to capture moisture and retain it in the skin) instead of emollient and/or occlusive ingredients (= that are nourishing and/or that mainly prevent water loss by forming a protective film on the skin).
To treat severe dehydration, all these ingredients have their place, but in a sleeping mask, this plumping effect provided by humectants is generally preferred.
The Rovectin Cica Care Sleeping Pack, product presentation:
As you can probably guess, the Rovectin Cica Care Sleeping Pack is a deeply moisturizing sleeping mask. But not only that!
It also has a very soothing, and even purifying effect thanks to the ingredients it contains!
Indeed in its formula you can find:
– glycerin, Aloe Vera and betaine to retain moisture,
– allantoin, Centella Asiatica and Madecassic acid, bioflavonoids and panthenol to soothe the skin,
– calamine, a very soothing and purifying pink powder, ideal if you're acne prone,
– but also liquorice extract for its brightening and soothing effect.
A very complete formula, in a non-greasy gel-balm texture that melts onto the skin and leaves it super moisturized and soothed.
If you have a sensitive combination skin that is easily dehydrated, this is clearly a product that may interest you!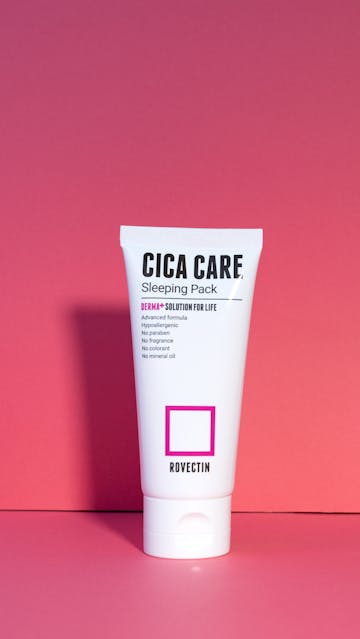 The Rovectin Cica Care Sleeping Pack, my experience:
I received this sleeping mask a few weeks ago (early November, I believe). About the same time I decided to increase the concentration of my tretinoin. I was also finishing my second jar of Laneige Cica Sleeping Mask, so it worked out really well!
I introduced it into my evening routine the same way I used the Laneige: last step in my routine, instead of my night moisturizer, on tretinoin night.
And soon enough, I realized that its texture might lack a bit of moisture for my brand new dry skin (yes, my skin is now combo, crazy!). So I changed my method of application and put it on top of my current night moisturizer.
And it's much better! Now I can clearly see the plumping effect and my skin feels well hydrated and fresh in the morning, and it doesn't feels dry at all.
I think that if I had tried this product this summer, it would have been more than enough for me to use without a night cream. But right now it's very dry here in Dubai, so I need all the moisture I can get!
I really appreciate its soothing and purifying action. During the "hormonal" week of the month, it's not bad to use it several nights in a row, it helps to keep the breakouts that always come around on my chin at that time 😉
To be honest, even if I find it effective, I still have a slight preference for the Laneige Cica Sleeping Mask… The texture of the Laneige Mask is so pleasant that it's hard to beat it!
In terms of results, I'm totally satisfied with the Rovectin Cica Care Sleeping Pack, but as far as the pleasure of use is concerned, the Laneige remains my number one choice! 😉
I said at the beginning of the article that I was going to try to get out of my comfort zone by trying something else, but let's face it: 2020 is not the best year for that 😂😂😂
Cheers to comforting skincare products and plush textures!
In conclusion:
I'm wondering if I'm not going to leave this product aside until next summer… In Dubai, the summer arrives in April anyway, so that's not too long away!
I think I would probably appreciate its texture more when the weather is warmer. Plus, it gives me an excuse to open my third jar of Cica Laneige mask that I bought during the Black Friday offers 😆
On the other hand, if your skin is oilier than mine, I really think you may enjoy the Rovectin mask. It's very effective, no doubt about it! I just need richer textures right now 😉
The Rovectin Cica Care Sleeping Pack retails between $30and $34 for 80ml depending on the retailers.
Product Review in detail
Summary
Rovectin Cica Care Sleeping Pack
"This magical sleeping cream mask pack delivers hydration and calms overnight so you awake to smooth and silky skin."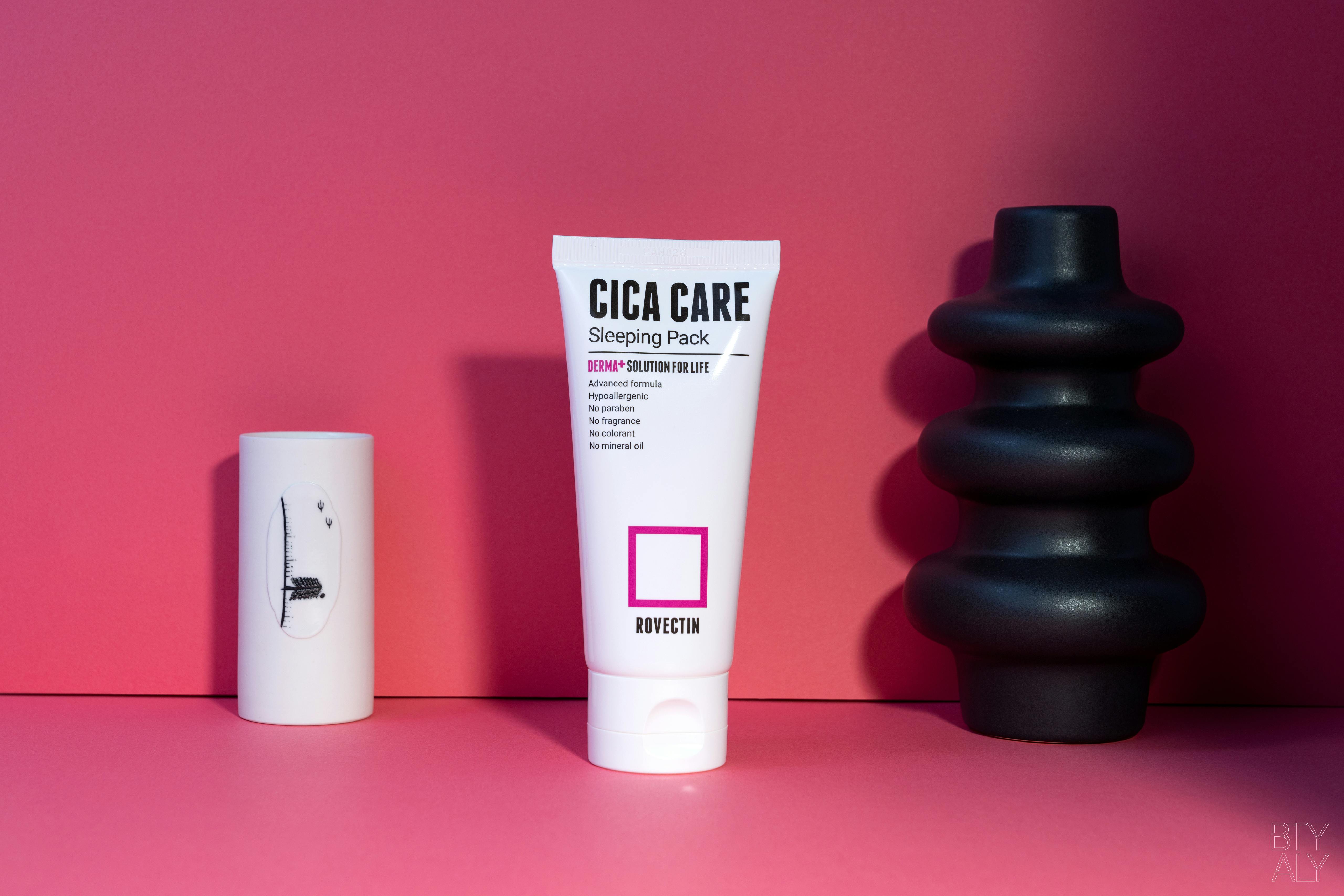 Pros
- the tube packaging is rather practical (not pretty though, but easy to use at least!),
- the generous capacity of 80ml, a very good quantity/price ratio,
- the texture is halfway between the balm and the gel, very nice if you have a combination skin (for drier skin types, I'm not sure it's enough ),
- its formula is very complete and is suitable for many cases of sensitive skin: a lot of very repairing, soothing and purifying ingredients (very good for acne-prone skin),
- it's perfect in addition to anti-aging treatments that can be sensitizing (acids, retinol),
- the result: a comfortable, soothed skin, but without a greasy/heavy effect,
- in the morning, the skin is calm and repaired.
Cons
- on the tube, it's mentioned that this product doesn't contain any fragrance but in reality, there is geranium essential oil in the list of ingredients (I don't mind it because it's a soothing ingredient, but this communication from the brand is not very clear),
- if you have dry skin, I strongly suggest you use it over your night moisturizer, not alone, it might not be enough.
product name
Cica Care Sleeping Pack
packaging
A practical squeezy tube (not the most luxurious packaging though).
fragrance
A light aromatic geranium scent.
texture
A texture halfway between balm and gel, quite soft and nice to use.
For Who
For all skin types (even oily), and more particularly:
– sensitized skin, with a damaged protective barrier,
– reactive skin, with redness,
– dry and/or dehydrated skin,
– acne prone skin.
Concerns
– redness,
– sensitive, damaged skin,
– acne,
– feeling of discomfort due to irritation.
Method
Rovectin Cica Care Sleeping Pack is, as its name suggests, a night mask, which you use before going to bed.
I apply it on my face and neck at the end of my evening routine, usually instead of my night cream (for very dry skin, you can even apply it over it), in a fine layer. No need to apply a lot of product, it would just be a waste IMO.
After 2-3 minutes, my skin has absorbed the excess, I usually don't even need to massage it, and I just sleep with it! I rinse it in the morning when I cleanse my skin.
I use it 2 or 3 times a week at the moment, usually the same night I use my tretinoin or whenever I feel that my skin needs more comfort.
Key Ingredients
This formula contains mainly moisturizing and soothing ingredients such as:
– glycerin, Aloe Vera and betaine to retain moisture,
– allantoin, Centella Asiatica and Madecassic acid, bioflavonoids and panthenol to soothe the skin,
– calamine, a very soothing and purifying pink powder, ideal if you're acne prone,
– but also liquorice extract for its brightening and soothing effect.
Ingredients
Water, glycerin, dipropylene glycol, butylene glycol, trehalose, betaine, cetyl ethylhexanoate, dicaprylyl carbonate, centella asiatica extract, protease, panthenol, moringa pterygosperma seed extract, aloe barbadensis leaf extract, propanediol, glyceryl polyacrylate, dipotassium glycyrrhizate, allantoin, xanthan gum, saussurea involucrata extract, rubus chamaemorus fruit extract, selaginella lepidophylla extract, tropolone, sodium polyacryloyldimethyl taurate, sodium polyacrylate, hydrogenated polydecene, caprylic/capric triglyceride, trideceth-10, caprylhydroxamic acid, 1,2-hexanediol, boswellia serrata resin extract, brassica oleracea italica (broccoli) extract, lithospermum erythrorhizon root oil, bioflavonoids, geranium maculatum oil.
Ingredients not included
– alcohol,
– mineral oil,
– silicone,
– synthetic fragrance,
– dye.