Intro
Read my detailed review of the sleeping mask Cicapair Sleepair Ampoule-In Mask by the Korean skincare brand Dr. Jart+.
As I often mentioned, the Cicapair range of products by Dr Jart + is my husband's favourite. But this time, I was the one who fell in love with their latest innovation, the Cicapair Sleepair Ampoule-In Mask!
It's true that the concept of an evening routine is a bit difficult to fit into monsieur's habits, and also, that one of the main qualities of the Cicapair range (according to him) is its delicate green and fresh scent. However, the Cicapair Sleepair Ampoule-In Mask is one of the only products in the range that doesn't contain any fragrance…
So it was super easy for me to steal it from him. Yes, at first I thought I bought it for him, but nope. Washing your face again at night is definitely one step too far for him 😉
I had the opportunity to use it for several weeks, and I brought it in my suitcase these last few weeks, while I was in France, which was much colder than in Dubai! My skin doesn't really like winter anymore apparently (and generally speaking, when I travel, my skin hates me!), so it was the perfect opportunity to do a crash-test of this product in due form!
Let me give you my impressions of this Cicapair Sleepair Ampoule-In Mask designed by the Korean skincare brand Dr Jart +!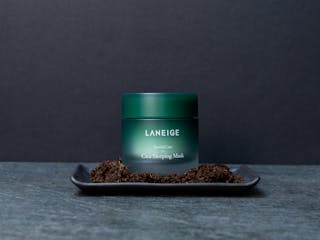 Skincare
Review: LANEIGE Cica Sleeping Mask
LANEIGE latest releases were definitely a big hit for me. Their latest sleeping mask, the LANEIGE Cica Sleeping Mask has even become a true favorite of mine! Here is my detailed review.
Read more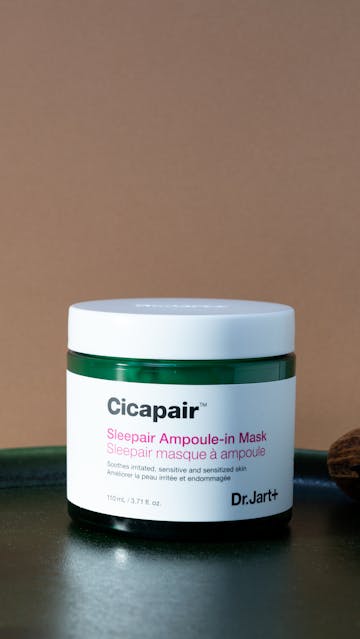 The sleeping mask Dr. Jart+ Cicapair Sleepair Ampoule-In Mask, my thoughts:
The Cicapair range is the most popular Dr Jart + range, both in the West (where it is very popular in Sephora) and also in Korea. The main ingredient is Centella Asiatica, remember the famous "Cica" trend, on which I dedicated a whole Ingredient Focus article last year.
The Cicapair range includes many healing ingredients, among which a Centella Asiatica complex (containing the 4 compounds of this herb: madecassoside, asiaticoside, asiatic acid and madecassic acid) but also other healing herbs (Houttuynia Cordata, along with Tulsi and Yarrow) and also a solution of minerals and vitamin B5 (panthenol) for a soothing and regenerating effect.
The innovation with this Cicapair Sleepair Ampoule-In Mask is the use in its formula of an exclusive and patented ingredient of the brand, the Jartbiome, a micro-organism (a ferment) that helps to restore the skin's microbiome. This type of "biotic" ingredient will be everywhere this year, I already had the opportunity to tell you more about it in my article Focus on the Microbiome 😉.
The main objective of this product is clear: to soothe and repair the skin during the night! At the same time, it also helps to limit the insensible water loss with a texture designed to adhere to the skin as much as possible to prevent the natural moisture from escaping the skin.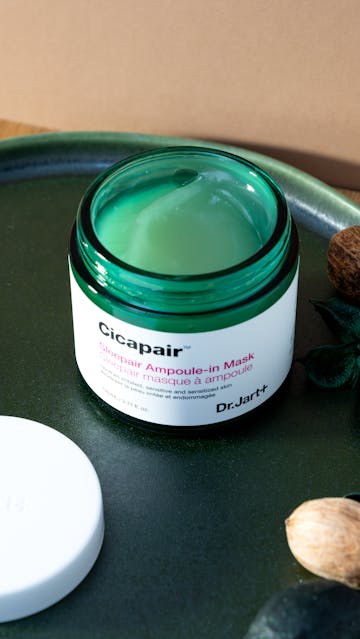 The silicones allow the formula to have this "occlusive" effect in a lighter way. Contrary to a common misconception widely heard in recent years, silicones don't prevent the skin from "breathing" and are not comedogenic. Their mesh structure (like a net) allows them to be permeable to water and air, they don't "suffocate" the skin as I have often heard/read.
This is something I myself believed until recently, but the more I learn about them, the less I want to avoid them in my products.
And I have to admit that with this product, they do their job perfectly! In the morning, my skin is moisturized without feeling greasy, and I don't have any breakouts with this product. In fact, it's quite the opposite thanks to the anti-inflammatory effect of the soothing ingredients it contains!
I finished my favorite Cica Sleeping mask by LANEIGE a few months ago and when I saw that Dr Jart + had come up with its own version, I immediately wanted to try it!
Since last year, I have intensified my use of retinol (I promise, I'll publish my article on my experience with this ingredient and its derivatives soon!) and my skin needs more soothing ingredients than usual!
I've also slowed down my use of acids a bit, but I still find it hard to do without them because I love the smoothing effect they have on my skin! However, I had to stop using my beloved Lotion P50, unfortunately… I'll tell you about its replacement when I find it, I'm testing new products at the moment 😉
So I decided to use the Cicapair Sleepair Ampoule-In Mask in the evening, when I use my acids based product, so approximately twice a week. I usually apply it at the end of my evening skincare routine, instead of my night moisturizing cream (or on top of it, if I feel that my skin needs more nutrition that night).
The combo of acids and Cicapair Sleepair Ampoule-In Mask is really great to refresh and quench my skin from the moment I apply it. And I wake up the next morning with a skin that feels smooth (thanks to the acids in my previous day's product) and super-soothed as a bonus!
You don't have to apply a lot, a medium layer is enough. However, its texture remains a little sticky for the first 20 minutes (a tip, just wait a bit before going to bed, otherwise your pillow will benefit from your sleeping mask more than you! 😉 ).
I think the value for money is not bad at all: it's a very generous jar in size, and it will probably last me a very long time (at least 6 to 8 months).
It retails between $25 and $45, for 110ml.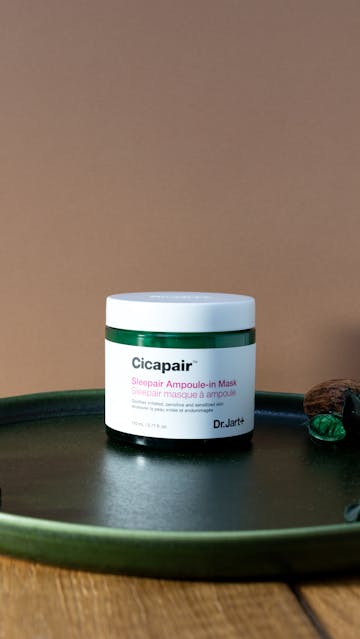 In conclusion:
I really like this Dr Jart + Cicapair Sleepair Ampoule-In Mask!
It's pleasant to use, really does the job on my dehydrated and sensitized combination skin, and leaves it moisturized and soothed without feeling too rich (it might have been the minor weakness of the LANEIGE's Cica Sleeping Mask, which I didn't like to use as much during the summer).
It's not as pleasant to use and "huging" as the LANEIGE sleeping mask, but as a result, I still find it a little more suited for my combination skin (I still love the LANEIGE, I could totally alternate between the two!).
The Dr Jart + Cicapair Sleepair Ampoule-In Mask retails between $25 and $45, for 110ml.
Product Review in detail
Summary
Dr. Jart+ Cicapair Sleepair Ampoule-In Mask
"Ampoule-blended sleeping mask to restore sensitive skin overnight.
A rich watery gel formulation gently adheres to your skin. While sleeping, it forms a skin barrier that prevents evaporation of moisture and moisturises the skin."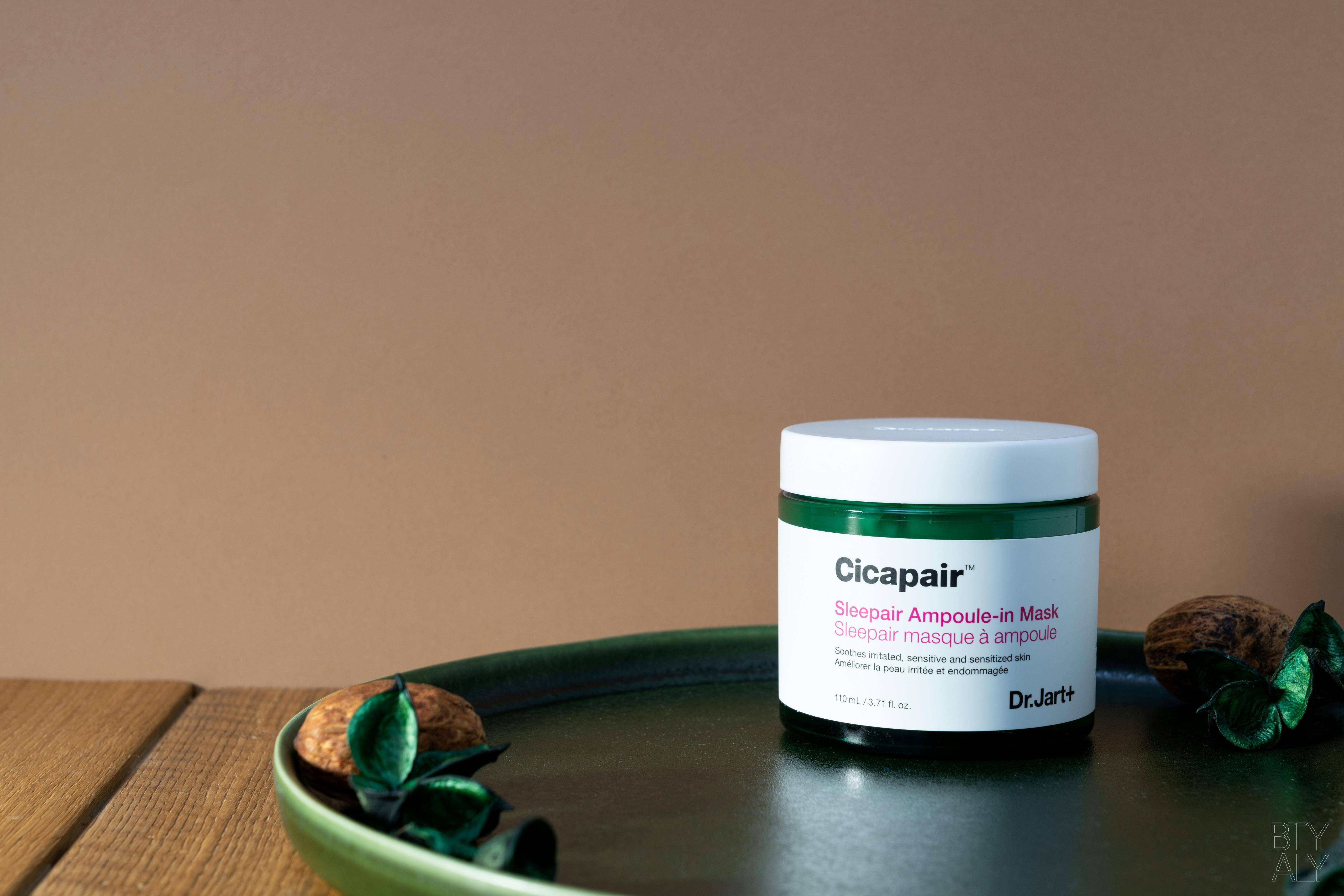 Pros
- the texture is fresh and non-greasy, and it's moisturizing without leaving the skin feeling heavy,
- a little goes a long way, a medium amount is enough (so the jar will probably last a while),
- it doesn't contain fragrance (which is better for sensitive skin),
- its formula is suitable for many cases of sensitized skin: many ingredients are very repairing, soothing and purifying (great for acne prone and/or irritated skin),
- it's perfect paired with anti-ageing treatments that can sensitize the skin (acids, retinol),
- the result: a comfortable, soothed skin with no greasy/heavy effect,
- the skin feels fresh when you wake up in the morning, the skin is calm and repaired.
Cons
- the texture may feel tacky during the first few minutes (small tip, it's better to wait a bit before going to bed ;) ),
- it's still not very easy to find, you have to order it online on Korean cosmetic shops (or on YesStyle).
product name
Cicapair Sleepair Ampoule-In Mask
packaging
A big dark green plastic (glass-like) jar with a white label and a white lid.
fragrance
It's fragrance-free, and it doesn't have a strong or specific smell.
texture
A gel texture, fresh and non-greasy, which leaves the skin very comfortable (and a little tacky for the first few minutes).
For Who
For all skin types (even oily), and more particularly:
– sensitized skin, with a damaged protective barrier,
– reactive skin, with redness,
– dry and/or dehydrated skin,
– acne prone skin.
Concerns
– redness,
– sensitive, damaged skin,
– acne,
– feeling of discomfort due to irritation,
– very dry areas due to irritation.
Method
The Cicapair Sleepair Ampoule-In Mask is a sleeping mask, which you use at the end of your skincare routine before you go to bed.
I apply it to my face and neck at the end of my evening routine, usually instead of my night cream (sometimes I even layer it on top of it, if my skin feels very dry), using a medium of the product. No need to use too much, it would just be a waste IMO. Compared to other night masks, I find that it feels sticky a bit longer.
After 20-30 minutes, my skin has absorbed the excess, I usually don't need to massage it, and I sleep with it! I rinse it off in the morning when I cleanse my skin.
I use it 2-3 times a week at the moment, usually the same night I use my acid exfoliating product. I find the Cicapair Sleepair Ampoule-In Mask particularly soothing on my skin, which is always a bit "stressed" by acids. 😉
Key Ingredients
A formula that is very rich in soothing and moisturizing ingredients, perfect to repair a damaged skin barrier and/or uncomfortable skin! The main ones:
– Centella Asiatica, the famous Cica (Asiaticoside, Madecassic Acid, Asiatic Acid): soothing, repairing, calming, regenerating,
– moisturizing glycerin,
– repairing vitamin B5 (Panthenol),
– "Jartbiome" (Streptococcus Thermophilus Ferment), an ingredient patented by the Dr Jart + brand. It's a microorganism (a ferment) that helps to repair the skin microbiome.
– different herbs and plants such as Yarrow, Tulsi and Houttuynia Cordata for their calming and soothing properties,
– niacinamide for its anti-ageing, purifying and anti-oxidant properties,
– adenosine for its anti-aging effect,
– turmeric for its anti-bacterial and antiseptic effect,
– cocoa for its anti-oxidant effect.
For those who avoid them, I would like to point out that it also contains quite a lot of silicones.
Ingredients
Water/​Eau, Dipropylene Glycol, Glycerin, Caprylyl Methicone, 1,2-Hexanediol, Achillea Millefolium Oil, Houttuynia Cordata Extract, Ilex Aquifolium (Holly) Leaf Extract, Niacinamide, Trehalose, Vinyl Dimethicone, Butylene Glycol, Dimethiconol, Cetyl Dimethicone, Chondrus Crispus Extract, Acrylates/​C10-30 Alkyl Acrylate Crosspolymer,Ammonium Acryloyldimethyltaurate/​VP Copolymer, Polyvinyl Alcohol,Saccharum Officinarum (Sugarcane) Extract, Tromethamine, Caprylyl Glycol, Dehydroxanthan Gum, Sodium Acrylate/​Sodium Acryloyldimethyl Taurate Copolymer, Polyisobutene, Hedera Helix (Vy) Extract,Streptococcus Thermophilus Ferment, Melia Azadirachta Leaf Extract, Melia Azadirachta Flower Extract, Adenosine, Disodium EDTA, Panthenol,Caprylyl/​Capryl Glucoside, Sorbitan Oleate, Madecassoside, Curcuma Longa (Turmeric) Root Extract, Ocimum Sanctum Leaf Extract, Fusidium Coccineum Ferment Filtrate, Ethylhexylglycerin, Coccinia Indica Fruit Extract, Dna, Amber Powder, Solanum Melongena (Eggplant) Fruit Extract,Dextrin, Theobroma Cacao (Cocoa) Seed Extract, Corallina Officinalis Extract, Moringa Oleifera Seed Oil, Asiaticoside, Methylpropanediol,Centella Asiatica Leaf Extract, Bamboo Vinegar, Asiatic Acid, Madecassic Acid, Calcium Chloride, Centella Asiatica Extract, Magnesium Sulfate, Eryngium Maritimum Callus Culture Filtrate.
* Please be aware that ingredient lists may change or vary from time to time. Please refer to the ingredient list on the product package for the most up-to-date list of ingredients.
Ingredients not included
– alcohol,
– mineral oil,
– fragrance,
– dye.