Intro
Disclosure:
We, or the author, purchased this item.
We may receive commission (from a sale) if you click on and purchase from affiliate link(s) below. You'll be helping to support the magazine.
My detailed review of the super concentrated essence with fermented green tea, the Amorepacific Vintage Single Extract Essence.
This review is long overdue, I know! I tried this essence for the first time almost 4 years ago, so it's not really a genuine discovery anymore. I've even repurchased it several times since then. It's quite a unique product, with its own unique story and I think I owed it a dedicated article. So here is my review of the Vintage Single Extract Essence from the Korean premium skincare brand Amorepacific!
When I first went to Seoul (in 2017), this essence had just launched and the brand Amorepacific was promoting it. It was the first time I had heard of a concept like this, which was a super concentrated essence around one single ingredient, green tea. Since then, there have been others essences like that, I had the opportunity to talk about them (for instance in my article Focus on Mugwort).
I was very intrigued and I took advantage of the tax-free boutique in Seoul to buy it because it's definitely a luxurious essence, and if I could save a few dozen dollars on it, I certainly wouldn't pass on the opportunity!
By the way, if I may, I would like to make a disclaimer about the price of this product. I'm well aware that it's not an affordable product for most people. And I'm not going to talk about it as a "must have" product, a "must try at least once in your life!".
I know it's always popular to bash luxury products under the pretext that there are better and cheaper products available. I don't disagree with this statement, on the contrary, and I'm not against a good "dupe" of a luxury product. This is something I mentioned several times, like in my Estée Lauder Advanced Night Repair serum review 😉
But if you're like me, passionate about cosmetics, there's always something fascinating to see a brand come up with an extremely well thought-out product that goes so far with regards to quality, savoir-faire and expertise, without budget limitations. And, to me, that's also what makes Amorepacific's Vintage Single Extract Essence interesting 🙂
Amorepacific is best known for being a large cosmetics company in Korea, with several brands in its portfolio. It would be a bit of a Korean equivalent to L'Oreal or Estée Lauder, but it's also the name of one of the group's brands.
The Amorepacific brand is among the most luxurious of the group (with Sulwhasoo and Hera). It combines the best of Korean botanical ingredients with the latest cosmetic innovations. And Amorepacific's star natural ingredient is definitely green tea.
Amorepacific's Vintage Single Extract Essence is the most concentrated green tea product in the line. In this review, I'll talk about green tea and its benefits for the skin (of which there are many!) and I'll tell you about my experience with this very special essence!
Skincare
Do you need an essence?
Recently, and probably thanks to the influence of Asian beauty, a new type of product appeared on most skincare addicts radar: essences. Like a kind of "beauty water" or "liquid skincare", an essence is a hybrid liquid product that is a cross between a toner and a serum. Can it replace them or do you have to add it to them? I'll tell you everything you want to know about essences!
Read more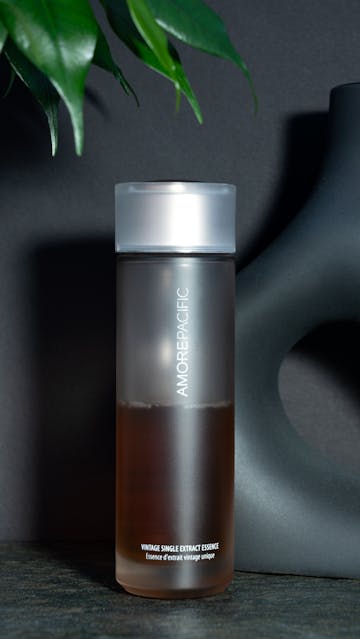 Green tea in cosmetics:
Green tea is a plant derived from the leaves and buds of the tea tree (or Camellia sinensis). The active components of green tea are polyphenols (also called catechins) which are beneficial to the skin due to their antioxidant and anti-inflammatory properties.
Epigallocatechin gallate (EGCG) in green tea is the best studied catechin. It's used both orally and topically for its many potential health benefits.
Green tea also contains caffeine and tannins, which help to reduce the size of blood vessels, which is definitely interesting for skin with redness, but also for people who tend to have under eye bags.
Finally, it contains amino acids that help to preserve the balance of the skin barrier.
Green tea therefore has both protective and treating properties.
As with other antioxidant ingredients, green tea is difficult to formulate because it tends to be unstable and easily oxidized when exposed to ambient light, and EGCG is also unstable at higher temperatures and basic pH values (higher than 7).
The location where the green tea was grown is very important. Depending on its origin, green tea won't have the same quality. And the way it' s stored also plays an important role in the quality of the final product. It's essential to preserve the maximum effectiveness of the green tea's compounds, which constitute the strength of the product.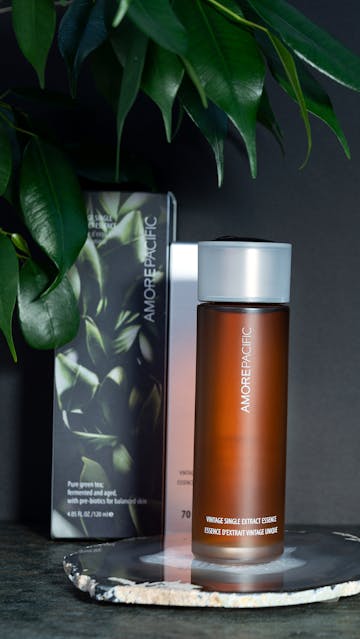 Green tea's skin benefits:
It protects the skin:
As an antioxidant that helps eliminate free radicals caused by environmental stressors such as UV rays and pollution, green tea is a good addition to any anti-aging skincare program for prevention.
It reduces the signs of aging:
Green tea helps to reduce signs of sun damage, such as hyperpigmentation, uneven skin texture and fine lines.
It soothes the skin:
Green tea can also help to decrease inflammation and reduce redness, making it a great ingredient for sensitive skin.
It reduces excess oil:
Its ability to reduce sebum production, combined with its anti-inflammatory and antibacterial properties, makes this ingredient suitable for oily and/or acne-prone skin types.
Amorepacific Vintage Single Extract Essence, product presentation:
Amorepacific and green tea goes way back!
The brand started growing its own green tea on Jeju Island in South Korea over 40 years ago. In Dolsongi garden, the conditions are indeed ideal for growing an exceptional quality tea: a volcanic soil and an optimal climate with abundant sunshine.
Depending on the season, the plant will have different specificities (specificitea? 😝).
In spring, the first green tea leaves are harvested during the first 15 days of April. These leaves are rich in amino acids for a deep moisturizing effect on the skin. During the summer, the leaves harvested are larger and wider: they have benefited from the abundance of sunlight, which increases their caffeine content. The plant's precious flowers bloom during the fall and are also filled with beneficial ingredients, while the green tea seeds in the winter moisturize and balance the skin.
Each part of the plant requires its own extraction method to maximize its benefits. Amorepacific scientists study every aspect and part of the green tea plant and innovate with new methods to extract its power as efficiently as possible.
And for this Vintage Single Extract Essence, the brand has outdone itself!
Amorepacific uses tea leaves harvested in early April, by hand. Among these leaves, some are meticulously selected and then stacked in thick layers to be naturally fermented without artificial enzymes for 50 days.
These are then placed in traditional Jeju clay pots (Korean onggis), which are naturally permeable, and transferred to a special place, Gotjawal, in the Dolsongi tea plantation. Surrounded by the unique scent of camphor trees in a secluded area of the garden, the green tea undergoes another 50 days of secondary maturation/fermentation.
As a result of the natural fermentation and aging process, this tea now contains a very high percentage of catechins, a highly antioxidant active substance. The Single Extract Formula essence is then obtained by a slow extraction technology (called the Full Body Extraction) of this extract fermented for 24 hours.
I'm well aware that the reality is probably a little less "magical" than the images of the brand suggest (Amorepacific's storytelling is impressive!) but I must admit that I like the story very much!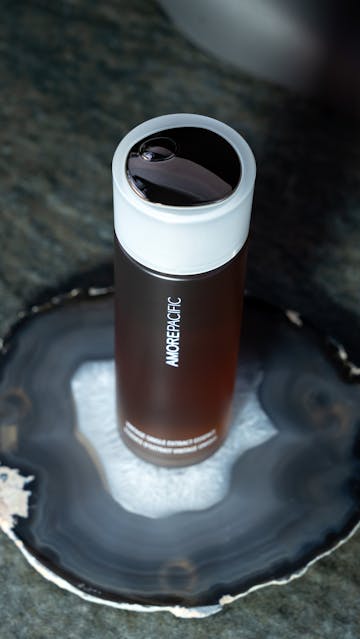 As you can probably guess, this essence is much more than a simple hydrating product. It is a true anti-oxidant, anti-aging, soothing and purifying treatment.
It can be considered as a "First Essence", those essences with fermented ingredients that are applied at the very beginning of the skincare routine and that will optimize the efficiency of the other products used on top (I explain the concept of the "First Essence" in more details in this article). But that's almost reductive in the case of this product.
For me, it is a powerful treatment, not just an "optimizer" of other products 😉
Its composition is super simple and short: in addition to green tea, some humectants, water, preservatives, and that's it. Here, the green tea is really the star of the formula. Amorepacific doesn't give the exact concentration but you can feel when you use it that it contains a lot of it.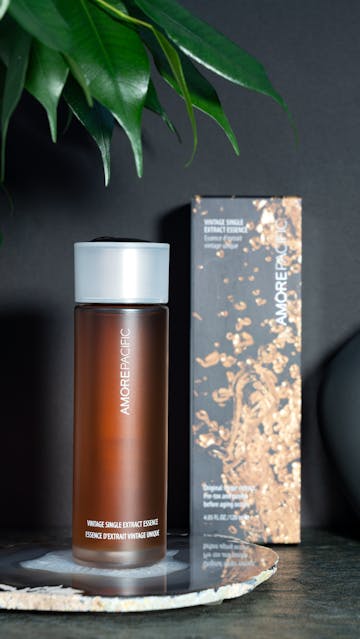 Amorepacific Vintage Single Extract Essence, my experience:
I used my first bottle of Vintage Single Extract Essence when I returned from my trip to Korea in 2017. My skin wasn't quite the same as it has been lately. It was oilier and with more visible pores than what I have now.
At the time, I really liked it for its purifying and soothing effect. The hydrating effect was also very present: my skin was quenched by this essence. Comfortable, but with a lightweight and fresh feeling.
I saw a real difference in my skin texture and pore size with this product.
Now my skin is drier and my pores are less visible, but I still like the texture refining aspect of this product and I also love the soothing effect.
I use the Vintage Single Extract essence in the morning, right after cleansing and drying my face and just before using my LED mask. I heard about a study that said green tea optimizes the results of LEDs so I thought it would be a good idea to use it that way in my routine 😉
Plus, it gives the essence time to fully absorb before I switch to use my vitamin C serum.
As always, I can't really speak to the effectiveness of its antioxidant benefits, since this is preventative and will be visible over the very long term.
I find this product very pleasant to use. The texture is very fresh, my skin drinks it literally and I like very much its fainted tea scent. That's why I prefer to use it in the morning by the way, this fresh and thirst-quenching side is very much appreciated by my skin in the morning 🙂
The application process (by pressing directly on the skin) is also something I love to do (but that's true for all essences 😉 ).
Clearly, I would love to use it morning and night, but given the price of this essence, I save it and only use it once a day.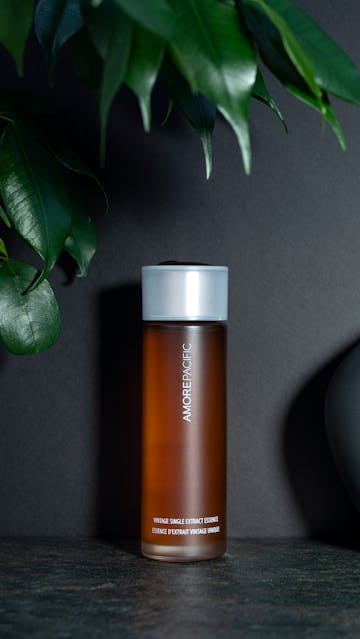 In conclusion:
For me, the Amorepacific Vintage Single Extract Essence is a great product.
When I use it, my skin is more even, more soothed, smoother too, less prone to blemishes and my pores are less visible.
If I had the budget, I would never be without it. But since I don't get to hang out at the Lotte duty-free stores in Seoul right now, I have to adapt! 😅
And there are other essences with green tea that have been released since then. Sure, they are much less sophisticated than this one but they are no less interesting (I'll have the opportunity to tell you more about them in the future 😉 ).
But it's true that if I have the opportunity and the budget (with a good discount), it's probably this Vintage Single Extract essence that I would always want to go back to.
The brand actually recently released it in a smaller size, which makes it (a bit) more accessible. It's actually the one I repurchased during the last Black Friday sales 🙂
The Amorepacific Vintage Single Extract Essence retails between $95 and $175 for 70 to150ml depending on the retailer.
Product Review in detail
Summary
Amorepacific Vintage Single Extract Essence
"An anti-aging essence infused with fermented Green Tea extract that improves the look of skin texture, elasticity, and helping to protect skin from environmental stressors that could lead to visible signs of aging."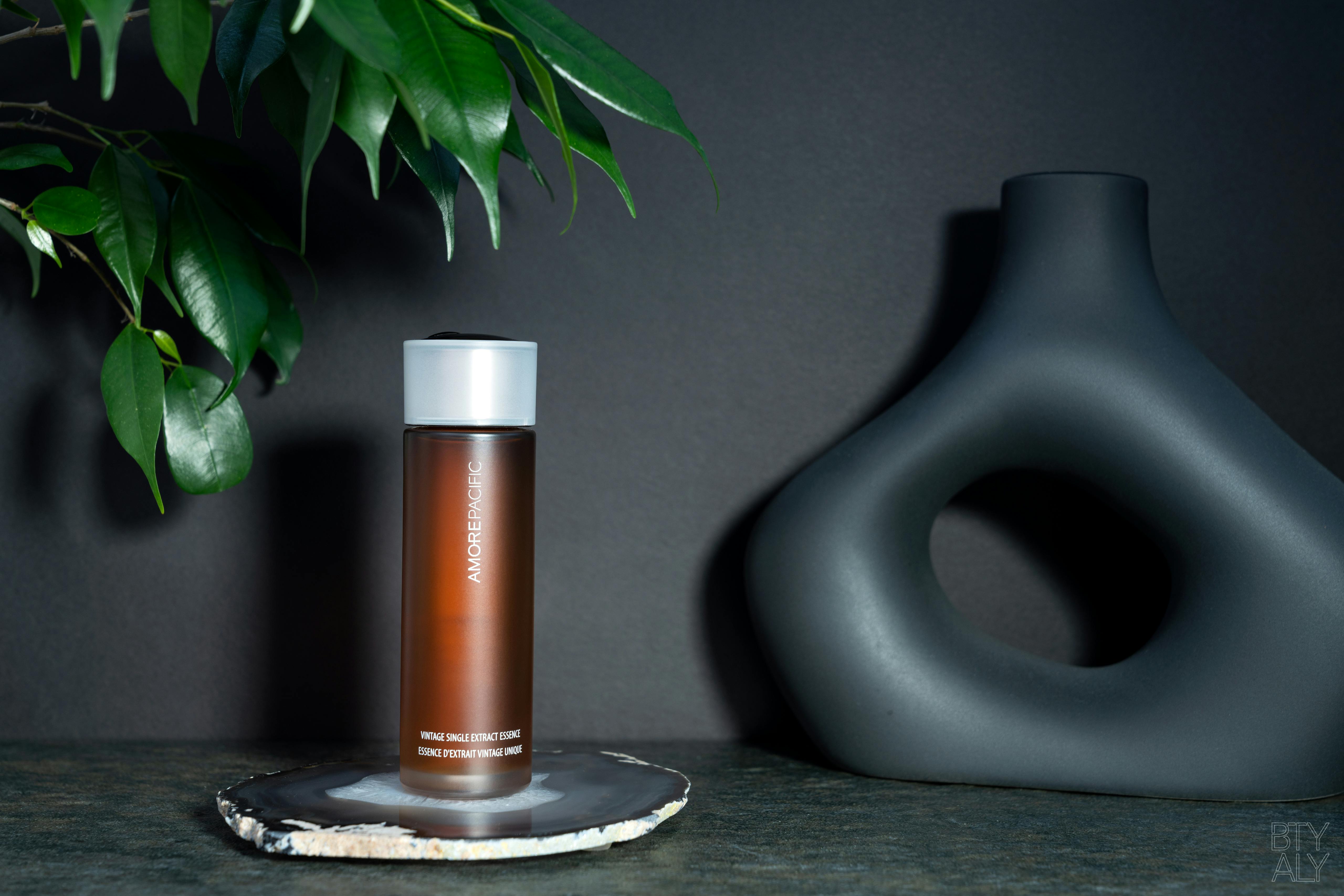 Recommendation
A+
An excellent product if you can afford it.
Pros
- the elegant and sleek packaging, very simple but luxurious,
- the simple and concentrated green tea formula,
- the liquid texture that my skin literally drinks up,
- the clarifying and retexturizing effect on my skin,
- its powerful antioxidant action,
- the pleasant moisturizing effect,
- the visible effect on my pores.
Cons
- the price at purchase is very expensive.
- it's not easy to find if you live in Europe.
product name
Vintage Single Extract Essence
packaging
A transparent, frosted, brownish glass bottle, quite heavy for a luxurious effect. The cap is screwed on top and is made of metallic plastic.
fragrance
A faint tea scent.
texture
Very liquid, like water, but it leaves my skin feeling comfortable et quenched.
For Who
All skin types, all ages.
Concerns
– skin that shows signs of aging,
– uneven skin texture, visible pores,
– loss of firmness and elasticity,
– sensitive or sensitized skin.
Method
I use the Vintage Single Extract Essence every morning, directly after I have cleansed and dried my skin, before my other treatments and moisturizer.
I apply it to my face, including my eye contour and neck.
I pour the essence directly into the palm of my hand. I sprinkle it about four times, in order to have enough product in my palm. You can also use a cotton pad to apply it, but I personally find that you lose far too much product with that method.
I then apply it directly onto my skin, with a light pressure using the palms of my hands until the essence is absorbed.
I finish by dabbing my skin lightly to ensure a complete penetration.
I usually then proceed to use my LED mask, as I heard of a study that said green tea optimizes the result of the LED light. I'm not sure what to make of that, but I figure it couldn't hurt to try 🙂
Key Ingredients
The formula is very short and the important ingredient here is clearly green tea.
Green tea is an ingredient very well known for its powerful antioxidant effect, and therefore anti-aging preventive action. It also helps to soothe and protect the skin. It also reduces the production of sebum, and smoothes the texture of the skin.
In the case of the green tea contained in the Vintage Single Extract formula, it has the characteristic of coming from the Dolsongi garden on Jeju Island, South Korea, known for its ideal climatic conditions for growing green tea. This tea garden belongs to the Amorepacific group, which can consequently control the culture, in order to guarantee an exceptional quality of green tea.
The green tea used in this essence also has the specificity of being fermented twice, which gives it a very high content of catechins. Catechins are the active substances in green tea responsible for its anti-aging/anti-oxidant action.
Ingredients
Water, Propanediol, Glycerin, Camellia Sinensis Leaf Extract, 1,2-Hexanediol, Ethylhexylglycerin.
Ingredients not included
– silicone,
– alcohol,
– mineral oil,
– fragrance,
– dyes.