Intro
5 lovely lip balms for Spring, for shiny and juicy lips! My thoughts, as well as photos and swatches.
Ah, how I love spring… The warmer weather, new beauty and life that nature brings, but also the new pretty shimmery lip balms! Here is my selection of the best tinted lip balms for this spring.
Shiny lip balms have become my favorite to wear, especially for a no brainer, everyday use!

They are always super flattering with their yummy sheer colors, which make the lips super juicy.

They certainly don't have the best lasting power in the world, but I love reapplying them during the day, because they're usually very moisturizing and super comfortable!

And the cool thing about their lack of pigmentation is that I usually don't need a mirror for them 😉

I definitely have a thing for high-end tinted lip balms, which are certainly too expensive for what they are (I'm not even going to try to defend them on this) but I definitely them love for a little touch of luxury to add in my everyday life!

Without further ado, here is my 100% desirable selection of colorful lip balms for this spring!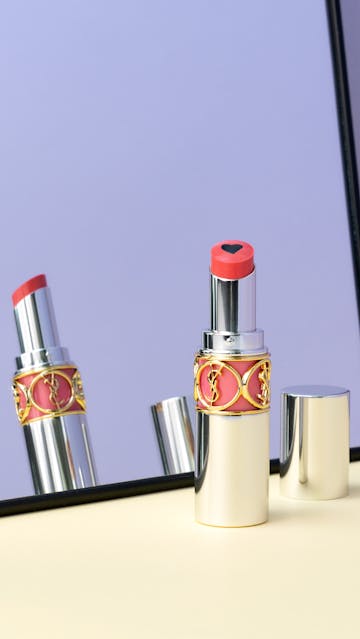 YSL Rouge Volupté Plump In Color Plumping Lip Balm:
I fell in love with this little gem when it was released last January. Impossible to resist this stunning packaging and the adorable heart in the lipstick!
It's probably the most "balmy" of my selection. It's quite sheer (although it's quite buildable) and the finish is shiny.
It's very comfortable thanks to its formula with coconut oil and pomegranate extract. Its black heart (it's transparent on the lips) composed of mint oil brings a feeling of freshness and has a slight plumping effect (it's very subtle).
I chose a nude color because I wanted to be able to wear it easily. Mad Nude is a very nice peachy nude that goes with everything!
No surprise, it doesn't really last long, you have to reapply after 2 hours but it doesn't bother me at all taking it out from my handbag?
The YSL Rouge Volupté Plump In Color Plumping Lip Balm retails from $32 to $39.
Here is the color Mad Nude on me: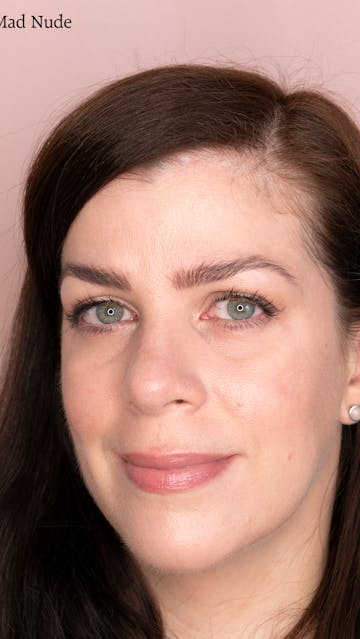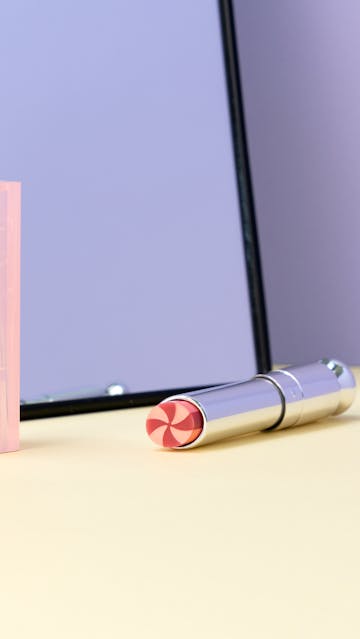 Dior Lip Glow To The Max:
I love Dior's Lip Glow! I'm starting to have quite a big collection of them (#sorrynotsorry)…
Lip Glow lip balms have been around for several years, but Dior often comes out with variations of this now classic product. The original version is a tinted lip balm that reacts with the pH of the lips.
The Glow To The Max version is even shinier than the original and its finish is quite metallic or even, dare I say it, almost frosty!
Its stick (which is very "lollipop-like" by the way) contains 2 shades, one of which has this very iridescent effect. When you apply it on the lips, the two shades blend together for a sheer color effect with a metal/chrome finish.
Like the YSL above, I ordered it as soon as it came out, without seeing the swatches, and I must admit that when I understood that it was a metallic lip balm, I got a little bit scared! I wasn't so sure I would love it.
But in the end, the color I chose looks great with this metallic effect. The result is very pretty and much more subtle and elegant than I was thinking. Phew!
Dior claims a long-lasting moisturizing effect thanks to the mango butter it contains in its formula. I wouldn't say it's a repairing treatment, but it's still quite comfortable and perfect as an everyday lip balm.
The pigmentation is quite light and according to the swatches I saw online, the 7 shades available are a bit like the classic Lip Glow, quite pinkish.
I chose the shade 212 Rosewood, which on me looks like a pretty peach/ rose gold, very pretty!
It's also holding up pretty well on my lips, 3 to 4 hours, which was a nice surprise!
The Dior Lip Glow To The Max retails for $35.
Here is the 212 Rosewood on my lips: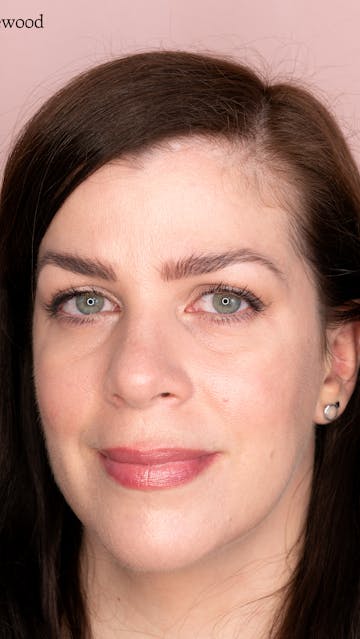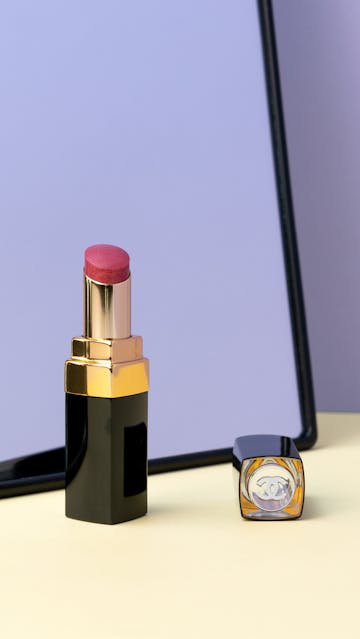 CHANEL Rouge Coco Flash:
I was quite surprised that this new CHANEL release was even on my radar! I hadn't bought anything from the brand for ages, to be honest.
But that CHANEL Rouge Coco Flash lipstick was just irresistible!
The packaging, very chic as always, has been updated with a modern look with the transparent cap that shows the color of the lipstick (very practical when you look through your makeup bag).
When you apply it on the lips, the texture of the Rouge Coco Flash is super soft and melts like a lip oil! Its formula contains 3 natural waxes (mimosa, jojoba, and sunflower) that become oils on your lips for a 2 in 1 comfort and shiny effect!
The coverage isn't the most opaque but the colors of the range are super vibrant. I really had a hard time choosing among the 24 shades!
I finally picked up 82 Live, a lovely mauve pinky shade with very fine golden shimmers. I'm obsessed with this color, it's like my lips but better (well, if they were pink and shimmering, I guess ?).
Clearly, it's not a long-lasting lipstick but I definitely enjoy reapplying it during the day!
The CHANEL Rouge Coco Flash lipstick retails between $36 and $38
Here is the shade 82 Live on me: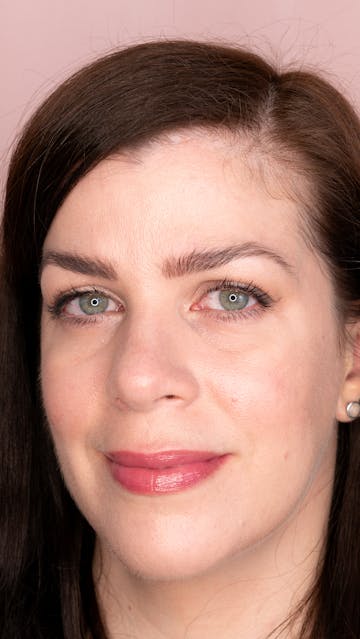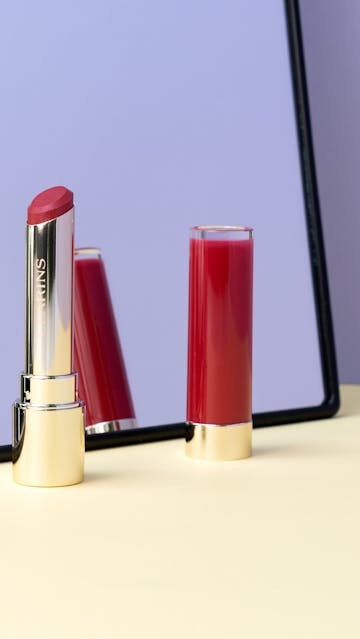 Clarins Joli Rouge Lacquer:
This Clarins Joli Rouge Lacquer was such a nice surprise!
I never used to look at Clarins makeup. I didn't find it super inspiring, but they have improved quite a bit in recent years. Just the packaging of this Joli Rouge Lacquer already made me want to buy it!
Joli Rouge Lacquer is a variation of the Clarins "classic" lipstick, Joli Rouge. In this Lacquer version, the finish is super shiny, with a vinyl effect.
The brand talks about a balmy texture but this one is much more pigmented than the ones I've been talking about so far. The color is definitely there!
The formula contains a lot of skincare ingredients (after all, it's Clarins we're talking about here), and it's composed of 70% moisturizing oils for an immediate comfort effect on the lips from the moment you apply it and also over time.
I chose the Grenadine shade, a pretty pinkish terracotta red. I love this color for every day, it enhances the complexion and it's just super flattering!
The lasting power is pretty average, I would say, but it still holds well for 3-4 hours on me!
The Clarins Joli Rouge Lacquer lipstick retails for $25.
Here is Grenadine on my lips: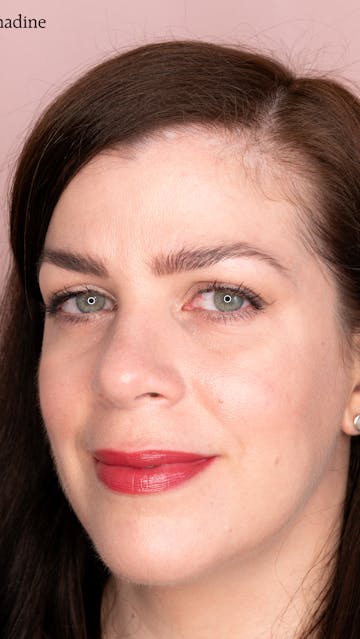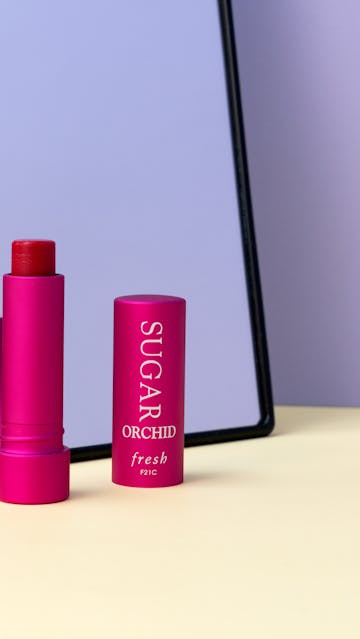 Fresh Sugar Tinted Lip Treatment Orchid:
Like the Lip Glow, I also have a big tendency to collect the Fresh Sugar balms. First, their colorful metallic packaging is absolutely impossible to resist but that's not the only reason I love these balms, far from it!
They're just great lip balms, they really moisturize my lips, and they are by far the most pigmented lip balms I own!
Sugar is the Fresh brand's moisturizing line and the main active ingredient is, as its name suggests, sugar, which is a natural humectant (= it retains moisture in the upper layers of the skin). An effective skincare ingredient, but also super delicious! Perfect for a range of lip balms.
In the rest of the formula, there are also repairing oils, such as blackcurrant seed oil and grape seed oil, rich in anti-aging polyphenols as well as antioxidant vitamins A, C and E. It's definitely a true lip treatment!
Orchid is the latest shade released by the brand and it's absolutely perfect for spring and summer. It's a stunning fuchsia pink, super vibrant. It's quite pigmented but its shiny finish and balmy texture make it quite easy to wear. It's the ideal color to give a lot of glow to the complexion!
I just love reapplying it during the day (the taste is yummy too!).
The Fresh Sugar Tinted Lip Treatment Orchid retails between $21 and $24.
Here is Orchid on me: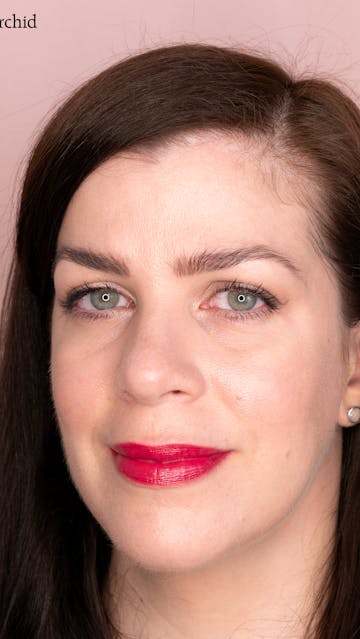 The swatches: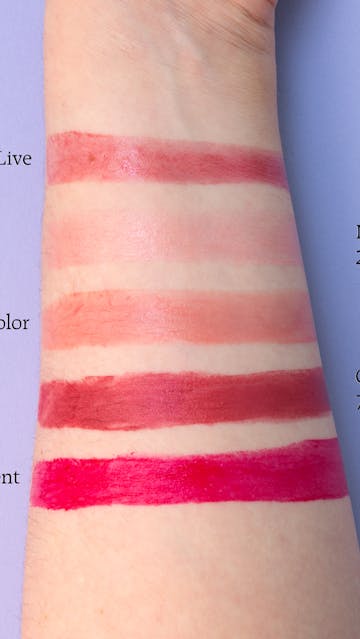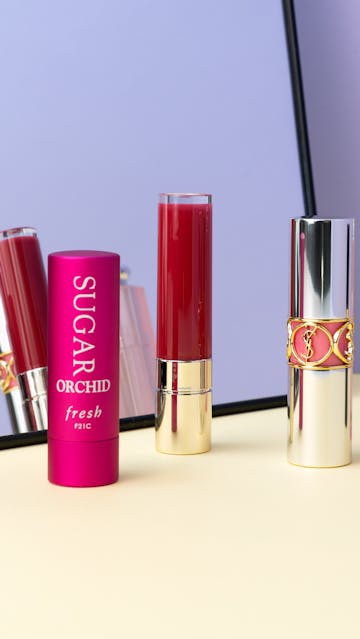 And you, what are your favorite lip balms at the moment?