Ah, the spring makeup collections with their soft pastel colors, their radiant finishes to catch the light of the first beautiful days… They're very hard to resist! Here are some new products that I recently added to my makeup bag:
Nars Natural Radiant Longwear Foundation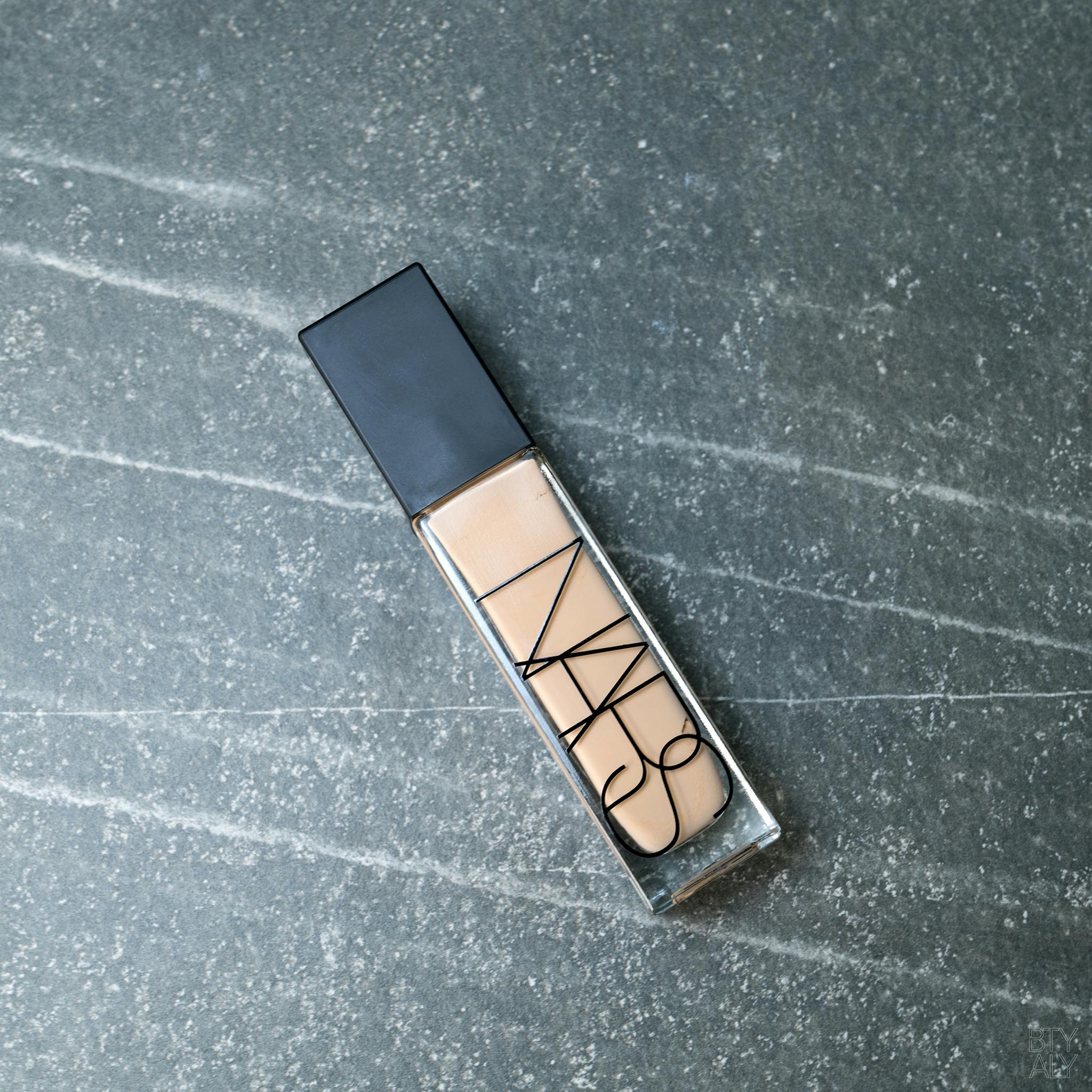 A bright and long-lasting foundation? I'm in! Although I have a combination skin, I'm 39 so matte formulas are not the most flattering on me and tend to make me look super dull. But formulas that are too luminous are not my friends either, they tend to make me shine like a diamond in just a few hours and they usually disappear completely on my T-Zone before the end of the day.
The latest foundation by Nars, the Natural Radiant Longwear Foundation claims to have a satin finish that blurs the skin texture and a long lasting result, which even gets better throughout the day.
Its coverage is medium to high, and it's easily buildable. Because I prefer a more natural result, I use 2 pumps that I apply with a wet sponge. Side note: it's important to shake the bottle well to distribute the pigments in the formula before using.
The range of colors is quite large, consisting of 33 shades (mine is Deauville). It doesn't oxidize at all after the application.
Regarding its lasting power, I found it good, it lasts 10 to 12 hours on me. However, I wouldn't go as far as saying that its finish gets better throughout the day. After 10 hours, my pores are more visible, as with most of the foundations I use. My chin, nose, and forehead look shiny after a few hours but nothing unusual here, on me, it's always the case with all my foundations. I always set it in the morning using a loose powder and I use a blotting paper during the day like I always do.
Nars pretends it's transfer-free but I don't agree: my sunglasses always leave a trace on my nose, even if I have them on for only a few minutes.
In short, it's a very good option for those days when I want a perfect complexion, with coverage but also a nice luminous finish!
By Terry Compact Expert Dual Powder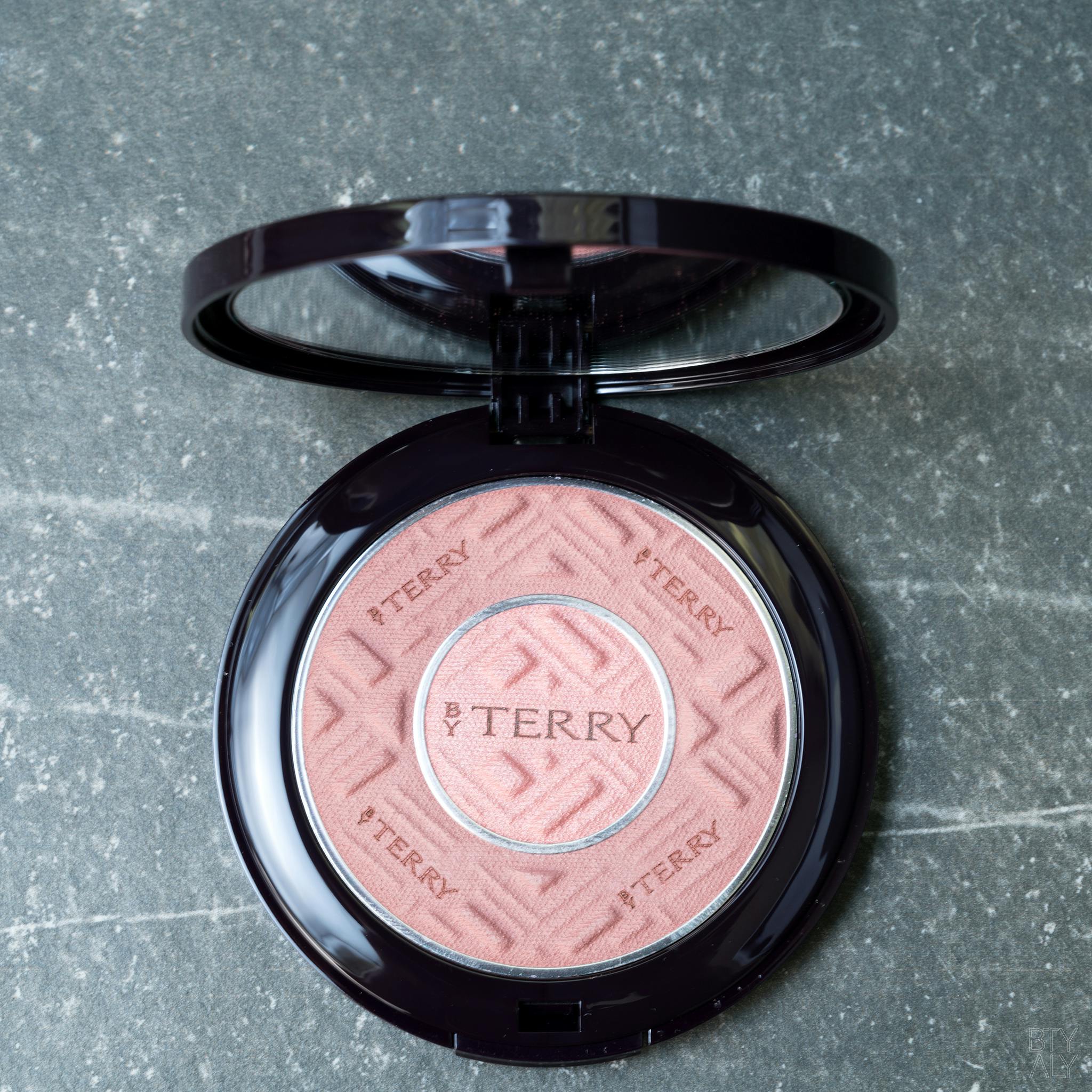 I've been considering buying this product for months… By Terry's Compact Expert Dual Powder range includes 8 colors that can be used as a setting powder, a bronzer, a highlighter or a blush depending on the combination of colors you choose.
These powders are in a round compact that includes two shades, a matte powder (in larger quantities) and a more luminous one, in the center. They can be used separately or mixed for a radiant satin finish (without any glittery effect!). It's better to use a small brush if you want to use both colors without mixing them. I admit that I usually use both shades at the same time (I prefer large brushes;)).
The finish is glowy and doesn't emphasize the pores at all (tested and approved!) thanks to its technology with premium "light-focus" pigments, which give light while blurring the texture of the skin. The effect is subtle and really pretty on the skin!
My favorite shades in the range are 7 Sun Desire (pictured) that I use as a blush. It gives a nice sunny glow effect, perfect for the season! And I also love the 4 Beige Nude, which can be used as a very subtle and chic contouring palette (the color of the bronzer is perfect for fair skin).
These powders are very easy to apply and blend, they don't look blotchy at all on the skin. They also have a good lasting power.
The only thing I don't like about them is the size of the product. As I said above, it's not easy to use the two shades separately unless you use a small brush. But the result on the skin looks very nice with the two shades mixed, so it's not that problematic.
Becca Shimmering Skin Perfector Pressed Parisian Lights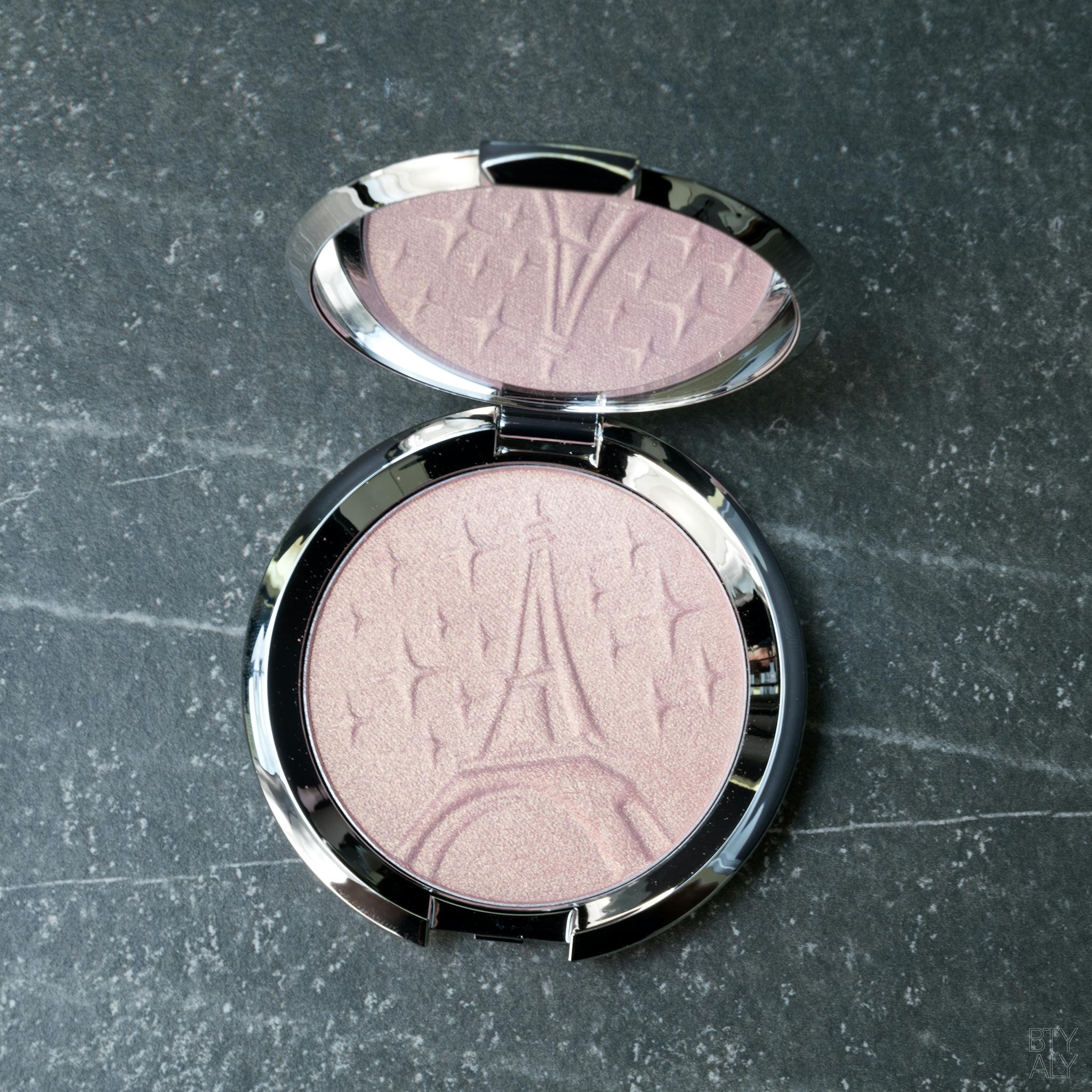 A Parisian purchase! I was in Paris a few weeks ago and I couldn't resist this nice limited edition Becca Shimmering Skin Perfector Pressed highlighter. I'm already a fan of the other colors (which I tend to collect) and this subtle golden pink shade was way too pretty to pass over.
On my skin, it looks more gold than pink but it's a very soft gold, very pretty and subtle (even if it's quite shiny). Becca Shimmering Skin Perfector Pressed are intense highlighters and this one is no exception, but that's what I like about them!
It's very easy to blend and it doesn't move during the day. It's the same great quality as the other highlighters in the range.
Parisian Lights is a limited edition, made in collaboration with the French YouTuber Sananas. It's not sold everywhere but it can be found quite easily online.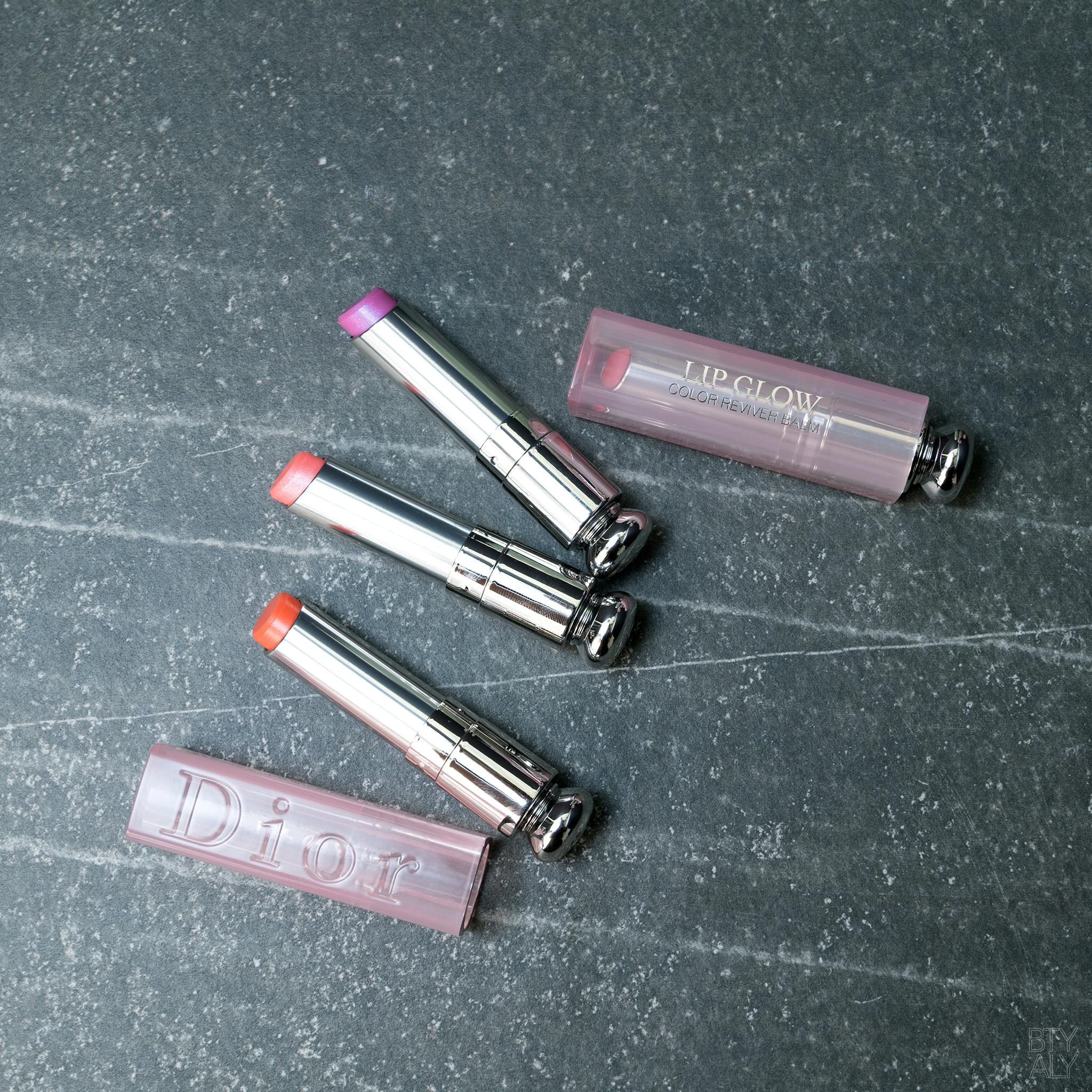 The fuss around the launch of the new shades of this cult product was overwhelming… I had to try the famous Dior Addict Lip Glow (or rather 4 Dior Addict Lip Glow ).
The Lip Glow has been around since 2012 if I'm not mistaken. It's a tinted lip balm that reacts with the pH of your lips. It's supposed to revive the glow by boosting the pigments of your lips (at least, this is the claim of the brand. I think it looks quite pink on everybody).
The texture is very balmy but a little "waxy" at first, you need to warm it a little on your lips and it helps to "melt" the formula a little. Dior talks about wild mango and luffa cylindrica in the formula for a long-lasting moisturizing and protective effect. I wouldn't go as far as saying that it's a real repair treatment for the lips but it's quite comfortable on the lips. It's the ideal product to slip into your purse to reapply easily during the day.
Regarding the pigmentation, it's a balm so it's quite subtle and it looks quite pink on the lips with all the shades, with small differences.
Lip Glow is now available in 3 finishes: matte, the classic shiny and holographic.
I have 2 colors in the classic shiny finish: the 001 Pink which is a pretty baby pink, very fresh and the 004 Coral which has a more peachy side (I like it a lot!). I also purchased 2 holographic because I couldn't choose between the 009 Holo Purple and the 010 Holo Pink.
The holographic version is really pretty: the finish is super shiny and the holo effect is due to super shimmery micro-glitter.
I will be honest, the difference between the Pink and the Purple is not super obvious (the glitter of the Purple one is just a little bit more bluish) so I regret a little having purchase both. If I had to choose just one, it would probably be the 009 Purple because it enhances the color of my lips more than the Pink one.
Clearly, Dior Lip Glow is typically the object of desire that you want to collect (the packaging is also to die for!).
YSL Volupté Liquid Colour Balm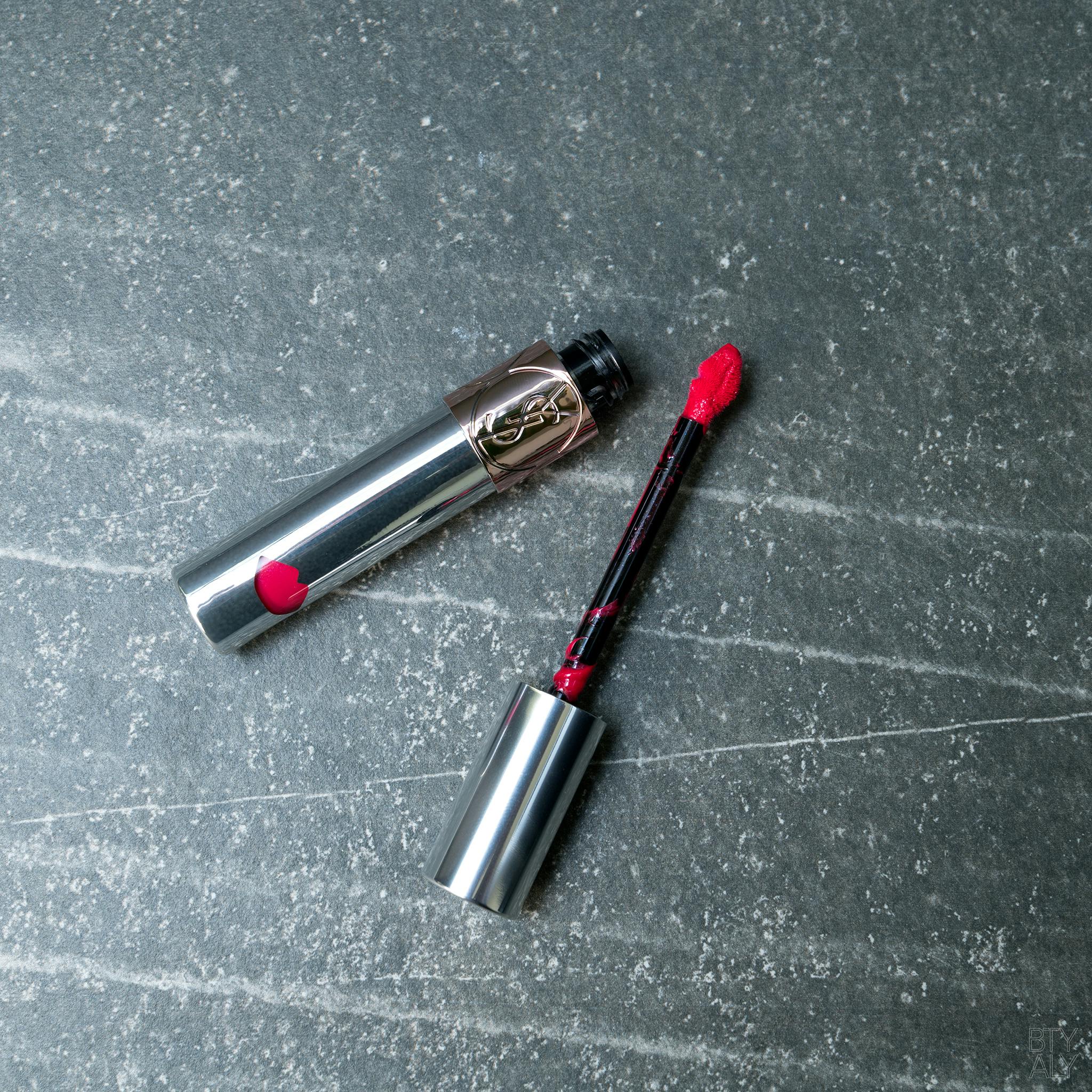 And finally, another cute and irresistible lip product by YSL, the liquid lip balm Volupté Liquid Color Balm!
Its packaging with the tiny lips that suggests the color of the product on the bottle and a foam applicator, also lips-shaped, is absolutely adorable. This applicator is surprisingly practical and lets you apply the product very easily.
The formula of this Volupté Liquid Color Balm is aqueous, very fluid. The brand speaks of a super moisturizing effect with a "35% active aqueous phase" (I'm not sure I understood this terminology) for a long-lasting hydration on the lips and ingredients such as coconut water and pomegranate extracts for an anti-oxidant protective effect. Regarding the pigmentation, this lip lacquer benefits from the "Liquid Light Complex" and "Liquid Pigment" technologies, combining ultra-shiny pearls and intense pigments with a very light sensation on the lips, like water.
For me, as with the Dior Addict Lip Glow, I wouldn' consider it as a repairing treatment but this product is still very comfortable on the lips. The feeling on the lips at the application is quite peculiar, very fresh and watery but the product doesn't smudge everywhere. It's really a hybrid product between a lip stain and a lip lacquer.
Initially, just after the application, it looks shiny like with a lip lacquer but after a few hours, the first layer disappears and it leaves a color stain (the color remains on the lips but you can barely feel the product). I really feel like this product has been designed primarily for Asian customers. In Asia, this kind of finish for a lipstick is super popular!
I find the Volupté Liquid Color Balm very pleasant to wear and the color I chose, the 8 Excite Me Pink, is perfect for spring: it's a pretty raspberry pink quite bright and fresh. It lasts at least 6 hours on my lips, which is a decent lasting power for this type of finish and it's very easy to reapply during the day if you want to keep the "lacquer" effect.
The Volupté Liquid Color Balm exists in 12 yummy shades and with this kind of finish, I find that the bright colors are the most flattering!