I just spent the last few months wearing sheer lipsticks and other tinted lip balms, but when I saw the first pictures of the new Rouge Dior Ultra Rouge lipsticks, I suddenly craved wearing bold colors on my lips again!
Of course, the first thing that caught my eye was the stunning scarlet red packaging. Makeup brands understand very well the high appeal of red packaging and I have seen it everywhere lately! From the new Nars Climax mascara from Nars to the new Lancôme lipsticks in collaboration with Camilla Coelho, it's like a crimson wave!
But it was when I saw the first swatches on Instagram that I decided I absolutely needed them! Some vibrant and pigmented colors in what seemed to be a semi-matte finish: what's not to love? So when I saw them in Dubai airport's duty-free, I didn't hesitate very long before snagging 4 of them (duty-free shopping at 5 am, aka the best time for shopping ah ah ah).
Here is the official brand description for these Rouge Dior Ultra Rouge lipsticks:
"Ultra pigmented hydra lipsticks – 12h weightless wear Rouge Dior Ultra Rouge is the first incredibly long-wearing lipstick with the comfort of a lip ink: a true revolution in the history of lipstick. Ultra Rouge offers a lightweight, ultra-comfortable formula and all the colour of a high-pigmentation lipstick. The colours seem more saturated with a luminous, semi-matte finish for incredible sensoriality and hydration."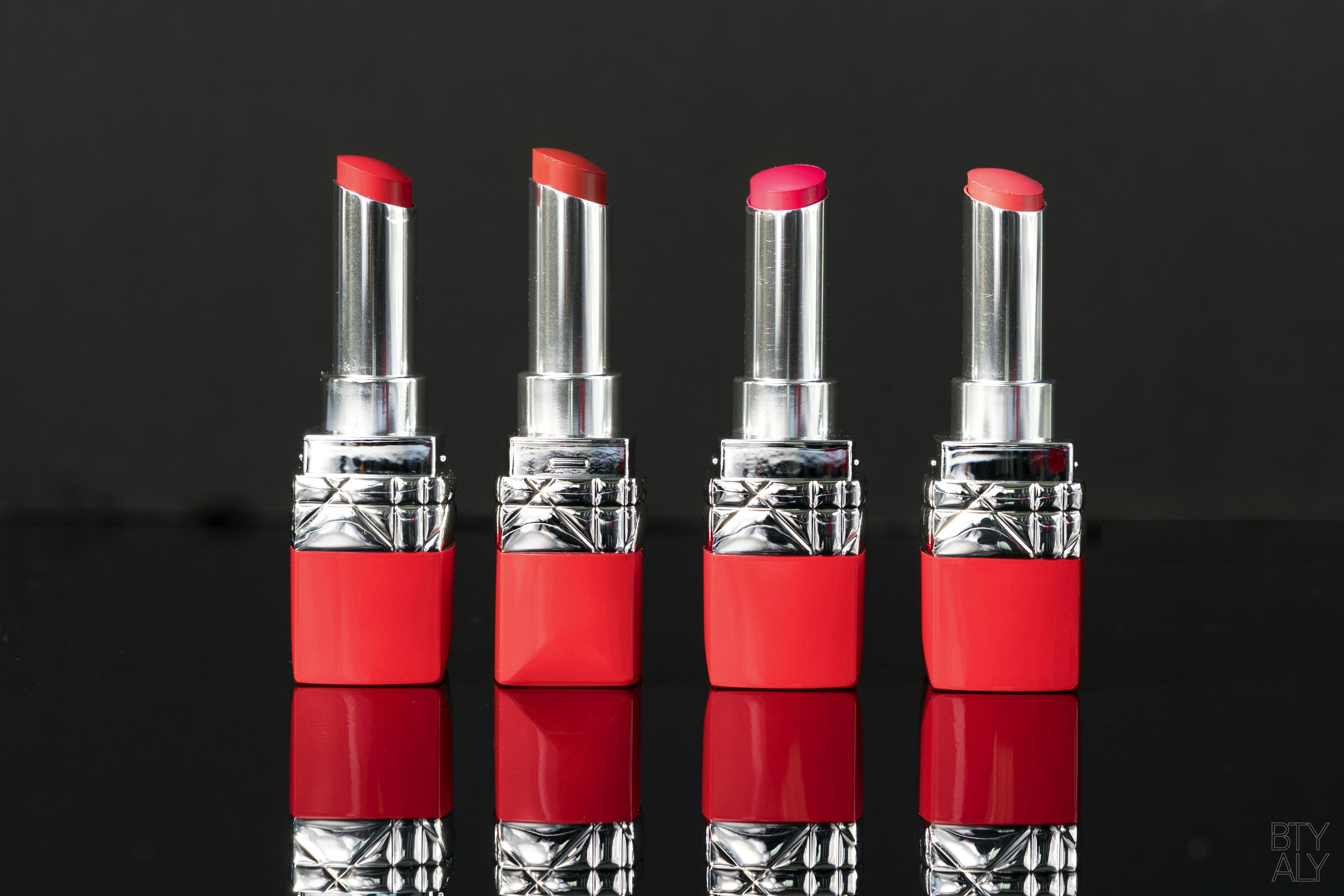 I can't really disagree about the pigmentation! The range includes 26 colors (including a white and a black which can be worn alone if you dare to or that you can layer, on top of the other lipsticks to create a unique mix) and in the range, I didn't see a lot of new shades. But to be honest, with this type of pigmentation, I must admit that I wasn't really interested in them. However, if you like reds, roses, oranges, and burgundies, you will definitely find something you like!
The color applies in a single pass, no need to layer it, the opacity is there right away. The finish is semi-matte: quite luminous at first and matter after some time on the lips.
The feeling on the lips is really nice. It's a creamy texture, which is very easy to apply. Yet, you can barely feel them on your lips, they are very lightweight but they also keep your lips moisturized all day long. A real treat!
Concerning the 12 hours long wear claim, however, I wouldn't go that far. Or maybe, if the people who did the tests didn't eat or drink for 12 hours (and for me, that's… impossible!). They aren't transfer-free and you can definitely leave marks on mugs, glasses and other shirt collars. But they're still quite long-lasting IMO! On me, they last well for 6 hours without touch-up. And my lips don't feel dry at all!
If I had to find a negative point, I'm not a fan of the shape of the stick. It's a round shape, like a lip balm, which I don't find very practical to make a precise application… I recommend using a lip pencil with these lipsticks for a perfect, sharp lip contour.
But apart from that detail, I'm really pleased with these Rouge Dior Ultra Rouge lipsticks!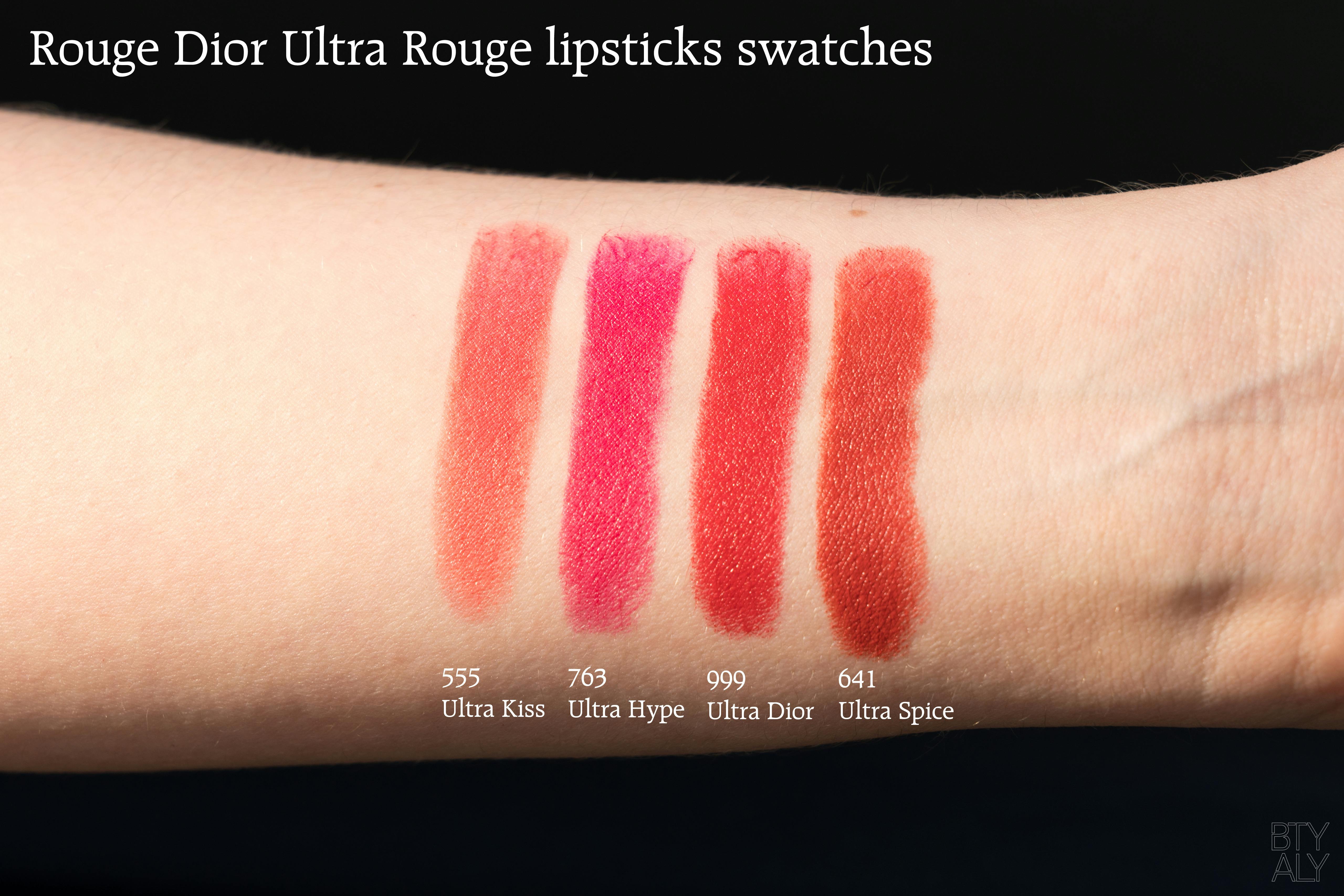 I have selected 4 shades (so far…):
– 555 Ultra Kiss, a very pretty luminous coral,
– 763 Ultra Hype, a yummy raspberry pink,
– 999 Ultra Dior, a stunning bright red, which is Dior's signature red (I already had this shade in other lipsticks' formulas from the brand),
– 641 Ultra Spice, a very Pumpkin Spice Latte orange-red, perfect for autumn!
Here they are on my lips: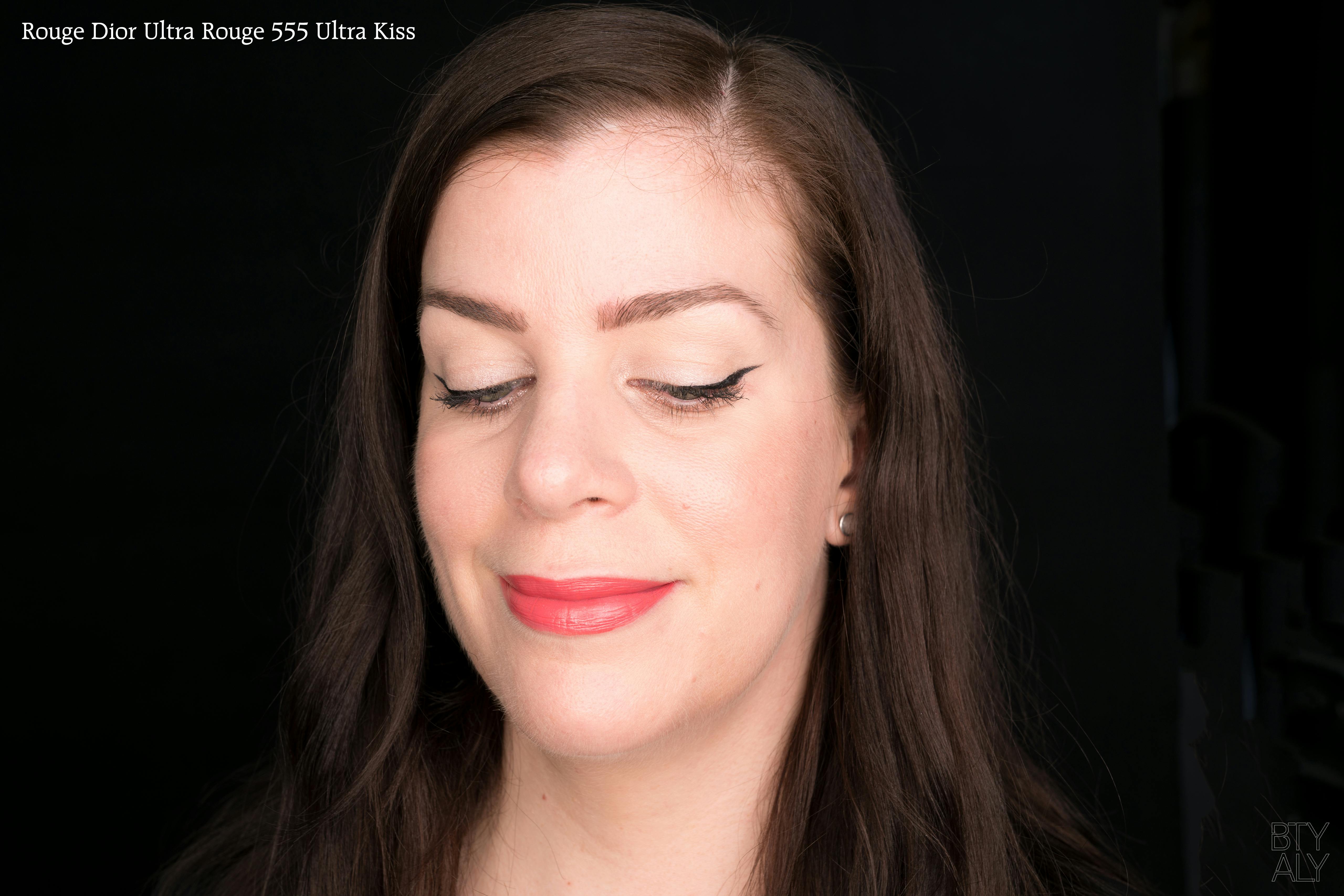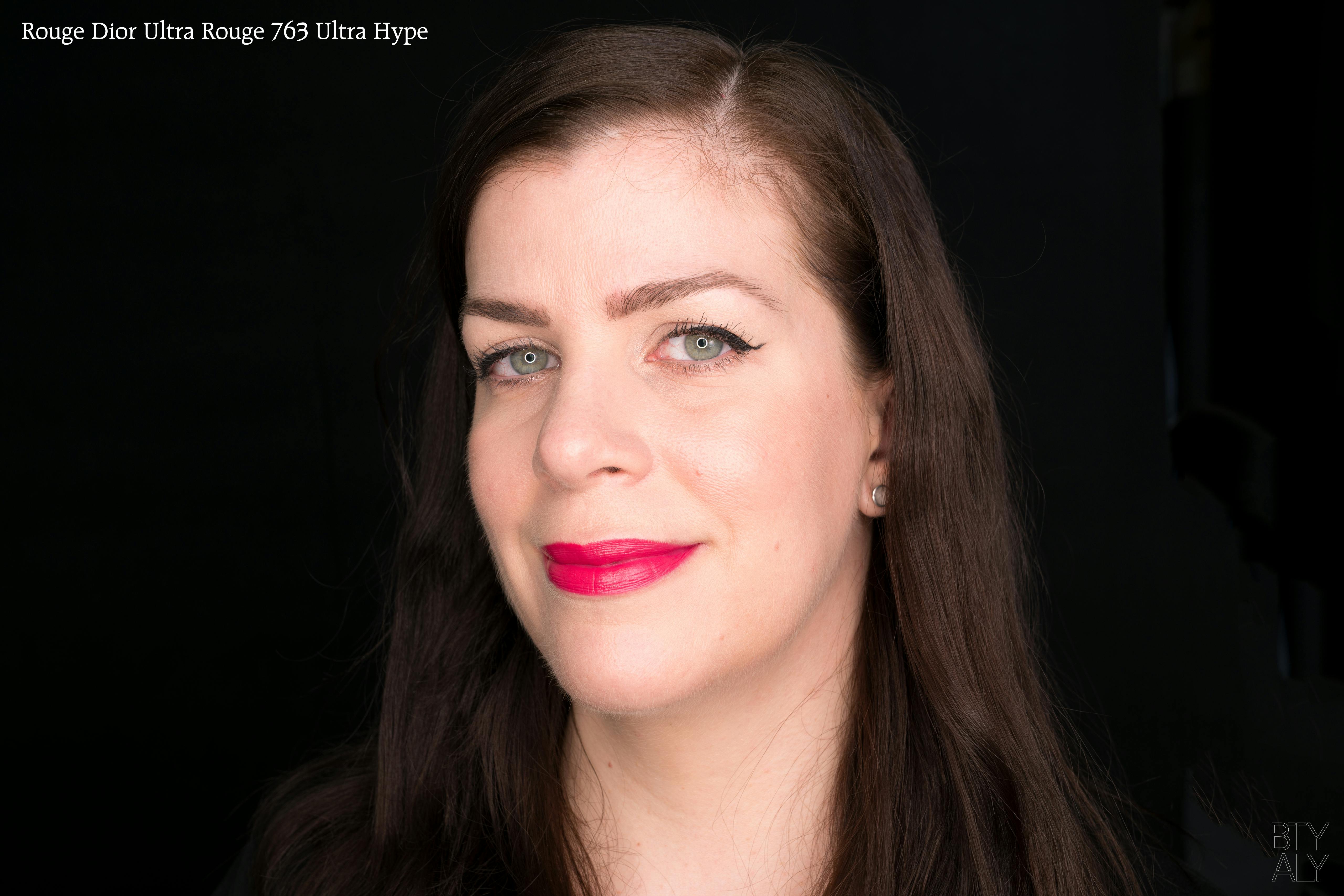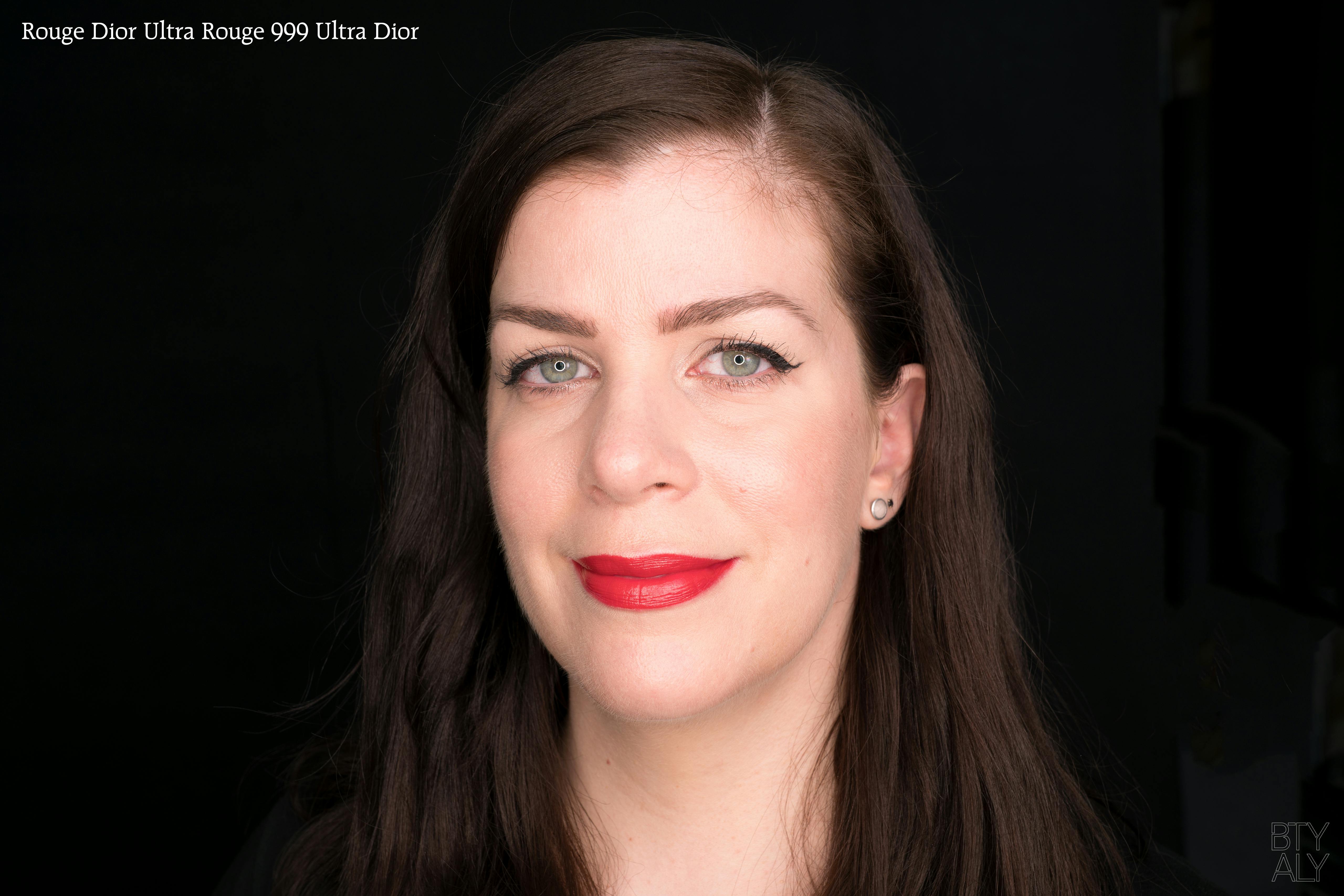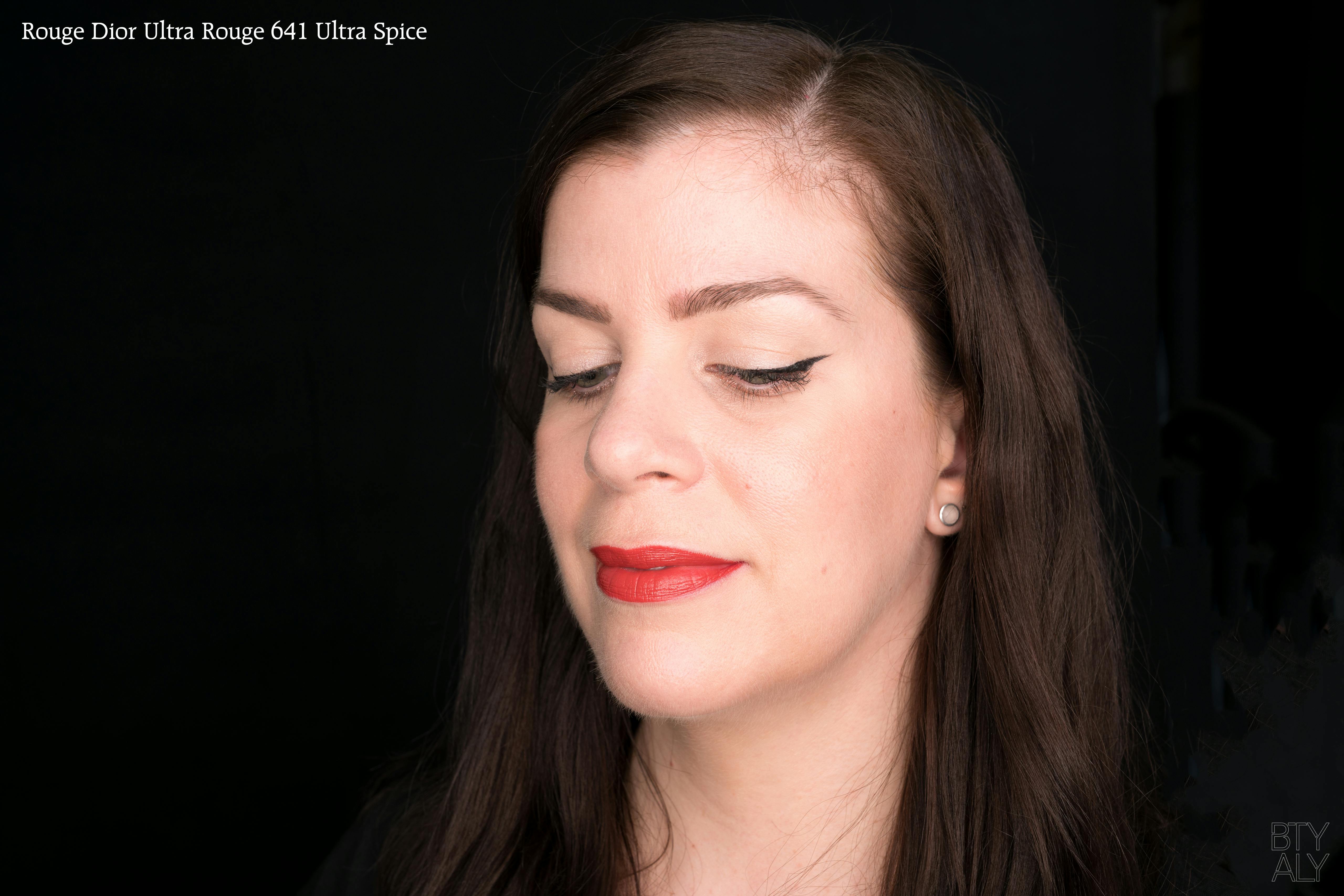 The Rouge Dior Ultra Rouge lipsticks retail for $37.