Intro
I tried one of K-Beauty's cult favorite cleansing balms, the Heimish All Clean Balm. Read all the details about it in this mini-review!
A beautiful cleansing balm inside and out! Here is my mini review of the Heimish All Clean Balm.
Every evening, I double cleanse my skin. And I've been doing it for years! Indeed, nothing beats an oil-based product to get rid of all the makeup (even waterproof) but also the UV filters and the pollution accumulated on the skin throughout the day!

Until recently, I remained quite loyal to cleansing oils, because the balms I tried were always more difficult to remove and, sorry Mrs. Hirons, I'm not a fan of muslin cloth to help me rinse my product! I always feel that they're too abrasive for my skin (which is not particularly sensitive).

Basically, what I'm looking for in my cleansing oils or cleansing balms are always the same things:

– they have to be very effective at removing my makeup. I don't even want a trace of mascara left (I use a waterproof one), and this obviously without having to rub like a madwoman. It has to be easy and fuss-free!

– I don't want them to sting my eyes (I still have a painful memory of Caudalie's cleansing oil, ouch).

– their texture has to be silky, soft that spreads easily on the skin. If it's too dry and doesn't melt easily on the skin, it's not very pleasant to massage.
– I prefer if the texture isn't too liquid. I used cleansing oils that were too watery, and they ran on my skin so quickly, I didn't have the time to massage them. You want a minimum of thickness in your product to properly "break" the makeup and impurities.

– it has to be easy to remove with water (= hydrosoluble). That's why I don't like to use coconut oil or any greasy and non-hydrosoluble products to remove my makeup, because it leaves an oily veil on my skin and into my eyes. I know that you're supposed to do a second cleanse afterward with another cleansing product, but with these greasy products, I feel like you're cleaning the remaining cleansing balm and not the skin (and that you have to rub it with a cloth, and use warmer water on the skin, which can be potentially irritating for the skin, as a result).

– I prefer if my product is mineral oil-free. Mineral oil is a very safe ingredient that does the job, but it's also very polluting and a tad too occlusive for my acne-prone skin.

– a nice fragrance is always a plus, especially if it's natural (I'm not a big fan of synthetic perfume in cosmetic products, I find it quite unnecessary).

– and finally, since it's a product that does not last me very long (2 to 3 months maximum), it's always better if it doesn't cost a kidney!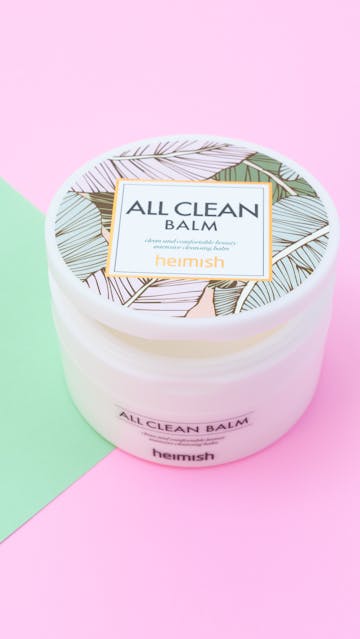 Mini-review:
During my trip to Seoul last year, I couldn't resist the pretty packaging of this Heimish cleansing balm when I saw it in the shop. It's so Instagram-worthy! Nowadays, a beauty product must look as pretty on the outside as it does on the inside, and most of the new cosmetic brands understand this concept very well! Heimish was founded in Korea in 2016, so they obviously know how important it is and as a result, they're all over Instagram's #shelfies!
The Heimish All Clean Balm is definitely a cult favorite K-Beauty product and I must say that its good reputation is not unfounded! It fully meets my expectations for this kind of products.
The only thing I don't love about this product is its scent. But it doesn't linger at all, so it's definitely not a deal-breaker!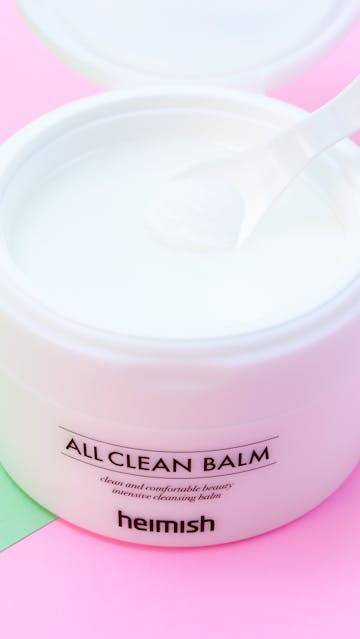 In conclusion:
The texture of this Heimish All Clean Balm is definitely its big selling point IMO. Soft and silky, it melts on the skin and you can really massage it on the skin. Plus, it rinses off super easily, without leaving anything behind. A true pleasure to use!
The 120ml jar usually lasts me 2 to 3 months if I used it every evening on my face and neck. I'm not going to repurchase it right away because I have other products to try but it's clearly a product I see myself reusing in the future!
Heimish All Clean Balm retails for around $13 to $17 depending on the resellers.
If you tried it, I would be curious to know your thoughts. Feel free to tell me in the comments! 😉
Product Review in detail
Summary
Heimish All Clean Balm
"This cleanser balm is hypoallergenic and great for sensitive skins.
The white flower complex improves the skin balance and helps to brighten the skin tone.
Shea butter, citrus herb oil, and coconut extracts help to moisturize, soothe and soften the skin.
It gently removes even the most long-lasting makeup and leaves the skin feeling soft and protected."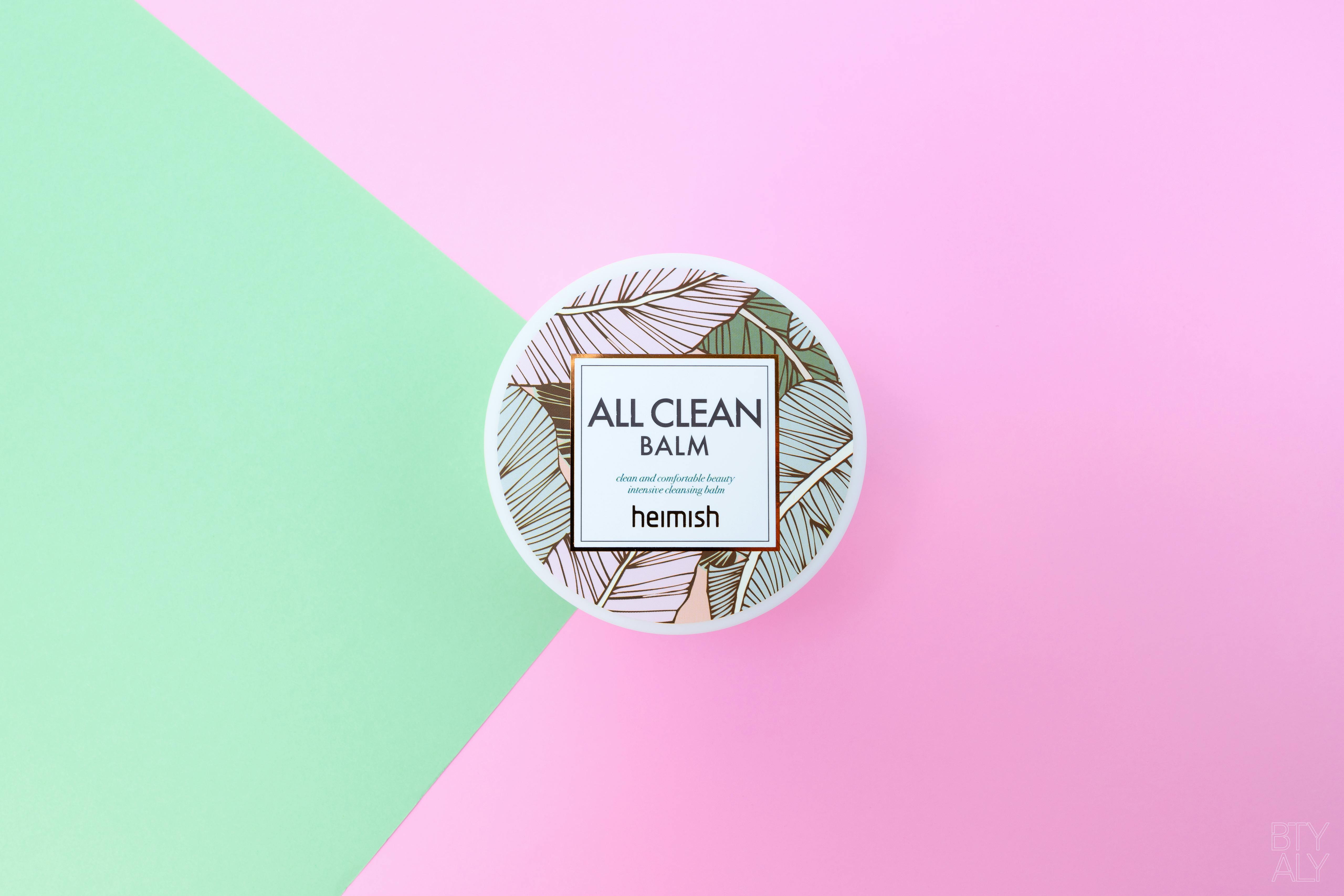 Recommendation
A
A good product which does the job.
Pros
- the packaging is so pretty (like everyone else, I clearly bought it for this reason at first ;) ), and it's also very practical with its flip-top lid and the spatula provided with it,
- the formula is quite natural (it's mineral oil-free), with many nice natural extracts in it,
- it's very gentle, doesn't sting my eyes at all (not always the case with these products),
- it does the job: it removes perfectly every last traces of makeup, and no need to rub!
- it's very easy to rinse, it doesn't leave a greasy feeling on the skin or a veil in the eyes,
- it's quite affordable, which is always great because this kind of products doesn't usually last me a long time (2 to 3 months max),
- it's relatively easy to find online and in shops that deliver worldwide.
Cons
- I don't like its scent, which I find quite artificial (even if it's synthetic fragrance-free). But it doesn't linger, and the scent goes off when you rinse, so it's fine.
- the presence of PEGs quite high in the formula. These ingredients are quite controversial (rather because of their manufacturing method, which is considered polluting for the environment).
product name
All Clean Balm
packaging
A plastic jar with a flip-top lid. It comes with a small plastic spatula inside the jar.
fragrance
No synthetic fragrance added but its scent is very "artificial", IMO.
texture
A soft balm that melts on the skin and transforms into a fine, liquid milk in contact with water. It's water-soluble/ hydrosoluble (it rinses off with water without leaving a greasy feeling on the skin).
For Who
All skin types, all ages.
Concerns
To remove the makeup (including waterproof products), sunscreen products and pollution dust (you can't( remove them with a cleansing gel, it's better to use oil to "break " them).
Method
I use the Heimish All Clean Balm in the evening at the very beginning of my skincare routine, it's a makeup remover. I systematically do a double cleanse when I wear make-up and/or when I wear a sunscreen. The Heimish cleansing balm is my first cleanse.
I take a dab of product with the spatula and apply it to my face, neck, and eyes, on my dry skin. Its texture melts on contact with the skin and it becomes more liquid, like an oil. I gently massage it with my fingertips to dissolve the makeup and impurities.
I rinse my hands and pass my wet hands over my face, neck, and eyes to emulsify the product (= I gently massage my skin in circular motions). It becomes a fine milk. I finish by simply rinsing it with water.
For the second step of the double cleanse, I then proceed with a foaming gel to cleanse my skin.
Key Ingredients
Heimish All Clean Balm has the particularity of being mineral oil-free (this ingredient is often used in this type of products). Instead, there are mild cleansing ingredients (Ethylhexyl Palmitate, Cetyl Ethylhexanoate) that have the same properties as mineral oil and will help to gently clean and dissolve impurities.
In this balm, you can also find:
– nourishing and repairing shea butter,
– soothing and emollient coconut extracts,
– soothing citrus herb oil,
– a mixture of different white flowers (freesia, jasmine, lily, edelweiss, white rose…) for their soothing action on the skin,
– essential oils to lightly perfume the product (I must admit that personally, I can't really smell them, unfortunately…).
Ingredients
Ethylhexyl Palmitate, Cetyl Ethylhexanoate, PEG-20 Glyceryl Triisostearate, Polyethylene, PEG-8 Isostearate, Shea Butter, Cocos Nucifera (Coconut) Fruit Extract, Lime Extract, Freesia Refracta Extract, Prunus Serrulata Flower Extract, Jasmine Extract, Lily Extract, Edelweiss Extract, Nelumbium Speciosum Flower Extract, Rose Extract, Orange Peel Extract, Lavender Oil, Pelargonium Graveolens Flower Oil, Amyris Balsamifera Bark Oil, Grapefruit Peel Oil, Eucalyptus Leaf Oil, Tea Tree Leaf Oil, Mexican Juniper Oil, Boswellia Carterii Oil, Citrus Aurantium Bergamia (Bergamot) Fruit Oil, Tocopheryl Acetate, 1,2-Hexanediol.
Ingredients not included
– Mineral oil,
– Alcohol,
– Silicones,
– SLS,
– Dye,
– Synthetic fragrance,
– Parabens.