Intro
My mini-review of the Propolis Vitamin Synergy Serum from the natural K-Beauty brand Iunik: it soothes and moisturizes while purifying the skin!
I'm continuing with my beauty investigations of the Korean skincare brand Iunik. Today I'm giving you my thoughts on a propolis serum (one of my favorite ingredients!), the Propolis Vitamin Synergy Serum.
Since discovering propolis serums, I can't stop, I want to try them all, especially the Korean ones!

What's not to love about them? Propolis is the perfect ingredient if, like me, you have a very demanding skin, which craves comfort but also, if you use ingredients that are too rich, will react immediately with clogged pores and breakouts.

I mentioned the serum from the same brand last week, the Tea Tree Relief Serum, and it's also great for my skin needs but I find it a little too light for my forty-year-old skin.

The one I'll talk about today, the Propolis Vitamin Synergy Serum, is a good alternative if you're looking for a more comfortable product that also helps to give radiance to your complexion (at the end of winter, we definitely all need it!).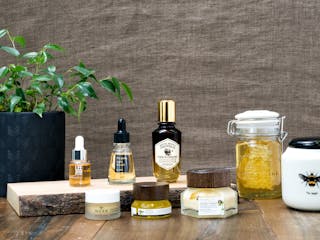 Ingredients
Focus on: Honey and Propolis
Skin products rich in hive ingredients such as honey and propolis have always been popular, especially amongst sensitive skins. The use of these ingredients in cosmetic is definitely not new, but skincare products made in Korea put a spotlight again on these very powerful and effective natural ingredients.
Read more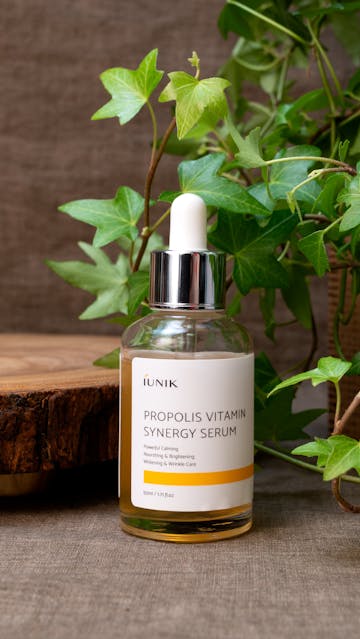 Mini-review:
If you want to know more about Iunik, I talked about the brand in more detail in my mini-review of the Tea Tree Relief Serum.
As I explained in this review, I combine the Tea Tree Relief serum and the Propolis Vitamin Synergy one because the former is not enough for me on its own.
To be very honest, I could totally use the Propolis Vitamin Synergy Serum on its own in my routine and it would be more than enough because it ticks all the boxes of what I ask from this kind of product!
It's indeed comfortable enough for my dehydrated skin, which it soothes as a bonus and I also greatly appreciate its slightly purifying effect!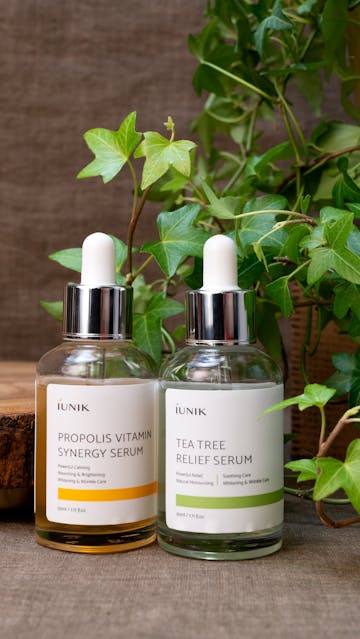 Its formula is really interesting and very rich in active ingredients: it contains many plant extracts, but also very effective science-based ingredients.
Inside, you can find some Propolis and Centella Asiatica, Niacinamide (a multi-tasking ingredient I don't want to live without anymore), purifying Witch Hazel and many other interesting ingredients for the skin (I detailed them below).
Propolis Vitamin Synergy Serum also contains another super interesting natural ingredient: Sea Buckthorn, which is naturally rich in vitamin C, for a very nice antioxidant effect. It is also very slightly exfoliant, which helps the skin to keep its natural radiance!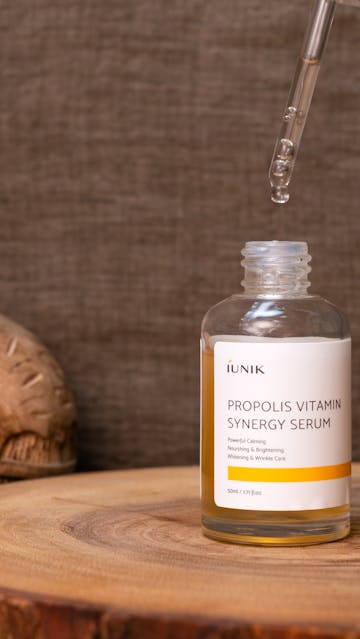 In fact, its formula reminds me a lot of one of my favorite propolis products, the Leegeehaam Grow Vita Propolis Ampoule.
If I compare the two formulas, it's quite surprising! They definitely have a lot in common.
The big difference is that the Iunik serum is far more interesting from a value for money perspective. The Leegeehaam serum is really tiny (15ml) which means that I always finish it far too quickly! The one from Iunik has a more interesting price, and it's over 3 times its size. It's hard to beat! ?
I've been using the Propolis Vitamin Synergy Serum in my routine for about 2-3 months. I apply it in the morning and it's a true pleasure every time!
Its texture is really pleasant to use, and it leaves my skin comfortable without being greasy, which I love!
Regarding the results, my skin feels calmer, and it heals quicker (that's why I love propolis products!). It is also comfortable and durably hydrated.
The serum size is 50ml, and you only need 3-4 drops for the face and neck. It will probably last me at least 5-6 months in total.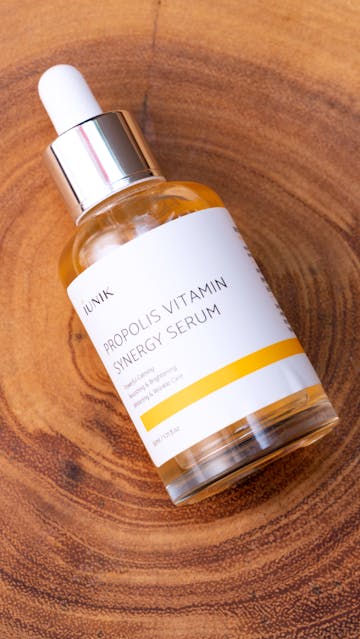 In conclusion:
I really like the Iunik Propolis Vitamin Synergy Serum!
Having tested a lot of Propolis serums, I find that this is one of the most complete formulas on the market and it has the advantage of being very affordable, which is always a big plus!
The Propolis Vitamin Synergy Serum de Iunik retails between $13 and $19 for 50 ml depending on the retailers.
Product Review in detail
Summary
Iunik Propolis Vitamin Synergy Serum
"- Powerful Calming
- Nourishing & Brightening
- Wrinkle care"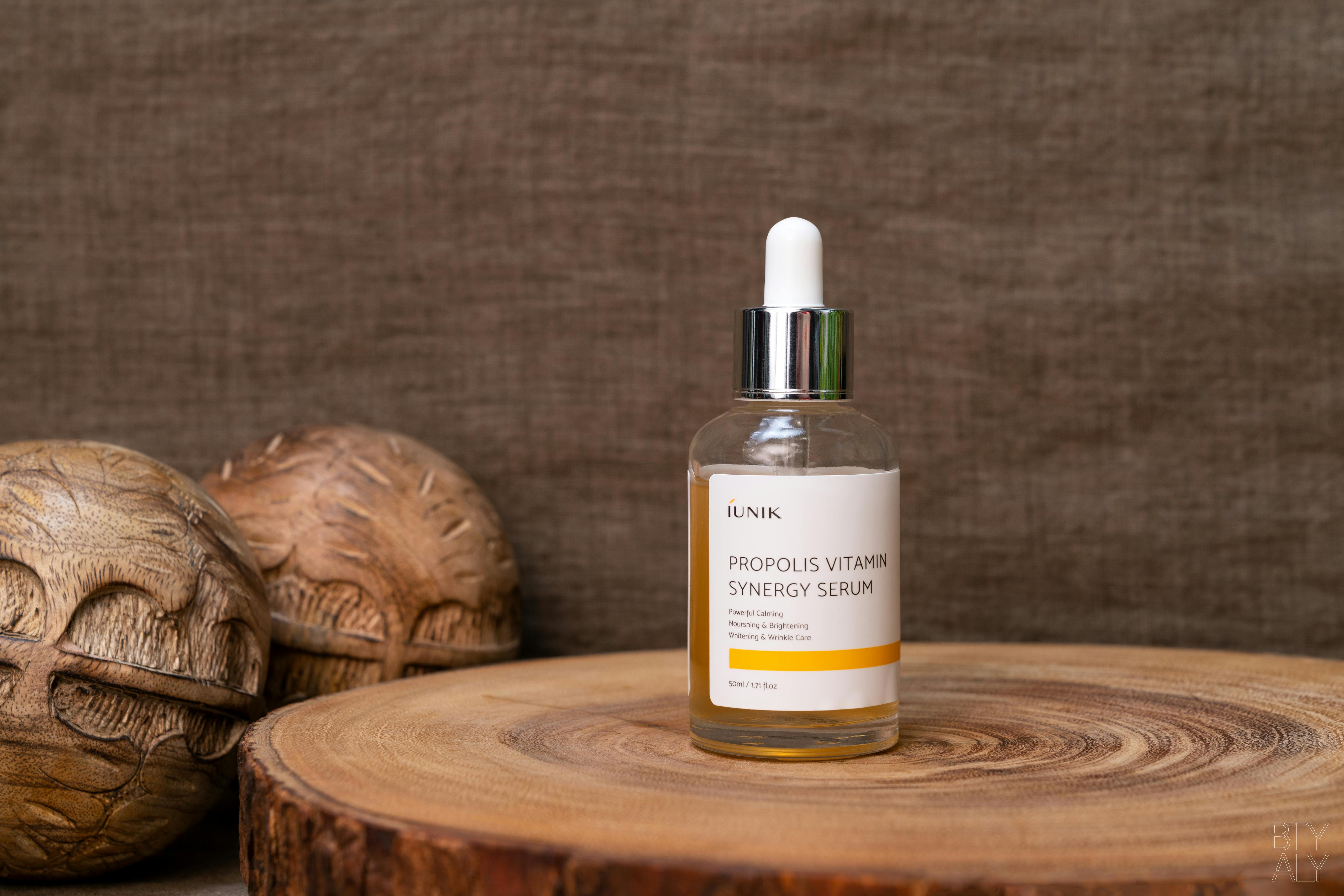 Recommendation
A
A good product, with great value for money.
Pros
- the formula, with good ingredients in high concentrations,
- the super soothing, repairing and moisturizing effect, but also purifying. It also has an anti-aging action as a bonus!
- the liquid and silky texture, super pleasant on the skin,
- the simple and elegant packaging,
- the great value for money.
product name
Propolis Vitamin Synergy Serum
packaging
A glass bottle with a pipette, very simple and elegant.
texture
A liquid, silky and comfortable gel, which absorbs easily and leaves the skin comfortable.
For Who
– dehydrated skin,
– dry skin,
– sensitive skin,
– mature skin,
– acne-prone skin.
Concerns
– acne,
– redness, inflammation,
– irritated skin,
– dehydration,
– wrinkles,
– dull skin.
Method
I usually apply the Propolis Vitamin Synergy Serum in the morning but it can be used morning and/or evening.
After applying my essence(s), I take the equivalent of 3-4 drops with the pipette and massage my face and neck with it. Once it's almost absorbed, I finish with some hand pressures on my skin and continue with the rest of my routine.
Key Ingredients
A rather natural formula overall and with lots of good skincare ingredients, such as for example:
– a solution based on Propolis and Centella Asiatica (70%): soothing, repairing, anti-bacterial and purifying.
– a solution based on Sea Buckthorn berries (12%) naturally rich in vitamin C: boosts the complexion's radiance, with an anti-oxidant and smoothing effect.
– Niacinamide: smoothing effect, radiance, anti-aging, purifying…
– Witch Hazel: purifying.
– Rose water: purifying and soothing.
– 6 fruit and seed extracts (fig, pomegranate, mulberry and ginkgo biloba): antioxidant, anti-aging.
– Adenosine: anti-aging.
– Glycerin, Arginine, Betaine, Hyaluronic Acid, Portulaca Oleracea, Beta Glucan: moisturizing ingredients.
Ingredients
Propolis Extract, Hippophae Rhamnoides Fruit Extract, Water, Butylene Glycol, Glycerin, Methylpropanediol, Niacinamide, Dipropylene Glycol, 1,2-Hexanediol, Rosa Damascena Flower Water, Sodium Hyaluronate, Betaine, Glycosyl Trehalose, Honey Extract, Beta-Glucan, Hydrogenated Starch Hydrolysate, Allantoin, Carbomer, Arginine, Hydroxyethylcellulose, Adenosine, Dipotassium Glycyrrhizate, Pentylene Glycol, Citrus Auranitum Eergamia Fruit Oil, Centella Asiatica Extract, Portulaca Oleracea Extract, Hamamelis Virginiana Extract, Punica Granatum Fruit Extract, Ficus Carica Fruit Extract, Morus Alba Fruit Extract, Ginkgo Biloba Nut Extract, Caprylyl Glycol
Ingredients not included
– mineral oil,
– synthetic perfumes,
– dyes,
– silicones,
– parabens.