Intro
Discover my mini-review and test of the Brightening Blue Oil Serum from the Korean "green" skincare brand Urang!
If you follow Instagram accounts dedicated to K-Beauty, you've certainly seen the pretty round, blue bottle from the Korean natural skincare brand Urang, the Brightening Blue Oil Serum. If you haven't, let me introduce you!
Urang is a fairly recent brand, it has been around since 2016.

The explosion of "green" and "clean" skincare brands is also catching on in South Korea and there are more and more small indie brands that choose to offer simple and natural formulas.

Korean women have always loved natural oils and aromatherapy, and that's exactly what Urang is about!

I chose to try their bestseller, the Brightening Blue Oil Serum, because it seemed to meet many of my skin's needs at the time.

Here is my mini-review: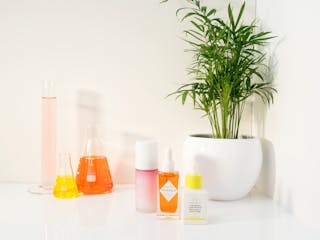 Skincare
Is the "non-toxic" cosmetics trend irrelevant?
Today, let's talk about cosmetics' vocabulary, marketing, and legislation. No, don't go! I swear it's not as boring as it sounds!
Read more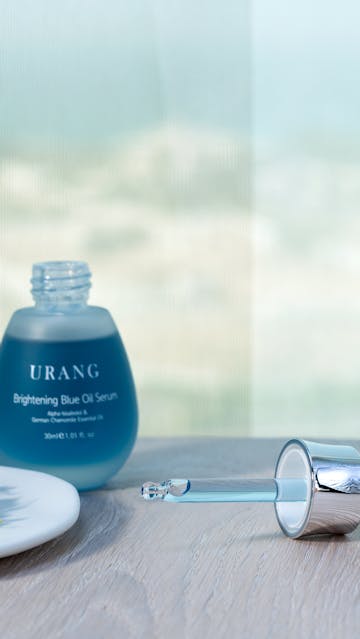 Mini-review:
First, let's talk about the Urang brand, and its genesis.
Urang's creator, Jina Lee, first worked in the pharmaceutical and biochemistry industries before stopping everything to start a family.
She and her husband both have atopic skin (= aggravated dryness and a constant feeling of irritation), and when Jina got pregnant, she really started to pay attention to the ingredients in the beauty products she used every day.
During this period, she became aware that some cosmetic ingredients can be "toxic" and began to study ingredients, cosmetic chemistry, fragrances and formulation in more detail. When her first child was born, she decided to create her own brand of natural products that the whole family could use.
Just a small digression but do you also feel like you've heard this story 10 times already?
I really like the idea of having more natural brands around, but right now they're all starting to look more and more alike! Their brand stories all seem so similar (delete as appropriate): the founder got pregnant, or more dramatic, she (or one of her relatives) got sick. As a result, she realized that everything she used on her skin was "toxic" (my stance on this topic), and she started to look for healthier alternatives and of course, she couldn't find any so she had to start making her own products in her kitchen. She started to sell them to her friends, who loved them and the word of mouth did the rest!
I'm sure that this story is true for some of these brands and I totally understand the appeal, but I hardly believe that it's impossible to find natural products with the quantity of "green" skincare brands that are now available on the market! All this storytelling seems a little bit too staged for me and to be honest, I also find it a little bit boring. I can't wait for brands' stories to become original again!
Now, that being said, it seems that Jina Lee was right to launch her own brand as I really wanted to try her products! (Yeah, I can be pretty incoherent like that sometime ah ah)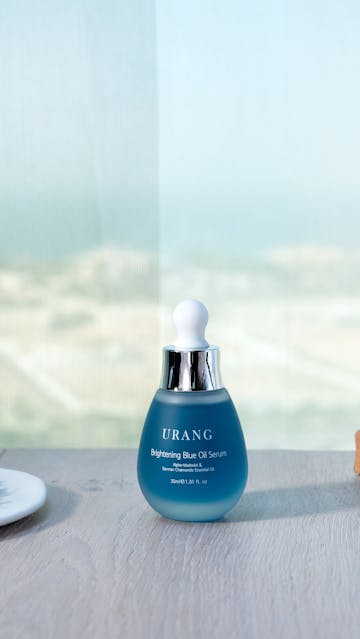 After the summer, my skin was not well balanced: it was very dehydrated but it also has a lot of small breakouts. So I started using products to treat them (my Cica products) and I also wanted to use a soothing and repairing oil to help to heal the scars faster.
I had already spotted Urang Brightening Blue Oil Serum on Instagram (the bottle is so pretty!), so I looked at its composition and it seemed like it was exactly what I was looking for! Note: it contains chamomile essential oil, which I really like. I'm not one of those who believes that essential oils are the devil and that they must be eradicated from cosmetic products because they're too irritating for the skin. It's like everything else, the dose of an ingredient is the issue and I also think that some essential oils work wonders for sensitive skins! Like chamomile essential oil, for example 😉
So I've been using it for almost two months now and I have to admit that I'm quite satisfied with it! It's a rich oil so I prefer to apply it in the evening. I really appreciate its soothing effect, which I can feel immediately after massaging it into my skin.
Regarding its healing benefit, it's a bit difficult to judge in a few weeks, but I noticed that my scars tend to disappear quite quickly since I have been using it. Now, full disclaimer, my skin heals pretty well in general, so I may not be the best person to judge this particular effect.
It also helps to give radiance to the complexion but to be honest, I use a lot of products for that purpose so I think it's the result of a common/combined effort!
I will continue to use it for the next few months and I also tested it during my holiday in France (I spent 2 weeks there and just got back) because it helped my skin to withstand the thermal shock (losing 30 degrees in one day!). Its healing action was definitely appreciated!
The composition is very natural and preservative-free, so its shelf life is quite short: only 8 months after opening but I think that if you use it every day, it shouldn't last more than that!
In conclusion:
The Urang Brightening Blue Oil Serum contains very high-quality ingredients, which the brand's founder gets directly from the producers to ensure that they correspond to her quality standards.
All this has a cost, of course, and Urang products are definitely not cheap. The quality of the formula but also the experience when you use the product make it worth the price IMO: it's a very pretty bottle, a pleasant product to use with its silky texture and its delicate scent. It's a touch of luxury for every day that you'll definitely enjoy using!
Urang includes other oils in its collection, as well as essences and a rose cream that I really want to try. The brand is not widely available but I found two online stores that distribute it, one in the United States and one in the United Kingdom that delivers to Europe (the links are at the bottom of the page)!
The Urang Brightening Blue Oil Serum retails between $59 and $64 depending on the retailers, for 30ml (it also exists in a 15ml format).
Product Review in detail
Summary
Urang Brightening Blue Oil Serum
"Un sérum huileux à l'effet éclaircissant pour rendre votre teint plus homogène. Il est parfait pour traiter les taches pigmentaires provoquées par les cicatrices d'acné et l'excés de soleil."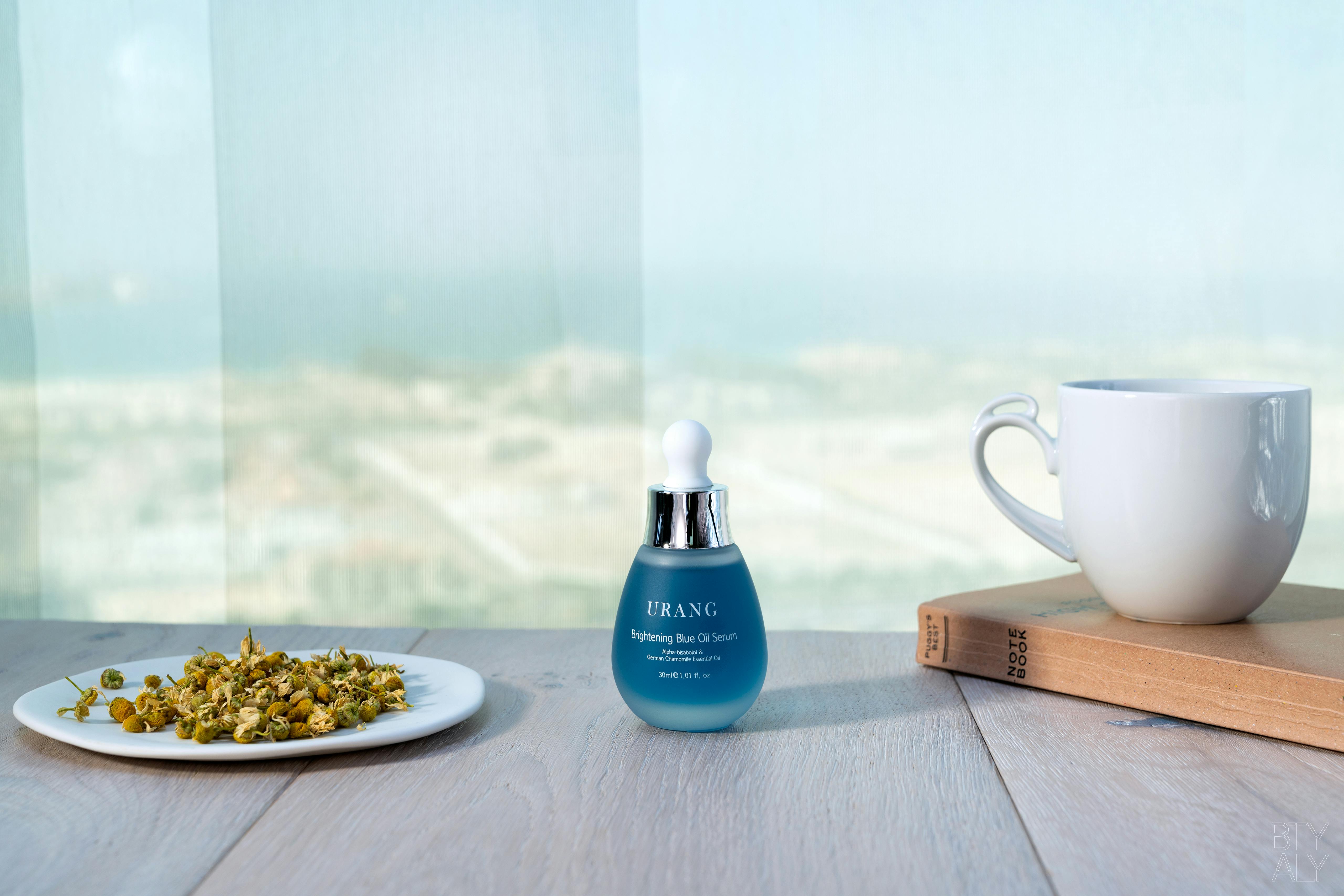 Recommendation
A
A very pleasant and effective oil serum.
Pros
- the packaging is so pretty, and very Instagram-worthy ;),
- it has a very nice formula, simple and with only noble ingredients,
- it has a very pleasant natural scent,
- its blue color is natural (and so beautiful!),
- it's very soothing, so it's perfect for sensitive skins and/or during winter,
- it leaves my skin very comfortable,
- it helps to heal acne scars.
Cons
- it's on the pricey side. So even if the bottle lasts quite a long time, it remains quite expensive to buy (that being said, it also exists in a smaller format, if you want to try it before you go for the larger format),
- for my combination skin, it is a little too rich for a daytime use (but I use it in the evening and it's perfect),
- it must be used quickly, its shelf life is quite short ( 8 months),
- it's not available everywhere (I found only 2 online shops, one in the US and one in the UK).
product name
Brightening Blue Oil Serum
packaging
A very nice round glass bottle, with a dropper to dispense the product.
fragrance
A very soft scent of chamomile.
texture
A thine oil, which leaves the skin very comfortable and soothed.
For Who
– dry and/or dehydrated skin,
– skin that lacks radiance,
– sensitive skins,
– acne prone skins,
– all ages.
Concerns
– dark spots, hyper-pigmentation,
– scars,
– dull skin,
– irritated skin,
– dry and/or dehydrated skin.
Method
You can use the Brightening Blue Oil Serum in the morning and evening but I apply it in the evening because I find it a little too rich for me during the day.
After applying my serum(s), I use 3 to 5 drops of oil and massage my face and neck with it for about 1 minute. Once it's absorbed, I apply my night cream on top.
Key Ingredients
In the Brightening Blue Oil Serum, you can find:
– alpha-bisabolol, from the candeia tree in Brazil. The extract is obtained by fractional distillation of the essential oil from the candeia bark. It's a soothing, anti-inflammatory, repairing ingredient.
– vitamin E: antioxidant, anti-inflammatory.
– green tea seed oil (camellia sinensis): antioxidant, repairing, anti-aging.
– German chamomile flower essential oil (camomile recutita): soothing, fights dehydration, reduces the appearance of fine lines, spots caused by excess UV rays and scars. This oil is naturally blue and it gives its color to the serum!
Ingredients
Camellia Sinensis Seed Oil, Tocopherol, (-)-alpha-bisabolol, **Chamomilla Recutita (Matricaria) Flower Oil
(*Organic ingredient)
Ingredients not included
– mineral oil,
– synthetic fragrance,
– dyes,
– silicones,
– according to the brand: without additives, "harmful" chemicals or preservatives (once again, you know my stance on this topic).