Intro
My test and review of the Hydrating Cream-to-Foam Cleanser from the French-American pharmacy brand CeraVe, and a reminder on how to choose the best facial cleanser!
It's been a while since I've had such a crush on a facial cleanser, I believe. This Hydrating Cream-to-Foam Cleanser by the French-American drugstore brand CeraVe is a great product, and icing on the cake, it won't break the bank 😉 Let me introduce it to you!
With the introduction of tretinoin into my skincare routine, the cleansing step has become a bit hazardous… I always preferred mild cleansers that don't strip the skin, but nowadays, I've had to go even further regarding their mildness!
In previous reviews, I mentioned several cleansing milks I was testing (and my trials are still going strong, I'm still trying to find advanced, high-performance cleansing milks!). I'm enjoying this milky texture more and more, but I'm still very attached to foaming formulas. With my skin that has changed in recent months (it's drier than before), foaming cleansers can have a tendency to "strip" my skin more.
That was without counting on CeraVe, who launched in September their brand new Hydrating Cream-to-Foam Cleanser, a hybrid formula, between a cream and a foaming gel and its description immediately tickled me!
So I jumped on it as soon as it was released! I received it at the end of September, just before I moved, and I spent the whole month of October testing it (it was the only facial cleanser that wasn't in my boxes lol). Let me tell you more about my experience!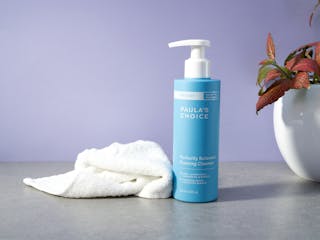 Skincare
How to cleanse your skin properly
Facial cleansing isn't always done properly, yet it's probably the most important step in a skincare routine. Today let's take a closer look at the best way possible to cleanse your skin, and all there is to know about it!
Read more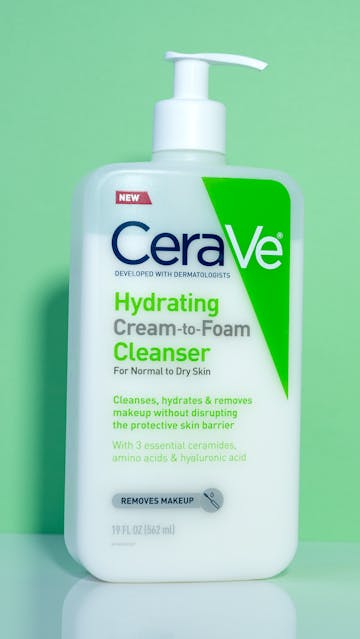 CeraVe Hydrating Cream-to-Foam Cleanser, product description:
CeraVe is a mythical brand in the United States, where it has been sold in drugstores for 15 years.
From the beginning, the brand has been focused on repairing drier skin types, with formulas designed to repair and strengthen the skin's barrier function. In fact, this famous "skin barrier" is 50% made up of ceramides, and with that in mind, the dermatologists associated with CeraVe created a range of skincare products enriched with ingredients naturally present in the skin: essential ceramides, hyaluronic acid and fatty acids such as cholesterol, to help repair the skin effectively.
The "Cera" of the name "CeraVe" is actually for ceramides! For the record, the "Ve" refers to the MVE® technology contained in all CeraVe products. This technology is inspired by medicine and allows the active ingredients to be encapsulated and diffused into the skin for a prolonged period of time, for continuous hydration all day long.
The brand is intended primarily for sensitive (or sensitized) skin, it's a dermo-cosmetic brand. Another particularity of CeraVe products, the formulas are all fragrance-free!
The range has grown a lot since 2005 and they also have specific formulas for oily skin, with salicylic acid, but they're still very respectful of the skin barrier. With CeraVe, the skin won't be stripped!
CeraVe is well known for its range of facial cleansers, which are both effective and very gentle, while being also super affordable!
The brand now has three of them:
– the Foaming Facial Cleanser, designed for combination to oily skin, which cleanses and eliminates excess sebum without altering the skin's protective barrier function,
– the Hydrating Facial Cleanser, a non-foaming cleanser for dry skin that gently moisturizes and helps strengthen the skin's protective barrier. I like it very much, I generally use it in the morning (I already spoke about it in my My best of skincare from the French pharmacie post 😉 ),
– and the newest addition, the Hydrating Cream-to-Foam Cleanser, which is a little in between! Intended for combination to dry skin, its creamy foaming cream texture cleanses and moisturizes while respecting the skin's protective barrier.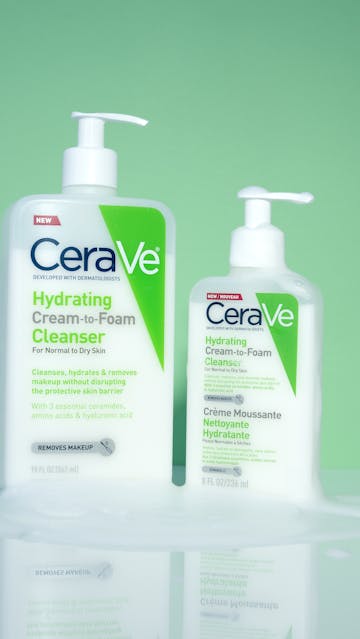 I've already mentioned it several times: when I choose my facial cleanser, I pay close attention to certain aspects of the formula!
First of all, I look at the surfactant ingredients used (= the cleansing ingredients). I prefer the mildest cleansing ingredients possible and try to avoid overly harsh surfactants like soap or SLS.
Next, I look for the presence of nourishing and/or moisturizing ingredients in the formula, which help to preserve the skin's natural hydrolipidic film (or skin barrier 😉 ).
And finally, I always pay attention to the pH of the formula. I prefer a physiological acid pH (less than 6), which corresponds to the pH of the skin. A pH that is too basic (more than 6) is often too aggressive for the skin, and can eventually strip it.
If you want more details on this, I invite you to take a look at my detailed article on facial cleansing where I explain all of this and more 😉.
This new Hydrating Cream-to-Foam Cleanser ticks all my boxes!
Its formula includes gentle cleansing ingredients, with the added bonus of essential ceramides, amino acids, hyaluronic acid and cholesterol, and its pH is a perfect 5!
So, on paper, it's all good! Now let's see how it went in practice…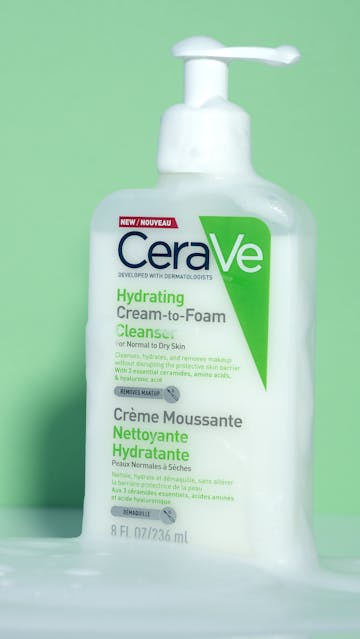 CeraVe Hydrating Cream-to-Foam Cleanser, my experience:
I ordered CeraVe Hydrating Cream-to-Foam Cleanser when it was released in early September, but it didn't arrive at my house until a few weeks later, just before I moved (I still live in Dubai, but now I have my own office yaaaay!).
So I thought it would be a good opportunity to really try it and I took my big bottle of CeraVe with me as my only face cleanser (knowing that I have plenty of others like you can imagine, but they stayed in my boxes for a while).
And to tell you the truth, even when I unpacked my other cleansers from my boxes, CeraVe Hydrating Cream-to-Foam Cleanser was still the King of my sink! I just didn't want to stop using it.
My other facial cleansers are not happy about it but that's the way it is, I've been using it morning and night for almost 8 weeks now and I don't intend to stop 😜.
Yes, it's unscented and the formula smells like the ingredients, I've had some negative feedback about this, but honestly, the texture is so nice that I completely overlook this little detail!
For a drugstore product, this creamy texture that transforms into a fine, hugging foam is a true sensorial experience! It's super pleasant and it cleans my skin impeccably, leaving it soft and comfortable. Yes, even with my more intensive use of tretinoin!
The brand also recommends it to remove makeup, but for me, it's mainly a facial cleanser. I don't think it's as effective for removing makeup as a cleansing oil or balm. That's okay, nobody's perfect 😉
Finally, like all CeraVe products, the Hydrating Cream-to-Foam Cleanser is super affordable: between $10 and $18 for a 355ml bottle, who can beat that?
In Conclusion:
Anyway, I think it's clear, CeraVe Hydrating Cream-to-Foam Cleanser is a big favorite this Fall!
It's effective, pleasant to use, doesn't irritate my skin (quite the contrary!) and it's super affordable, what's not to love?
I know, at the moment, it's not easy to find it anywhere. From what I've been told, the product is out of stock worldwide in stores. But I feel like it's more easily available online.
(Well… when I started writing this review, it was, but apparently, now it depends!)
The CeraVe Hydrating Cream-to-Foam Cleanser retails from $10 to $18 for 355ml.
Product Review in detail
Summary
CeraVe Hydrating Cream-to-Foam Cleanser
"Developed with dermatologists, CeraVe Hydrating Cream-to-Foam Cleanser begins as a cream before transforming to a soft foam when you begin to lather it on the skin with water, and effectively removes dirt and makeup without stripping the skin's natural moisture or leaving it feeling tight and dry. This gentle, fragrance-free formula features three essential ceramides, amino acids and hyaluronic acid, which work together to help maintain the skin barrier and lock in moisture."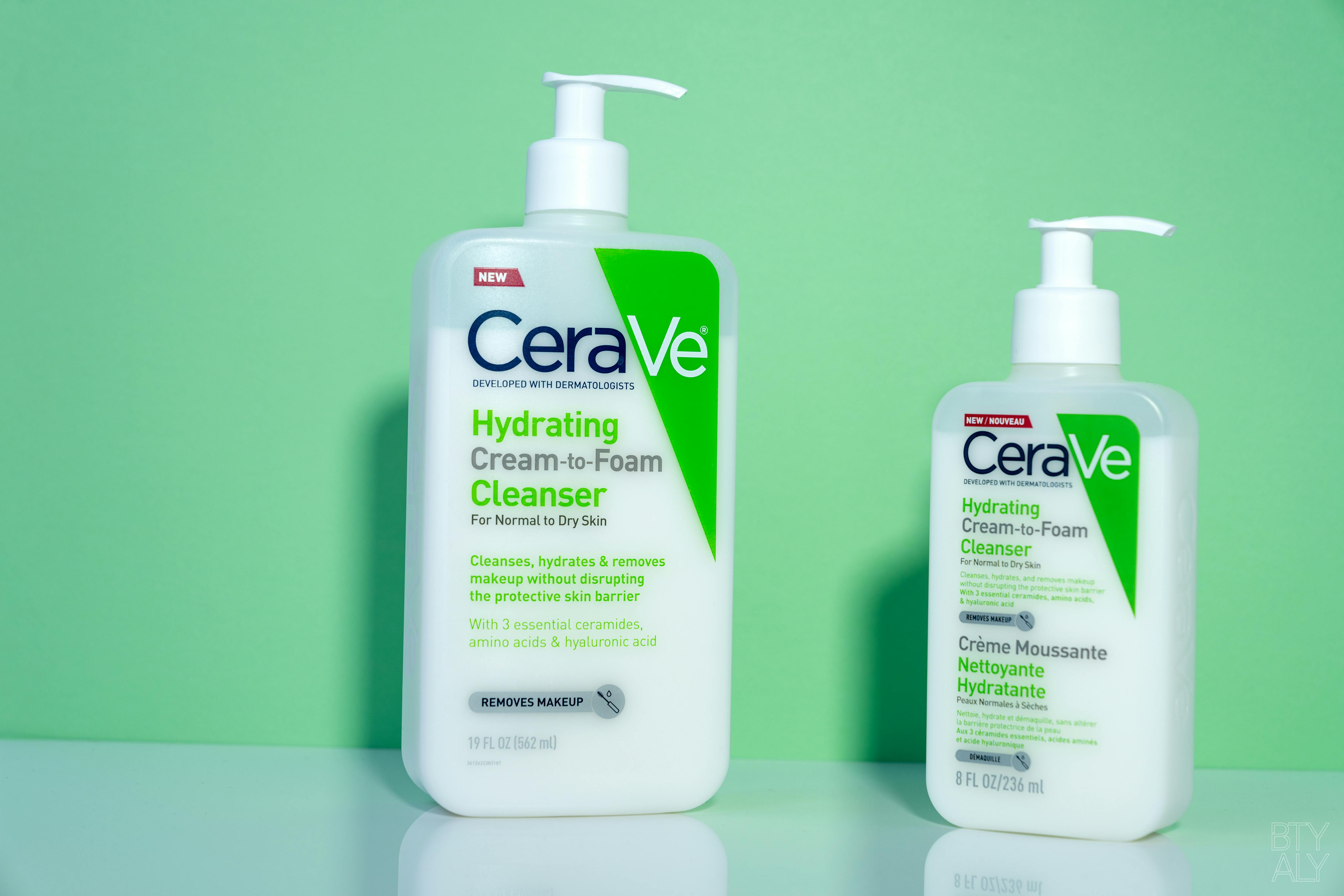 Recommendation
A+
I adore this cleanser!
Pros
- its cream texture is really soft and cozy,
- its creamy foam feels lovely,
- Its formula is great for the skin barrier, perfect for sensitive or sensitized skin,
- the cream is very soft, and doesn't sting my eyes,
- it leaves the skin clean and comfortable,
- it's very easy to rinse, and leaves the skin fresh and without a greasy residue,
- the price is really decent, it's an affordable product.
Cons
- the product is not fragranced, and the formula doesn't have a great scent. Fortunately, it's not strong and doesn't last.
- at the moment, this product isn't easy to find in stores apparently but it's available online,
- despite what the brand says, it is not a product that I would recommend to remove makeup. I much prefer my cleansing oil or balm for that purpose (I use a lot of makeup and apply sunscreen every day, so CeraVe Hydrating Cream-to-Foam Cleanser is definitely not enough).
product name
Hydrating Cream-to-Foam Cleanser
made in
USA (or France depending on the market)
packaging
A white and bright green rectangular bottle, with a pump, very practical (and not very pretty, it has to be said 😅)
fragrance
It's fragrance-free (but you can smell the ingredients and it's not great, but fortunately, the smell doesn't last)
texture
A soft cream that provides a smooth and rich foam, that feels very nice on the skin
For Who
All skin types, all ages.
Concerns
To cleanse the facial skin (used as a second step cleanser, after makeup removal). Great for sensitive skin!
Method
I use the CeraVe Hydrating Cream-to-Foam Cleanser in the morning at the very beginning of my skincare routine and in the evening after I removed my makeup with my cleansing oil or balm.
I take a small amount of product (one pump) and apply it to my face and neck, on wet skin. Its creamy texture melts on contact with the skin and becomes a creamy foam. For one minute (or 30 seconds if my skin is a little sensitized), I gently massage it with my fingertips on my face and neck, avoiding the eye area.
After one minute, I rinse it with tepid water.
Key Ingredients
It's quite a conventional formula (it is a drugstore brand after all) but that doesn't mean it's not packed with great ingredients for the skin barrier!
Including:
– lots of ceramides amino acids  cholesterol that preserve the integrity of the skin barrier,
– moisturizing glycerin,
– PCA, a moisturizing ingredient naturally present in the hydrolipidic film,
– and moisturizing hyaluronic acid.
All this in a formula with an acid pH, perfect for cleansing the skin without stripping it!
Note: the formula also contains a little salicylic acid, but it seems to be there mainly for formulation reasons.
Ingredients
Aqua / Water / Eau, Glycerin, Sodium Methyl Cocoyl Taurate, Coco-Betaine, Sodium Cocoyl Isethionate, Sodium Chloride, PCA, PPG-5-Ceteth-20,PEG-100 Stearate, PEG-150 Pentaerythrityl Tetrastearate, PEG-6 Caprylic/​Capric Glycerides, PEG-30 Dipolyhydroxystearate, Ci 77891/​Titanium Dioxide, Aspartic Acid, Ceramide NP, Ceramide AP, Ceramide EOP, Sorbitan Isostearate, Carbomer, Glycol Distearate, Glyceryl Stearate, Glyceryl Oleate, Glycine, Trideceth-6, Cetearyl Alcohol, Behentrimonium Methosulfate, Threonine, Sodium Hydroxide, Salicylic Acid, Sodium PCA, Sodium Lactate, Arginine, Sodium Lauroyl Lactylate, Serine, Sodium Benzoate, Valine, Sodium Hyaluronate, Proline, Isoleucine, Cholesterol, Phenoxyethanol,Alanine, Phenylalanine, Coconut Acid, Coco-Glucoside,Chlorphenesin, Disodium EDTA, Hydroxyethyl Urea, Citric Acid,Hydroxyethyl Acrylate/​Sodium Acryloyldimethyl Taurate Copolymer, Caprylyl Glycol, Phytosphingosine, Xanthan Gum, Histidine, Acrylates/​C10-30 Alkyl Acrylate Crosspolymer, Polyquaternium-53, Polyquaternium-39, Polysorbate 60, Ethylhexylglycerin, Benzoic Acid.
Ingredients not included
– alcohol,
– mineral oil,
– silicone,
– SLS,
– soap,
– fragrance,
– essential oils,
– dye.