Intro
My best of skincare from the French pharmacie: my tops, my flops, my wishlist…
If you're a regular BTY ALY reader, you already know that I have a hard time making choices. That's why I never do "favorites" posts. And I already have a feeling that this article will look more like a very long products list than a curated selection of my favourite French 'pharmacie' beauty products. Oh well, you've been warned!
I've been away from France for almost 7 years now (damn, already!), and every time I visit, one of the things I prefer to do is to hang out for hours in a big 'pharmacie' (yes, of course I also go to all the boulangeries and Monoprix, French expats will know what I'm talking about!).
I've always loved the huge pharmacies, the ones with a gigantic cosmetics department and I can tell you that now that I don't have them around anymore, I understand perfectly why the whole world is envious of them!
I know I don't often talk about French 'pharmacie' products here (my French readers often mention it to me 😜) but what can I say, I've always been the kind of girl who likes to see if the grass is greener elsewhere… I love introducing my readers to products that are more complicated to find, or that they may not have heard about already…
But I still use a lot of French pharmacy products on a daily basis! Many of them are products I've been using for years (sometimes even decades! I'm old, remember!). Recently, I found more and more great new 'pharmacie' products and I thought it was worth telling you about them in case you hadn't spotted them yet! So next time you visit France, you'll know what to get (I know it could take a while, but I want to believe we'll be able to travel sooner than later 😉).
To prepare this post, I looked at the articles in the international beauty press about the "essential skincare products to get in the French pharmacie" to see what stood out the most!
If you're curious, here are the items international beauty editors usually select:
– Avène thermal water,
– Embryolisse Lait-Crème concentré,
– A313 retinol cream (if you are curious, I talk about it in my article Focus on retinol),
– Bioderma's Crealine H20 micellar water,
– Nuxe Huile Prodigieuse (for face, body and hair),
– Nuxe Rêve de Miel Lip Balm,
– Caudalie Eau de Beauté mist,
– La Roche Posay B5 Cicaplast balm.
From this list, I use some of them but I find that there are many other hidden gems that are never mentioned. So, today, I'm taking you to France to show you my best of French 'pharmacie' for skincare!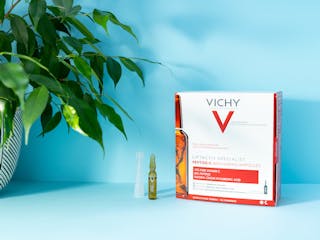 Skincare
Review: Vichy LiftActiv Peptide-C Ampoule Serum
In 2020, I'm continuing my vitamin C serum trials! And this time, I'm heading over to France with a super interesting new product: the LiftActiv Peptide-C Ampoule Serum from the French pharmacy brand Vichy!
Read more
Skincare in the French pharmacies:
French 'pharmacie' products are not the ones I use the most in my routines. Generally speaking, I find these products are perfect if you have sensitive or damaged skin. But for my combination skin, not especially sensitive, I often tend to go elsewhere than to a pharmacy, I admit it.
What I tend to consider as the reason of their success: they're simple products. So yeah occasionally, why not, but I get bored with simplicity quickly. Once again, I want to reiterate that I don't have a sensitive skin, I can imagine that for many of you who do, simplicity is not always a choice…
Their price is also great, super affordable! Usually, French pharmacy products are not expensive. That's why I get really annoyed when I see the price differences of certain international retailers! It's the case in Dubai where I have to pay sometimes five times the price of my product (the Avène Eau Thermale mist is not supposed to be that expensive, come on!), or online…
Some French 'pharmacie' products have been in my bathroom for years. For some of them, they are staples! I also made some nice discoveries the last time I went to France (2-3 months ago). I feel like things are finally starting to move in the right direction in the pharmacies, and some of the products there are actually quite innovative!
Here is a selection of what I tried, and what I spotted too. It's a non-exhaustive list because it would be too long! The choice is very wide in the pharmacies! I will introduce them in the order I apply them, it will be easier (well, hopefully 😅).
However, you'll see that some product categories are missing. I don't use any 'pharmacie' moisturizers, nor any facial oil. For now, I haven't yet found any that I love, so I prefer to purchase them elsewhere!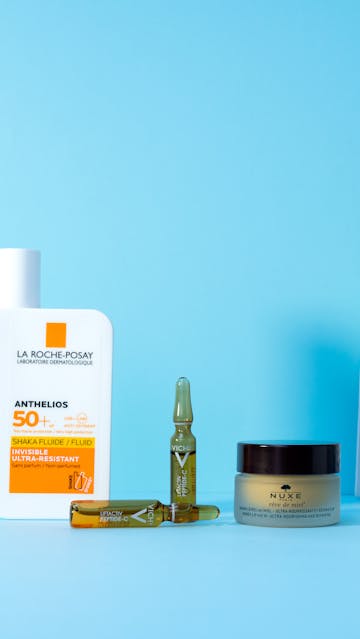 Makeup removers:
Finally, there are a few more cleansing oils available in the French pharmacies! I admit, I haven't tried a ton of them. I liked the Nuxe micellar cleansing oil when it was released, but apparently the brand just reformulated it. I'll have to look into it! Melvita has also launched one with rose that looks nice.
I also spotted a makeup cleansing balm from SVR that looks quite promising!
Well, I still feel like I have to talk about Bioderma's Créaline H20 micellar water (abroad, it's called Sensibio) because I use it as an eye and lip makeup remover, or in case of an emergency where I'm really in a hurry. It's practical, can't deny it. But I certainly don't use it every day and I definitely don't forget to rinse it with thermal water afterwards!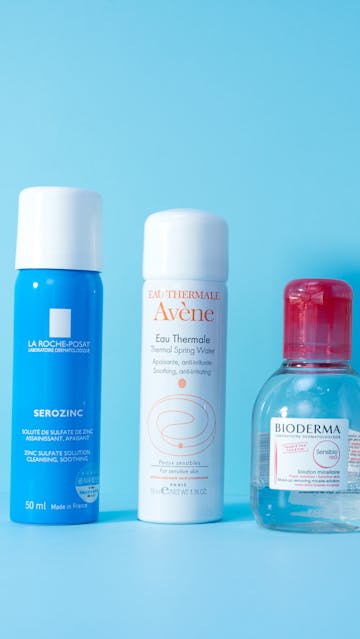 Facial cleansers:
I'm pretty picky (if you've read my article on How to cleanse your skin properly, you already know!) and my two favourites are always the same:
Bioderma Crealine/ Sensibio Foaming Gel : very mild, soap-free, enriched with moisturizing agents (coconut oil derivatives), fragrance-free, dye-free, non-comedogenic, hypoallergenic and its pH is 5.5. The packaging is very practical, it's a pump bottle and it's pink! 🙂
CeraVe Moisturizing Cleansing Cream: a soap-free milky jelly texture, it contains moisturizing ceramides and hyaluronic acid for a super comfortable effect. Dry and dehydrated skins love it! It doesn't foam, but cleanses perfectly. Its pH is 5.5, which is ideal. It is a great value for money and is easily available everywhere.
Also, at the moment, I am craving cleansing milks to use in the morning (since I finally developed a passion for Lait U by Biologique Recherche which I talked about in my last article on my morning skincare routine) and I know that there are plenty of options in this segment in the French 'pharmacie'. I have heard great things of the La Roche Posay Toleriane Dermo-Cleansing Milk. I'll probably end up trying it!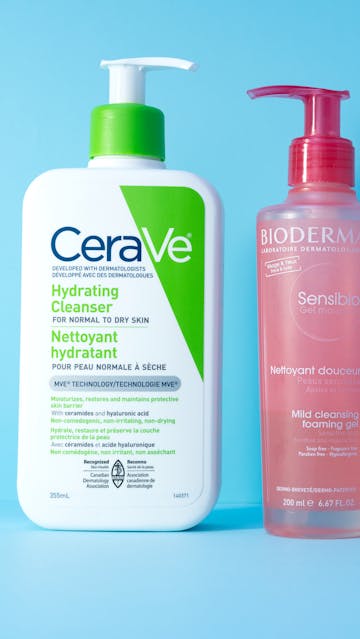 Face mists:
French pharmacies are a face mists heaven! Which is great because I love them! Judge for yourself:
First of all, there are all the thermal waters that I systematically use as a second rinse (I explain in detail why and how in my article on how to cleanse your skin properly). For me, they're all more or less the same. I'm used to the one from Avène and it's the one I repurchase the most, but I also like the one from Uriage, La Roche Posay…
I also really like the Serozinc mist from La Roche Posay, which purifies and soothes the skin. In fact, it's a thermal water and zinc sulphate solution spray, which has purifying and soothing properties and is therefore perfect for irritated and/or acne prone skin. I use it instead of my thermal water when my skin is "in crisis mode", and I massage it into my skin by pressing it with my hands.
The Toleriane Ultra 8 mist from La Roche Posay: I bought it for my husband but it ended up in my bathroom (you heard that story numerous times lol)! A super simple formula (only 8 ingredients, including glycerin and allantoin, as well as thermal water), but which gives a good soothing and moisturizing boost to the skin. I like it when my skin starts to feel tight and is more sensitive than usual. I usually apply it after cleansing, or after using an exfoliating product!
I'm not a big fan of Caudalie's Eau de Beauté because it's full of alcohol and I don't find it very moisturizing on my skin. I recently discovered the Melvita Duo Radiance Plumping Mist made with 1/3 rose oil and 2/3 rose floral water, and I like it a lot! I use it as an essence, after cleansing my skin, especially when my skin feels drier than usual and it's really a pleasure (I love the smell of roses!). A brilliant discovery!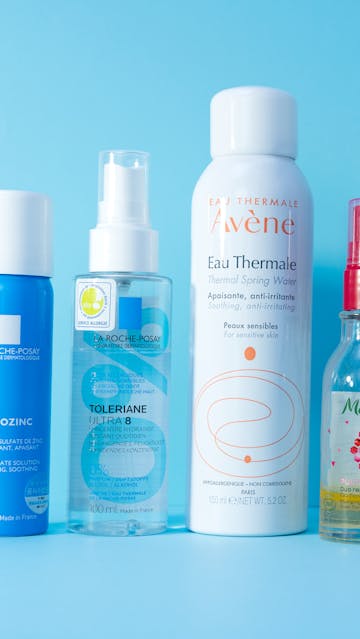 Essences:
I'm so glad that we're finally able to find essences in French pharmacies! Of course, compared to the choice they have in Asie, it's not much, but still!
I already told you about the Caudalie Vinoperfect Concentrated Brightening Essence in my dedicated review, which is OK but not great. For the context, I compared it with the other Asian essences I'm using and well… let's just say that it's not a bad product but it doesn't really compare, in my opinion!
The last time I was in a French pharmacy, I spotted Melvita's Eau Extraordinaire range and I picked up the Lilly one. I just tried it a few times, I have to test it properly! I was tempted because I liked its "gelified water" texture. It contains quite a bit of hyaluronic acid (low molecular weight and of natural origin) which moisturizes and Lily extract for its effect on the complexion's radiance. Be aware if you have a sensitive skin: there's a lot of alcohol and essential oils in the formula.
Another product that I like very much, and I have already repurchased several times, Sanoflore Aqua Hypnotica, for the eye contour. It's super fresh and perfect for those difficult mornings when you wake up with puffy eyes! It contains cornflower water, which is perfect to decongest and bring radiance. It's not a substitute for a cream, but it's perfect to use as a first step, before your eye moisturizer. Beware if you're sensitive to alcohol and essential oils, however, you can find them in the formula.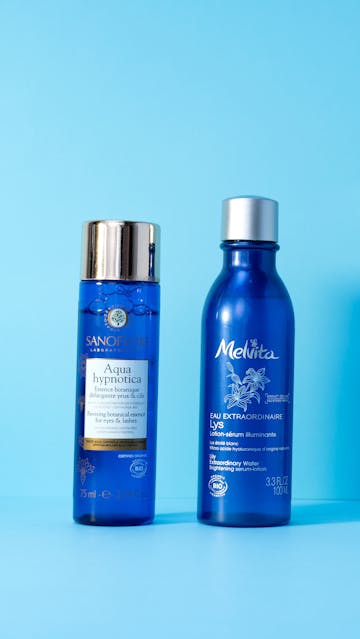 Serums:
I'm not a big fan of the pharmacy's serums that I've tried, but recently I discovered two gems!
The moisturizing serum Ampoule Hydra B3 from SVR Laboratories based on hyaluronic acid (3 different molecular weights) and niacinamide (5%) is really nice! Effective on hydration, I also find it soothing. I like its 2-in-1 aspect, because I usually use one hyaluronic acid serum and another one with niacinamide (my favourite is Paula's Choice 10% Niacinamide Booster). If I had to be a bit critical, I don't find it as effective as the Paula's Choice on pore size reduction but it's still a great product!
And I also really like the Vichy LiftActiv Specialist Peptide-C Anti-Aging Vitamin C Ampoules I reviewed a few months ago!
Eye Contour Serum:
For the eye contour area, I'm already on my second bottle of Vichy Mineral 89 eyes, a light and efficient moisturizing serum (more info in my dedicated review).
Lip balms:
Clearly, the French pharmacies are my favorite supplier of lip balms!
I can't help but mention the famous Nuxe Rêve de Miel lip balm! I've been using it since forever (almost 20 years!!!!) and it has kept me from chapped lips all this time. Voilà!
I prefer to apply it in the evening as a "night mask". It contains, among other things, Muscat Rose Oil, Shea Butter, Acacia Honey, Propolis… In short, it's one of my cult products!
Another product I can't live without, especially during the day: La Roche Posay Cicaplast lip balm. It's a creamy balm, based on repairing panthenol, super effective to protect and repair my dry lips. I love to use it at the end of my skincare routine, and I repurchase one as soon as I finish it!
I also recently tested a new product, the Cica Natura Lip healing Mask from Sanoflore. It's very pleasant to use, its fragrance is to die for and it's very creamy, but sadly, I've rarely tested such an ineffective product. It disappears from my lips in less than 10 minutes, which is annoying for a night mask… I wouldn't recommend it.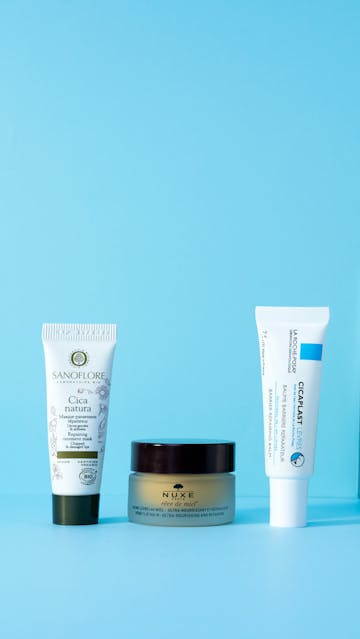 Sunscreens:
Aaah, the face sunscreens from the 'pharmacie'… I'm a fan of the body sunscreens you can find in French pharmacies, but with the ones for the face, it's complicated! I always want to compare them with my beloved Asian sunscreens and clearly, they don't really compare…
That being said, last year I found one so nice that I've repurchased it twice since then!
It's the La Roche Posay Anthelios Shaka Fluide (or Fluide Invisible since this year) SPF 50+ , the fragrance-free version.
This sunscreen has obviously been designed for daily use, and not just for using during summer holiday (which is what I blame most of the sunscreen products in pharmacies about, you can definitely feel that they were mainly designed for an occasional use. French pharmacy brands are not as good in textures as the Asian ones.)! As a result, the texture is really nice, it reminds me a lot of my favourite Asian sunscreens. The protection is very good, on both UVA and UVB. It's also perfect as a makeup base. A small negative point; its high alcohol content that gives it such a light texture but which can be irritating on sensitive skin, especially when you use every day. It's waterproof, so you can also use it on the beach or at the pool, which is a plus. I also appreciate the fact that it comes in several versions (with or without fragrance, and it also comes in a tinted version). And its value for money is great!
Healing balms:
Really a product category where the pharmacy excels! I always have at least one tube of healing balm at home, if not several. In France, they are bathroom staples to heal small skin injuries (for the face or body) and accelerate healing.
To name a few, there are the balms and creams: Cicaplast from La Roche Posay, Cicalfate from Avène, Cicabio from Bioderma… And there are many others! Most of the brands in pharmacie have their own version.
I use them all without really making a difference, it depends on the discounts in the pharmacie I visit to be honest.
At the moment, for example, I use a lot of La Roche Posay's Cicaplast B5 Balm to soothe areas where my skin is damaged (the quarantine and the constant hand washing has triggered eczema all over my body).
Its balmy texture is really nice as it can easily be used on very sensitive and drier areas of the face, lips, hands or body.
This balm contains repairing ingredients such as madecassoside (derived from Centella Asiatica) and panthenol (the famous vitamin B5), but also purifying and anti-bacterial active ingredients (copper and zinc) and also moisturizing ingredients (shea butter and glycerin) for skin relief.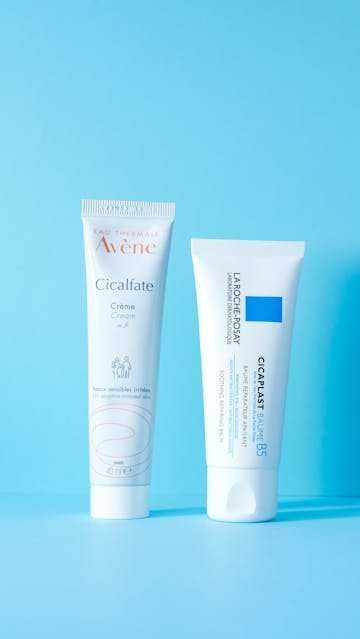 A few French pharmacies I love to go to when I'm in Paris:
The very famous City Pharma, located in 26 rue du Four, 75006 Paris (métro Mabillon or Saint-Germain-Des-Prés):
I must warn you, you won't be alone. It's usually very, very busy (at least pre-covid-19)!
This pharmacy is famous for being one of the cheapest ones in Paris. Here, you have a great choice of skincare brands, beauty and hygiene accessories, hair products, food supplement, just about everything you could possibly want/need… There are a lot of sales people there, there are so many it's even difficult to avoid them (lol) but if you need any advice, there's plenty of choice!
I would also say that the big advantage of going to City-Pharma is that it's in the beautiful Saint-Germain-des-Prés, so it's a very nice area to discover and walk around in Paris…
The Pharmacie Monge, located in Place Monge,75005 Paris (métro Place Monge):
It's not really central, but it's easy to get to. It's not a quiet place either! But you will find a great choice and very nice prices. They also have a great selection of more high-end niche brands!
A particularity is that it's one of the favorite pharmacies of the Koreans tourists who come to visit Paris. In Korea, it's one of the places in Paris that you visit if you're a cosmetic lover (I'm not kidding, it's even mentioned in tourist guides!). You can be sure that I never fail to ask sales assistant what brands and products they are interested in every time I go there. I love to know what they buy, I find it super interesting (if you're curious, last time I asked, they told me that they love Avène, Uriage, La Roche Posay, Embryolisse and Darphin 😉 ).
It's by far my favourite, because it's the cheapest pharmacy I've found in Paris. You won't find a lot of tourists there (it's not central at all), but Parisians know this place very well, so it's always very busy.
Technically, there are 2 places: the 'Pharmacie' and the 'Parapharmacie'. I would advise you to go to the Parapharmacie, which is generally nowhere near as busy and the people who work there are readily available and professional (the prices are exactly the same in both places, it's the same owner).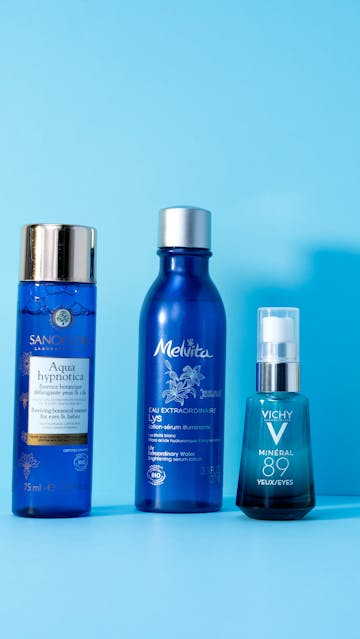 In conclusion:
I wasn't sure about the timing of this article and if it was the best time to write this up, to be honest, with all the travel bans due to the Covid-19 crisis…
But I hope this post will be useful to you later, when you can travel and visit France again (as you can imagine, I can't wait for this day to come!).