Intro
Disclosure:
We, or the author, purchased this item.
We may receive commission (from a sale) if you click on and purchase from affiliate link(s) below. You'll be helping to support the magazine.
My review of the Geumsul Jin Toner, a moisturizing and nourishing essence from the Korean hanbang skincare brand Chogongjin, and my introduction to Chogongjin, the new hanbang brand from the Able C&C group, which owns the Missha brand.
In 2022, the company behind the brand Missha decided to separate their hanbang line and make it a brand of its own: Chogongjin. Just a heads up, I'm so into this brand that I plan on testing half of their catalog for reviews! I hope you're ready!😆 We're starting today with their nourishing Geumsul Jin Toner essence, which, as you'll see, is perfect for the season…
This article will probably not be a simple and efficient review, I prefer to warn you right away! I intend to tell you about hanbang in more detail and, while I'm at it, to give you the reasons for my excessive love of it! So prepare yourself psychologically for some digressions that start right now. 😂
I did a Q&A session a few weeks ago in the stories of my personal Instagram account and one person asked me why I loved hanbang so much… And I thought it would be nice if I answered it here (I asked her permission and she was OK with a longer answer than I could have done in stories 😉).
For those of you who don't know what hanbang is, this traditional Korean cosmetology that is so specific, I've mentioned it several times already throughout my articles, including last year, in my review of a serum from this Missha line, which I wrote before the brand separated their hanbang line and made it a brand in its own right. Don't worry, I'll clarify everything and do a detailed recap below. 😉
But first, I won't even go into the details of the ingredients, and the particular extraction processes of this traditional Korean cosmetology, to explain to you why I'm so attracted to it… Because for me, hanbang is so enjoyable because of the aspirational aspect that I love so much in cosmetics. Even more so, as this is far rarer, in the current cosmetics climate.
At the moment, consumers are looking for efficiency, proven and recognized ingredients, non-irritating formulas, fragrance-free products, and even "green", "clean", ethical, environmentally friendly products… And all of this is very important, of course! But personally, I'll be honest, as a beauty consumer, it doesn't really inspire me much.
Of course, I also want my cosmetics to work, not irritate my skin, and not destroy the environment.
But what I enjoy about cosmetics are its more abstract aspects, those related to the emotions I feel when using them. It starts with the aesthetics of a beautiful bottle, but also the touch of a sensorial texture, with a refined perfume, even a particular story with unusual ingredients… In short all the luxurious and pleasant aspects that a cosmetic product can have, and that make it a real sensorial experience. All of this combined is what I call aspirational cosmetic products!
Yes, I know, this probably doesn't represent most consumers, and the funny thing is that a few years ago, I considered all these aspects related to the user experience as just superficial, something useless that brands used to make us pay more for in their products…
Well, I don't know if it's age, or if I'm fed up with efficient but boring cosmetic products (or worse, ethical but not pleasant to use ones!). But if I find products that can provide me with a high-end user experience, I don't look at them with disdain anymore. Quite the contrary!
And if there's one thing hanbang does well, it's exactly that. The products are clearly "aspirational" and they go all out to ensure their users have a premium experience! What I love to do in my routine is to incorporate these types of products to add a touch of extravagant luxury. An out of the ordinary user experience, in a way…
Of course, these products can't be summed up as just that, they are also very effective! I'll come back to this, I promise, I'll (re)explain everything about this so particular cosmetology, but all this more "abstract" aspect is completely part of the story and the experience, it's very assumed by the hanbang brands. And frankly… I love it!
End of the first digression, let's get back to the review of the day!
Let's begin these reviews on the brand Chogongjin with the essence Chogongjin Geumsul Jin Toner, which you'll see, is a perfect representation of what the hanbang does best! I will introduce it to you, but first, for those who are new to it, I will explain what hanbang is. (For those who are familiar with it, you can access the review directly by clicking on the part you are interested in through the "Jump To" menu 🙂).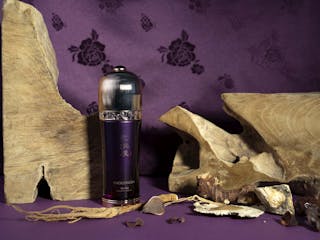 Skincare
Review: Missha Misa Cho Gong Jin Youngan Ampoule
Today, let's explore the fascinating world of hanbang cosmetics! How about a product from an affordable range in this category? Yes, I know, these are rare. But they do exist! Let me introduce you to the Misa Cho Gong Jin Youngan Ampoule serum from Missha!
Read more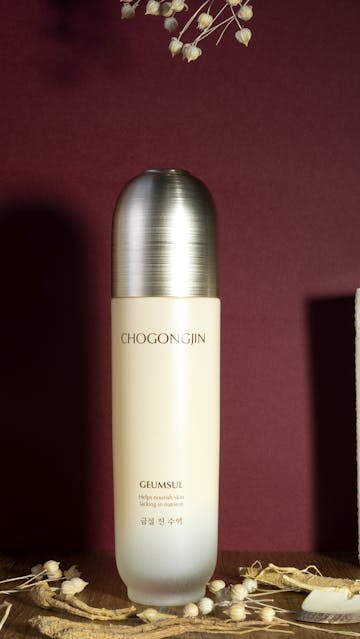 What is Korean hanbang?
If I had to define hanbang cosmetics simply, I would say that it refers to cosmetics that use the principles of traditional Asian medicine, mainly available in South Korea.
Using herbs and plants to heal is indeed an ancestral practice in all Asia, and particularly in Korea, where there are many traditional hanbang doctors who are considered as equal to the doctors who practice western medicine.
So there is also a whole hanbang cosmetic industry in Korea, and the brand Chogongjin (which was until last year part of the brand Missha) is one of the few brands that offers an affordable range of products in this category.
Because, let's face it, even if these cosmetics are very attractive, it's also quite difficult to obtain if you live outside Korea. You have to order online! I personally don't mind, but I know that it's not the case for everyone 🙂.
Besides, there is very little information available in English. Almost everything is in Korean, and rarely translated into English. My only guiding light in the night on hanbang, is Odile Monod and really, I'm extremely grateful to her for taking all this time to translate and explain everything! Her hanbang guide is a must-read!
Usually, the prices of these hanbang cosmetics are very high. The prices of the smallest essence or serum often start at around 100 dollars, and they can go up to several hundred dollars for creams or more concentrated treatments!
Also, hanbang products are mostly for mature and dry skin. The textures are often quite rich! So if you have combination or oily skin, it can sometimes be a bit too much… (but not always!)
Generally speaking, as per above, hanbang cosmetics are aimed at the skin of people aged 30 and above, and mainly target signs of aging. There aren't really moisturizing or purifying lines in this category of cosmetics! The treatment of wrinkles, hyperpigmentation, loss of radiance or firmness are the main targets of hanbang cosmetics.
And that's because of the general approach of this cosmetology. I will quote a lot of the excellent guide that Odile Monod wrote on hanbang to explain in a summarized way, this specific cosmetic approach.
In her article, Odile Monod compares hanbang cosmetics and conventional cosmetics as follows: "While standard cosmetics are designed to treat specific skin concerns over a short period of time, the primary goal of Hanbang cosmetics is to boost skin's self-resilience and enhance skin's self-recovery power using the principles of Traditional Korean Medicine (TKM).
In Traditional Korean Medicine, pathological conditions and health concerns are considered consequences of weakened body's immunity."
She explains, "Traditional Korean Medicine is a holistic medical practice that views the human body as a balanced network of interconnected systems, rather than as a collection of organs to be treated individually. When this balance is broken, the whole system is affected and illness arises. These imbalances are commonly attributed to external, internal or lifestyle factors and the goal of TKM is to preserve or restore the body's natural equilibrium."
According to Odile, "Unlike standard cosmetics, Hanbang skincare products are not classified by skin type. Rather, they aim to provide holistic care based on patterns of imbalances identified through TKM principles. Since Hanbang cosmetics mainly work on skin resilience, their main application lies in anti-aging skincare. In particular, the anti-aging lines of Hanbang skincare brands are based on the theory of aging and life cycles.
Anecdotally, Hanbang skincare lines for very mature skin tend to be oilier than the ones for young skin so oily/combination skin types should keep that in mind."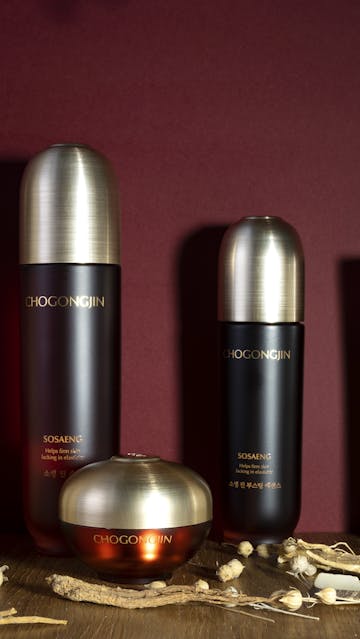 After reading Odile's article, I realized that the formulas of hanbang products are also very different from conventional cosmetics.
There are a lot of very specific features, including the ingredients themselves which are really unique to these types of cosmetics, and very typical of Korea (lots of herbs, roots, plants, as well as mineral and also animal-based components sometimes). The quality of these ingredients can vary depending on different factors (where they come from, how they are cultivated etc).
The methods of preparation of these ingredients are also very specific, and follow the precepts of the historical pharmacopoeia books of traditional Korean medicine. These methods can be decoctions, extraction by heat, by water, fermentation, germination… There are many!
Finally, according to Odile's article, a product formulated according to the principle of hanbang consists "of a complex combination of multiple substances with different medicinal properties that work synergistically to provide treatment for a certain condition (…).
The concept of synergy is a key part of Oriental Medicine and it's different from the concept of simple addition. In fact, synergy occurs when the combination of multiple components produces a total effect that is greater than the sum of its individual elements."
This concept of synergy is definitely an extremely important point for these cosmetics. Reading the INCI ingredient list of a hanbang product isn't really going to help you guess if the product is interesting or not! Well, to be clear, this is the case for all INCI lists, but I think it's even more true with hanbang cosmetics 😆.
Of course, all of this is extremely regulated. You can't just declare a product to be hanbang! There are official authorities in Korea that verify that the formulation of hanbang products is compliant, and the effectiveness of the products is also very strictly tested.
And I guess you can imagine, all these ingredients and technology are not cheap! If you add to that the price of the tests to be certified by these organizations, you can better understand the high prices of hanbang products…
Once again, I really tried to summarize as much as possible but this is a complex subject, which deserves to be explored further and Odile's article goes further than these few paragraphs, and is also much more documented, while remaining easy to read! I highly recommend you to go check it out and watch her YouTube videos on the topic 🙂.
Regarding Missha or rather Chogongjin now, I was pleasantly surprised when I learned (again from Odile) that the company behind these brands (ABLE C&C) had a whole department dedicated to hanbang cosmetics, and that these were not like many other brands just "inspired" by traditional medicine principles. The ingredients are chosen and the products are formulated according to the precepts of this medicine.
As a counterexample, I think of brands like Beauty Of Joseon for example, claiming to be part of this tradition without actually being part of it. Of course, they're inspired by it and use ingredients that refer to hanbang, but that's all. And as we've seen above, this practice goes much further than the choice of ingredients. Not all ginseng products are necessarily hanbang 😉.
Anyway, for the brand Chogongjin on the other hand, it's pretty serious stuff, and without being super cheap, the prices of the products in their Cho Gong Jin hanbang range are pretty affordable! In general, for cosmetics of this quality with this kind of rare and precious ingredients, the prices start around $100. With Missha, the prices are around $30-$60 depending on the product (and there are regular promotions, so it's often even cheaper!).
As you can see, I'm very attracted to this brand and I'm planning to introduce you to several Chogongjin products in the future! 😉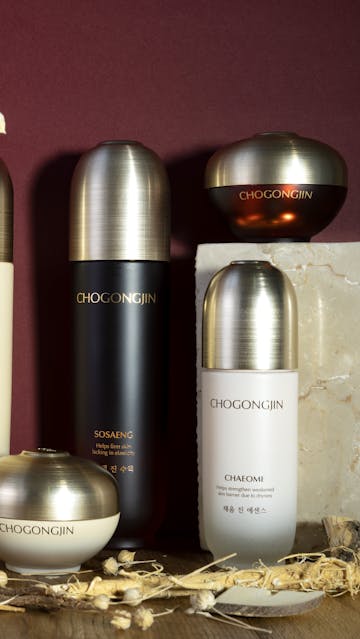 The brand Chogongjin, introduction:
When I visited several Missha stores in Korea a few years ago, I always had the impression that the brand's identity was not very harmonious. Indeed, when you walked into one of their "road-shops" in Seoul, you would think that there were probably several brands in the same store. But nope, they were 100% Missha stores. It's just that the ranges had nothing to do visually with each other.
This lack of harmony was quite confusing for the clients (myself included!) and I guess this is one of the reasons why the brand decided to split its hanbang range in 2022 to make it a brand of its own: Chogongjin.
Chogongjin is the new hanbang brand of the company ABLE C&C, which owns the brand Missha, but also the brands A'Pieu, Cellapy, Lapothicell… And personally, I'm very happy that the company took this decision because we now have a brand with a much clearer and more understandable identity!
The ranges in the brand have been revisited, the formulas and textures improved, and the packaging redesigned. They kept the same qualitative but affordable hanbang spirit as before, but they modernized everything, and frankly, I am a fan of the result! The brand Chogongjin is really desirable, and as I said at the beginning of this article, I fully intend to test as many of their products as possible! 🙂
In their concept description, the brand precisely highlights this complementarity between formulas based on ancestral principles and ingredients but with a formulation well rooted in modernity, with the textures and effectiveness well that we expect nowadays!
Chogongjin prides itself on "reviving our skin's natural ability to fight aging by helping to protect and promote healthy skin. Strengthen, repair and awaken the skin from within." Above all, they describe themselves as a holistic brand. You guessed it: I'm totally on board! 😉
In the formulas, there's mainly a complex of exclusive, brand-specific ingredients: BioGongjin™️. Rooted in a blend of fermented herbal ingredients, including thyme, carnelian cherry, and Korean angelica, this complex is packed with vitamins and nutrients to repair, strengthen, and revitalize the skin.
Reviving our skin's natural ability to fight aging by helping to protect and promote healthy skin. Strengthen, repair and awaken the skin from within.
Chogongjin also works with proprietary double-fermentation technology to promote the skin's absorption of their blend of botanical and root ingredients rich in nutrients.
I talked about this in a dedicated Focus article a while back. This fermentation process creates botanical complexes that will have better absorption into the skin and therefore better efficacy.
The Chogongjin brand includes 5 ranges, which address different skin needs:
– Chaeome: their restorative and skin barrier strengthening line. It uses the benefits of probiotic ingredients besides BioGongjin™️.
– Sulbon: the brightening range, which helps to illuminate the complexion thanks to the pearl extracts it contains.
– Youngan: the range for mature skin. Here, the focus is on the fading of brown spots and wrinkles, and the renewal of the skin's texture and structure to reduce the deeper signs of aging. This line uses Black Ginseng in its formulas.
– Sosaeng: the line that smoothes and repairs the skin, and revives its natural radiance. It uses the benefits of Korean Red Ginseng to revitalize and strengthen tired skin.
– Geumsul: the richest range, which repairs and nourishes skin in need of comfort. Here, you will find royal jelly in the formulas, which also has a regenerating and reboosting effect on collagen production.
In each of these ranges, there is also the brand's exclusive complex BioGongjin™️, which I mentioned earlier, and that will repair, strengthen and revitalize the skin.
Each line includes several products: toners, essences, serums, face and eye creams, sheet masks… In short, there is plenty to choose from!
Some ranges interest me more than others, but I'll try to give you a comprehensive overview with my reviews! And today, I'm sharing with you my review of the Chogongjin Geumsul Jin Toner.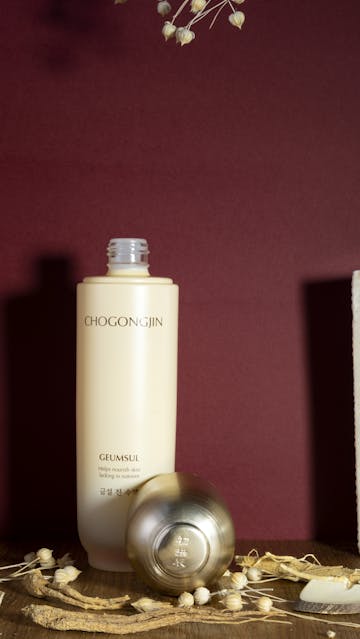 The Chogongjin Geumsul Jin Toner, product presentation:
I was interested in several Chogongjin products and wanted to try at least one from (almost) each of the ranges.
With its nourishing and soothing effects, the Geumsul range seemed ideal for the winter season, but since I have a combination skin, I thought that their Toner would probably be the most appropriate in my case.
The range includes several liquid products of this kind: a Toner, but also a Boosting Essence, an Essence, an Emulsion… It's a bit confusing!
I chose the Toner because the texture seemed to me the most suitable for my combination skin. This Toner seemed to be very focused on hydration, which is a good match with my dehydrated 44-year-old skin! Now, I must admit that for some time now, I don't think too much about the names of the products in the K-Beauty ranges. I tend to think of them all more or less as liquid hydrators, with a more or less thick texture. And for simplicity's sake, I refer to this category of products as "essences".
So the brand describes the Geumsul Jin Toner as a rich, moisturizing product with a nourishing jelly texture that gives the skin a healthy dose of hydration and nutrition to start the routine.
With Royal Jelly, Panax Ginseng, and the exclusive Gongjin™️ complex, this plant-rich essence helps to repair and replenish skin in need of comfort and also stimulates collagen production for an anti-aging effect.
If your skin feels tight this time of year, you'll love it! Its texture is ultra comforting without being too greasy. It leaves the skin nourished but not feeling heavy.
The brand recommends using it at the beginning of your routine, which is what I decided to do.
The Chogongjin Geumsul Jin Toner, my experience:
To tell you the truth, I've been using this Toner for several months now. I didn't really wait for winter, as I started it in the middle of summer when the air conditioning was on full blast and my skin was suffering (I live in Dubai, if you didn't know :) ).
So this Chogongjin essence has been part of my evening routine for almost 6 months (it's on its last legs). I apply it right after my beloved Missha Artemisia essence, which is very soothing but much more liquid.
I take 3-4 "doses" of product and apply them to my face and neck. I massage and press it in. The rest of my evening routine follows that.
The Chogongjin Geumsul Jin Toner immediately gives me a big burst of hydration and nutrition. The texture is super silky and pleasant. It immediately plumps up my skin. It smells delightful too, which is always a plus!
Compared to the previous Missha line (which I mentioned in this review), the scent is more subtle, in my opinion. It still has that botanical, oriental herbs feel to it, but more chic, I would say. This essence has a slight scent of ginseng, and I'm really a fan!
In the gel texture, if you look closely, you can see little gold flakes, which are part of the formula (for their soothing and revitalizing effect). And it's always nice to use a product that sparkles with gold particles. I always love feeling like a princess in my bathroom! 😉
I know for some people that's not the most important thing, but for me it's always a plus when the bottles are pretty to look at! And I have to say, the rebranding of the line is totally on point. The old Missha range was a bit "baroque bling/ old school", the new Chogongjin brand is very "far-eastern luxury chic and elegant", and I'm here for it.
The bottle is made of glass; the cap doesn't feel cheap at all, it's really a nice quality packaging. It clearly gives the impression that it costs more than it actually does!
In short, the user experience is flawless! I really enjoy using it and my skin likes it: it's a win-win situation! 🙂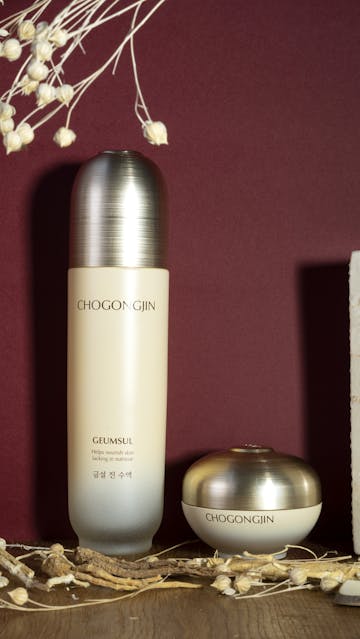 In conclusion:
I've said it several times already in this article, but I insist: expect to see more reviews of the brand Chogongjin around here, because really, I'm very excited. Everything about this brand makes me want to use it, and so far, I'm not disappointed. Quite the contrary!
The Chogongjin Geumsul Jin Toner is just so good. It's a pretty product on the outside and on the inside, and it delivers on its promises! My skin feels comfortable, supple and it's a genuine pleasure to use this essence.
The bottle will probably last me another solid month (so probably 7 months of use in total) and when I think about the price I paid, I think I got a damn good deal! 🙂
The Chogongjin Geumsul Jin Toner retails for between $25 and $35 for 150 ml depending on the retailers.
Product Review in detail
Summary
Chogongjin Geumsul Jin Toner
"A rich, hydrating toner that indulges skin to royal honey jelly that provides a nourishing layer of hydration to prep start the routine.
Rooted in Royal Honey Jelly, Panax Ginseng, and Gongjin™️, this herbal infusion rebalances the skin with a layer of regenerating hydration that heals damaged skin and boosts collagen production in the skin.
Skin feels and looks noticeably calmer and smoother – revealing a glowing, honey-glazed complexion."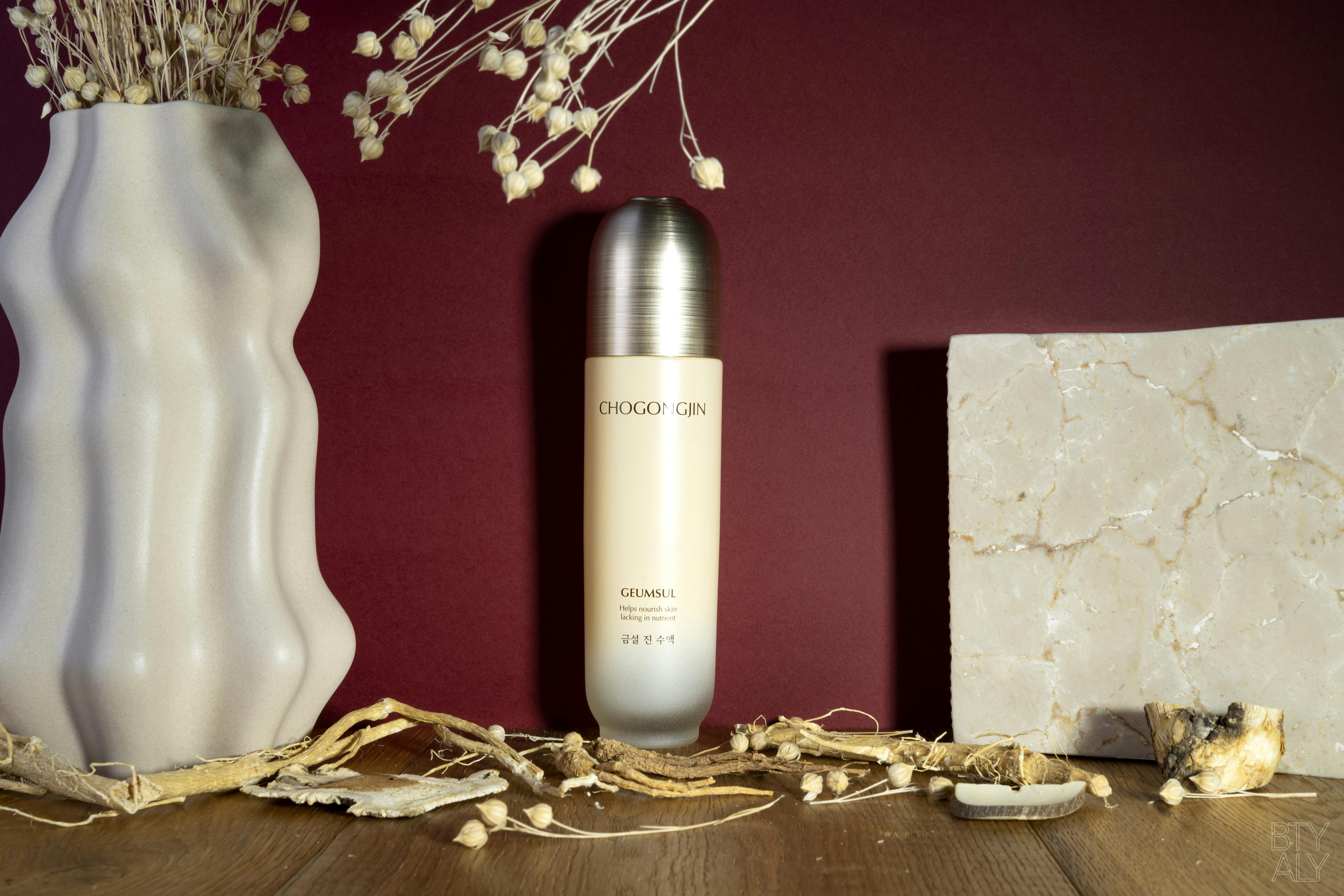 Recommendation
A
A rich, effective and very pleasing toner!
Pros
- the beautiful packaging,
- the formula rich in traditional botanical ingredients, a pure joy if you're a fan of hanbang cosmetics,
- the very typical scent of this type of cosmetics, which smells like ginseng. I love it!
- the very rich and comfortable texture, perfect for the season,
- the immediate comfortable effect,
- the soothing effect,
- the skin remains comfortable for a long time,
- the user experience is really pleasant in every way!
Cons
- the presence of the large number of ingredients can be a deal breaker for sensitive skins but the formula is extremely well done, and this product is not at all irritating, quite the contrary (this is the magic of a good balanced formulation, a formula is not just a list of ingredients, especially when it comes to hanbang! ),
- the brand is not yet distributed everywhere, even online, but since it's the same company as Missha, I'm hopeful that it will get better soon.
product name
Geumsul Jin Toner
packaging
An oblong off-white glass bottle with a gold cap, super chic and luxurious.
fragrance
An herbal, aromatic scent, with a ginseng undertone; I love it!
texture
A liquidy gel, quite rich and which contains small fragments of gold.
For Who
– normal to dry skin types,
– those who want to prevent and address the signs of aging.
Concerns
– dehydrated skin,
– dry skin,
– devitalized skin,
– dull skin,
– mature skin.
Method
I use the Chogongjin Geumsul Jin Toner in the evening (but it can be used morning and evening) after I have cleansed and quickly dried my face, after my more liquid and watery essences and serums, and just before my retinoid product and night cream.
I use 3-4 shakes of this essence and apply them on my face and neck. I press in the product and massage it to help it absorb into my skin. Follows the rest of my routine.
Key Ingredients
In this formula, there are several ingredient complexes from traditional Asian medicine, as well as other more conventional and "modern" ones. For example:
– red ginseng oligosaccharide: red ginseng extract is enriched, purified and treated with an enzyme at high concentrations for a more effective diffusion into the skin.
– A Gongjin™ complex specific to the brand and composed of several ingredients from traditional Asian medicine combined according to the principles of this same medicine (= extracts of deer antlers, Angelica Acutiloba flower root, Cornelian fruit, fig, Atractylodes Japonica rhyzome, thyme, and many more…). This complex of plant ingredients is anti-aging, and also helps to better repair the skin and give it radiance. The Gongjin™ complex was created with a proprietary double fermentation technology to help stimulate absorption into the skin. This advanced process enhances the effectiveness of the treatment while helping to maximize the anti-aging benefits.
– Royal Jelly: promotes cell regeneration, intensely moisturizes the skin, and provides minerals and amino acids for long-lasting comfort,
– Centella Asiatica: antioxidant and especially very soothing,
– but also niacinamide: anti-aging, soothing, purifying, radiance…
– ceramides for the repairing effect,
– gold for its soothing and revitalizing effect,
– adenosine for the anti-aging effect,
– and hyaluronic acid, betaine and glycerin to provide hydration.
Ingredients
Water, Methylpropanediol, Niacinamide, Glycerin, 1,2-Hexanediol, Sodium Polyacrylate, Pvm/​Ma Copolymer, Hexyldecyl Ethylhexanoate, Pentaerythrityl Tetraethylhexanoate, Hydrogenated Lecithin, Polyglyceryl-10 Stearate, Bis-PEG-18 Methyl Ether Dimethyl Silane, BHT, Glyceryl Polymethacrylate, Butylene Glycol, Amaranthus Caudatus Seed Extract, Ulmus Davidiana Root Extract, Hydrogenated Lecithin, Centella Asiatica Extract, Ficus Carica (Fig) Fruit Extract, Ceramide NP, Octyldodeceth-16, Methylpropanediol, Cornus Officinalis Fruit Extract, Velvet Extract, Thymus Vulgaris (Thyme) Extract, Angelica Gigas Root Extract, Xanthan Gum, Carbomer, Tromethamine, Codonopsis Lanceolata Root Extract, Hydroxyacetophenone, Ethylhexylglycerin, Tocopherol, Adenosine, Fragrance, Disodium EDTA, Betaine, Royal Jelly Extract, Gold, Hydrolyzed Hyaluronic Acid.
Ingredients not included
– alcohol,
– mineral oil,
– dyes.