Intro
Discover my mini-review of the Royal Honey Propolis Enrich Essence from the Korean skincare brand Skinfood!
I keep on exploring the beautiful world of Korean propolis essences with a best-seller among K-Beauty lovers: the Skinfood Royal Honey Propolis Enrich Essence.
Last fall, when I first started browsing this product category, Skinfood's propolis essence was always cited as one of the most moisturizing essences.

I didn't really have a very good image of the Korean brand 'Skinfood' and when I went to Seoul last year, I also didn't spend a lot of time in their shops.

It's true, their packaging are super cute, fun and attractive but I didn't find their formulas were exceptional.

I also find that the brand has a tendency to get into greenwashing; they definitely show off with the natural ingredients in their communication but in the end, the formulas are not always super clean and natural.

That being said, I must admit that the Skinfood Royal Honey Propolis Enrich Essence is like an exception to such a rule!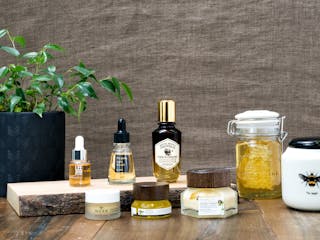 Ingredients
Focus on: Honey and Propolis
Skin products rich in hive ingredients such as honey and propolis have always been popular, especially amongst sensitive skins. The use of these ingredients in cosmetic is definitely not new, but skincare products made in Korea put a spotlight again on these very powerful and effective natural ingredients.
Read more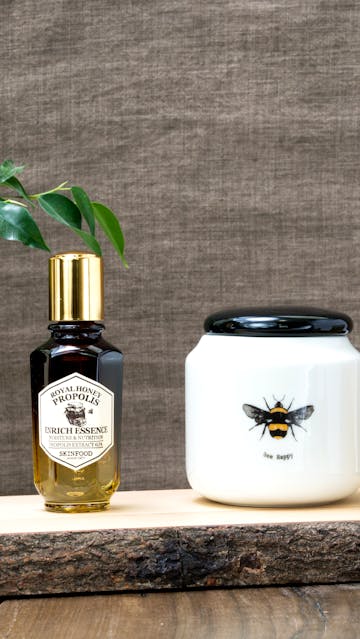 Mini-review:
Its formula is indeed quite impressive, with many good active ingredients for the skin.
It's particularly rich in ingredients from the hive (which I have discussed in detail in my focus on honey and propolis): 63% propolis extract, 10% royal jelly, 10% fermented black honey extract.
So I took advantage of a promotion on YesStyle.com last winter to try it. I used it in the evening as a moisturizing/repairing serum. Among the different propolis essences I tried, this one is probably the most "nourishing" of the bunch (even if its texture isn't greasy at all).
I prefer to use this product when my skin needs to be repaired (in winter or at the peak of Dubai summer, with the air conditioning 24/24). Its moisturizing action is really effective on my skin.
In conclusion:
In short, I think the quantity/quality/price ratio is great and I already repurchased it!
The Skinfood Royal Honey Propolis Enrich Essence retails for between $21 to $39 depending on the resellers.
Product Review in detail
Summary
Skinfood Royal Honey Propolis Enrich Essence
"A fully nutritious essence that contains 63% black bee propolis extract, 10% royal jelly extract, and 10% black honey extract to build a firm barrier for radiant and moist skin."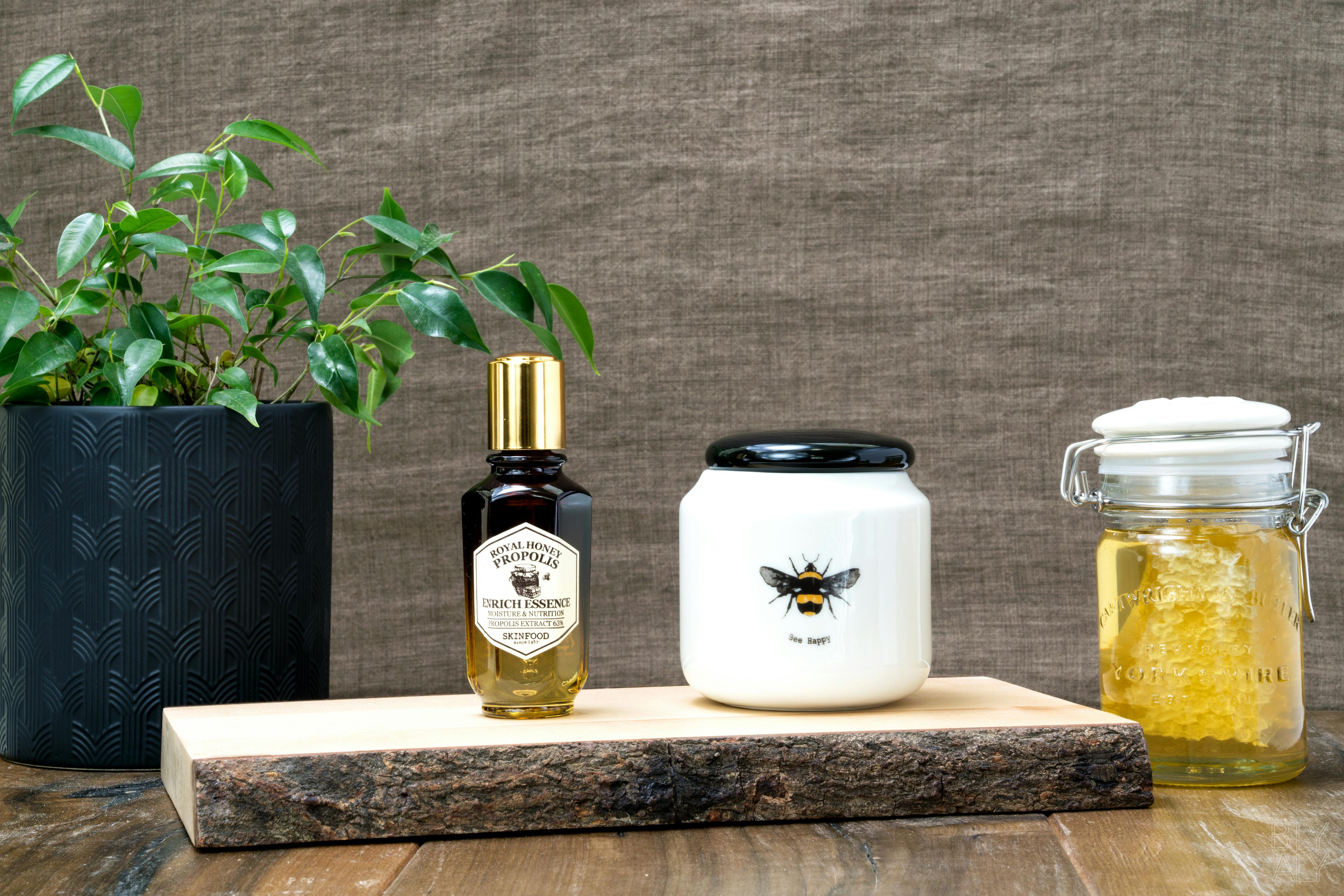 Pros
- the formula full of interesting active ingredients for the skin,
- the formula is really repairing and moisturizing, perfect for damaged skins (after you went to the sun or during the winter, for example),
- the comfortable texture without being greasy,
- the practical packaging with its self-filling pipette (I love it!) and which is also very pretty,
- the product lasts a very long time: I used it once a day, it lasted almost 8 months.
Cons
- if I really have to find something, it's not a practical product to travel with, because of the glass packaging.
product name
Royal Honey Propolis Enrich Essence
packaging
A glass bottle with a self-filling pipette: when you unscrew the cap, it collect the perfect amount of product.
texture
A gel texture, a little viscous at first but which is absorbed very quickly into the skin.
For Who
For all skin types, especially sensitive skins!
Concerns
Perfect to:
– repair damaged skin, 
– soothe sensitive skins, 
– calm the redness of over-heated skins, 
– provide long-lasting hydration for dry and dehydrated skins, 
– soothe the inflammation and help to heal acne-prone skins' scars, 
– prevent the signs of aging with its antioxidant action.
Method
About the quantity necessary: the packaging delivers the right amount, which is very practical.
I apply the Skinfood Royal Honey Propolis Enrich Essence morning and/or evening after my toner and essence, and before my serum (or instead of my serum).
Key Ingredients
– 63% propolis extract: an antioxidant, repairing, healing, anti-bacterial ingredient that gives radiance to the complexion,
– 10% royal jelly: regenerating, nourishing and rebalancing, but also firming,
– 10% fermented South Asian black honey extract: powerful anti-bacterial, antioxidant and repairing ingredient,
– Portulaca Oleracea: antioxidant,
– Beta-Glucan: soothing and antioxidant,
– Lactobacillus Ferment: moisturizing and soothing,
– Saccharomyces yeasts: a glow giver and help to regenerate the skin,
– Hyaluronic Acid (low molecular weight): deep moisturizing ingredient,
– Arginine: an antioxidant amino acid.
Ingredients
Propolis Extract, Honey Extract, Royal Jelly Extract, Butylene Glycol, Dipropylene Glycol, Portulaca Oleracea Extract, Glycerin, Beta-Glucan, Lactobacillus Ferment, Saccharomyces Ferment, Sodium Hyaluronate, Hydroxyethylcellulose, Disodium Edta, Carbomer, Arginine.
Ingredients not included
– parabens,
– alcohol,
– mineral oils,
– silicones,
– fragrance.