Intro
At a glance
Discover my mini-review of the Grow Vita Propolis Ampoule from the Korean skincare brand Leegeehaam.
Last winter, I fell in love with propolis products, which are particularly popular in South Korea. I just wanted to try them all! And the Leegeehaam Grow Vita Propolis Ampoule is one of the cult classics in this category.
I already talked about the benefits of propolis in detail in my focus on this ingredient.

In short, it has powerful healing and anti-bacterial effects on the skin.

It also has an anti-aging benefit because it's antioxidant and stimulates the collagen production.

So, for an almost forty-year-old combination skin like mine, and which is also acne-prone, propolis seems to be an ideal ingredient!

When I discovered its popularity in South Korea, I wanted to know which of the propolis products were the most popular there.

One of them was often cited as the most effective: the Leegeehaam Grow Vita Propolis Ampoule.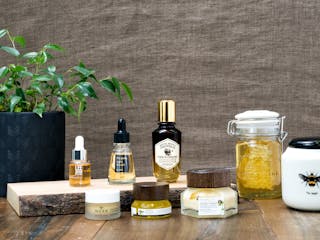 Ingredients
Focus on: Honey and Propolis
Skin products rich in hive ingredients such as honey and propolis have always been popular, especially amongst sensitive skins. The use of these ingredients in cosmetic is definitely not new, but skincare products made in Korea put a spotlight again on these very powerful and effective natural ingredients.
Read more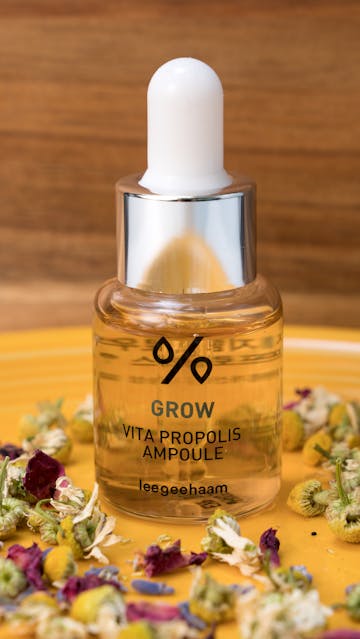 Mini-review:
Leegeeham is a Korean skincare brand that could be described as "cosmeceutical", a cosmetic brand which uses a lot of medical ingredients (a bit like Skinceuticals for example).
Created by dermatologists in 2000, Leegeehaam (or LGH) Cosmetics, (formerly Leejiham/ LJH Cosmetics) specializes in the treatment of specific skin problems. With its own research and development center, the Leegeehaam laboratory develops skin care products for a clientele with very specific, almost medical expectations. It definitely reminds me of some of the French 'pharmacie' brands I've used a lot in the past.
The propolis ampoule is part of Leegeeham's Grow range, (the brand describes this range as "botanical science"), which enhances natural plant extracts and active ingredients from the latest medical discoveries, combined in some innovative formulas. Grow is the emblematic range from Leegeehaam and the one with the most products.
The bottle is ridiculously tiny, only 15ml, which had me hesitating a lot to invest (it's not cheap: depending on the retailers, it can go up to $40) but the formula was just too appealing to resist!
This formula is really interesting and super rich in active ingredients: it contains many plant extracts in great concentrations, but also very effective "chemical" ingredients (for want of a better word, because everything is chemical, including natural ingredients).
The key ingredients in this formula: propolis of course (concentrated here at 50%), an antioxidant, repairing ingredient which gives a lot of glow to the complexion, the great niacinamide (a super multi-tasking ingredient that literally everything for the skin), hydrating hyaluronic acid etc (I detailed everything in the formula below).
In short, a super powerful formula in this mini-bottle!
You can also notice the absence of synthetic fragrance in the formula (yes, I want to insist on this point, because in France, the dermocosmetic brands literally flood their formulas with synthetic fragrances, which has always seemed to me at the very least incongruous, not to say irrelevant when you're addressing sensitive skins; fragrances can be quite irritating on the skin). This formula also doesn't contain any alcohol, silicones nor mineral oils.
I used this Leegeehaam Grow Vita Propolis Ampoule for about 2 months, 3 to 4 drops every morning, as a serum (on its own and before my moisturizer). You can mix it with other products if you prefer (I don't).
Regarding the result, I quickly saw its action on the radiance of my complexion and I found that it also helped me to balance my skin. I definitely broke out less often while I was using it, which is always nice! I clearly saw the difference on my skin when I stopped it and I repurchase it a few weeks later.
In conclusion:
Among all the propolis products I've tried so far, it's probably my favorite (but I found its tiny size quite ridiculous!). Leegeehaam, please, can we have at least a 30ml bottle?
And you, have you tried this Leegeehaam Grow Vita Propolis Ampoule ? If not, do you use propolis products? What's your favorite?
Product Review in detail
Summary
Leegeehaam Grow Vita Propolis Ampoule
"Leegeehaam Grow Vita Propolis Ampoule is a Korean facial serum packed with nourishing and brightening propolis.
> 50% propolis, 3 vitamins
> Anti-inflammatory and illuminating
> Antioxidant and anti-aging
All skin types."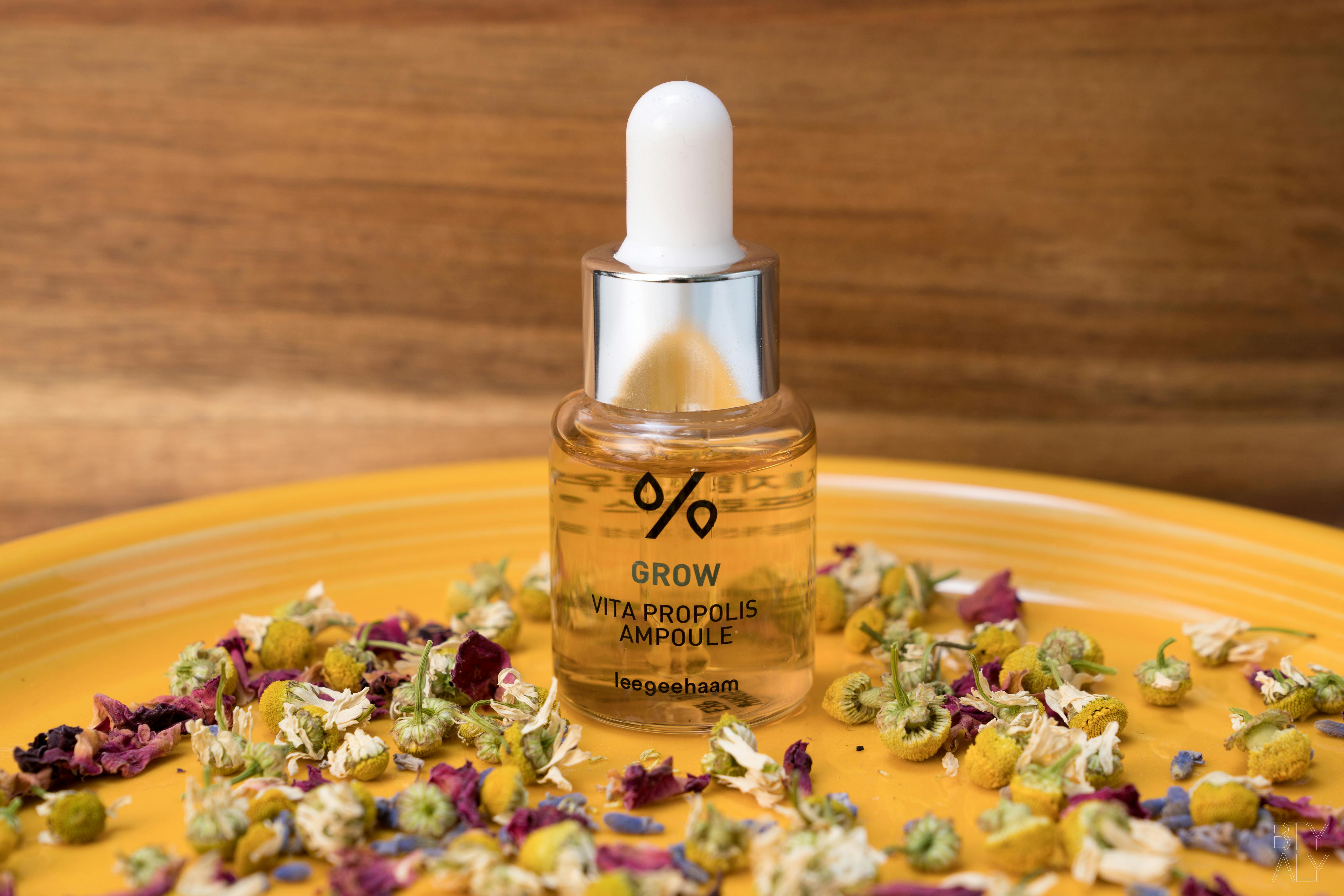 Pros
- the powerful and "clean" formula full of interesting active ingredients for the skin,
- the texture is easy to apply even you don't use a lot,
- it doesn't leave a greasy residue on the skin,
- you can also use it mixed with other products if you prefer,
- it's easy to travel with (because it's tiny).
Cons
- its size is ridiculously tiny, it actually looks like a travel size,
- depending on the retailer, the price can vary by a factor of two.
product name
Grow Vita Propolis Ampoule
packaging
A glass bottle with a pipette droper
For Who
For all skin types, especially the sensitive, dull and acne-prone skins.
Concerns
Perfect to:
– repair damaged skin,
– soothe the inflammation and help to heal acne quicker,
– give radiance to the skin,
– prevent the signs of aging with its antioxidant action.
Method
I used this Leegeehaam Grow Vita Propolis Ampoule for about 2 months, 3 to 4 drops every morning, as a serum (on its own and before my moisturizer). You can mix it with other products if you prefer (I don't).
The product has the same texture as a traditional serum, it's a little viscous and spreads quite well (4 drops are enough for the face and the neck). You can use it in the evening if you prefer, even both morning and evening but in this case, it won't last very long! The texture absorbs fairly quickly and is non-greasy. No need to massage it a lot!
Key Ingredients
In this formula:
– Propolis (concentrated here at 50%): antioxidant, repairing and which gives a lot of glow to the complexion,
– Purslane (Portulaca Oleracea): antioxidant,
– Sea Buckthorn (Hippophae Rhamnoides): repairing and soothing (it represents 10% of the total formula),
– Panthenol (a vitamin B5 derivative with emollient and repairing properties),
– Rose Water soothing,
– Niacinamide (a super multi-tasking ingredient that literally everything for the skin),
– Centella Asiatica and Witch Hazel (together they are 26% of the formula): soothing,
– Arginine (an antioxidant amino acid),
– Licorice Root (Glycyrrhizate): soothing and repairing,
– Hyaluronic Acid (sodium hyaluronate): hydrating,
– Adenosine: anti-wrinkle and repairing…
Ingredients
Propolis Extract, Portulaca Oleracea Extract, Hippophae Rhamnoides Extract, Panthenol, Rosa Centifolia Flower Water, Niacinamide, 1,2-Hexanediol, Ethyl Ascorbyl Ether, Hamamelis Virginiana (Witch Hazel) Bark/Twig Extract, Centella Asiatica Extract, Carbomer, Arginine, Spirodela Polyrrhiza Extract, Hydroxyethylcellulose, Dipotassium, Glycyrrhizate, Sodium Hyaluronate, Adenosine.
Ingredients not included
– mineral oils,
– silicones,
– parabens,
– synthetic dyes and perfumes,
– sulfates,
– phthalates.