Intro
My detailed review of K-Beauty iUNIK's hybrid serum/ "oil-in-serum" the Noni Light Oil Serum.
Today, I want to tell you more about a special category of serums: "oil-in-serum" hybrid serums. Let's start with one of my favorite K-Beauty brands, iUNIK, and its new-ish Noni Light Oil Serum!
To tell you the truth, I've been exploring the options for this kind of product for a little while now. Because facial oils are not my favourite cosmetic products.
Although I like their long-lasting nourishing effect (my skin gets drier with age as well as the AC), many of the facial oils I've tried are not very well absorbed by my dehydrated combination skin. They always tend to make me look a little bit shiny on my T-zone, especially if I use them during the day.
So I like the idea of products that are a bit of a hybrid between facial oil and serum, because their texture is more suited to the needs of my skin, which can feel a bit dry at the end of the day, but is not a fan of "greasier" textures!
There are several forms of these hybrid "oil-in-serums" products:
– oil-based emulsion, a sort of very liquid moisturizer (but with a fairly rich finish despite their liquid appearance) that can be used alone or under your moisturizer (the latter usually has a thicker texture),
– two-phases "oil-in-serum", which must be shaken before use to mix the 2 phases,
– and finally, "oil-in-serums" like the one I'm going to mention today, which have a slightly oily gel texture.
All these products have the characteristic of being "lighter" in texture than a classic facial oil. And if, like me, you have a dehydrated combination skin, this product category might be interesting for you!
These "oil-in-serums" are indeed nourishing without leaving an "oily" effect on the skin and can be used in the morning, for example, even before applying makeup.
Recently, I noticed that more and more brands were proposing them (I bought several to try them out!), and I wanted to start reviewing some of them here with a Korean brand that I know and love: iUNIK!
Let's have a closer look at their Noni Light Oil Serum!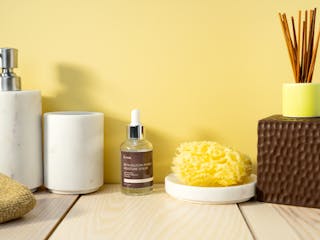 Skincare
Review: Iunik Beta-Glucan Power Moisture Serum
Hyaluronic acid isn't the only hydration super-hero! To deeply hydrate and repair the skin, Beta-glucan is also super effective! This is actually the main claim of the Beta-Glucan Power Moisture Serum from the Korean brand Iunik…
Read more
iUNIK Noni Light Oil Serum, my thoughts:
If you read BTY ALY regularly, it's no mystery to you that I'm a big fan of the Korean skincare brand iUNIK!
I've tried almost half of their range (my iUNIK reviews). The value for money of their products is very hard to beat!
When they released this serum a few months ago, I was definitely intrigued! I really wanted to try the texture to see if I could have the same nourishing effect as with a facial oil but without that "oily" finish that my combination skin is not a big fan of (especially during the day).
I've already mentioned it, but for me, hydration is a multi-level process.
First, there are products based on ingredients that are more "humectant", i.e. they retain hydration in the skin like a sponge. For example, hyaluronic acid or beta-glucan-based serums.
If you look at their formulation, this category of products generally consists of an aqueous phase, with water-soluble ingredients inside. This explains why the texture of these products is usually liquid or in a gel form.
These products are generally described as hydrators.
Oil-based products, on the other hand, act more on the surface of the skin, and their role is to prevent the skin's hydration from evaporating by using "emollient" ingredients (= that contain oily constituents). Basically, they're able to seal the skin's moisture and form a protective layer that gives the skin a long-lasting feeling of comfort.
For people with dry skin, they are essential because their skin naturally lacks oil. They therefore help to restore the hydrolipidic film, which is the skin's natural protection.
They are described as nourishing products.
But if you're like me, and you have combination skin, your skin needs these two types of ingredients: humectants and emollients!
With the air conditioning (and ageing, let's be honest!), my skin gets drier and drier during the day. Introducing an oil into my morning routine should therefore allow me to have comfortable skin for a longer period of time.
But as I mentioned earlier, oils are not always ideal for me to use during the day because of the "greasy" finish they can leave on my skin. They also tend to make my makeup fade quickly. I use them in the evening without any problem, but in the morning, they're not ideal on me.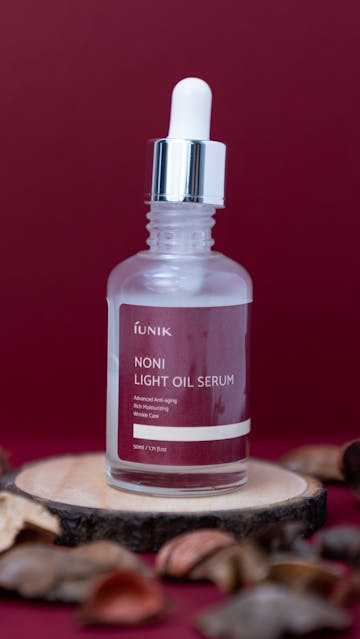 I was impatient to see if this iUNIK Noni Light Oil Serum could meet the comfort needs I have for my skin without looking greasy like a usual facial oil!
The brand claims a nourishing effect thanks to the many vegetable oils it contains in its formula: macadamia, jojoba, olive, argan and rosehip oils.
But all of these are in a gel base, that looks like a serum, for a lighter finish!
The Noni Light Oil Serum also contains several antioxidant ingredients, including Noni fruit extract, which represents the majority of the product. Antioxidants are interesting to use during the day, because they protect the skin against environmental aggressors.
The brand also claims a soothing effect, thanks to ingredients such as allantoin and Noni fruit.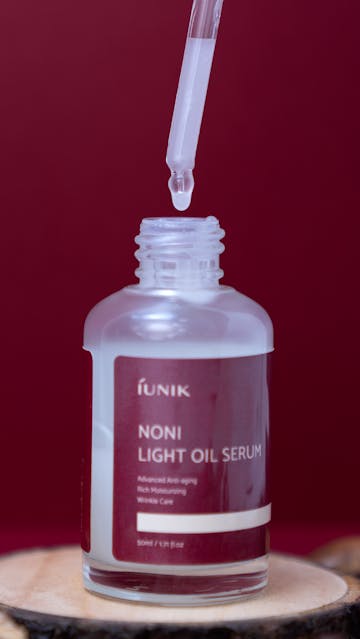 I introduced it into my routine this winter, in the morning. I use it after my Allies of Skin Triple Hyaluronic Antioxidant Hydration Serum and before my moisturizer.
I really like its texture, a sort of slightly oily gel that doesn't leave a greasy feeling at all! It feels like a silky texture when you apply it, and it's quickly absorbed.
Plus, it leaves a nice glow on the skin, very #glassskin Korean style (yes, I'm really into K-Dramas at the time I'm writing this article! 😉 ).
Regarding its long-lasting comfort effect, it works for me, but in my opinion, if your skin is drier than mine, it might not be enough (if your skin is oily, you might be interested though 😉 ).
I think I would have liked a bit more nutrition, especially with my retinol-dry skin.
But hey, I still find that the comfort is there anyway, and my makeup doesn't fade during the day, which is very pleasant!
The brand talks about a soothing effect, but I haven't noticed it personally.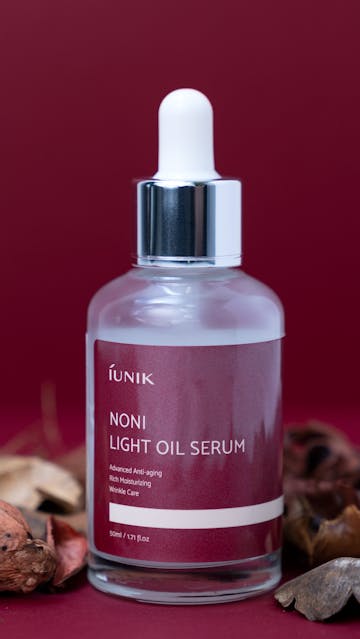 In conclusion:
The iUNIK Noni Light Oil Serum is the first "oil-in-serum" I have tried and I wasn't super impressed.
Maybe it's a product I would have liked more in the summer, my timing to test it probably wasn't ideal!
That being said, it's not a bad product at all, far from it. It just lacks a bit of richness certainly in my case (and I would have liked a true soothing action as well, if it's not too much to ask for!).
I'll probably have a chance to review other "oil-in-serums" in the future. I found some gems I want to tell you more about, so stay tuned for future reviews! 😉
The iUNIK Noni Light Oil Serum retails between $14 and $22 for 50ml depending on the retailers.
Product Review in detail
Summary
iUNIK Noni Light Oil Serum
"Formulated with great morinda fruit extract and other plant-based oils, this advanced serum boasts powerful anti-aging effects that significantly improve fine lines and wrinkles, while also leaving skin fully nourished and moisturized."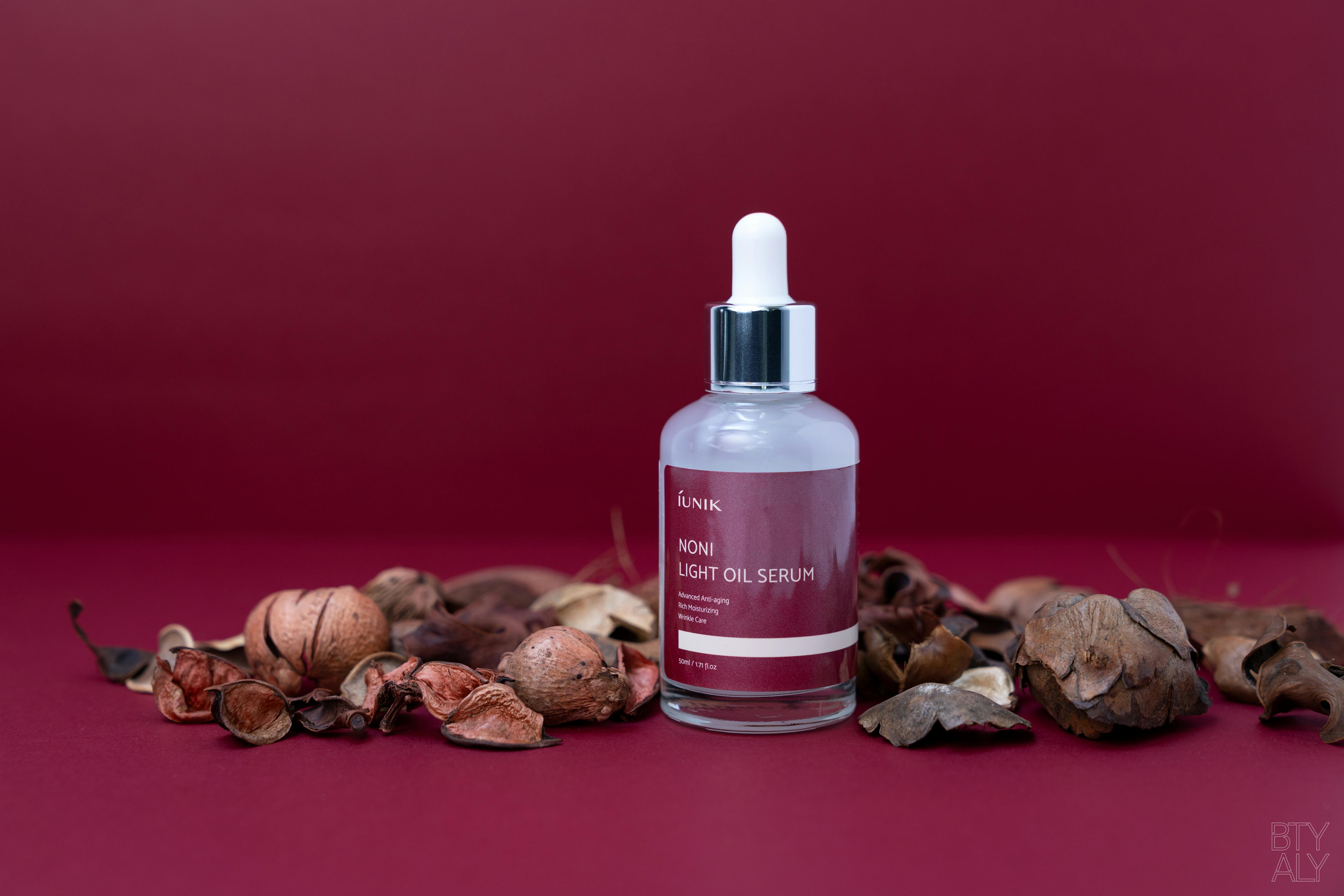 Recommendation
B+
Not bad (but could be better IMO).
Pros
- an interesting formula, rich in great skincare ingredients,
- a perfect hybrid texture for my combination skin: it gives comfort without being too heavy, and without stickiness,
- it's an ideal product to use in the morning, it doesn't leave my skin feeling greasy and my makeup lasts on top of it without trouble,
- it gives a nice #glassskin glow,
- it moisturizes and nourishes the skin without being heavy,
- the formula is suitable for sensitive skin (no perfume, no dyes)
- a good value for money as always with this brand.
Cons
- if your skin feels tight, it might not be enough moisturizing,
- I wish it had been a little bit more soothing.
product name
Noni Light Oil Serum
packaging
A glass bottle with a pipette, very simple.
fragrance
Fragrance-free.
texture
A very silky gel texture, with a slightly greasy effect at first, but which doesn't remain on the skin.
For Who
– all skin types,
– all ages.
Concerns
– need for hydration,
– need for comfort,
– need for environmental protection,
– lack of radiance.
Method
The Noni Light Oil Serum can be used morning and night. Right now, I'm using it in the morning, and it feels great during the day!
After applying my serum(s), I take about 1/3 of a pipette and I massage my face and neck with it for a few seconds. Once it is absorbed, I apply my daily moisturizer on top of it.
Key Ingredients
A fairly "oily" composition, even if it's still more of an "oil-in-serum" hybrid product:
– the base consists of Noni fruit extract (Morinda Citrifolia Fruit), rich in antioxidants and with an anti-bacterial and soothing action,
– there's also moisturizing glycerin,
– as well as many vegetable oils: macadamia, jojoba, olive, argan and rosehip oils, for their nourishing and repairing effects.
– blueberry and kale extracts are also used for their anti-oxidant action,
– calming allantoin,
– anti-aging arginine,
– and soothing, brightening licorice root extract.
Ingredients
Morinda Citrifolia Fruit Extract (42%), Water, Butylene Glycol, Glycereth-26, Glycerin, Propylene Glycol Dicaprylate, Trehalose, Macadamia Ternifolia Seed Oil, Simmondsia Chinensis (Jojoba) Seed Oil, Polyglyceryl-4 Caprate, Sorbitan Sesquioleate, 1,2-Hexanediol, Olea Europaea (Olive) Fruit Oil, Caprylyl Glycol, Morinda Citrifolia Extract, Vaccinium Angustifolium (Blueverry) Fruit Extract, Brassica Oleracea Acephala Leaf Extract, Acrylates/​C10-30 Alkyl Acrylate Crosspolymer, Allantoin, Arginine, Xanthan Gum, Argania Spinosa Kernel Oil, Rosa Canina Fruit Oil, Adenosine, Ethylhexylglycerin, Dipotassium Glycyrrhizate, Pentylene Glycol, Aspalathus Linearis Extract, Glycyrrhiza Glabra (Licorice) Root Extract, Commiphora Myrrha Resin Extract, Perilla Frutescens Leaf Extract, Yucca Schidigera Root Extract.
Ingredients not included
– mineral oil,
– perfume,
– dye,
– alcohol,
– silicone.