Intro
My detailed review of the hydrating and soothing essence Rose Galactomyces Essential Toner by the Korean brand iUNIK.
Let's be honest, I wasn't expecting much from it. However, this moisturizing essence Rose Galactomyces Essential Toner from the Korean brand iUNIK was a very nice discovery!
To tell you the truth, I wasn't even the one who spotted it.
My husband brought it back for me from his stay in Korea at the end of 2018 and I forgot it in my closet until last summer. Oops!
I gave it a go out when I wanted to try a new moisturizing essence for my morning routine and it did not disappoint!
I talked several times already about the brand iUNIK. It has become one of my favorite Korean skincare brands! I tried many of their products, and IMO, they're very well made and not overpriced, which is always a plus! (I reviewed their serums Iunik Tea Tree Relief Serum and Iunik Propolis Vitamin Synergy Serum, among others).
Having one or two products from this brand in my routine is quite common for me these days. It's actually the case right now with two very cool serums (I'll probably tell you more about them in future reviews!).
In the meantime, let's take a closer look at this iUNIK Rose Galactomyces Essential Toner, because it's definitely worth it! 🙂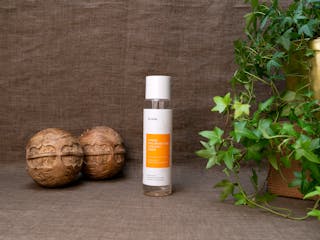 Skincare
Mini-review: Iunik Vitamin Hyaluronic Vitalizing Toner
As you know, I'm a huge fan of Asian essences, which I find both super effective on skin hydration and also very pleasant to use! Today, I want to introduce you to the Vitamin Hyaluronic Vitalizing Toner essence from the Korean natural brand Iunik.
Read more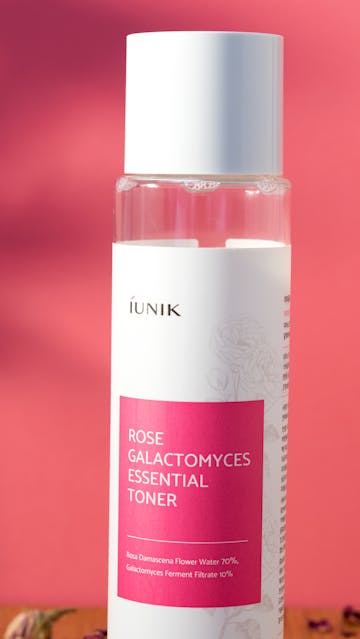 iUNIK Rose Galactomyces Essential Toner, my review:
Don't be fooled by its name, the Rose Galactomyces Essential Toner is indeed an essence!
I use it in the morning, after using my toner (the Dokdo Toner I reviewed earlier) and my vitamin C serum (that I leave on for a few minutes).
As I already explained several times, essences are a great first moisturizing step, which will facilitate the absorption of the products you will apply on top and also help to hydrate the skin more deeply! If the subject still confuses you, I dedicated a whole article to them 😉
And the least I can say is that this Rose Galactomyces Essential Toner essence perfectly fulfils this role of a very moisturizing product but it also has cool other effects on top!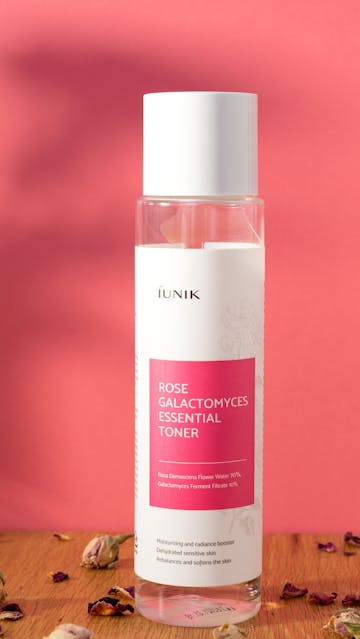 It's made up of 70% rose water, which makes it a very soothing and slightly purifying product as well (but without drying out at all, it's not an astringent ingredient!)
There are also some galactomyces in there, an ingredient I like very much for its regenerating and brightening boosting effects!
Add to that a little bit of rose oil to nourish the skin, some glycerin and hyaluronic acid for the hydration and allantoin for the soothing effect, and it gives you a super refreshing and nice to use essence!
I use it generously, sometimes in several layers because I love its refreshing effect, especially in the morning!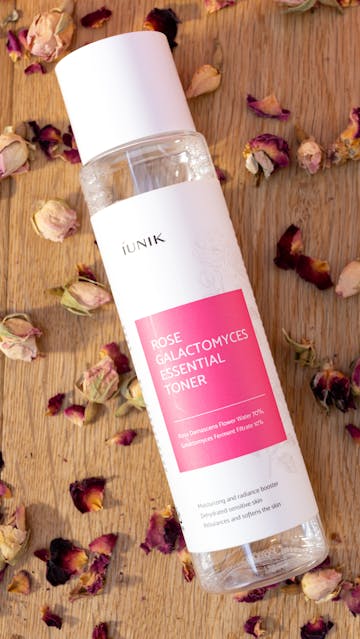 I know that many people consider essences as an extra product in a routine, but for me, they became an essential step in my routine, and I don't hesitate to use them generously (and to collect them, you may have noticed). What can I say, my dehydrated skin loves it!
And I also appreciate their plumping effect, which is immediately visible and that I can feel it throughout the day! 🙂
I also love its subtle rose scent. For me it's the little extra something that makes it lush!
I also love that the Rose Galactomyces Essential Toner essence lasts a super long time! I started it this summer and I still have at least 2 months of use left.
And since it's not very expensive, I think it's a great value for money! 🙂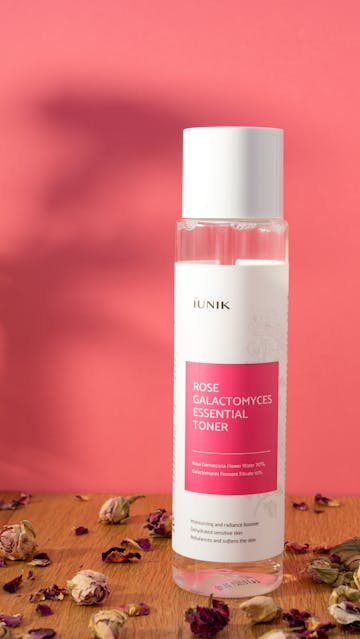 In conclusion:
If you have combination and dehydrated skin like me, and you like rose-based cosmetics (I know I'm not the only one in this case!;)), the iUNIK Rose Galactomyces Essential Toner is definitely a great skincare product to consider!
It does the job, is very pleasant to use and won't break the bank!
Product Review in detail
Summary
iUNIK Rose Galactomyces Essential Toner
"This toner offers powerful moisturizing and soothing effects to sensitive skin thanks to its 70% damask rose content. Also contains 10% galactomyces ferment filtrate to control sebum production and contract pores, alongside extracts from pomegranate, fig, mulberry and ginkgo for antioxidant benefits."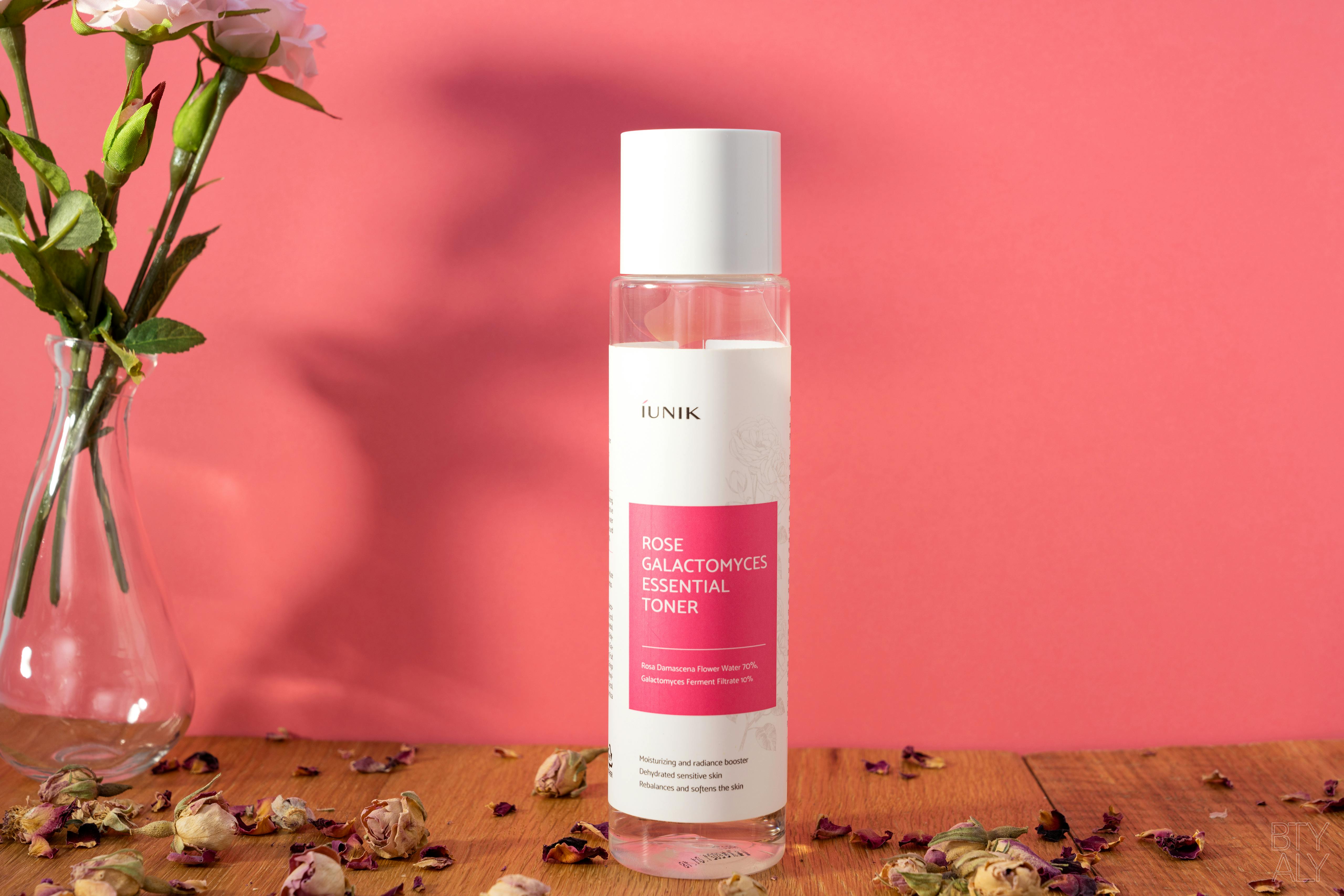 Recommendation
A
I really like this essence!
Pros
- the formula, with good skincare ingredients in high concentrations,
- the simple and cool packaging,
- the great value for money,
- the subtle and very pleasant rose scent,
- the moisturizing and comfortable texture,
- the long-lasting moisturizing effect,
- the soft purifying action,
- the soothing effect,
- the product lasts a very long time (8 to 10 months using it once a day)!
product name
Rose Galactomyces Essential Toner
packaging
A transparent plastic bottle, with a white and pink orange tag. The style is rather simple, but also quite "cool".
fragrance
A subtle rose scent, very pleasant!
texture
A liquid texture, quite light but with body. It's very comfortable!
For Who
– all skin types (dry, combination, oily),
– dull skin,
– dehydrated skin,
– mature skin.
Concerns
– dehydration,
– dullness,
– visible pores,
– dryness,
– wrinkles, fine lines.
Method
I use the iUNIK Rose Galactomyces Essential Toner essence in the evening and/or morning, on cleansed skin, after using a slightly acidic toner, but before my other targeted treatments (my serums and oil) and my moisturizer.
I apply it on my face, including my eye contour and neck.
I pour the essence directly into the palm of my hand. I shake it about three to four times, in order to have enough product in my palm. You can also use a cotton pad to apply it, but I personally find that you lose far too much product using this method.
I then apply it directly on my skin, with light pressure from the palms of my hands until the product is absorbed.
I finish by dabbing my skin lightly to help absorption.
Key Ingredients
The formula of this essence contains lots of good skincare ingredients, such as
– hydrating, soothing and gently purifying rose water (it helps to tighten the pores of the skin),
– nourishing rose oil,
– galactomyces that have a regenerating effect, boost radiance, strengthen the skin barrier and help the skin renew itself faster,
– moisturizing ingredients: glycerin, hyaluronic acid,
– soothing ingredients: allantoin, licorice root extract (which also plays on the complexion's radiance),
– antioxidants: pomegranate, fig, Morus Alba and Ginkgo Biloba extracts.
Ingredients
Rosa Damascena Flower Water (70%), Galactomyces Ferment Filtrate, Butylene Glycol, Water, Glycerin, Glycereth-26, 1,2-Hexanediol, Sodium Hyaluronate, Caprylyl Glycol, Allantoin, Punica Granatum Fruit Extract, Adenosine, Ficus Carica (Fig) Fruit Extract, Morus Alba Fruit Extract, Ginkgo Biloba Nut Extract, Ethylhexylglycerin, Rose Flower Oil, Pentylene Glycol, Aspalathus Linearis Extract, Glycyrrhiza Glabra (Licorice) Root Extract.
* Please be aware that ingredient lists may change or vary from time to time. Please refer to the ingredient list on the product package for the most up to date list of ingredients.
Ingredients not included
– mineral oils,
– synthetic perfumes,
– dyes,
– silicones.