Intro
My detailed review of the hydrating mist Hydrating Accelerator from the American natural skincare brand Josh Rosebrook, a product the skincare community loves but which didn't completely convinced me.
The Josh Rosebrook Hydrating Accelerator mist is a true cult favorite product for natural skincare enthusiasts! I was really looking forward to try it, but I must admit that it left me unconvinced… I'll explain why in my review!
This summer, when I went to Toronto, Canada, I went to visit The Detox Market store, a veritable institution of "clean" cosmetics. As you know, it's not my favourite cosmetic trend (I talked about it in more detail in my article Is the "non-toxic" cosmetics trend irrelevant). But I still find that there can are often be innovative brands, and, well, I'm curious by nature!
They have a nice selection of niche brands in this store, which are hard to find elsewhere, and it was nice to try them in person. The sales assistants in the shop were also very friendly and gave good advice, so it was a very pleasant experience!
At The Detox Market, I came across the Josh Rosebrook brand, which I had heard a lot of good things about over the years!
The Hydrating Accelerator mist seems to be the product that wins all the popular votes. Assuming, like me, that you always need hydration, I decided to purchase it and brought it back to Dubai in my suitcase to try it out properly.
Let me tell you more about my experience with this product!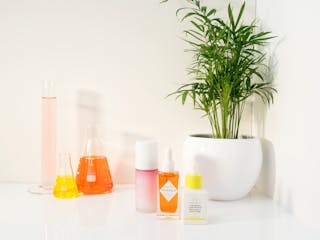 Skincare
Is the "non-toxic" cosmetics trend irrelevant?
Today, let's talk about cosmetics' vocabulary, marketing, and legislation. No, don't go! I swear it's not as boring as it sounds!
Read more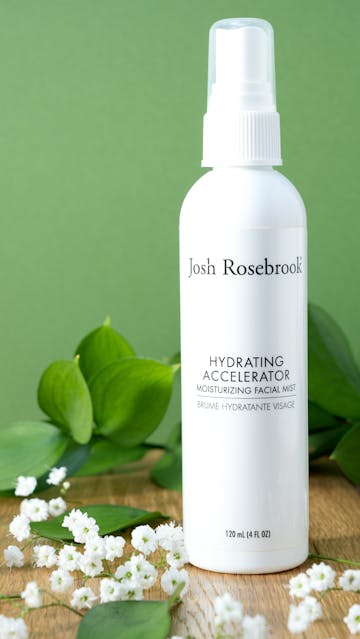 The Josh Rosebrook brand:
The Josh Rosebrook brand isn't really a newcomer in the American cosmetics landscape.
Josh Rosebrook, a former hairdresser from Portland, Oregon, founded his eponymous brand more than 20 years ago now! At the time, it was difficult to find products with natural compositions, so he took the plunge, after strengthening his knowledge of biochemistry.
Efficiency is the principal focus of Josh Rosebrook with his products. For the founder, favouring natural ingredients makes sense because he wants his formulas to be as active as possible on the skin.
His approach is not at all disparaging towards traditional cosmetics, which I especially admire in the current context, where formulas must absolutely be "clean" and "non-toxic" (insert a raising-eyes emoji) (my opinion on the matter).
It's a very kind approach, with a highlight on natural ingredients but also on ethics and sustainability: organic, locally grown ingredients (most of them from Oregon or California) and a packaging that promotes the use of easily recyclable materials, to name but a few examples of the brand initiatives.
Josh Rosebrook products have gained recently a revival in popularity with the current trend of "clean beauty" and some of his products have become real must-haves for cosmetics addicts!
The Hydrating Accelerator Mist is definitely one of them…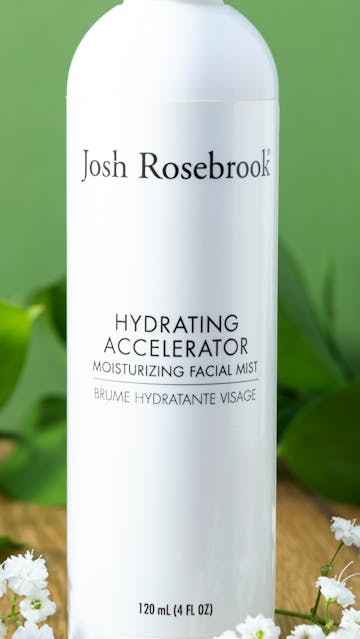 The Josh Rosebrook Hydrating Accelerator mist, my review:
On paper, the Josh Rosebrook Hydrating Accelerator Mist has it all!
The brand describes it as a versatile, liquid moisturizer. For me, clearly, it's an essence! And as you know, I'm a big fan of these liquid skincare products and I reviewed countless essences here on BTY ALY!
A good essence helps to boost the skin's hydration deeper and optimizes the absorption of the other products you use on top of it. That's exactly how the brand presents this Hydrating Accelerator Mist!
The plus of this product over a classic essence is clearly this mist format, which makes it a very pleasant product to use. The application is very nice, and if you add the aromatic scent of the product, it's definitely a real pleasure!
The texture is also insanely fine, especially if you think about all the natural oils it contains!
If you're a fan of products with the most natural composition possible, you might be interested in the Hydrating Accelerator Mist! The formula is entirely comprised of plant extracts, vegetable oils and essential oils, with just a little bit of vitamin E to prevent the formula from oxidizing.
As you know, personally, I have nothing against conventional cosmetics, I'm rather a fan of formulas that are a good mix between plant extracts and synthetic ingredients. I'm just interested in the effectiveness of the product in the end!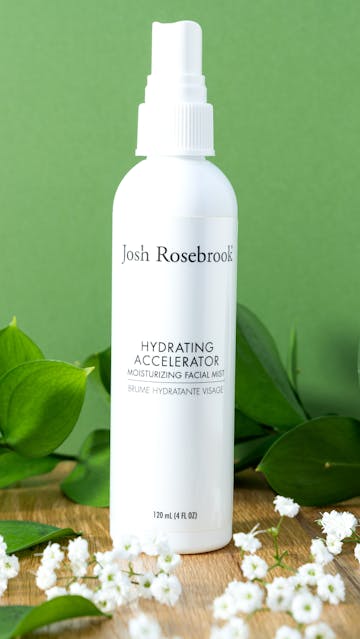 But unfortunately, I wasn't really convinced by the effectiveness of the Hydrating Accelerator Mist. With a name like that, I was expecting deep hydration, plumped up and juicy skin… Everything the brand promises and I can feel with most of my favorite Asian essences!
Sadly, the hydration is very superficial. I have to mist a ton of product on my skin to feel like I'm quenching the thirst of my dehydrated skin (and it doesn't last). When I think that I've read in some reviews that this mist could easily replace a moisturizer, I can't help but thinking that these people have probably never tried LANEIGE Skin Refiner Cream Skin Refiner for example!
Clearly, if I compare this product with my favorite Asian moisturizing essences, when it comes to hydration, there is no debate. They win the moisturization battle hands down!
Anyway, I'm going to finish this mist because I still find it very pleasant to use, but I probably won't repurchase it (besides, it's not really cheap).
In conclusion:
I'm disappointed! I really wanted to enjoy this mist so much. But I'm not gonna lie, it's a bit of a shame to be called "Hydrating Accelerator" and not fulfill the hydration part of the contract…
If you have tried this product and are happy with it, I would be very curious to know your skin type and if you already tried Asian essences? Let me know in the comments! 😉
The Josh Rosebrook Hydrating Accelerator mist retails between $35 and $45 for 120ml depending on the retailers.
Product Review in detail
Summary
Josh Rosebrook Hydrating Accelerator mist
"Our essential, multi-action product is a combination hydrator, toner, and a light moisturizer all in one. Organic vitamin-infused aloe water and fatty acids lower skin surface tension to effectively penetrate the stratum corneum and enhance delivery of hydration, antioxidants, and nutrients into the skin. By naturally filling cells with structured aloe water our Hydrating Accelerator assists to plump, firm, and increase circulation of vital plant actives. Rich antioxidants and fatty acids soften, boost skin structure, and reinforce the protective acid mantle barrier. Aloe and herbal anti-inflammatories calm, relieve redness, and help reset the skins natural healing ability while setting up the skin to fully receive effective moisturizing and available nutrients in serums, oils, balms, and creams."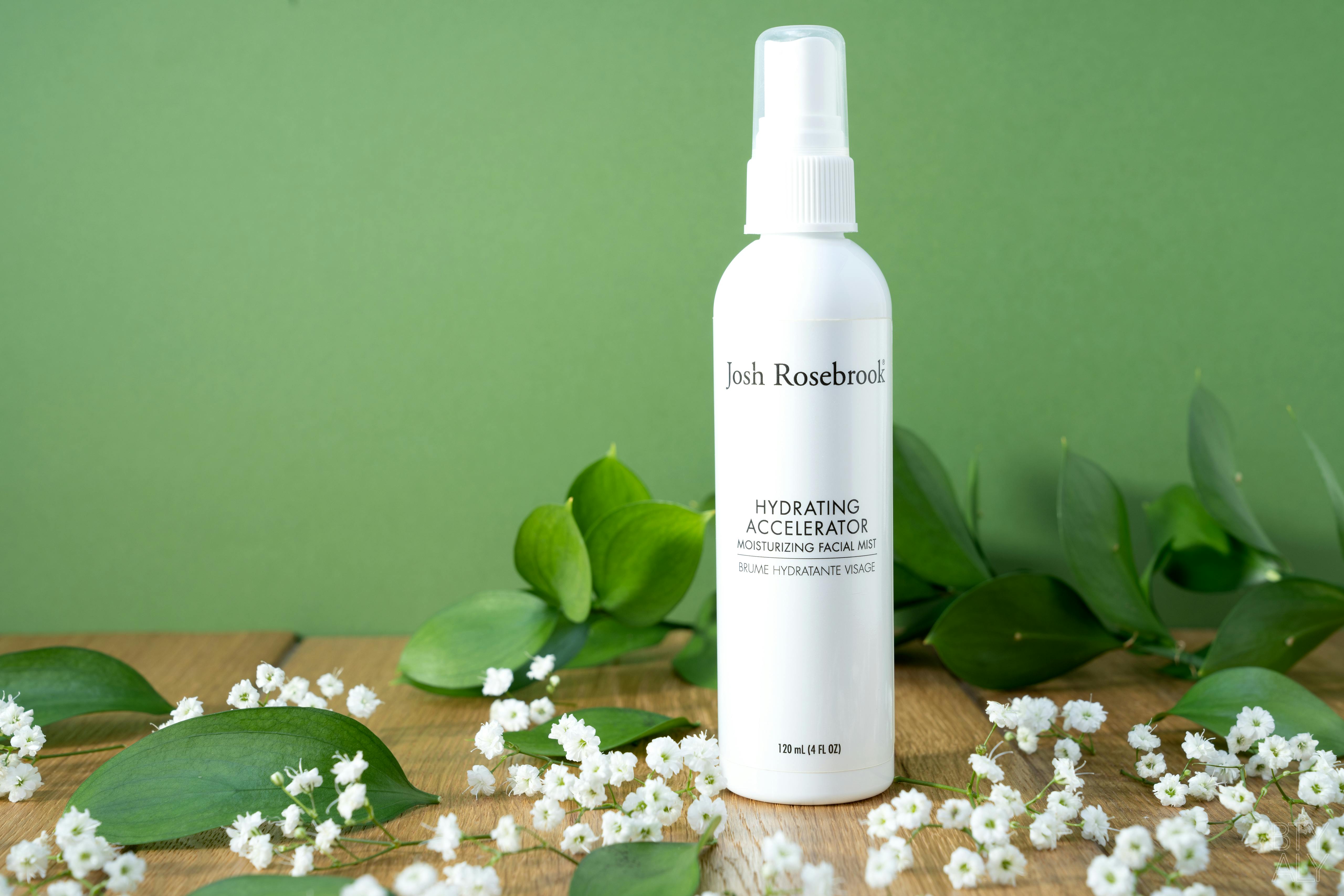 Recommendation
B-
Nice to use but not convincing hydration wise.
Pros
- the very natural formula,
- the packaging is easy to travel with, and easy to recycle,
- the aromatic and fresh scent, very spa-like,
- the very fine mist, it's very pleasant to use,
- the versatility of this product: you can use it during your skincare routine, throughout the day, to set your make-up, during a flight...
Cons
- the formula is quite long, and if you have sensitive skin, beware of irritating ingredients (such as essential oils for example),
- the packaging' feels a bit cheap, IMO,
- I wasn't convinced by its moisturizing effect (which is annoying for a product called "Hydrating Accelerator"),
- I find it expensive for a moderately effective product.
product name
Hydrating Accelerator
brand name
Josh Rosebrook
packaging
A white plastic bottle with a spray nozzle.
fragrance
It contains a lot of plant extracts and essential oils, so the scent is very aromatic.
texture
A very fine and pleasant mist!
For Who
– all skin types,
– dehydrated skin.
Method
I use the Josh Rosebrook Hydrating Accelerator mist morning and/or evening, on clean skin, after I've used a light exfoliating toner and my vitamin C serum, but before my other targeted skincare products (my serums and oils) and my moisturizer.
I apply it as a mist on my face, including my eye area and neck.
I then massage it into my skin, applying light pressure with the palms of my hands until the product is absorbed.
It can also be used just after showering to boost the skin, or during the day if the skin feels tight. It's also possible to use it to set your makeup, but I haven't tried it that way.
Key Ingredients
The list of active ingredients is really long! The formula consists entirely of plant extracts, vegetable oils and essential oils, with just a little bit of vitamin E to prevent the formula from oxidizing!
The main ingredients include:
– Aloe vera, which calms, moisturizes and soothes the skin.
– Jojoba, marula, borage, evening primrose, hemp, almond, grape seed, sesame and sea buckthorn oils: they have a nourishing and protective effect, and are also for the most part excellent antioxidants,
– soothing calendula,
– anti-oxidant goji berry extract,
– anti-oxidant, soothing turmeric that boosts the complexion's radiance,
– soothing licorice that also boosts the complexion's radiance…
There are also a lot of essential oils, so be careful if you are sensitive to these ingredients!
Ingredients
*Aloe Vera Leaf Juice, Vitamin Infused Water, *Jojoba Oil, †Marula Oil, *Evening Primrose Oil, *Hemp Seed Oil, *Borage Seed Oil, *Almond Oil, *Grape Seed Oil, *Sesame Oil, *Sea Buckthorn Oil, *Goji Berry, *Ashwaganda, *Calendula, *Black Cohosh, *Dandelion, *Fo Ti Root, *Alfalfa, *Bilberry, *Rosemary, *Turmeric, *Elderberry, *Raspberry Leaf, *Burdock, *Chamomile, *Rose Hips, *Eyebright, *Beetroot, *St. John's Wort, * Hawthorne Berry, *Chickweed, *Licorice, *Coriander, *Horse Chestnut, *Lavender, *Red Clover, *Olive Leaf, *Sage, *Thyme, *Vitamin E, *Vanilla Extract, †YlangYlang Essential Oil, †Rosemary Essential Oil, †Eucalyptus Essential Oil, †Bergamot Essential Oil, †Carrot Seed Essential Oil.
*CERTIFIED ORGANIC †ORGANIC §NON-GMO PLANT SOURCED
Ingredients not included
– mineral oil,
– silicone,
– alcohol,
– synthetic fragrance,
– dyes.