Intro
Discover my review of the LiftActiv Peptide-C Ampoule Serum, a vitamin C/ L-Ascorbic Acid based serum by the French pharmacy brand Vichy.
In 2020, I'm continuing my vitamin C serum trials! And this time, I'm heading over to France with a super interesting new product: the LiftActiv Peptide-C Ampoule Serum from the French pharmacy brand Vichy!
L-Ascorbic Vitamin C has been part of my daily skincare routine for several years now. This ingredient is one of the most effective in preserving the youthfulness of the skin and giving it radiance, in my opinion!
I've talked about it in each of my vitamin C serum reviews but it seems important to me to repeat my specifications / expectations for this type of products.
In a vitamin C serum, I'm looking for:
– a liquid, non-greasy, water-based texture, for better absorption and effectiveness on my combo skin,
– a formula that contains vitamin C L-Ascorbic (I prefer this ingredient to its derivatives, which are less effective on me),
– a sufficient concentration of L-ascorbic acid (between 10 and 20%),
– ideally, I prefer when there are other antioxidant ingredients in its formula (vitamin E, ferulic acid…) to make it more stable,
– a formula with a pH of 3.5 or less to ensure better stability of the formula,
– a bottle that protects the formula from air and light (no transparent glass),
– a good price, and a decent quantity of product (ideally 30ml) to be able to use it long enough to see an effectiveness, but without the product oxidizing (there is no point in having a 50ml bottle if you can't finish it because it has oxidised).
If I'm so picky, with all these criteria, it's because L-ascorbic acid/ vitamin C is certainly the most effective form of vitamin C but it's also the least stable in a water-based formula (which is the case for a lot of vitamin C serums). Therefore, if I choose a formula that isn't properly stabilized, it won't be effective at all, which would be a shame!
And that's also the reason why these Vichy ampoules caught my eye as soon as they were released a few months ago. Because typically, this ampoule format guarantees a fresh, stable and logically more effective formula.
So I tried a box of 30 ampoules and I give you my opinion!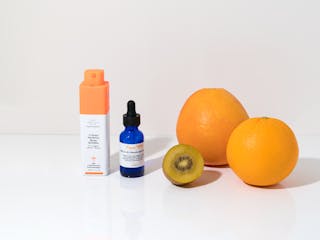 Ingredients
Focus on: Vitamin C (L-ascorbic acid)
Vitamin C (L-ascorbic acid) products are everywhere at the moment. It's not really surprising because this ingredient is really magic to give radiance to the complexion, the famous glow that everybody wants these days. But it's also a very unstable ingredient that needs a certain environment to be able to deliver all its benefits.
Read more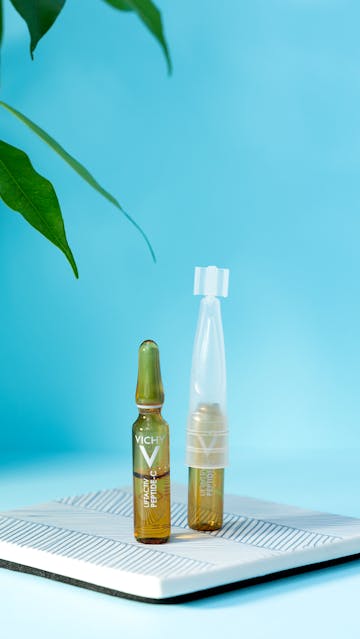 Vichy LiftActiv Peptide-C Ampoule Serum, my review:
I spotted the Vichy ampoules when the brand released them in France last October.
I jumped on it because it's quite complicated to find a good L-Ascorbic acid serum at a decent price and is available in France. If you can order in or from the US, Maelove or Timeless are great options, but if you're based in Europe or the Middle-East like me, good vitamin C serums are more expensive.
For now, the best option I found is from Paula's Choice, the C15 Booster, but it's still relatively expensive, especially for its size (20ml). The Drunk Elephant C Firma is also very good, but really, I find it pricey (and the texture can be too rich for me depending on the season).
And also, I really found the concept of the ampoule format interesting with a product that needs to be stable, to be effective.
Here, in fact, you have the guarantee of a fresh and stable product, which means maximum effectiveness with each use! And all of this without having to use any preservatives!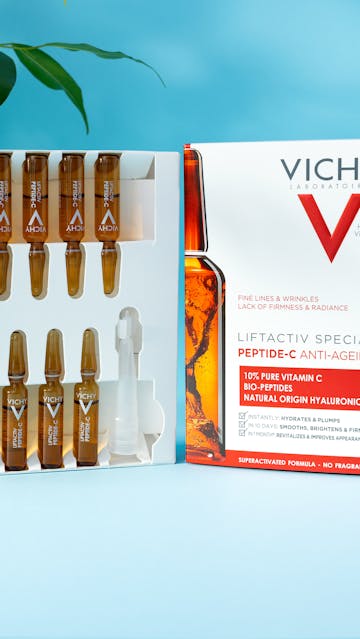 The price is relatively decent if you compare the products in terms of quantity. Each ampoule is very generous, 1.8ml, and can be kept for 48 hours.
The brand recommends to use a whole ampoule per day (1 ampoule makes 2 uses on the face, neck and décolleté, morning and evening). So at this rate, the box of 30 ampoules will last you one month.
But personally, I prefer to use only 1/2 ampoule per day, in the morning. The effectiveness is the same and it allows me to double my treatment time. A box of 30 ampoules lasts me 2 months, and allows me to treat my face, neck and décolleté.
The price is similar to the Paula's Choice Booster (which is 20ml), but you have more product with the ampoules (30 X 1.8 ml, it's almost double), and you can therefore treat more "surface".
Of course, there is also the advantage of a product that stays fresh throughout the whole treatment, which is not always a guarantee with other vitamin C serums, more exposed to air, and to oxidation after a few weeks of daily use.
From my experience with these ampoules, I must admit that you have to get used to it! Using them is definitely a different experience than using a conventional serum with a pump or a pipette.
As a former beautician, it wasn't the first time I used ampoules.
A piece of friendly advice: always use a tissue to break your ampoule, don't do it directly with your bare fingers! It's a bit too easy to cut your finger, I speak from experience…
Otherwise, in terms of results, I found them to be as effective as my other vitamin C serums. I still have that radiance and fresh complexion effect, thanks to L-Ascorbic acid!
If you want to know more about all the effects on the skin of this ingredient (and why I'm obsessed with it), I wrote a whole dedicated Focus On article about vitamin C/ L-Ascorbic acid 🙂
As for the anti-ageing effect, it's difficult to see them right away, it's more like a long term effect. Here, it's more about prevention (at least in my case, I don't expect more from it). The concentration of L-Ascorbic acid is lower than the serums I usually use (10% against my usual 15%) but there are anti-aging peptides that compensate.
The brand Vichy talks about a moisturizing effect, but personally, I prefer to add another moisturizing serum on top (#moreismore) because of my very dehydrated skin. For normal skin without dehydration, this should probably be enough as a 2 in 1 serum, I guess!
Of course, if you reading this in France or Europe, its big plus is that you can easily find it in your pharmacy, and I can see how that could tip the scales in its favour compared to other vitamin C serums! 🙂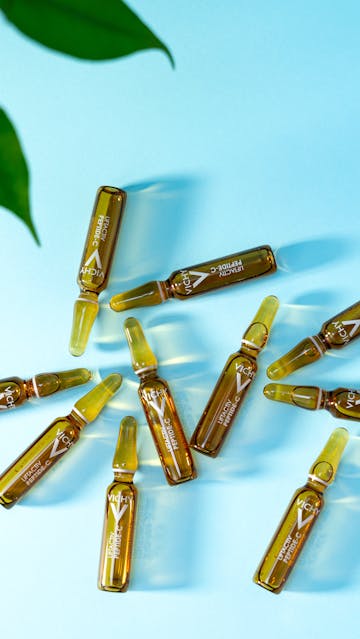 In conclusion:
An effective, decent priced and easily accessible vitamin C serum in France and Europe, that's what Vichy LiftActiv Specialist Peptide-C Anti-Ageing Ampoules are!
As a side note, of course, ampoules are a bit different to use, and it's a new habit, but you get used to it very quickly.
The Vichy LiftActiv Peptide-C Ampoule Serum retails between $50 and $60 for 30X1.8ml, depending on the retailers.
Product Review in detail
Summary
Vichy LiftActiv Peptide-C Ampoule Serum
"During life's stressful moments, Supercharge Your Skin with LiftActiv Peptide-C Anti Aging Ampoule Serum to reignite radiance and reduce wrinkles. This dermatologist tested daily dose is a highly concentrated formula of 10% Pure Vitamin C, Natural Origin Hyaluronic Acid, Phyto Peptides and Vichy Mineralizing Water targeting fine lines, wrinkles, lack of firmness and radiance. Fragrance-free. Preservative-free. Minimalist formula with 10 ingredients."
Recommendation
A
A good option for a vitamin C serum!
Pros
- the 10% concentration of vitamin C L-ascorbic acid,
- the low pH which allows the formula to be effective (around 3.0),
- the presence of peptides to strengthen the anti-aging action,
- it doesn't dehydrate the skin (presence of moisturizing active ingredients in the formula),
- it protects the skin thanks to its antioxidant effect,
- it gives radiance to the complexion,
- it also helps to smooth the skin texture,
- I appreciate its protection boosting effect when it's combined with a sunscreen product,
- the super-liquid texture is easily absorbed, even with my combination skin,
- the packaging in ampoules to preserve the freshness of the formula and avoids the need for preservatives,
- no dyes and no fragrance in the formula,
- it's easily accessible in Europe.
Cons
- it's still a bit pricey,
- the ampoule packaging is not the most practical and quickest to use in the morning,
- the packaging produces a lot of waste (even if everything is recyclable),
- the plastic tip tends to break after a few days of use.
product name
LiftActiv Peptide-C Ampoule Serum
packaging
A cardboard packaging containing 30 breakable ampoules and 3 plastic applicator tips.
fragrance
Fragrance-free but it smells like "bacon water".
texture
Very liquid and watery.
For Who
– all skin types, including the most sensitive,
– tired, dull skin, smokers or people living in a highly polluted environment,
– skins with uneven texture,
– skins with hyperpigmentation,
– skins with a lack of firmness and elasticity.
If you have acne prone skin, just be aware that vitamin C can sometimes trigger a reaction. It may vary according to people. I personally have acne-prone skin and this product didn't make me break out.
Concerns
– tired skin
– lack of radiance
– smokers
– skins exposed to pollution
– mature skin
– lack of firmness
– wrinkles, fine lines
– scars
– pigment spots
– hyperpigmentation
– if the skin is exposed to UV (but you have to pair it with a sunscreen)
Method
I use it every morning on my face and neck after I have cleansed my skin with a low pH foaming cleanser and toned my skin. Usually, I wait a few seconds for my face to dry a little because the skin moisture can decrease somewhat the effectiveness of vitamin C.
I apply around 1/2 ampoule to my face, neck and décolleté, massage it slightly and I let it absorb for a few minutes before carrying on with the rest of my routine. The brand recommends repeating this procedure morning and evening, but since vitamin C is effective for 72 hours, I prefer to use it once a day only (and for economic reasons as well).
I particularly appreciate that it absorbs very quickly in my skin because I layer several skincare products in my routine, so I really like this very liquid texture.
Key Ingredients
The formula of this serum is very short (only 10 ingredients) and each ingredient has its importance. Inside, you can find:
– Vichy mineral water: soothing and remineralizing.
– 10% of L-ascorbic acid: a powerful antioxidant ingredient that helps reduce hyperpigmentation and boosts collagen production. In general, I use serums concentrated at 15% vitamin C but Vichy is targeting sensitive skin users. Having said that, I have nevertheless noticed that my skin reacts very well to these ampoules, especially regarding the radiance of my complexion.
– Two bio-peptides (Lupin Polypeptide, Rice Protein Oligopeptide): anti-aging effect.
– Low molecular weight hyaluronic acid: deeply moisturizes the skin, reduces the appearance of fine lines and wrinkles.
– Glycerin: a humectant active ingredient, which keeps the skin's natural moisture.
The formula also has an acidic pH (3.0) which allows vitamin C to be more stable and effective for longer. Despite this acidic pH, I didn't feel any irritation when I was using it.
Ingredients
Aqua/​Water, 
Ascorbic Acid, 
Butylene Glycol, 
Dipropylene Glycol,
Glycerin, 
Sodium Hyaluronate, 
Hydrolyzed Rice Protein, 
Hydrolyzed Hyaluronic Acid, 
Hydrolyzed Lupine Protein, 
Pentylene Glycol.
Ingredients not included
– alcohol,
– mineral oil,
– silicone,
– fragrance,
– dye.