Intro
My thoughts about an innovative product from the Korean skincare brand LANEIGE, the Cream Skin Milk Oil Cleanser. I will explain the concept and tell you more about my experience with it!
A little over 2 years ago, LANEIGE launched an innovative essence so moisturizing that it could even replace a daily moisturizer. Soon after, in the same range, the brand pursued its commitment to simplify our routines with its Cream Skin Milk Oil Cleanser, an oil in a milk formula. I tell you more about this special cleanser/makeup remover below !
Apparently, Korean beauty consumers are tired of long and complex routines and want simplicity in their bathrooms!
I'm joking! In reality, their skincare routines are not as long as we were led to believe! But it's true that in Asia, generally, double cleansing in the evening is a common practice. This makeup removal + cleansing process in two steps allows you to be sure that your skin is completely free of all impurities, sunscreen filters, makeup and pollution!
But since then, the "skip-care" trend started (I talked about it in detail in my LANEIGE Cream Skin Refiner Toner review if you're curious), and consumers believe that if you can achieve the same result with only one product, then the less the better!
A little while ago, driven by my desire for gentleness during the cleansing step, I decided to try a lot of different cleansing milks. These tests were not always successful, but it pushed me to look at different cleansing products than the ones I was used to.
The LANEIGE's Cream Skin Milk Oil Cleanser was one of the cleansing milks that was on my radar, so I tried it last Fall. Let me tell you more about it!
Skincare
Review: LANEIGE Cream Skin Toner & Moisturizer
A product as liquid as water to replace your moisturizer? This is the claim of the Korean brand LANEIGE, with its Cream Skin Refiner, a product so innovative and popular right now in Korea that the brand is struggling to keep it in stock!
Read more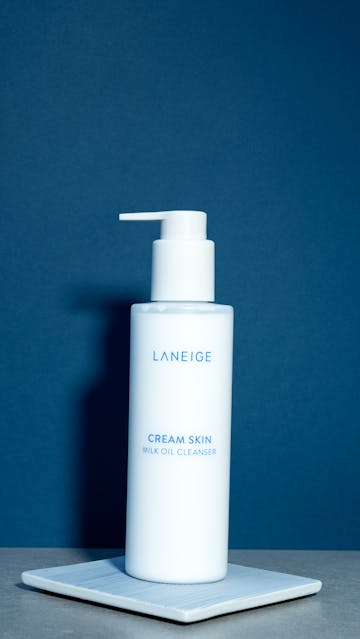 LANEIGE Cream Skin Milk Oil Cleanser, product presentation:
I talk about it often, the cleansing/makeup removal step is essential in a good skincare routine! A beautiful skin ALWAYS starts with a clean skin.
A clean skin is great, but a clean skin with a healthy skin barrier is better!
Of course, with their facial cleanser, consumers want efficiency, a clean skin, free of impurities. But they also want gentle products. A clean skin is great, but a clean skin with a healthy skin barrier is better!
Usually, in a facial cleanser, I always look at the same things in the formula:
– the cleansing ingredients they use (I prefer the gentle ones),
– the pH of the formula (which I prefer a little acidic, around 5.5 is ideal),
– and if the formula contains moisturizing and/or nourishing ingredients, I'm definitely interested!
Based on these criteria, I can be confident that I'm dealing with a product that won't destroy my skin barrier! These specifications are even more important right now, with my tretinoin treatment…
The LANEIGE's Cream Skin Milk Oil Cleanser ticks all these boxes, that's why I wanted to try it!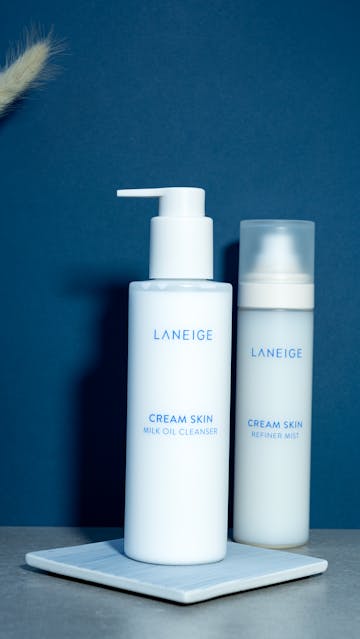 But I was also intrigued because it's no ordinary face cleanser, it's different from the others…
Basically, this LANEIGE cleanser can be used as a makeup remover and/or a non-foaming facial cleanser.
The concept is not really unique, I know. Any slightly oily cleansing milk or cream can also provide the same effect. But what makes the difference here is its texture. It is fluid like a cleansing oil and fresh like a milk! It really is a perfect in-between texture!
It can also be used in several ways:
– like a cleansing oil, especially if you wear a light makeup or just your sunscreen that you want to remove at the end of the day (it doesn't work great on heavy makeup and waterproof products though),
– or as a gentle, non-foaming cleanser in the morning, for example, or as a second step in the evening, after you removed your makeup.
Its formula is fairly simple and based on a few nourishing and antioxidant ingredients ( you can find the details of the ingredients list in the product details section below), but also a lot of gentle emulsifiers that give this product such a unique texture and gentle cleanse of the skin.
It is fragrance-free and suitable for sensitive skin.
The packaging is like the rest of the Cream Skin range, very clean and minimalist. And it has a pump which is always appreciable!
LANEIGE Cream Skin Milk Oil Cleanser, my experience:
I started this LANEIGE cleanser this Fall, and I just finished my bottle (knowing that I don't use it every day, but I still used it regularly).
I really like to use it in the evening, for those days that I don't wear makeup (or only lightly). I apply it in the same way as my make-up remover oil, on dry skin, and I massage it for a minute to dissolve impurities and sunscreen filters.
Because of its texture, you still need a little more than a classic cleansing oil (3 pumps for me in general). It's very pleasant to massage, there's a sensation of softness and freshness that is really enjoyable! I loved to use it in early Fall when it was still very hot here (I think it's a great summer product if you live in a temperate climate).
It doesn't emulsify like an oil, you can rinse it directly. After rinsing, the skin is clean and fresh but still comfortable!
If you want, you can make a second pass with it, even if the skin is wet, it still works. Or you can use another cleansing product afterwards, it's up to you.
On the LANEIGE's website, the brand still recommends using it twice if you only use this product and I agree, especially if you wear sunscreen and/or a little makeup.
I don't consider it as a 2-in-1 product in the sense that it "does the double cleansing in one pass" but rather in the sense it "can be used as a makeup remover and/or a cleanser".
I also tested it in the morning, used as a gentle cleanser, and I really like it, especially now that it's colder here (14 degrees Celsius in the morning, chilly 😆). Especially if I need a little more comfort than usual. It feels very nice!
As for the price, it's a bit more expensive than a basic cleansing milk, but hey, it's a bit different too, so I guess it comes at a price… 😉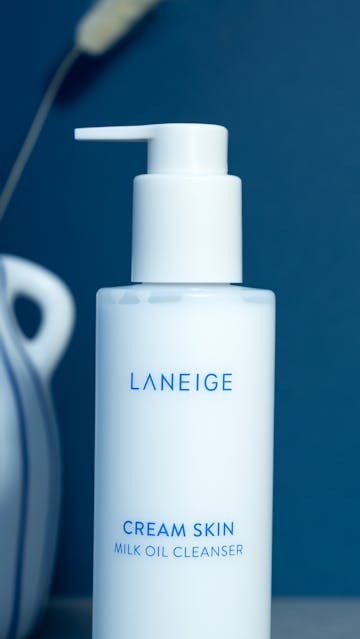 In conclusion:
In short, it's a good product IMO! I really appreciate its gentleness and I find that its unique texture makes it very "plush".
If I had to complain about something, it would be that it's not very effective for heavy (and/or waterproof) eye makeup removal, but hey, since I don't do makeup every day these days, this cleanser still found its place in my routine!
The LANEIGE Cream Skin Milk Oil Cleanser retails for $35 for 200ml.
Product Review in detail
Summary
LANEIGE Cream Skin Milk Oil Cleanser
"A gentle, mildly acidic cleanser that gently melts away makeup and impurities, leaving skin soft and refreshed without being stripped of moisture."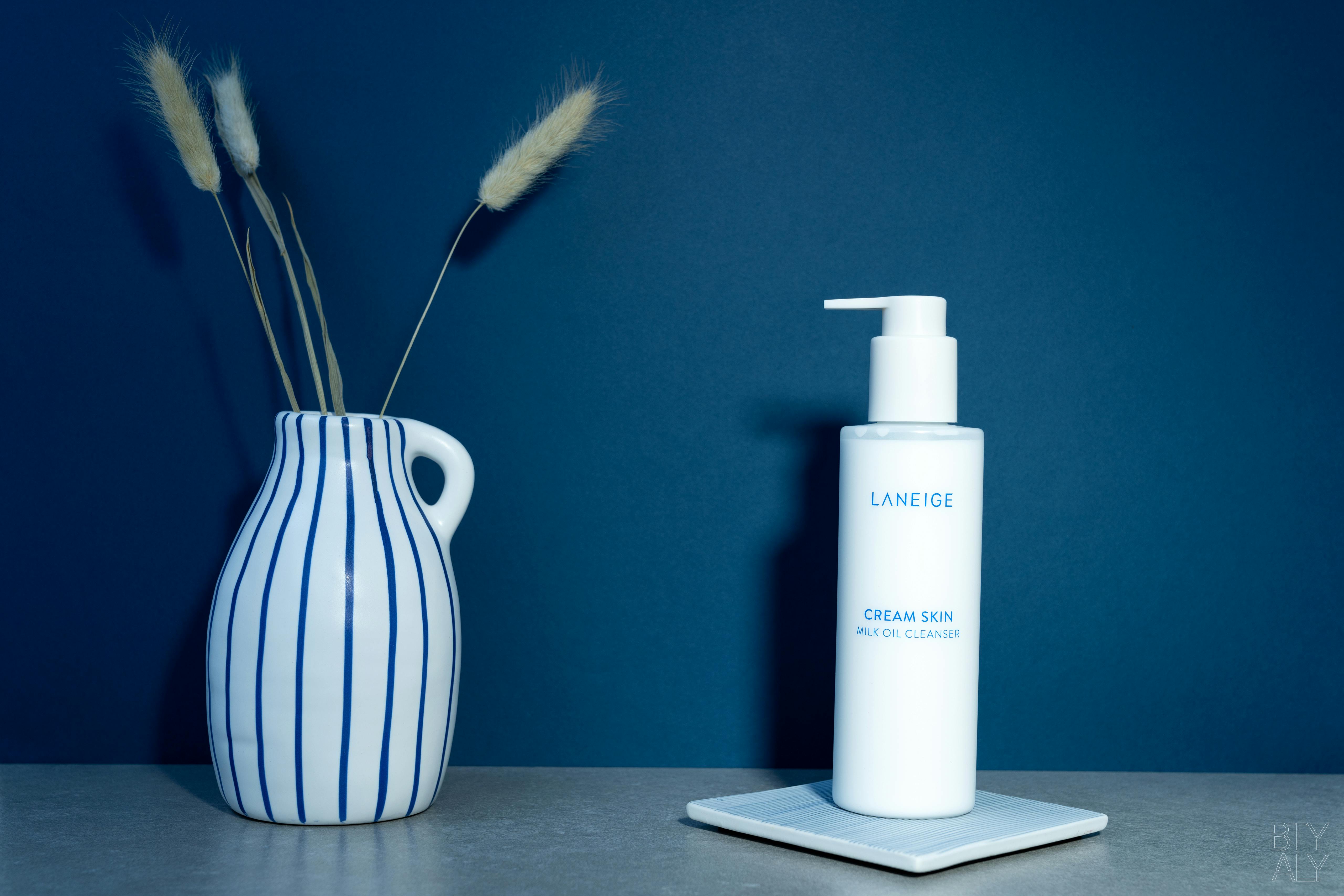 Recommendation
A
If you like innovative textures!
Pros
- the texture is very innovative: a cleansing oil in a milk-type format, fresher than an oil but with the smoothness of a milk,
- the simple and effective formula,
- the versatility of this product means, it can be used in many ways,
- the fact that it's suitable for sensitive skin (mild ingredients, and no fragrance),
- it's suitable for all skin types,
- it's very easy to rinse,
- it leaves the skin very comfortable (but not feeling greasy).
Cons
- it's not effective if you wear a lot of makeup, it doesn't work on waterproof makeup either,
- I find that you have to use quite a lot of product ( at least 3 pumps) to be able to massage it pleasantly on the skin, so the bottle will be empty pretty fast if you're using it everyday,
- the quantity/price ratio is not the best.
product name
Cream Skin Milk Oil Cleanser
packaging
A white transparent plastic bottle with a pump, very minimalist and pure.
fragrance
It's fragrance-free.
texture
A very liquid texture of milk in oil, quite fresh.
For Who
All skin types, all ages.
Concerns
– makeup removing/ cleansing of the skin,
– lack of comfort,
– dryness,
– people who want to minimize their routine.
Method
I use the LANEIGE Cream Skin Milk Oil Cleanser in two different ways:
– either instead of my cleansing oil, as the first step of my double cleansing in the evening. This is only on days when I don't wear make-up (or with very light makeup).
– or in the morning, as a very gentle moisturizing cleanser. It's great to use if I wake up with a tight skin.
In both cases, I take 3 or 4 pumps of product from my hands and massage it into my dry (or slightly humid) skin for about 1 minute. I use it on my face and neck. I then rinse it with warm water (no need to emulsify with this product) and dry my skin before proceeding with my skincare routine.
Key Ingredients
The formula is quite short and doesn't contain a lot of active ingredients. The main ones:
– Meadowfoam Seed Oil and Jojoba Oil: emollient ingredients. They soften, protect and help the skin retain its moisture for a long time.
– White Leaf Tea Water: This water is very rich in amino acids and has the property of strengthening the skin barrier. Ideal for dry and/or sensitive skin!
– Glycerine: a moisturizing ingredient.
– Vitamin E: an antioxidant, to protect the skin from premature aging.
The rest of the formula is composed of emulsifiers, which allow this product to have such a unique texture and to cleanse the skin gently.
Ingredients
Water/​Aqua/​Eau, Hydrogenated Polyisobutene, Triethylhexanoin, Dipropylene Glycol, Isododecane, Caprylic/​Capric Triglyceride, Polyglyceryl-3 Distearate, 1,2-Hexanediol, C12-14 Pareth-12, Glyceryl Stearate, Sodium Stearoyl Glutamate, Polyacrylate Crosspolymer-6, Glyceryl Stearate Citrate, Simmondsia Chinensis (Jojoba)Seed Oil, Limnanthes Alba (Meadowfoam) Seed Oil, Xanthan Gum, Citric Acid, Caprylyl Glycol, Ethylhexylglycerin, Disodium EDTA, Propanediol, Camellia Sinensis Leaf Extract, Butylene Glycol, Glyceryl Caprylate, Polyglyceryl-10 Stearate, Glycerin, Inulin Lauryl Carbamate, Tocopherol.
Ingredients not included
– alcohol,
– silicones,
– fragrance,
– dye.