Intro
What's new in the beauty world for 2019?
I love to analyze cosmetic trends, and I definitely plan to continue to do so in 2019! And I also really enjoy trying to guess what is coming ahead in the upcoming months in the beauty world. So let's gaze into a crystal ball to see what 2019 has in store for us regarding skincare and makeup…
With brands that pop up every day on the market, non-stop launches popping up all the time on social media, the beauty industry is definitely flourishing with new trends.

In 2018, the least you can say is that it was hard to follow because things were changing so much! It was quite overwhelming and this uninterrupted flow of new products could have caused a certain weariness with consumers.

The beauty industry will, therefore, have to be more inventive in 2019 if it plans to continue seducing its audience.

Personalization will also be a keyword this year, with consumers who want products that look like them.

Indeed, while trends such as inclusivity and diversity certainly marked 2018, they will undoubtedly continue to strengthen in 2019, as well as a real desire for more environmentally friendly beauty.

Beauty is finally becoming more ethical and it's about time!
Let's take a closer look at 9 beauty trends that will undoubtedly mark 2019!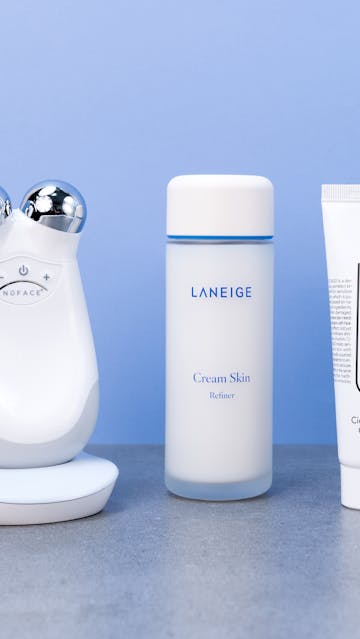 More diversity and inclusivity:
There was clearly a "Fenty Beauty" effect last year! Cosmetics seem to no longer be reserved for an elite usually young, rich and predominantly white.
Over the past two years, the cosmetics industry has finally begun to show more diversity. There's still a lot to be done and not all brands are yet meeting everyone's needs with wide colors ranges and marketing that takes into account ethnicity, gender, and age, but the movement is now underway and it was about time!
From now on, especially for the launch of base makeup products, the range of shades will be as wide as possible so that all skin tones can find something are covered. What had only been a prerogative for professional makeup brands for years will now be the new standard, regardless of the distribution network.
Mass retail brands will gradually start to do the same; this is already the case in the US with Cover Girl and Maybelline, both of which have very wide ranges of foundations.
More transparency regarding product formulas:
This trend probably won't surprise you a lot! Brands that adhere to transparency when they communicate about the ingredients they use in their products will clearly be the winners in 2019.
Consumers are more informed about ingredients, they now refuse to accept speeches that look like pure adverts, forcing brands to be more honest and transparent about what they put in their formulas. Brands that explain and "educate" their consumers through social media in particular, will be the most popular in 2019. New brands such as Drunk Elephant or Deciem, but also older ones like Paula's Choice use this way to communicate with their clients on their Instagram and their audience really appreciates it!
Natural brands have in most cases also adopted this approach even if some still tend to play on consumer fears rather than inform them (I would love to see the end, in 2019, of the stupid "non-toxic" movement I told you about in this article).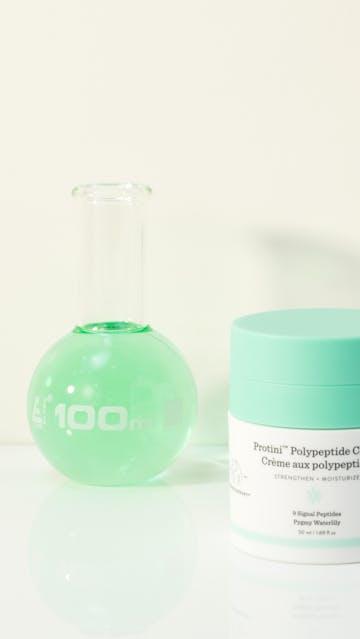 Less waste, more sustainability:
With this very legitimate consumer pressure, the beauty industry is now starting to look at new packaging strategies to reduce the impact of plastic pollution, and cleaner formulation methods, including using less water.
You'll probably see more and more products without packaging (the English brand Lush has been doing so for a long time now, with its soaps in slices and its solid shampoos, for example) and more recyclable packaging, or using materials that have already been recycled. Rechargeable packaging is also super popular, and this initiative has been well executed by high-end brands, such as for example, the make-up brand La Bouche Rouge, which has created refillable, plastic-free and highly desirable lipsticks! I'll talk more about them in the future 😉
This approach can also be more affordable with concepts of beauty shops without any packaging, where you can pay for your cosmetics by weight such as the shop Eco + Amour in Canada! For consumers, being more environmentally responsible, doesn't necessarily mean paying more, and the brands that understand it will be praised in 2019.
The "water-free" trend is also on the rise. Water is the most widely used ingredient in the cosmetics industry, and within a few years, the demand for water may exceed the supply. I talked about it in detail in my article Tendance: water-free cosmetics if you are interested in the subject 😉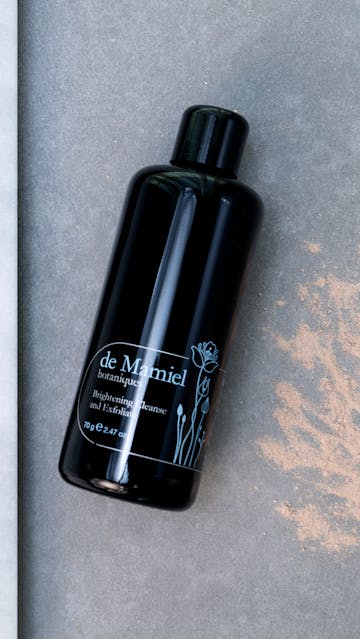 More minimalist and well-thought-out skincare routines:
Reducing your environmental impact also means changing consumption habits with fewer purchases of cosmetic products, or at least better thought out purchases.
The trend towards complex multi-step skincare routines, inspired by Asian Beauty, is declining. Even in South Korea, where this approach originated, there is now a lot of talk about the "skip-care" trend, a routine where you focus on the essential and skip unnecessary steps.
But this more minimalist approach to beauty doesn't mean that the routine has to be basic.
The 2019 minimalist skincare routine may consist of using fewer products, but these are definitely more targeted, with higher concentrations of effective ingredients and innovative hybrid textures.
In Korea, there are more and more "liquid creams" kind of products, which can tone, moisturize and protect the skin. These look like a liquid milky essence that can replace 3 steps in your skincare routine (essence, serum, and moisturizer), using multifunctional ingredients, effective on the skin in several levels. Two examples I'll talk more about when I try them (because obviously, I already ordered them!): the Laneige Cream Skin Refiner et the Dr Jart+ Ceramidin Cream Mist, both very popular in South Korea.
In short, this minimalist skincare routine is more results-oriented and has the added benefit of not cluttering up the bathroom or the recycling bin!
Clearly, if you read my article about my skincare routine, you already know that I'm not that minimalistic in my approach. But I totally understand the appeal and I'm watching this trend with great interest!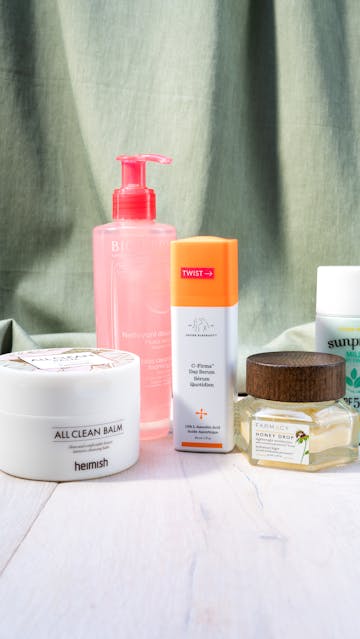 The "low-buy" trend on social media:
This trend is not new, but there has clearly been a spike since January 1st, especially on social media. The same social media where there used to be more discussion about the last product launch you absolutely #need or #shelfie contests (a photo of the content of your bathroom shelf), is now also a place for consumers to support each other in this approach of buying fewer products and resisting the urge to buy every new cosmetic release.
A new term appeared last year, "beauty fatigue", which expresses consumer fatigue with regard to this continuous outpouring of new cosmetic products, with new makeup collections every week, for example (if only one brand should be mentioned, I'm thinking about ColourPop; I don't know about you but personally, I can't keep up with their new releases anymore).
The #lowbuy movement has even infiltrated influencers who encourage to buy less and clearly, the ones who talk about this topic resonate more with people at the moment. Even some of the biggest beauty gurus in the United States asked to stop receiving PR products to reduce waste. They now prefer to buy their own products to come back to a more authentic approach, guided by desire and passion for cosmetic products. This YouTube video from the Canadian influencer Samantha Ravndahl, in particular, where she announced her decision to stop receiving PR products, received a lot of positive feedback from viewers.
This comeback to more authenticity among influencers (if it really happens) is definitely great news. Personally, I've always preferred and championed talking about the products I've been buying myself from the beginning! Having the same shopping experience as my readers is super important to me.
Indeed, I always found that influencers who receive entire makeup or skincare collections (usually without even asking for them) are less inclined to give an authentic review of these products, especially regarding the buying experience (because they can't really tell). Their reviews can also be influenced by the brand communication. Influencers usually receive a detailed description with key selling points with the gifted product. And it's super tempting to just regurgitate this communication verbatim when they do a review. It's often rare to see influencers making the effort to do their own research about the products they receive in order to provide better information to their audience.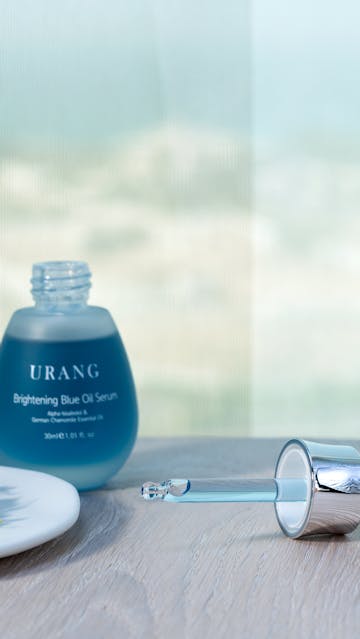 Ingredients to treat highly stressed skins:
With consumers increasingly aware of highly effective anti-aging skincare ingredients such as vitamin C, acids and retinol (the latter will be everywhere this year) and more and more stressed skins as a result (these actives can be overused), another trend emerged in 2018 and will continue to grow in 2019: the explosion of skincare ingredients able to soothe the skin with the boom of the "Cica" trend that I told you about in detail in a dedicated focus on Cica trend article.
These "Cica" products based on Centella Asiatica are perfect to calm skin reactions, whether they manifest themselves as redness, dry patches or irritation caused by strong anti-aging treatments.
This trend, which started in South Korea, will undoubtedly continue in 2019 with more and more "Cica" products in all price ranges!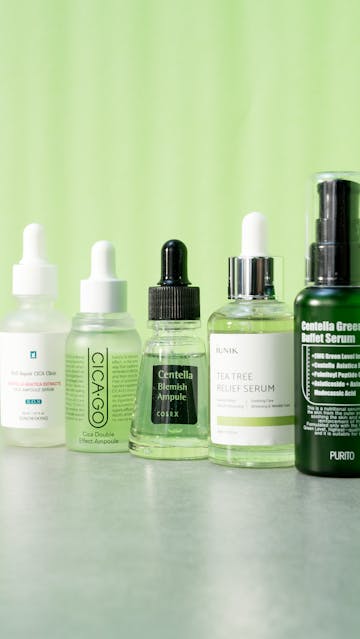 Some bacteria to fight the harmful effects of pollution:
Pollution is very harmful to health in general, and it also causes skin damage because of micro-particles, which, among other effects, significantly accelerate skin aging. To fight it, cosmetics are increasingly using skin care products containing bacteria, probiotics, yeasts and other fermented ingredients that benefit our skin's bacterial flora and allow the skin to better defend itself against these daily agressions.
The trend is not exactly new, but the progress of microbiome studies (= all the micro-organisms living on and in the human body) put a new spotlight on these specific ingredients.
The preservation of good bacteria to help optimize the immune function of the skin will be a major trend in 2019 with products using the benefits of probiotics in particular, but also fermented ingredients that I told you more about in a focus on fermented inegredients article last year.
One example, is the French brand Gallinée. Its main concept is to restore the balance of your microbiome and the brand is becoming super popular in Europe. In South Korea, the skincare brand Missha also just reformulated its best-seller Time Revolution Night Repair serum to include even more probiotics in its formula. It's now called "Night Repair Probio" (I intend to try it this year, so keep your eyes peeled!).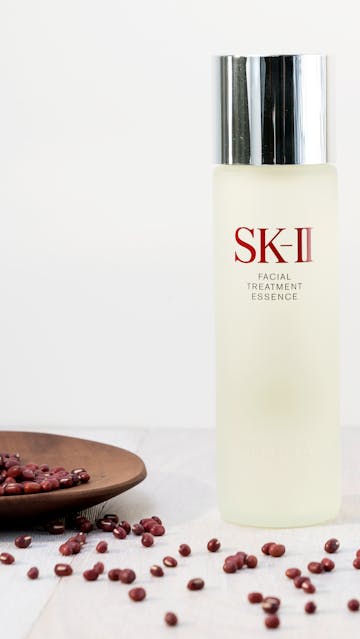 More at home and connected beauty devices:
The market for beauty devices is booming, with consumers who are investing in their skin like never before and who are fans of practical, and if relevant connected solutions, that can be used in the comfort of their own home!
If 2018 was the year of "face rollers", these small rollers that you can use to massage your face, with the explosion of the very Instagram-friendly "jade rollers" and others "derma rollers", the 2019 versions will clearly be much more technological and connected ones!
You'll see more LED light devices (like LED facial masks) in the future, and facial massage devices are now equipped with micro-current to stimulate facial muscles.
And for more personalized solutions, you can even use small, smart and connected devices to measure the effectiveness of your cosmetics products, track your skin progress and even perform real-time diagnosis, directly from your mobile phones!
Wayskin had already been providing this service in Korea for a few years and now, you can also see it in the US with Neutrogena and its Skin360, a sensor-based device with an app to download onto your phone to measure your skin's moisture level, pore size, wrinkles and fine lines over time.
LaRochePosay also just announced the release a small sensor to place on your skin to measure your own skin pH (it will also be paired with an app that will recommend products to rebalance your pH if necessary). The pH of cosmetics can indeed affect the physiological balance of the skin, so this type of approach can be very useful for sensitized skins.
In short, in 2019, technology will provide a lot of personalized beauty solutions!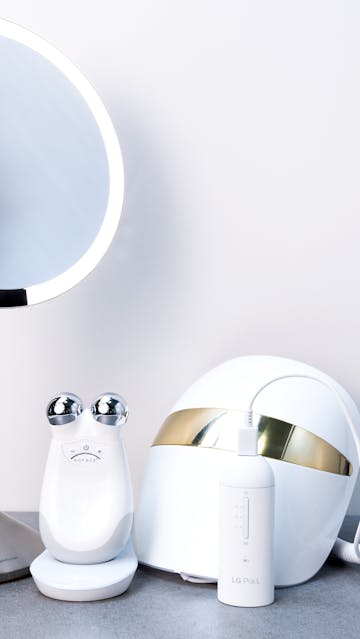 An effortless makeup look, glossy and super shiny:
Natural complexion will be the focus of the 2019 makeup looks with pure and luminous skin, the "glass-skin" (or "honey skin") trend still has a bright future ahead of it! For contouring, on the other hand, it's the end of the road.
The complexion will be glowy but also quite sheer coverage, with base products that provide much less coverage than in recent years. You'll see many "glossy" finishes with even the appearance of new textures such as "foundation oils". You can already find some in natural brands such as Kosas, that blur the lines between care and color.
Along with this "pure" complexion, the color will be in the spotlight on the eyes and/or lips with bold colors accents, sometimes made easier to wear in your everyday life with "glossy" textures, which are also very popular at the moment, for lips and eyes.
Ultra-shiny eyelids are trending in 2019 and not only on the catwalks! You'll see many iridescent and even holographic textures in brands that are usually not into these kinds of effects. For example, Laura Mercier just released limited edition holographic colors for spring of their famous Caviar Stick eyeshadows (the Caviar Stick Beam and Rush which look stunning!).
And for lips, matte is on its way out (although comfortable matte textures are still quite popular) and semi-sheer balmy textures will be everywhere this year, as well as super glittery finishes! The brand new lipgloss byFenty Beauty, Fu$$y, a super pretty glittery pink shade, is probably one of the most desirable lip products at the moment (of course I already bought it!).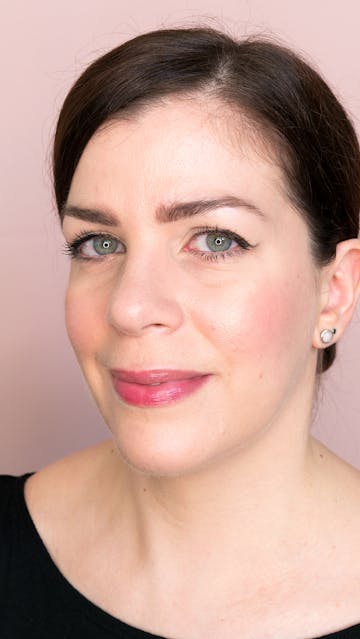 In conclusion:
Of course, I haven't listed everything and there will probably be many other "surprise" trends for 2019 (I don't know about you but I'm feeling a comeback of green and bold red eyeshadows, I don't know why 😉 ).
How do you feel about these upcoming beauty trends? And what are your beauty predictions for 2019?