Intro
My test and thoughts about the very popular Toleriane Dermo Milky Cleanser from the French skincare pharmacie brand La Roche Posay .
Today, I'm going to discuss a French pharmacy classic, which is probably one of the most popular cleansing milks out there, especially among people with sensitive skin! I tried the famous Toleriane Dermo Milky Cleanser from La Roche Posay and these are my thoughts!
I mentioned it a few weeks ago in my review of the Sioris Cleanse Me Softly Milk Cleanser, I've been testing several different cleansing milks at the moment.
I use them as a gentle morning cleanser, not to remove my makeup (usually, cleansing milks are not so effective in removing long-lasting makeup and the several layers of sunscreen I use every day).
I started using tretinoin a few months ago and I have to treat my usually combo skin like a dry and fragile skin while it adapts to this ingredient (which can take quite a long time, as I mentioned in my dedicated Focus article on Retinol). This requires a bit of adjustment in my skincare routine, as you can imagine!
I used to swear by foaming cleansers in the morning, but I had to switch to cleansing creams, then recently to cleansing milks.
So, I'm experimenting with a lot of them! And when I asked for recommendations on my Instagram, I heard a lot about La Roche Posay Toleriane Dermo Milky Cleanser! It's apparently overwhelmingly popular among people with sensitive skin, but not only just them.
It was not difficult to find, since it is sold in pharmacies in Dubai too 🙂
I give you my review of this cult favorite skincare product from the French pharmacy!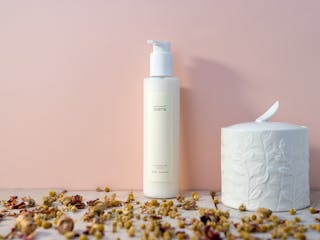 Skincare
Review: Sioris Cleanse Me Softly Milk Cleanser
For the past few months, cleansing milks have made a huge comeback in my bathroom, after being left aside in my facial cleansing ritual for at least 10 years! When I requested cleansing milk recommendations on my Instagram account, the Sioris Cleanse Me Softly Milk Cleanser was one of the top suggestions. So I decided to give it a try and share my thoughts about it here…
Read more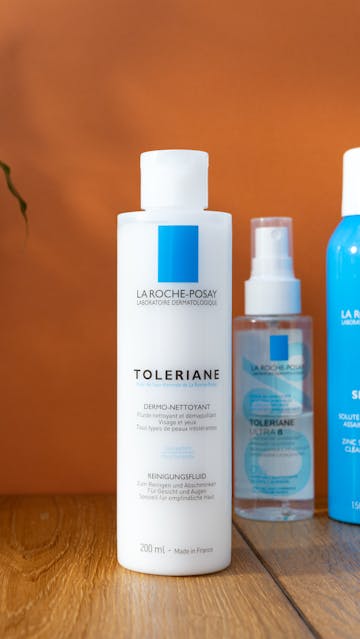 La Roche Posay, a story of French water:
I wondered if it was worth presenting La Roche Posay, a famous French brand of pharmaceutical skincare products, and then finally, I thought it might be fun to go back over a few lesser-known details!
So it all started with a knight in the Middle Ages (yes, I swear!). During one of his journeys, this knight stopped at a source with his horse to drink. The horse, that suffered from eczema and was probably too hot, decided to take a dip in the spring and came out with its skin healed. OK, this is a medieval legend but there's probably some truth in it!
As you may have gathered, this source was the one in La Roche Posay, located in the New Aquitaine region in France.
In France, people know a good deal about the therapeutic virtues of thermal waters, which can cure many diseases, and the whole world envies French people for our thermal treatments reimbursed by the French Social Health Department (la Sécu!)! I once told this to an American girlfriend and she didn't believe me: "So the French State reimburses you for your stay at the spa! How come?"
La Roche Posay water is a spring water, naturally very rich in selenium, which has many therapeutic virtues in dermatology. It's particularly effective at soothing irritated skin and treating skin diseases such as eczema, for example. Recognized as an official public utility in 1869, it became the first European thermal center exclusively dedicated to skin diseases.
The cosmetic brand arrives much later, in 1976. From its beginning, its dedicated to treatments for sensitive skin, highlighting the high content of La Roche Posay's thermal water in its products.
In 1989, the brand was acquired by L'Oréal and is now distributed worldwide!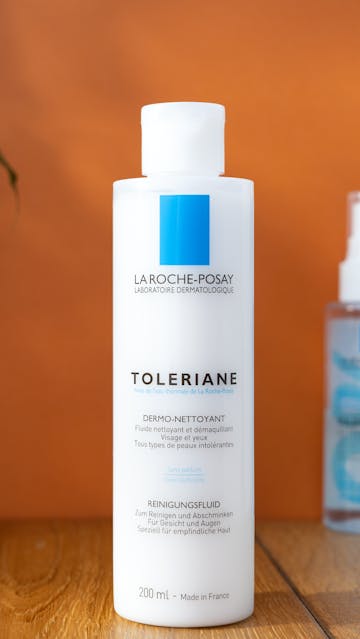 La Roche Posay Toleriane Dermo Milky Cleanser, product presentation:
Toleriane is one of La Roche Posay's most well-known ranges. It is designed for intolerant skin, very fragile, or sensitive skin in order to soothe it as much as possible, and above all to avoid irritating it on a daily basis.
If you don't have sensitive skin, it's hard to imagine that something as innocent as cleansing your skin can be very uncomfortable! Indeed, many fragile or sensitive skins are afraid of contact with water, and even the rubbing with their fingertips can trigger redness and an unpleasant feeling of tightness.
La Roche Posay Toleriane Dermo Milky Cleanser is precisely formulated for these types of skin, when people are looking for a product that allows them to cleanse their skin easily and pleasantly, without it being an ordeal!
The formula is really focused on softness with very few cleansing ingredients. In fact, there is only one: Ethylhexyl Palmitate. This highly emollient ingredient acts as a solvent that helps dissolve grease and skin impurities so they can easily be removed from your skin.
The main active ingredient here is glycerin, a moisturizing ingredient that is very well tolerated by all skin types.
La Roche Posay Toleriane Dermo Milky Cleanser is consequently a truly moisturizing and very gentle product. I would say that it's primarily intended for people with dry skin, which doesn't need to be very thoroughly cleansed.
For me, who uses a lot of makeup, and applies sunscreen every day, it's not the product I would consider as a makeup remover, even though the brand says it does both. Its cleansing power is a bit limited.
That's why I prefer to use it in the morning when I wake up, as a gentle cleanser. In the evening, I do my double cleansing as usual with an oil or makeup remover balm, following by a foaming gel cleanser!
Its texture is a kind of creamy milk that you are supposed to apply with your fingertips on dry skin (or wet skin, the brand doesn't specify) and then remove either by rinsing with water or with cotton pads.
It can be used on the face, neck and eye contour.
La Roche Posay Toleriane Dermo Milky Cleanser, my experience:
I'll tell you one thing (but I guess it won't be a big surprise if you're a regular reader lol). I wasn't overly enthusiastic at the idea of trying this product.
Sure, it's not too expensive and it's easy to find. It also seems ideal if you have sensitized skin like I do now.
You can call it my preconceived bias about French pharmacy, but basically I was expecting a product that wouldn't be sensorial to use, with a slightly thick texture, like an old-school makeup remover milk, sticky, not the easiest to massage and difficult to rinse off.
And unfortunately, when I tried it, all my fears were confirmed.
I really don't find it pleasant to massage into the skin, it's quite sticky (I tried to use more, it was worse), it doesn't melt on the skin like my beloved Sioris milk. And I have to allow a good 2 minutes to rinse it off, it doesn't really emulsify with water.
Icing on the cake, it leaves a slightly oily film on my skin. I feel like I have to do a second cleanse, which defeats the purpose here. I guess on very dry and sensitive skin, it could be a plus, though.
I don't think I'm the intended target of this product. Even sensitized, my skin remains combination, and I don't want to have an oily residue left on my skin after cleansing. Also, I like when a product is gentle AND sensorial to use. I like nice textures that melt into the skin, not the sticky, viscous textures that don't rinse off well.
In short, I'd be glad to have this product at hand if my skin has a crisis (it can always happen to me, you never know), but I'm not going to use it unless I really need it.
I have other similar products to test that are much more fun to use than this one!
In conclusion:
As you can see, this product wasn't a hit for me. It's a shame because I would have liked to be wrong!
It has the big advantage of being very accessible and it's fairly affordable as a bonus (at least where I live), which is always a big plus!
But clearly, and I know it's very personal, I'd rather pay a little bit more and have a product that I enjoy using than force myself to use a product that I don't like.
The La Roche Posay Toleriane Dermo Milky Cleanser retails for $24 for 200ml (there's also a 400ml version).
Product Review in detail
Summary
La Roche Posay Toleriane Dermo Milky Cleanser
"This milky cleanser gently cleanses without over-drying to remove waterproof makeup, dirt and oil on the face and eyes. Ideal for sensitive skin, this cleansing cream can be rinsed off or removed with cotton or tissue."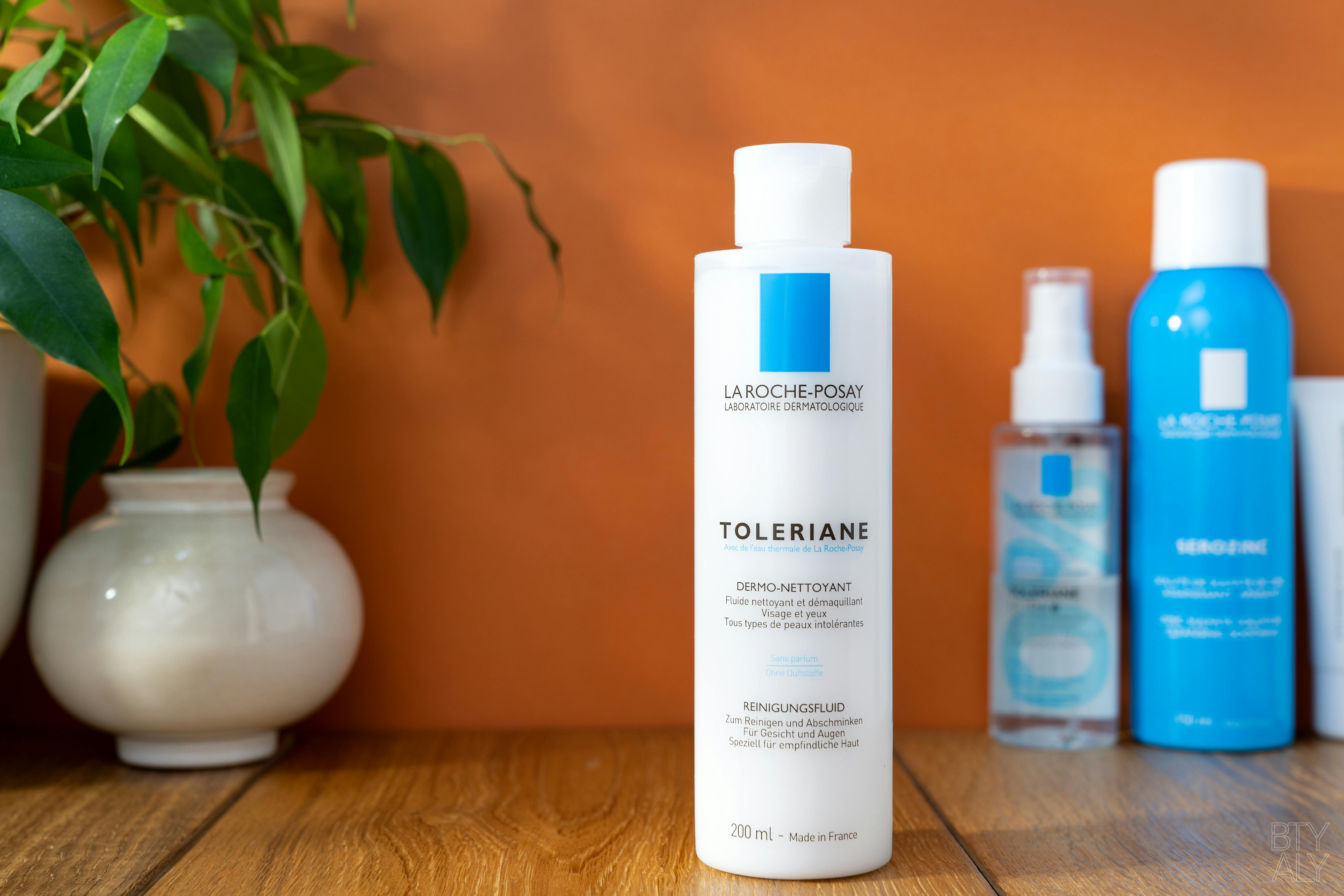 Recommendation
C
This product is not for me!
Pros
- it's a very soft formula, very suitable for sensitive or intolerant skin,
- it doesn't contain any stripping ingredients at all (though it barely cleanses to be honest),
- it doesn't contain any fragrance, good point for sensitive or sensitized skin,
- it's not very expensive,
- it's very easy to find, the brand is available almost everywhere.
Cons
- It doesn't really cleanse the skin,
- I find the texture thick and not easy to massage,
- it's difficult to rinse it with water (and there's no way I'm using cotton pads to remove it, I'm not a French granny 😅),
- it leaves a greasy film on the skin,
- it's not a sensorial experience at all.
product name
La Roche Posay
brand name
Toleriane Dermo Milky Cleanser
size
200ml (it also exists in 400ml)
packaging
A very simple and "pharmacie-like" white plastic bottle.
fragrance
Fragrance-free (and it doesn't smell like anything).
texture
A liquid milk, but which feels a bit sticky when applied on the skin. It's not very pleasant to massage or to rinse off.
For Who
– sensitive or sensitized skin,
– intolerant skin,
– dry or dehydrated skin.
Concerns
– irritated or sensitive skin that wants a cleanser as gentle as possible.
Method
I use the Toleriane Dermo Milky Cleanser in the morning at the very beginning of my skincare routine (you can use it morning and evening if you want).
I take a dab of product and apply it to my face and neck, on my dry skin. I then gently massage it with my fingertips on my face and neck for a minute.
I finish by simply rinsing with warm water. You should allow a little time to rinse it off, as it tends to "stick" quite a bit to the skin. The brand says that you can also use cotton wool to remove it (but I'm not a big fan of this method, a bit too "old-school" for me). You can also use a wet cloth to remove it, but I'm not a fan of this technique either, which I find a bit too "stripping" for my taste.
I then pat dry my skin and continue with the rest of my morning routine 🙂
Theoretically, it can also be used as a makeup remover milk, but I find it less effective than my usual makeup removing oils or balms. I guess if you only wear light makeup (which is rarely my case), it can work! But I don't think it removes sunscreen properly though.
Key Ingredients
It's a very simple formula (only 8 ingredients)! There is almost nothing "active" in this formula, except for some hydrating glycerin!
The cleansing effect is provided by Ethylhexyl Palmitate. This highly emollient ingredient acts as a solvent that helps to dissolve oily bits and skin impurities so that they can be easily removed from your face. It's super moisturizing and very gentle. But clearly, on oily skin and/or heavy makeup, its cleansing effect is a bit limited.
Ingredients
Aqua, Ethylhexyl Palmitate, Glycerin, Dipropylene Glycol, Carbomer, Sodium Hydroxide, Ethylhexylglycerin, Caprylyl Glycol.
Ingredients not included
– alcohol,
– mineral oil,
– silicone,
– SLS,
– soap,
– fragrance,
– dye.