Intro
My detailed review of the Ole Henriksen PHAT Glow Facial mask, with a mini-focus on PHAs, the new exfoliating acids that are everywhere at the moment!
A peeling mask with exfoliating acids that can be used in the morning or evening for a visible glow in 15 minutes? This is the claim of the brand new PHAT Glow Facial mask from the American skincare brand Ole Henriksen!
PHA acids are having their moment in the beauty world.
Even if they're not exactly new (they were discovered around thirty years ago), they were under patent until recently (the chemists who discovered them are the same ones who created Neostrata, and they kept them exclusively for their skincare brand).
They've now entered the public domain, which means that many skincare brands are starting to use them in their products.
They're the star ingredients of the new Ole Henriksen's PHAT Glow Facial mask, for a quick but gentle radiance-boosting effect!
So let's take a closer look at PHAs, see why they're so interesting for the skin and I will then review this brand new PHAT Glow Facial mask for you!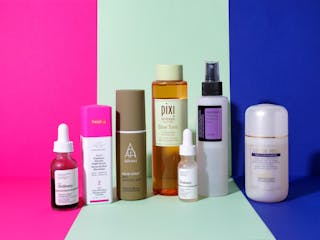 Ingredients
Focus on: exfoliating acids (AHA, BHA, PHA)
Some cosmetic ingredients are notoriously great to give the skin a true glow from within. And exfoliating acids are definitely amongst these ones!
Read more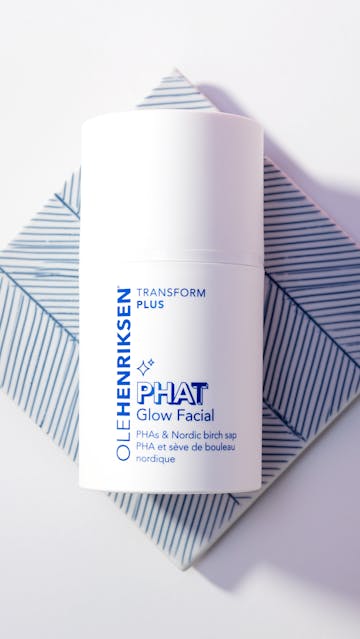 What are PHAs?
PHAs are the latest generation of acids to be discovered (in 1994). They are as effective as AHAs and BHAs but exfoliate more gently. They have a rather high molecular weight (which means they are large molecules) so they act mainly on the surface of the skin.
Their properties:
They are very good humectant ingredients (= they retain skin moisture) which makes them good moisturizers. They also help to reduce hyperpigmentation. They are anti-inflammatory and have antioxidant properties, so they are effective anti-aging ingredients.
They also have the huge advantage of not being photosensitizing (unlike AHAs and BHAs), which makes them much easier to use during the day!
They're perfect for sensitive skins that are struggling with AHA and BHA. But they're basically suitable for all skin types, so they're a great addition to anyone skincare routine!
The different PHAs (the most famous):
– Lactobionic acid:
Derived from lactose, it's moisturizing, antioxidant and soothing.
– Galactose:
It's an ingredient found naturally in the deeper layers of the skin. It has a boosting effect on the production of collagen.
– Gluconic acid or gluconolactone:
Like galactose, it's an ingredient available naturally in cutaneous cells. It's an antioxidant and has anti-inflammatory properties.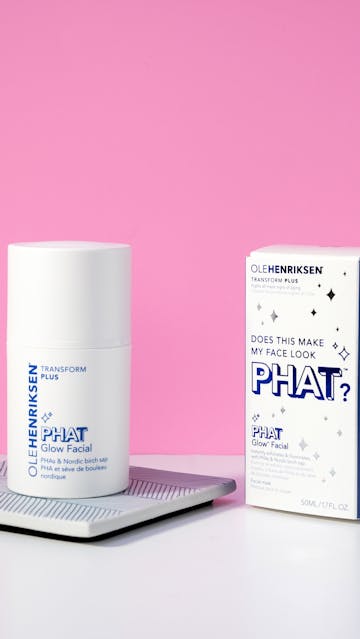 Ole Henriksen:
Shame on me, until recently, I thought Peter Thomas Roth and Ole Henriksen were the same person/brand! However, the story of Ole Henriksen, the man behind the brand, and the reasons that led him to create his own brand are definitely original!
Ole Henriksen, 68 years old, officially created his skincare brand in 1978 in Los Angeles, after having already lived many, many lives at the time!
Ole Henriksen was born in Denmark in a small village. His mother, who was working in a pharmacy, may have created his vocation. She used to have Ole and his two brothers try various skincare preparations. This was his first contact with the world of cosmetics.
The second was much more exotic. At 16, Henriksen began a career as a dancer, which led him to travel extensively, especially to Indonesia, where he fell in love with the country and decided to stay and live in.
With the change in climate, he developed cystic acne and, in search of a solution to treat it, he met a local beautician.
She treated him in a few weeks with many facials using products based on local Indonesian plants and he was completely fascinated by the power of skincare on his skin (aren't we all? 😉 ), which was transformed.
So he decided to go to London to study beauty and became an esthetician. It was the early '70s. He was the only male student in his class!
After graduating, he worked for a few years in England (notably for the Helena Rubinstein brand) and then decided to try his luck in the United States.
Once he arrived in Los Angeles, he tried to get recruited in various salons, but no one wanted to hire a man to do facials to women (unfortunately things haven't changed that much…).
He then decided to rent a small room and start his own business as a beautician, making his own products in his kitchen with ingredients he bought in Israel. To increase his reputation (and his clientele), he sent press releases to all the magazines and newspapers he could think of.
One of them called him back. The editor-in-chief of the LA Times offered him a challenge: he told him that if he could treat his assistant's acne skin in 6 weeks, the newspaper would feature it in the first pages.
Long story short (lol), Ole transformed the assistant's skin with regular facials and good product recommendations. The journalist kept his promise and Ole suddenly became one of the most renowned beauticians in Los Angeles!
His first famous client was Barbra Streisand, and after her, celebrities rushed to his beauty salon!
He retired in the early 2000s but, with a strong business sense, continued to develop his eponymous skincare brand. In 2005, Sephora decided to distribute the brand, and it's still the primary distributor to this day.
In 2011, the LVMH group (to which Sephora belongs) acquired the brand, which is now part of their Kendo umbrella (like brands such as Fenty Beauty, Kat Von D, Bite Beauty, etc.).
Ole Henriksen is still the brand's spokesman, with his eternal youth and smile!
The brand is still very popular in Sephora in the United States, and the Truth Serum, has been one of the best-selling anti-aging serums in Sephora for years!
About the general concept of the brand, Ole Henriksen skincare products combine natural plant extracts with powerful active ingredients such as vitamin C or exfoliating acids to exfoliate, treat and soothe the skin, revealing the famous "Ole Glow".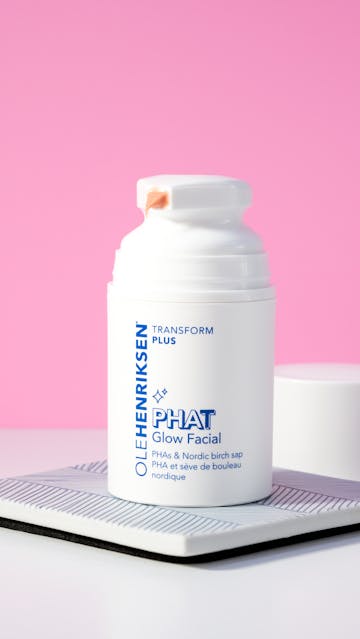 Product presentation: Ole Henriksen PHAT Glow Facial
I was in Canada wandering around the shelves in Sephora (I certainly spent far too much time there) when I saw the brand new Ole Henriksen PHAT Glow Facial mask. I think they had just put it on the shelf that morning…
Ole Henriksen PHAT Glow Facial is a radiance-boosting and anti-aging peeling mask based on PHAs and nordic birch sap, to exfoliate, illuminate and give radiance to the skin.
It also contains clarifying pink clay and moisturizing plant extracts for a gentle purifying effect.
In short, it's a 2-in-1 cleansing peeling mask (a bit like the one I mentioned a few weeks ago from The Ordinary, except this one is much more moisturizing and gentle).
To tell you the truth, when I saw it, I immediately thought of the Drunk Elephant peeling mask, Babyfacial, that I really like but is not sold outside the USA because of a very high concentration of AHA acids in its formula, too high for the limits allowed in some markets (in Canada for example, it's not allowed, nor is it allowed in Europe).
I thought that for Ole Henriksen's, it was probably the opportunity to kill two birds with one stone:
– offering an exfoliating product able of substituting the Drunk Elephant Babyfacial in markets where it's not available,
– and using the trendy ingredients of the moment, PHAS!
In addition, it has a fun texture that is blush pink when applied and turns into a white paste when you massage it!
If you add its fun name (PHAT for "fat" because the molecules of PHAs are fattier than other acids molecules), you get a highly desirable and very practical mask because you can use it very easily!
Unlike many other similar exfoliating products, PHAT Glow Facial can be used in the morning, for an immediate healthy glow effect!
Usually, due to the photosensitizing nature of acids, these products are usually recommended in the evening. But since PHAs are not photosensitizers, you can use it in the morning if you want! 🙂
My experience:
So I bought the PHAT Glow Facial mask last month and tried it on while I was still traveling in Canada.
The brand recommends to use it twice a week, but since I have other exfoliating and purifying products, I stick to one at time only. I've been using it for a little over a month.
I like to use it in the evening when I have a little more time, and I apply it on my clean and dry face (after I have double cleansed).
I take 3 to 4 pumps and spread them out in a medium layer on my face. The product smells really good, and the texture is a little between a cream and a paste. Quite thick but easily spreadable.
Once I have applied it on my face and neck, I massage the product in circular motions for a few seconds, as recommended by the brand, and it changes color (it turns white). It's a fun and enjoyable experience! It tingles a little bit just after I apply it but this feeling disappears very quickly.
I leave it on for 15 minutes and rinse with a damp cloth. And I keep on, and continue with the rest of my routine, as usual.
It doesn't irritate my skin at all, I have no redness after rinsing it and I can apply my retinol afterward without any issues.
I can't really say that the PHAT Glow Facial mask gives me a visible result on the radiance of my complexion (I have other products in my routine that probably have more impact on it) but it has an undeniable smoothing effect. My skin is softer and my texture is more even after using it, that's for sure!
I also appreciate its gentle purifying effect, it's not stripping at all and it leaves the skin perfectly hydrated.
It's really super soft! It can be interesting for all those who can't tolerate conventional exfoliating acids (AHA and/or BHA), and it's also a good first step if you want to start using acids for the first time!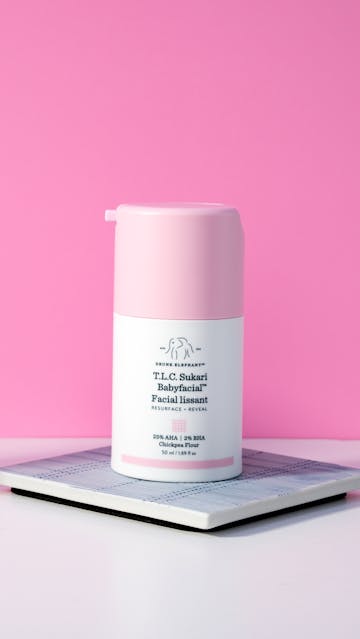 So, how is it compared to Drunk Elephant Babyfacial?
If I compare it to Drunk Elephant's Babyfacial, I would say that I see two main differences.
Babyfacial is a classic peeling formula, with 25% AHA and 2% BHA. Quite strong!
For sensitive skin, clearly, I don't really recommend it. Nevertheless, the PHAT Glow Facial mask can be used on all skin types, even the most sensitive!
The other difference is the result of the complexion's radiance. Here, clearly the point goes to Babyfacial which gives a much more obvious result than the PHAT Glow Facial. Both smooth the skin but Babyfacial is better regarding the immediate result, I would say.
Personally, I like to alternate the two, which allows me to have a more or less gentle exfoliation according to my desire and need of the moment 🙂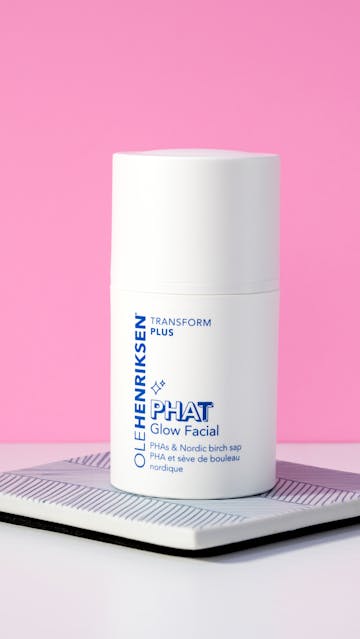 In conclusion:
I really like this PHAT Glow Facial mask, which does the job while being quite fun to use.
Clearly, it's not a dupe of Drunk Elephant, even if you can definitely feel that the concept of peeling/"facial to go" mask has strongly inspired the Ole Henriksen product, but I find that the PHAT Glow Facial is easier to use for all skin types than the DE. PHAT Glow Facial is more inclusive, let's say! 😉
Product Review in detail
Summary
Ole Henriksen PHAT Glow Facial
"An age-fighting face mask that works like a facial, with potent PHAs and Nordic birch sap to exfoliate, illuminate, and brighten skin."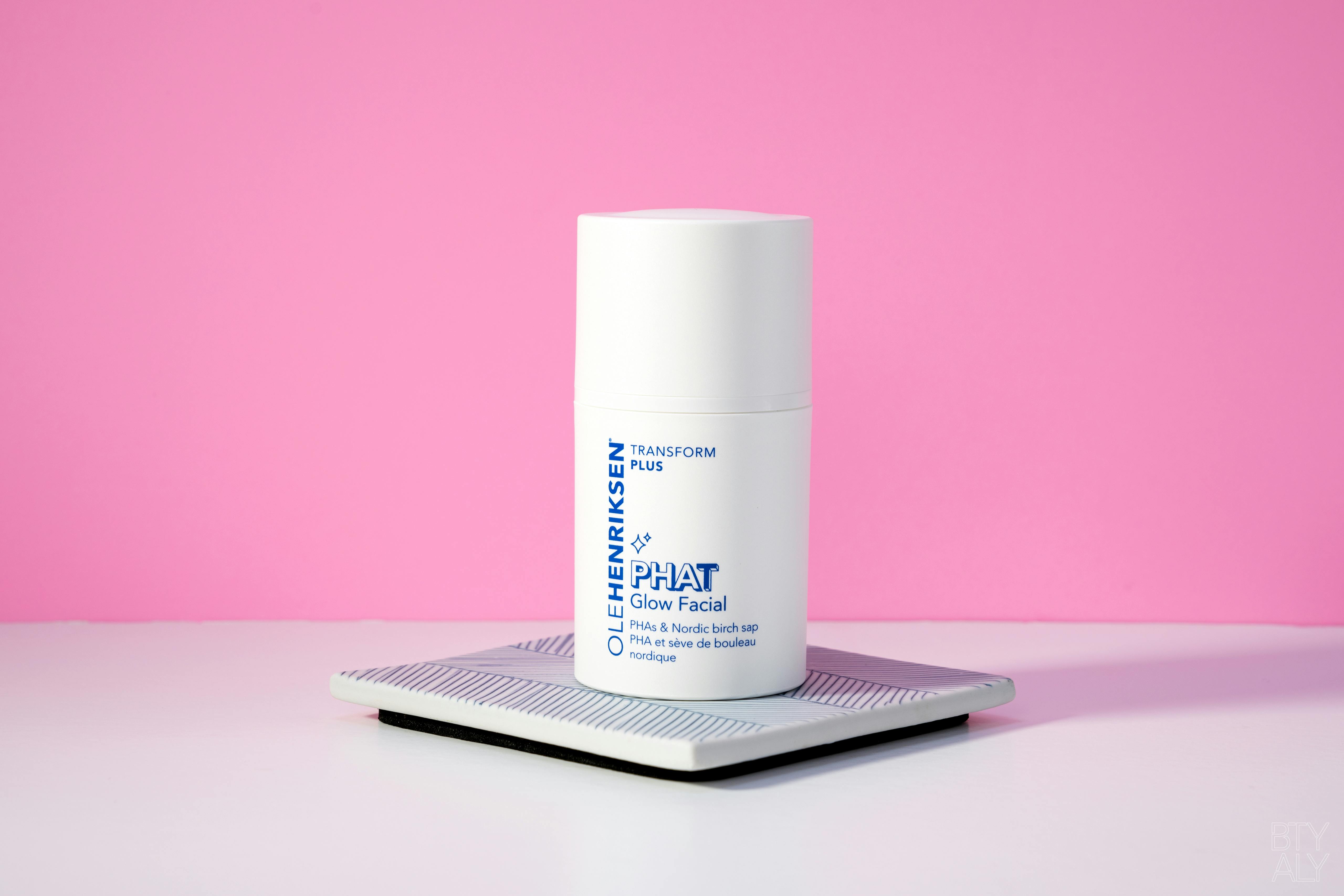 Recommendation
A
A good, and fun to use product!
Pros
- a very practical and hygienic pump packaging,
- a gentle formula, suitable for all skin types,
- it's perfect for exfoliating acids beginner,
- it can be used in the morning, it's not photosensitive,
- it is fun and pleasant to use,
- it rinses easily,
- it helps to smooth the skin texture.
Cons
- the brand is not available everywhere.
product name
PHAT Glow Facial
packaging
A white plastic pump bottle.
fragrance
A sweet, rather sweet, not unpleasant scent.
texture
A thick cream, that spreads very easily on the skin.
For Who
All skin types, all ages.
Concerns
– dull skin
– smoker
– skin exposed to the pollution
– large pores
– uneven texture
– wrinkles.
Method
I apply the PHAT Glow Facial mask on clean and dry skin in the evening. I use it on my face and neck, but I avoid the eye and mouth area. I usually need 3 to 4 pumps of product.
I apply it in a medium layer, not too thick. I massage in circular movements and the product changes color (from pink to white).
I leave it for 15 minutes. It doesn't really dry and remains quite soft on the skin.
I then rinse it with a wet washcloth (it rinses very easily) and dry my skin before going on to the rest of my evening routine (I avoid using my acid toner that evening because it would be a bit too much).
I use it once a week (because I use another exfoliating mask on weekends, either Drunk Elephant's Babyfacial or The Ordinary Acid Salicylic 2% Masque) but the brand recommends using it twice a week for best results.
Key Ingredients
Many interesting ingredients in this mask such as:
– PHAs (Gluconolactone, Gluconic Acid): soft acids with a high molecular weight for a very gentle and non-photosensitizing exfoliation and a moisturizing effect,
– pink clay (bentonite) and kaolin for a purifying and gently absorbing effect,
– soothing ingredients: panthenol, niacinamide, cotton extract, licorice extract,
– moisturizing ingredients: hyaluronic acid (high molecular weight), northern birch sap, sugar cane, glycerin, Chia seed oil, chamomile, sandalwood, lemon extracts…
Ingredients
Water, Glycerin, Kaolin, Gluconolactone, Gluconic Acid, Polyglyceryl-10 Stearate, Propanediol, Bentonite, Cetearyl Alcohol, Salvia Hispanica (Chia) Seed Oil, Betula Alba Juice, Glyceryl Stearate, Polyacrylate-13, Sodium Hydroxide, Fragrance, Pullulan, Polyisobutene, Phenoxyethanol, Caprylyl Glycol, Xanthan Gum, Potassium Sorbate, Polysorbate 20, Hexylene Glycol, Sorbitan Isostearate, Tocopherol, Biotin, Hyaluronic Acid, Niacinamide, Panthenol, Chamomilla Recutita (Matricaria) Flower Extract, Citrus Limon (Lemon) Fruit Extract, Glycyrrhiza Glabra (Licorice) Root Extract, Saccharum Officinarum (Sugar Cane) Extract, Santalum Album (Sandalwood) Extract, Eriophorum Spissum Flower/Stem Extract, Chlorphenesin, Leuconostoc/Radish Root Ferment Filtrate, Sorbic Acid, Iron Oxides (Ci 77491, Ci 77499), Citral, Limonene, Linalool.
Ingredients not included
– alcohol,
– mineral oil,
– silicones.