Intro
Disclosure:
A sample or samples were provided by the brand / company.
My test and thoughts on the Power Berry Serum from the American skincare brand Paula's Choice, plus a mini-focus on antioxidant ingredients.
Summer is the perfect time of the year to add plenty of great antioxidant ingredients in your skincare routine. And Paula's Choice can definitely help you with that with their new Power Berry Serum!
If I had to name just one category of anti-aging ingredients where I could say I saw results on my skin in the very long term, it would definitely be anti-oxidants.
They have been part of my routine for over 15 years now and I know they are effective, I have no doubt about it!
Have you ever heard of oxidative stress? Free radicals? What about photo-aging of the skin? Does that mean anything to you? All of this doesn't seem ideal to preserve the youth of your skin though, does it?
The good news is that there's a category of powerful ingredients that can protect the skin from all these annoying things.
These ingredients are experts in anti-aging prevention, and they're called anti-oxidants. Let me introduce them to you, and I'll also give you my thoughts on Paula's Choice Power Berry Serum, which contains plenty of them in its formula!
Brands
Focus on: Paula's Choice, interview of Paula Begoun
I had the great opportunity of meeting and interviewing Paula Begoun, founder of the American skincare brand Paula's Choice, when she came to Paris in May.
Read more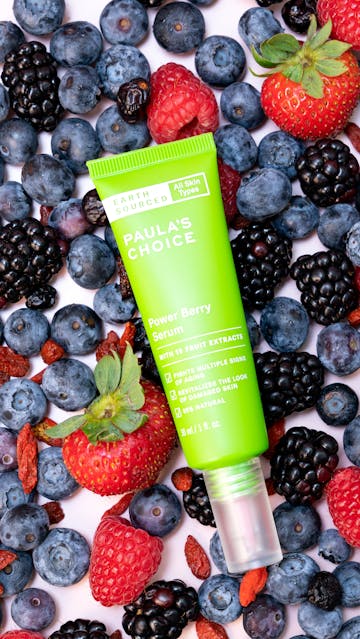 What are antioxidant ingredients:
Antioxidants are very effective anti-aging ingredients for the protection and prevention of skin aging.
In short, they are molecules capable of preventing the skin oxidation (yes, like with metal and rust, the skin can also oxidize!). This oxidation (also known as oxidative stress) is responsible for the production of free radicals, and these unstable molecules cause chain reactions in the body and therefore a lot of damage to the skin. Free radicals are one of the main sources of accelerated skin aging.
These free radicals are caused by several factors: stress, lack of sleep, pollution, tobacco, skin infections and inflammations, exposure to sun/UV rays…
As their name suggests, anti-oxidant ingredients are therefore inhibitors of oxidation and help protect the skin by eliminating excess free radicals in the cells.
In other words, anti-oxidant ingredients help prevent aging by protecting the skin.
They are therefore useful as a protective shield against pollution, but also against the infamous blue light that you can hear a lot about these days!
They are also supposed to have soothing, anti-inflammatory effects for some of them, and the most effective are great to bring a lot of radiance to the skin!
In short, there are many good reasons for adding them to your skincare routine!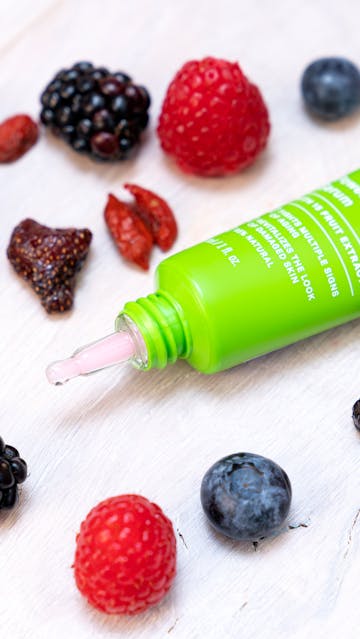 A few examples of antioxidant ingredients:
Vitamines (and derivatives):
The most effective (and most used):
– vitamin A (or retinol),
– vitamin C,
– vitamin E (or tocopherol)
– vitamin B3 or Niacinamide.
Natural extracts:
To name a few:
– polyphenols (from coffee, tea, cocoa or fruits),
– EGCG (Epigallocatechin gallate) which comes from green tea,
– ferulic acid (which can come from rice, elderberry, white willow, sweet clover…),
– tomato and its lycopene,
– grape and its resveratrol: Vitis vinifera, Resveratrol…
(there are many others).
"Biotechnological" extracts (from natural fermentation extracts ):
For example:
– ginseng  (Panax ginseng cambium cell culture),
– rice (Saccharomyces and Galactomyces),
– turmeric (Lactobacillus/Saccharomyces/Turmeric ferment extract filtrate)…
Likewise, these are only a few of many.
In the case of the Power Berry Serum, berries and red fruits are used in the formula. Scientific studies have recently shown that, in addition to their antioxidant properties, they're also anti-inflammatory and help to strengthen the skin barrier.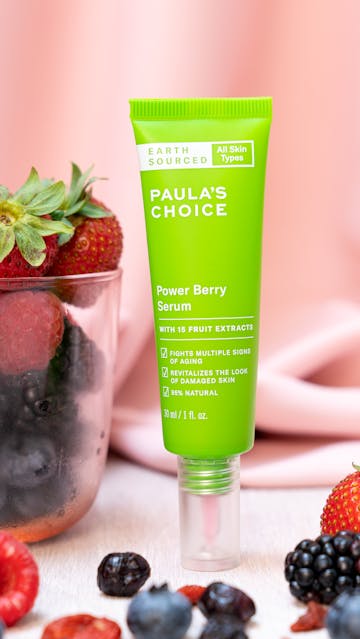 Product presentation: Paula's Choice Power Berry Serum
Paula's Choice Power Berry serum is an antioxidant serum. It helps to protect the skin from free radicals and therefore to preserve the youth of your skin.
Paula's Choice takes anti-aging prevention very seriously and the brand already includes about ten anti-oxidant serums in their range (not to mention boosters like the one with vitamin C or Niacinamide, which I love).
I think this Power Berry clearly targets Millennials. It's indeed a great first anti-aging product that young people (starting 25) can add to their routine to start taking care of their skin (and also, it's millennial pink!).
Now, I still find it useful for me who hasn't been 25 for 15 years (lol). My routine has always been very, very rich in antioxidants.
For me, they're essential and I use as many as possible! I have always believed that a good anti-oxidant complex is the most effective way to protect my skin. And that's obviously also the opinion of Paula's Choice! 🙂
In addition, anti-oxidant ingredients boost the effectiveness of sunscreen, so it's even more interesting!
The Power Berry Serum is part of Paula's Choice's "Earth Sourced" range, the brand's most natural range. They claim a 95% natural formula.
It contains a lot of plant extracts in its formula, including 13 different berries, known for their antioxidant effects. Its pink color is due to all these red fruits, there is no additional dye!
In addition, it doesn't contain silicones, for those who avoid them 😉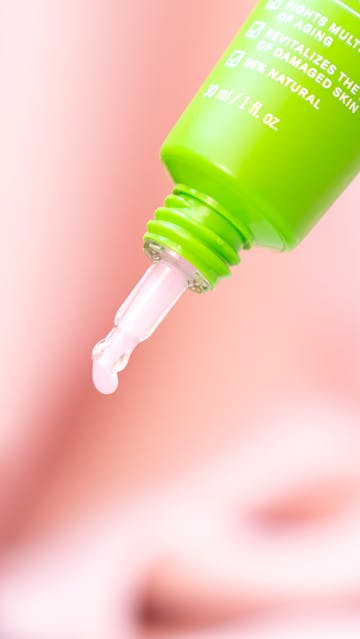 My experience:
I started to use the Power Berry Serum about 6 weeks ago. I added it to my morning routine, because I think that's when anti-oxidants are most useful!
During the day, the skin is constantly under attack (pollution, blue light, stress, UV rays…), so an anti-radical shield product is more than welcome!
The texture is very "classic serum"; it's a rather viscous liquid gel, not the lightest of my serums (I use a lot of Korean serums which are generally intended for a layering routine, so often super lightweight in texture). It still spreads fairly well and absorbs easily, leaving the skin very comfortable (without any greasy effect at all).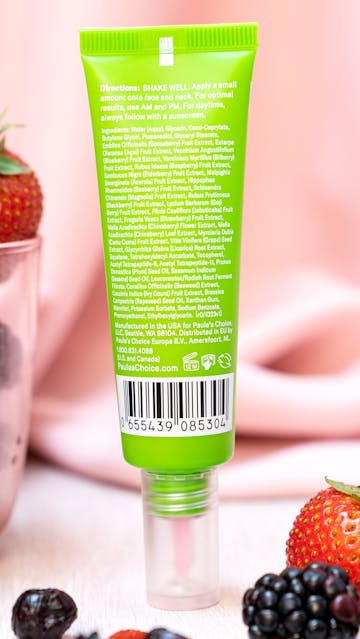 Regarding the results, you definitely have to think about the long term with this type of product. But I already said it, for me, it doesn't matter, I know I'm investing in the future of my skin!
The brand also talks about an effect on skin radiance, but to be honest, I'm not convinced, and I'm counting more on my acids or my vitamin C for that! 😉
It's rather pleasant to use for the season, at least, which is always a plus!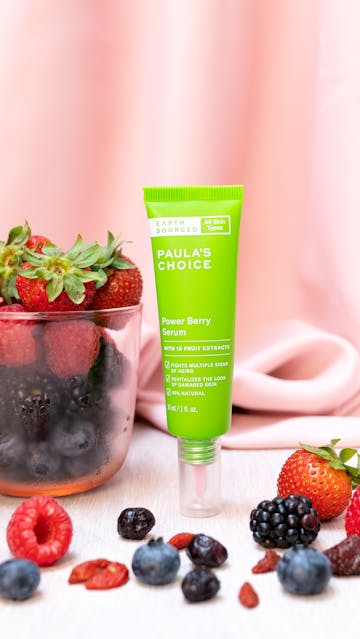 In conclusion:
Antioxidant ingredients have always been part of my skincare routine, so the Power Berry serum found its place in mine without any issue.
It's pleasant to use, and fits easily into a travel kit. A reminder: an anti-oxidant serum boosts the effectiveness of sunscreen products, so if you don't use them yet, summer is the best time to start! 😉
Discovering this product made me want to take a look at the brand's other antioxidant serums and so I ordered the salicylic acid version to try after this one 😉
The Paula's Choice Power Berry Serum retails for $31 for 30ml.
Product Review in detail
Summary
Paula's Choice Power Berry Serum
"This 95% natural serum gives skin a healthy glow through a potent combination of berries selected for their proven antioxidant power in nature."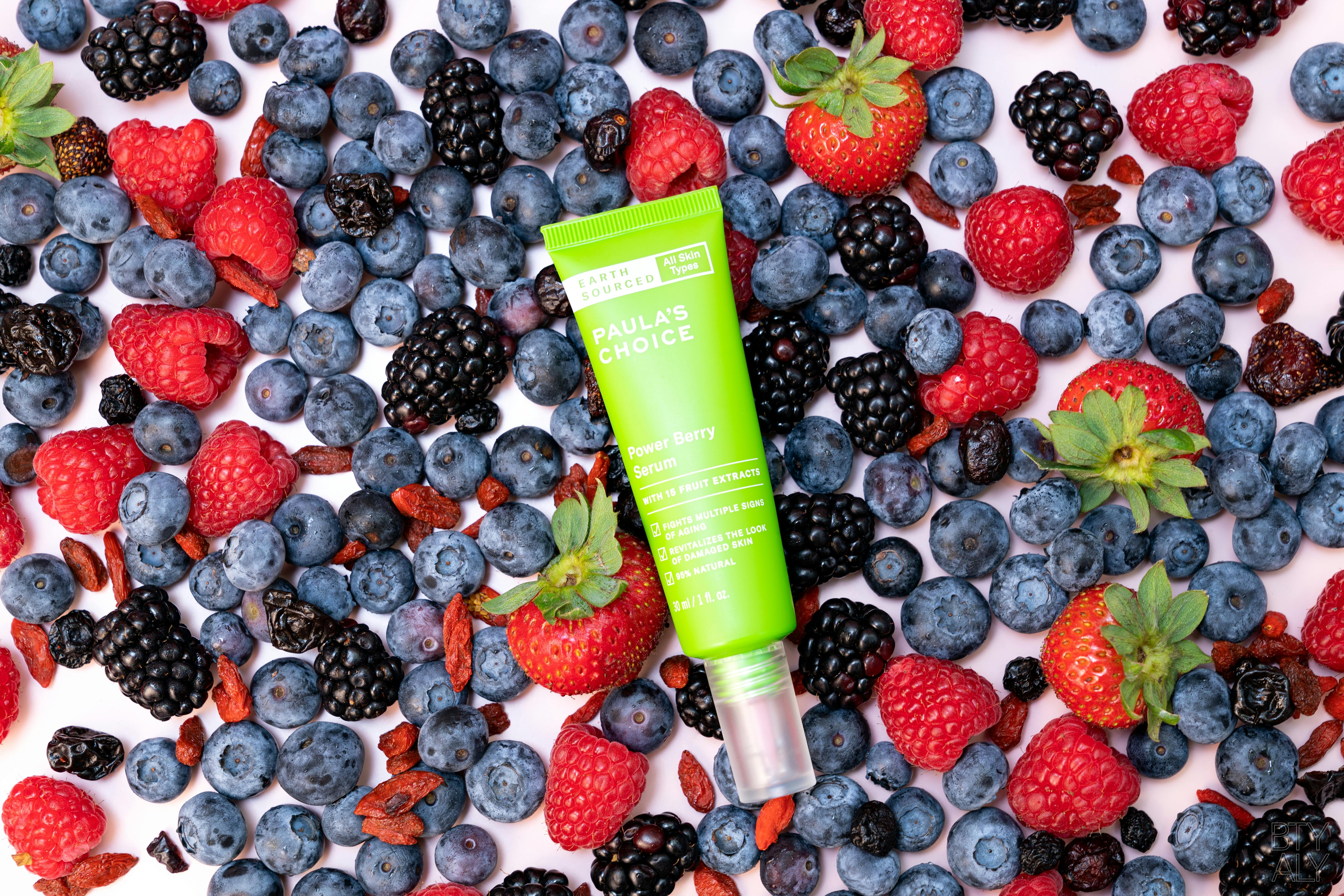 Pros
- the formula is nice, with a lot of natural ingredients,
- its powerful antioxidant effect, it's a perfect daytime serum,
- its long-lasting moisturizing effect (it's comfortable),
- it's great to recommend to someone who wants to start an anti-aging preventive routine,
- the packaging is nice, quite colorful and I appreciate that it's a practical tube,
- the brand is easily available online.
Cons
- I'm not sure I'm the right target for this product, since I already use other powerful antioxidants in my routine (vitamin C, green tea, niacinamide, retinol...),
- I don't find it essential for me (let's say I appreciate it while I have it, but I don't think I'll repurchase), but for someone younger, who wants to start a good anti-aging preventive routine, it's not a bad place to start.
product name
Power Berry Serum
brand name
Paula's Choice
packaging
A bright green plastic tube with a cool practical dispensing tip.
texture
It looks a little viscous at first, but it finally absorbs quite well, leaving the skin comfortable but not greasy.
For Who
– those who are concerned by the aging signs of their skin, who are looking for an anti-aging solution and prevention (even if, after 40, it's maybe better to switch to more powerful antioxidants in my opinion),
– suitable for all skin types.
Concerns
Anti-aging prevention.
Method
I rather use the Power Berry Serum in the morning, to benefit from its anti-free radical effect as much as possible, after my essence(s), and before my moisturizer.
I apply a small amount of serum that I massage onto the skin of my face and neck. It's not the most light-weight serum I have tried, but it absorbs relatively quickly, and leaves a very slightly sticky feeling that fades quickly once I apply something else on top.
Key Ingredients
The Power Berry Serum contains mainly:
– antioxidant ingredients in the form of red fruits and berries (raspberries, blackberries, goji berries, acai berries, blueberries, grapes…), there are 13 in total and they are the ones that give the serum its pink color (it doesn't contain any dyes),
– a derivative of vitamin C and some vitamin E, two other antioxidant ingredients.
– but also glycerin and squalane to moisturize the skin,
– repairing peptides,
– and licorice extract for the soothing and radiance-boosting effect.
Ingredients
Water (Aqua), Glycerin, Coco-Caprylate, Butylene Glycol, Propanediol, Glyceryl Stearate, Emblica Officinalis (Gooseberry) Fruit Extract, Euterpe Oleracea (Açaí) Fruit Extract, Vaccinium Angustifolium (Blueberry) Fruit Extract, Vaccinium Myrtillus (Bilberry) Fruit Extract, Rubus Idaeus (Raspberry) Fruit Extract, Sambucus Nigra (Elderberry) Fruit Extract, Malpighia Emarginata (Acerola) Fruit Extract, Hippophae Rhamnoides (Seaberry)Fruit Extract, Schisandra Chinensis (Magnolia) Fruit Extract, Rubus Fruticosus (Blackberry) Fruit Extract, Lycium Barbarum (Goji Berry) Fruit Extract, Plinia Cauliflora (Jabuticaba) Fruit Extract, Fragaria Vesca (Strawberry) Fruit Extract, Melia Azadirachta (Chinaberry) Flower Extract, Melia Azadirachta (Chinaberry) Leaf Extract, Myrciaria Dubia (Camu Camu) Fruit Extract, Vitis Vinifera (Grape) Seed Extract, Glycyrrhiza Glabra (Licorice) Root Extract, Squalane, Tetrahexyldecyl Ascorbate, Tocopherol, Acetyl Tetrapeptide-9, Acetyl Tetrapeptide-11, Prunus Domestica (Plum) Seed Oil, Sesamum Indicum (Sesame) Seed Oil, Leuconostoc/Radish Root Ferment Filtrate, Corallina Officinalis (Seaweed) Extract, Coccinia Indica (Ivy Gourd) Fruit Extract, Brassica Campestris (Rapeseed) Seed Oil, Xanthan Gum, Mannitol, Potassium Sorbate, Sodium Benzoate, Phenoxyethanol, Ethylhexylglycerin.
Ingredients not included
– alcohol,
– mineral oil,
– silicone,
– fragrance,
– dyes.