Intro
A detailed review of the Perfecting Cushion EX foundation from the Peach Blossom Spring Utopia collection by the Korean brand Sulwhasoo with, in addition, a brief history of the cushion technology.
Cushion foundations are relatively new to me. At first, I thought these typically Korean foundations were not well adapted to my needs.

I thought their formulas always had a super dewy satin finish.

In my mind, they were solely intended for dry skins and didn't think they would last very long, especially on my combination skin.

Their compact format lead me to assume that it was essential to take them with you to reapply them during the day (which is not completely untrue but not for the reasons I thought).

With my combination skin and living in a warm country, I have been stuck to just using long-lasting foundations with a matte finish for several years.

But my tastes have changed a lot recently and I'm no longer against a nice satin finish, much more flattering on my "aging" skin.

Also, I tried several cushion foundations, and I can tell you that most of them are now as long-lasting as conventional liquid foundations.

So this will probably be the first of many cushion foundations reviews!
And what better product to begin with than one of the most famous in this category? Meet Sulwhasoo's cushion foundation, the Perfecting Cushion EX. Specifically the oh so pretty edition from the Peach Blossom Spring Utopia collection, released this spring.
A brief history of 'cushion technology':
The Korean cosmetics group AmorePacific, which owns the brand Sulwhasoo, started research for manufacturing its first cushion foundation in 2007.
The group's original goal was to develop a multifunctional sunscreen product that would be easier to transport and apply (and reapply) during the day than conventional products in tubes, jars or pump bottles.
The cushion foundation is indeed a 3 in 1 hybrid product: sun protection, foundation, and skin care product in the same formula. All that in a compact, practical, easy to carry packaging.
The cushion foundation is a logical continuation of the BB cream trend and it was first marketed in Korea as its lightweight version, ideal to use during the summer (also because you can easily reapply it to keep a good sun protection throughout the day).
But it soon became clear to marketers that Korean users preferred compact cushions to BB creams because of their ease of use and their light, natural, glowy coverage.
To make their cushion, AmorePacific claims to have conducted over 3,600 tests with 200 different types of sponges, ranging from latex used in bedding to the type of material used to make bath sponges. They finally choose a polyurethane foam/sponge.
In March 2008, the group launched its first cushion for their IOPE brand. This was the first original compact cushion foundation and also an immediate success! It's still a bestseller; one is sold every 30 seconds on the Asian continent.
The company has since continued with its research and continuously improved the technology and quality of its cushions with more than 15 reformulations since its first launch.
AmorePacific has filed more than 400 patents in Korea, China, Japan, Europe and the United States around its cushions technology. Many Western brands also have their cushions manufactured on AmorePacific's production facilities in Korea (this is the case for Dior, for example).
The technology behind AmorePacific cushions is indeed very specific. Among other things:
– they have a fresh effect when you apply them because the liquid product formula contains cold air and the cushion sponge is also cooling,
– the cold also has a role in preserving the skincare active ingredients contained in the product formula,
– the puff used to apply the product collects the right amount of product and allows to apply it evenly on the skin,
– the same sponge is made so as not to be too absorbent, unlike a conventional sponge which tends to retain too much product, which can generate a significant waste,
– the packaging of the compact is equipped with a seal to prevent evaporation of the formula (AmorePacific cushions often dry less quickly than those from their competitors).
At the moment, AmorePacific still keeps a near-monopoly of this technology but this could change quickly. Indeed, these last months, the group had to face a lawsuit against several Korean companies that want to use this technology to manufacture cushions and challenge the validity of some of the patents held by AmorePacific. The case is still ongoing at the time I'm writing this article.
Product presentation: Sulwhasoo Perfecting Cushion EX
The Sulwhasoo Perfecting Cushion is a cushion foundation. It's one of the bestsellers of the brand. This is the latest reformulation of this product, released in November 2017, the EX version. The sublime packaging is a limited edition from the Peach Blossom Spring Utopia collection celebrating spring in collaboration with renowned Korean artist Seo Hana.
The Sulwhasoo Perfecting Cushion EX has an SPF of 50++ PA++++ to protect the skin against UV rays. The UV filters it contains are mineral filters (zinc dioxide and titanium oxide). I already talked about it in my article about the sun protection, I don't think that a cushion foundation alone is enough to provide sufficient sun protection but it can complement the sunscreen you applied in the morning and it's also very good for touch-ups during the day.
The brand also praises the skincare qualities of this cushion, thanks in particular, to the Schizophyllum mushroom which deeply moisturizes the skin and reduces the visible appearance of wrinkles. It also contains other ingredients such as niacinamide, hyaluronic acid but also plants, roots and herbs extracts, which are the signature of the Sulwhasoo brand.
Indeed, the passion for traditional Korean herbal medicine is at the heart of the Sulwhasoo brand. The use of herbs, plants, and roots for healing is an ancient practice in Korea, where there are many traditional hanbang doctors (= the name of this medicine).
Finally, Sulwhasoo Perfecting Cushion EX is mainly a makeup product for the complexion. The brand describes a light but with coverage formula, with a satin finish that gives radiance to the skin and is also long-lasting.
The Perfecting Cushion EX is available in 10 shades in its classic version. Unfortunately, the limited edition Peach Blossom Spring Utopia version is only available in 2 colors (21, a light pink and 23, a light neutral), probably because the brand mainly targets the Asian market with this collection. Frankly, it's a shame and Korean brands still have a long way to go on the road to inclusivity! Crossing my fingers that it will change soon and that their distribution into different markets will push them to include more shades for darker skin tones!
Even if I still consider myself as a beginner with cushion foundations, I understood very quickly one of their big advantages, especially if like me, you're a fan of pretty packagings. You can keep your cushions and refill them almost endlessly!
Each Perfecting Cushion EX contains 2 cushions: one is already inserted into the compact and the other one is the refill, which you can use once the sponge of the first one no longer contains liquid.
Usually, a cushion lasts me about 2 to 3 months if I use it every day. Each cushion represents 15g of product, so with the refill, you have a total of 30g of product (which generally corresponds to the quantity of a regular liquid foundation).
Sulwhasoo sells the refills separately, you don't have to buy the compact again when you finish your product.
Sulwhasoo Perfecting Cushion EX is definitely a high-end brand. So obviously, the price is not the cheapest (the compact with the two refills retails for around $65 and the refill between $30 and $35 depending on the retailers).
My experience:
I became more and more interested in cushion foundations when I discovered Asian skin care rituals.
I liked the idea to keep on with the skincare treatment by applying a light makeup product, which enhances the complexion while taking care of it and protecting it.
It's a very different approach than what I've been used to so far, which was to hide my complexion. I had these misconceptions about cushions, as I explained earlier and I thought the coverage was inexistent (it's not the case!).
During my trip to Korea last year, I finally purchased my first cushion foundation, and when I went to pick one in the stores, I realized that the choice in cushions was huge! There is something for everyone, every age, all skin types.
In the end, I really like this product and the result on my skin. And if you add a nice packaging, I can't resist it!
For me, the Perfecting Cushion EX from Sulwhasoo ticks all the boxes of a great cushion!
The packaging of the Peach Blossom Spring Utopia edition is absolutely stunning. It's a real collector's item, which pays a tribute to the Korean cultural and artistic heritage. A true work of art! I can't even bring myself to throw away the cardboard box 😉
This is a light pink compact case, set with rose gold and with a mirror. On the top, you can see the drawing of the artist Seo Hana representing a peach blossom, symbolizing the wishes of peace and happiness in the Korean tradition. The design is absolutely gorgeous and the case highlights the smallest details with layers that enhance the finesse of the artist's work.
The foundation is very light to wear, you can barely feel it on your skin and it remains comfortable all day long.
The result on the skin is very nice:
– it has a good coverage but doesn't look cakey,
– it doesn't enhance the pores and the dry areas,
– the satin finish is natural and glowy without being too shiny. With my combination skin, I prefer to add powder on top but the glow is still visible. It becomes a little shiny after a few hours but if I blot it with a blotting paper, it doesn't budge until the end of the day,
– it stays pretty all day (it's long-lasting) and fades nicely without looking blotchy.
It contains fragrance, which doesn't bother me too much but it's worth noting if you're sensitive to it. The smell is pleasant, it's a rather herbal and slightly flowery one, quite discreet.
Regarding the skincare effect, I imagine it's rather minimal and difficult to judge except on the very long term but I like to believe that this product does not make the situation worse, unlike some other heavier foundations that have a tendency to suffocate the skin.
I chose the color 23, which corresponds to a light shade slightly yellow (the 21 is more of pink tone).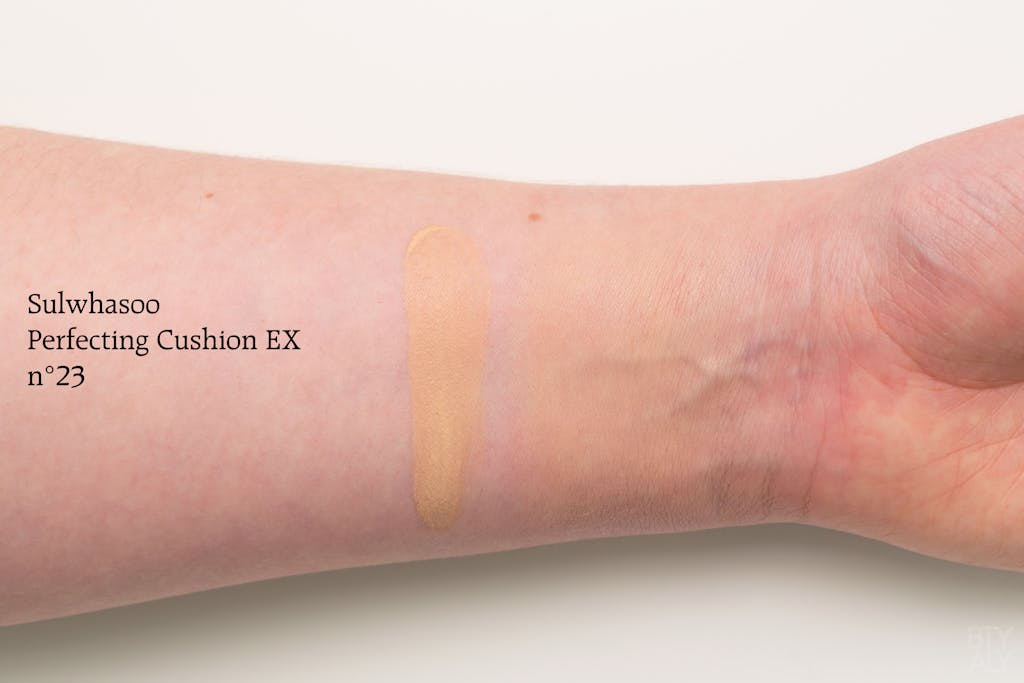 The result in pictures:
I use the puff provided to apply the Sulwhasoo Perfecting Cushion EX. You can also use a brush or a sponge such as a Beauty Blender but I have tried all three, and I definitely prefer the puff. It's specially designed to collect the right amount of product and apply it evenly on the skin. It's the perfect tool with this product!
You can click on the images in the gallery to enlarge the photos.
Value for money:
Obviously, since this is a luxury brand, this cushion isn't cheap but I think the formula is definitely great and of excellent quality.
Anyway, I won't lie to you, the packaging is so beautiful and unique that I barely looked at the price when I bought it 😉
In summary:
I really like this cushion, for its quality of course but also for its sublime packaging. I could spend hours staring at it!
The Sulwhasoo Perfecting Cushion EX retails for $60 to $66 according to the retailers, for 2 X 15g of product.
Product Review in detail
Summary
Sulwhasoo Perfecting Cushion EX (Peach Blossom Spring Utopia collection)
"The promise of the perfect make-up with long-lasting,
slim fit-cover, and a glowing finish."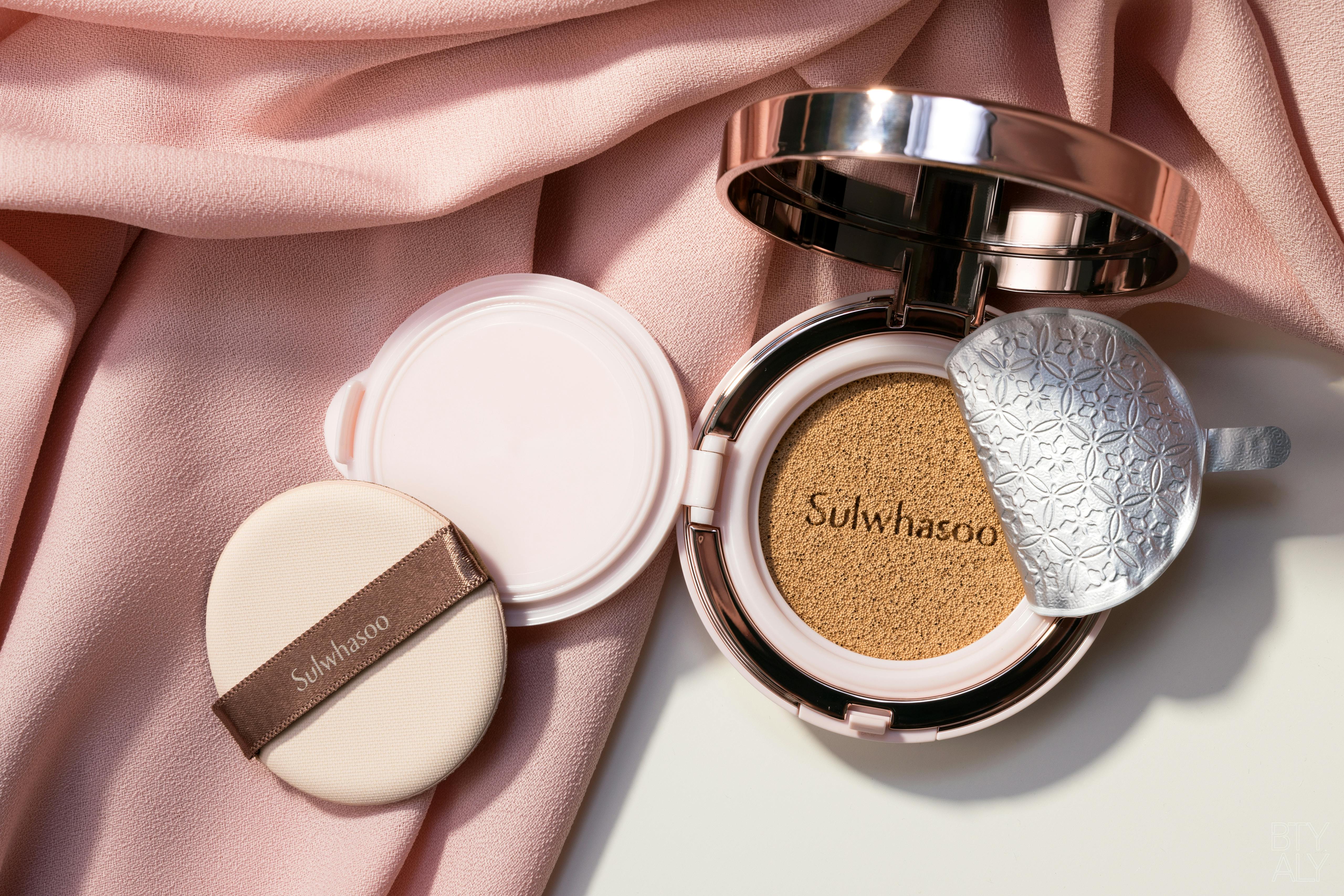 Pros
- The sublime and unique packaging: it is definitely a collector's item!
- The good pigmentation.
- The texture is easy and quick to apply. With the puff provided for this purpose, it applies very quickly.
- The natural, glowy satin finish.
- It's buildable, you can choose the coverage depending on the amount you apply and it will look good in any case.
- It blurs the pores very well.
- It doesn't enhance dry patches.
- It's very lightweight, you can barely feel it on the skin.
- It lasts all day and fades nicely without looking blotchy.
- It doesn't oxidize on my skin, the color doesn't darken.
- It doesn't make me break out.
Cons
- the color range in this collection is ridiculously limited (it's a little better in the permanent collection of this product).
- It's not cheap (but considering the beauty of the packaging and its quality, I think it's well worth it).
- It's not easy to find, it's only available online if you live outside of Asia.
product name
Perfecting Cushion EX (Peach Blossom Spring Utopia collection)
packaging
A light pink compact case set with rose gold, with a mirror and on the top, the drawing of the artist Seo Hana representing peach blossom
fragrance
An herbal-flowery fragrance
texture
Liquid and lightweight
Method
I use the puff provided with the compact to take some product by pressing it lightly on the cushion, then I apply it by pressures on my skin. The product blends quickly and homogeneously thanks to the puff.
I don't feel the need to reapply it during the day (especially since I use powder on top) but technically, you can do it without any issue, it's very buildable. For hygiene reasons (I have acne-prone skin), I clean the puff after each use. It's very easy to clean with soap and water.
Key Ingredients
The Perfecting Cushion EX contains two mineral UV filters, zinc dioxide and titanium oxide.
It has moisturizing properties thanks to low molecular weight hyaluronic acid and Schizophyllum mushroom.
It also contains anti-aging ingredients such as adenosine and beta-glucan, repairing honey and anti-oxidant, brightening and balancing niacinamide.
And finally, as a signature from the Sulwhasoo brand, it also includes in its formula extracts of plants, roots and flowers specific to the hanbang, this Asian medicine which the brand takes advantage of and which have softening, calming and anti-aging properties: white lily bulb extract, lotus flower extract, Chinese peony root extract, rehmannia glutinosa root extract, polygonatum officinale rhizome/root extract.
Ingredients
water, cyclopentasiloxane, zinc oxide, titanium dioxide (ci 77891), ethylhexyl methoxycinnamate, cyclohexasiloxane, titanium dioxide, phenyl trimethicone, peg-10 dimethicone, butylene glycol dicaprylate/dicaprate, niacinamide, lauryl peg-9 polydimethylsiloxyethyl dimethicone, glycerin, propanediol, iron oxides (ci 77492), acrylates/ethylhexyl acrylate/dimethicone methacrylate copolymer, polyhydroxystearic acid, aluminum hydroxide, trimethylsiloxysilicate, sodium chloride, methyl methacrylate crosspolymer, stearic acid, triethoxycaprylylsilane, fragrance, disteardimonium hectorite, butylene glycol, iron oxides (ci 77491), lecithin, ethylhexyl palmitate, isopropyl palmitate, isostearic acid, polysorbate 80, caprylyl glycol, hydrogenated lecithin, polyglyceryl-3 polyricinoleate, lilium candidum bulb extract, nelumbo nucifera flower extract, polygonatum officinale rhizome/root extract, paeonia albiflora root extract, rehmannia glutinosa root extract, ethylhexylglycerin, glyceryl caprylate, iron oxides (ci 77499), disodium edta, adenosine, acrylates/vp copolymer, honey, phenoxyethanol, alcohol, beta-glucan, sodium hyaluronate
Ingredients not included
– parabens,
– mineral oil.