I just received them and I thought I needed to show you right away! Let me introduce you to the Sulwhasoo's Peach Blossom Spring Utopia makeup collection!
This is not a review, nor even a mini-review, these will come later because I need time to test them properly. I knew that this collection was released only thanks to a Twitter friend who went in the Sulwhasoo flagship store in Seoul, (apparently, they just received them) and who sent me pictures of the products. Of course, I almost had a heart attack in front of so much beauty and I searched all over the internet to find a retailer to order them. I finally found them in an online store in Singapore that has them in pre-order (they only came out in early May). I used my magical delivery service that provides me addresses all over the world (for those who read me from Dubai, you probably already know Aramex Shop And Ship) because the store in question doesn't deliver internationally. Just so you know, I ordered them from Tangs but the package was very badly protected, I don't know how the face palette didn't arrive shuttered, I wouldn't really recommend them.
Since then, I saw that they were available on YesStyle but there is 21 days delay to receive them. I'll try to test them and write a true review quickly. Especially since the cushion foundation is the latest release from the brand, the Perfecting Cushion EX, which was released at the end of 2017 in Korea, and which is already available to purchase with the usual Sulwhasoo retailers (however, not with this pretty Peach Blossom packaging which is a specific collection, but the product inside is the same).
The face palette contains the new Powder For Cushion pressed powder and a limited edition blush in a beautiful peach shade (obviously!).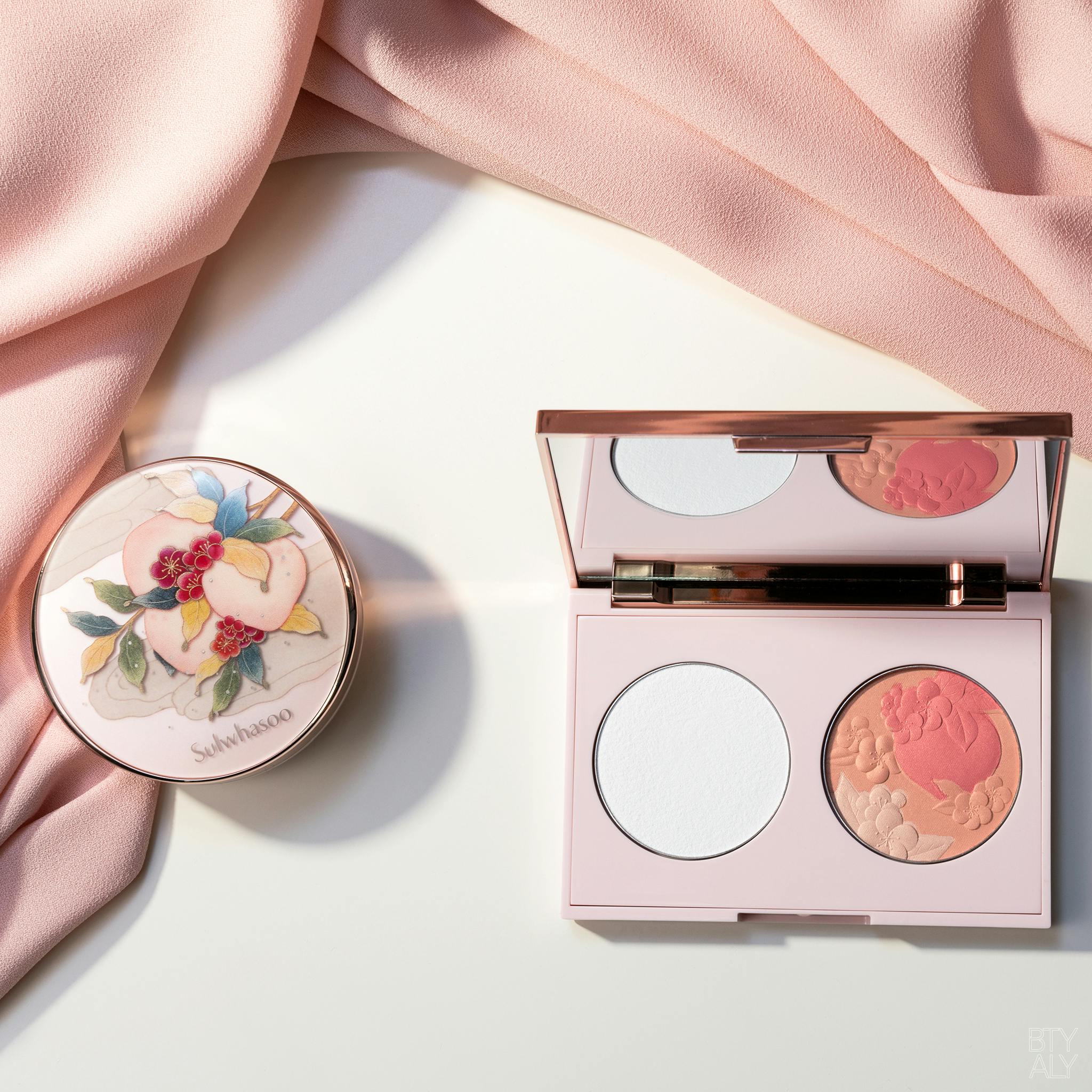 This collection launched by Sulwhasoo for spring is a collaboration with a Korean painter, Seo Hana, who created the illustration for the packaging in watercolor on mulberry paper (one day, I'll tell you more about the Korean papers I brought back from Seoul, they are to die for!). Sulwhasoo made a stunning video for the release of this collection where you can see the artist's illustration if you are interested.
If I understood correctly, the image of peach blossom has a particular meaning in South Korea, where it symbolizes the wishes of peace and happiness.
This is Sulwhasoo's official statement:
"In the ancient East, the image of a peach orchard brimming with the vitality of green leaves and the splendor of peach-blossom petals was equated with a utopian vision, called Peach Blossom Spring, where people live in peace and happiness. The image of peach was often incorporated into folk paintings, ceramics and ink stones, which were given as a special gift that would bring otherworldly eternal happiness."
Is it because of the recent rapprochement between the two Koreas? Honestly, I have no idea! But it's a gorgeous and very refined collection and as always with Sulwhasoo, it's also an opportunity for them to showcase Korean art and culture (that's why I was fascinated when I visited their incredible store in Seoul).
Oh and one last detail, I thank the makeup God and also the good-taste God, this face palette doesn't smell like an awful fake peach (nothing to do with the cheap Sweet Peach collection from Too Faced). It has no smell and it's great!
Stay tuned for the reviews! But if you're as obsessed with Sulwhasoo as I am, here are the links already:
Sulwhasoo Makeup Multi Kit, Powder For Cushion + Multi Color Blusher
Sulwhasoo Perfecting Cushion EX SPF50+ PA+++ (with refill) (Peach Blossom Spring Utopia Limited Edition Packaging)