Intro
Disclosure:
We may receive commission (from a sale) if you click on and purchase from affiliate link(s) below. You'll be helping to support the magazine.
A family member or close friend gifted this to the author.
My test and thoughts about the hydrating serum Hyaluronic Acid Aqua Booster, by the luxury clinical British skincare brand 111skin .
If you're a skincare addict, especially if you are into the luxury kind, you must have already come across the British brand 111skin. I have, but I never had the urge to "invest". I guess my "skincare intuition" was well sharpened, you'll see… I would like to introduce their hydrating serum, the Hyaluronic Acid Aqua Booster and give you my detailed thoughts about this small 20ml bottle that costs $135! (yes, you read that right)
First, a little disclaimer! I did not choose this product. It was in the wonderful Liberty London advent calendar that my husband had the excellent idea of offering me, shortly before my birthday (always handy to be born on November 30th!)
This advent calendar is one of the best if you like cosmetics, especially the fancy English ones! If you're curious about what was in this calendar, I left the opening of each box in my stories on my Instagram profile page.
When I opened the box that contained the 111skin Hyaluronic Acid Aqua Booster Moisturizing Serum, I thought it was perfect, considering all the good things I've heard about this brand!
So, yes, I know, it's not really their "star" product (111skin is mostly known for their luxurious sheet-masks and concentrated ampoule cures), but a serum still gives you a little idea of what the brand has in store.
Fun fact, when I opened the box, I thought it was a travel size because the bottle is quite small, 20ml. But no, it was the full size product, which is usually sold for $135 (and this was not the only expensive full size product; this calendar was a great value for money, no doubt!).
So I introduced this 111skin Hyaluronic Acid Aqua Booster serum into my routine a few weeks ago and I'm ready to give you my review!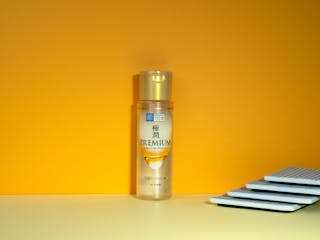 Skincare
Review: Hada Labo Gokujyun Premium Lotion 2020 Edition
If you're a fan of hyaluronic acid, you've come to the right place. Today, let's talk about the star ingredient of hydration and a cult Asian cosmetic product: the famous hyaluronic acid-based lotion Hada Labo Gokujyun Premium, the reformulated 2020 version! Below I share the details of my test of this lotion that makes the skin hydrated and plumped like no other!
Read more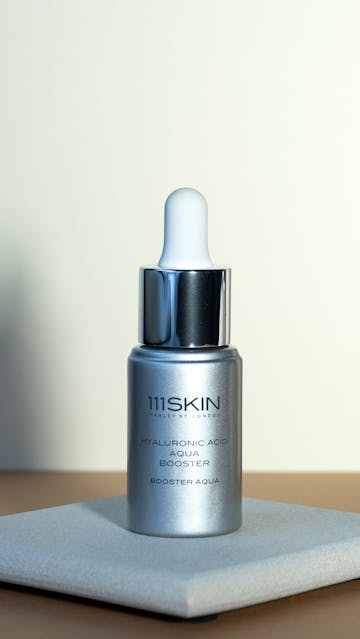 The brand 111skin:
111skin was founded by a couple, Dr. Yannis Alexandrides, a successful cosmetic surgeon in London, and his wife Eva Alexandrides.
In 2012, they decided to create skincare products for their patients to use after the medical treatments they received at Dr. Yannis' practice (111 Harley Street in London, hence the name 111skin), to allow them to optimize the results they achieved. The brand is now also distributed in several major retailers (Harrods, Bloomingdale's, Cult Beauty, Space NK…).
If I had to describe the 111skin brand, I would say that it's a "clinical" skincare brand, rather luxurious. Actually I would like to take this opportunity to talk about the term "clinical" because I know that it can be a bit vague for many people, and that it has a very positive perception for consumers.
A "clinical" skincare brand sounds serious, sounds like something a doctor would recommend. But in reality, are they prescribed drugs, or over the counter cosmetics?
Well, even if they are created by doctors, if they are not prescribed, they are still over the counter cosmetics. Nothing more, nothing less. "Clinical cosmetics" is mostly a marketing term, in short 😉
So now that it's out of the way, let's talk about 111skin products!
The founders have spent a lot of time designing their products to effectively accelerate skin repair, even working with 'space scientists' for their research. They developed 111skin's star ingredient, NAC Y2, made up of n-acetylcysteine, ascorbyl phosphate and aesculu/hippocastum extract, a powerful antioxidant complex to treat skin trauma. This active ingredient is at the heart of many of the 111skin products (but not in the serum we are focusing on today, unfortunately).
The range, created about ten years ago, has grown considerably since then. 111skin is known for the quality of its sheet-masks and its treatment ampoule cures, which are its best-sellers.
I think that if I had decided to invest money (yes, that's the right word given the price of the products!) to try the brand, I would have probably chosen these products.
That said, their serums are also quite popular! And I'm thrilled to have the chance to finally experience one of them.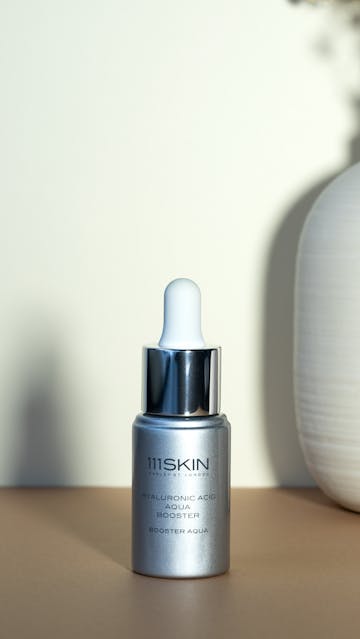 The hydrating serum 111skin Hyaluronic Acid Aqua Booster, product presentation:
The 111skin brand has several serums that they also call boosters, as they are meant to provide a treatment "boost" in a skincare routine depending on your current needs.
The 111skin Hyaluronic Acid Aqua Booster Serum focuses on hydration, with a composition that revolves around low molecular weight hyaluronic acid (= the one that penetrates the deepest into the skin for an intense plumping effect).
The rest of the formula is quite simple, with several other moisturizing ingredients to support hyaluronic acid, such as glycerin, Aloe Vera, sodium PCA, urea, and lactic acid.
And for the anti-aging and antioxidant (and purifying, radiance…) effect, there is also some niacinamide.
Not really unique ingredients, as you can see, and not really 111skin's own unique active ingredients either.
So I'd find it quite difficult explaining why this 20ml bottle is priced at $135 when I look at the formula.
But hey, as I always say, the formula doesn't tell the whole story, you have to try a product on your skin to really realize its effectiveness. So that's what I did!
The hydrating serum 111skin Hyaluronic Acid Aqua Booster, my experience:
I've been using the 111skin Hyaluronic Acid Aqua Booster Serum for a little over 3 weeks. I have included it in my morning routine.
I use about 1/5 of a pipette (i.e. a few drops). Not more than that otherwise the texture tends to be sticky (and considering the price, I think you should avoid being heavy handed!). It doesn't smell like anything, which doesn't really bother me.
As far as sensoriality is concerned, it's not amazing, but I was expecting it, I must say. Clinical skincare brands are rarely sensorial.
Regarding the results, I find it rather effective on my skin! The moisturizing effect is definitely there. My dehydrated combination skin remains comfortable all day, without getting shiny. It does the job!
But… I must admit that I still can't justify its astronomical price. I don't know if the comparison is honest because the 111skin's formula is more complex, but when it comes to hydration and skin plumping, I prefer my Hada Labo lotion for example, which costs 10 times less for 5 times more quantity.
Right now, hyaluronic acid is trendy, you can find moisturizing serums containing it almost everywhere. So why pay this price for a not so unique formulation and acceptable efficiency but comparable to many other products on the market? Just wondering…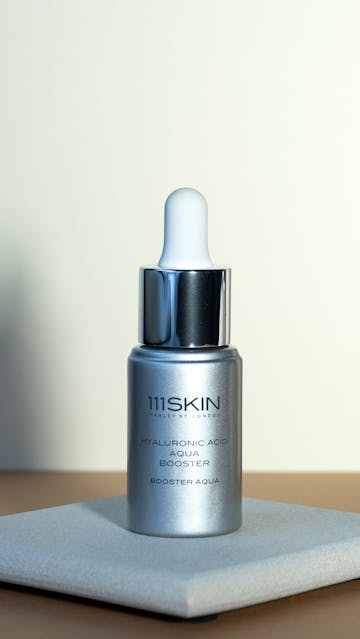 In conclusion:
In short, as you may have understood, I'm quite skeptical.
I think the 111skin Hyaluronic Acid Aqua Booster Serum is a good product, rather well formulated and effective on my skin.
But for the price, I expected much, much better. The sensorial aspect is not the best, for example. The packaging either. And above all, I can have the same product experience with other formulas for much cheaper.
I still want to discover other products from the brand but next time, I would try to aim for more unique and innovative formulas, to get a better idea!
The hydrating serum 111skin Hyaluronic Acid Aqua Booster retails for $135 for 20ml.
Product Review in detail
Summary
111skin Hyaluronic Acid Aqua Booster
"The Hyaluronic Acid Aqua Booster increases moisture levels by delivering a shot of concentrated hydrating ingredients into skin, combating both dryness and dehydration. "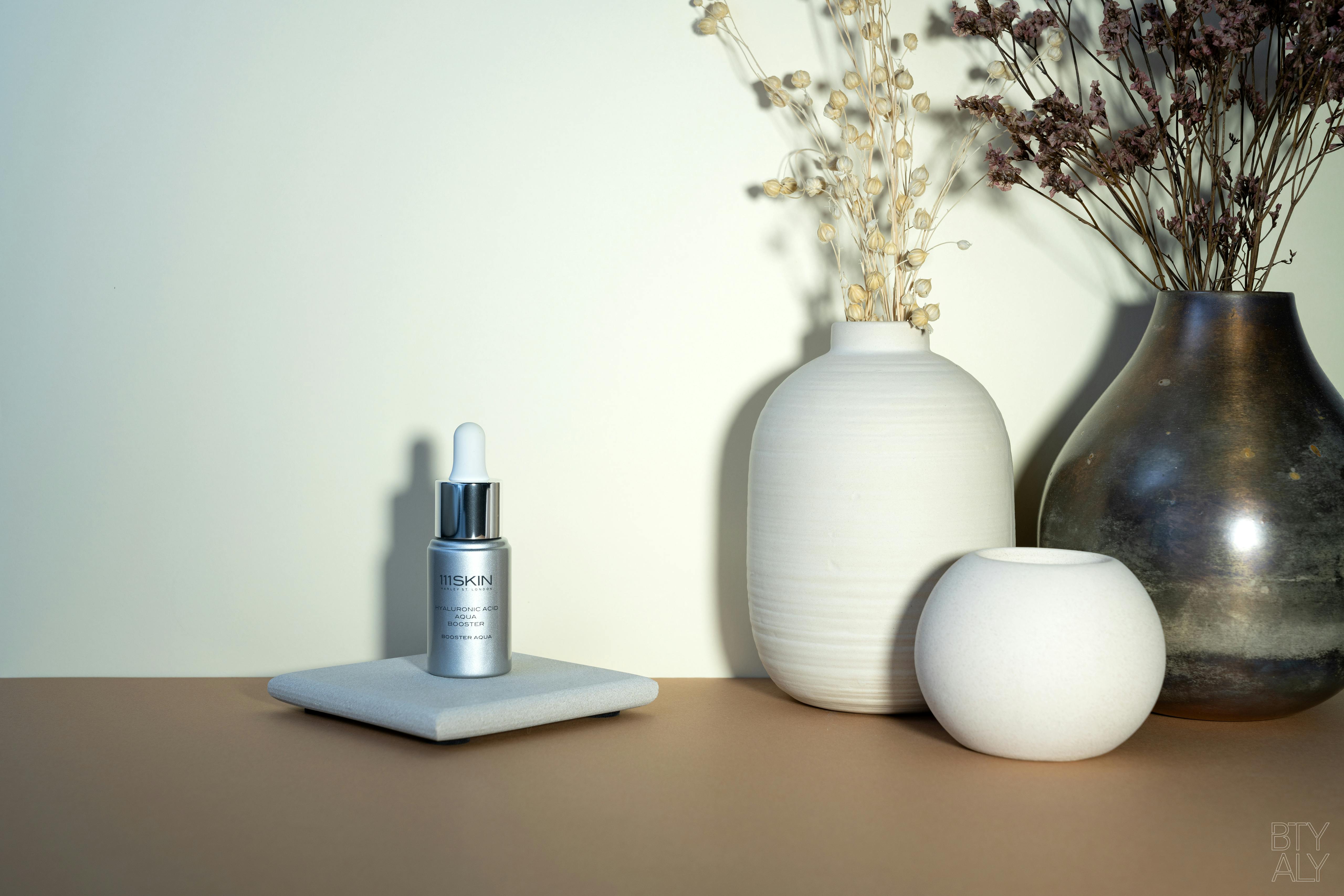 Recommendation
B-
Good product, but way too expensive for what it is.
Pros
- the rather complete and well-designed formula,
- the efficient hydrating effect,
- its non-greasy finish on the skin.
Cons
- the price, it's absolutely ridiculous and not justified! Especially for the quantity of product: 20ml (I thought it was a travel size),
- the packaging doesn't protect the formula very well, the opening of the bottle is too big and lets a lot of air through (at this price, I want a perfect packaging, and this one is just not enough)
- the texture is a bit sticky, not silky like I wanted it to be.
product name
Hyaluronic Acid Aqua Booster
packaging
A silver metallic glass bottle with a pipette, quite simple. I'm not a fan of the opening of the bottle, which I think is too large and lets air in every time I use it.
fragrance
Fragrance-free (with no smell).
texture
A liquid gel that feels a bit sticky upon application.
For Who
All skin type, all age.
Concerns
– dehydrated skin,
– dry skin,
– wrinkles, fine lines,
– lack of comfort,
– anti-aging prevention.
Method
I apply the Hyaluronic Acid Aqua Booster in the morning at the moment, but you can use it morning and/or evening.
After applying my essence(s), I take the equivalent of 1/5 pipette (or a few drops) and massage my face and neck with it. Once it's almost absorbed, I finish with some hand pressures on my skin and continue with the rest of my routine. It absorbs relatively quickly, although it leaves a rather sticky finish that luckily fades away quickly once I apply something else on top.
Key Ingredients
The formula is quite simple, and focuses on hydration with:
– low molecular weight hyaluronic acid for deep hydration,
– several other moisturizing ingredients: glycerin, Aloe Vera, Sodium PCA, Urea, lactic acid…
– and for the anti-aging and anti-oxidant effect (and purifying, radiance…), some niacinamide.
Ingredients
Aqua/​Water/​Eau, Glycerin, Hyaluronic Acid, Cellulose Gum, Aloe Barbadensis (Aloe Vera) Leaf Extract, Benzyl Alcohol, Polysorbate 20, Sodium PCA, Fructose, Urea, Niacinamide, Sodium Benzoate, Lactic Acid, Sodium Lactate, Glycine, Inositol, Tocopherol.
* Please be aware that ingredient lists may change or vary from time to time. Please refer to the ingredient list on the product package for the most up to date list of ingredients.
Ingredients not included
– mineral oil,
– silicones,
– alcohol,
– dyes,
– fragrance,
– essential oils.