Intro
My test and thoughts on the hydrating and soothing Bamboo Hydrating Ampoule by the Korean skincare brand Be Plain.
For some time now, I've found the term "hidden gem" to describe a nice skincare product almost overused. But it's hard for me to think of a different way to describe the Bamboo Hydrating Ampoule Serum from the Korean skincare brand Be Plain! Here is my review on this surprising hydration bomb!
I'm not sure where I first heard about this product… But I feel like it's been very popular in Korea and among K-Beauty fans for at least a year or two!
To tell you the truth, at the beginning, I was mostly curious to try a product that features an ingredient that I have found very interesting lately: bamboo.
Bamboo is often associated with the collective imagery related to Asia, and for good reasons, I must say! Even though it is now cultivated all over the world, bamboo has been used extensively on the Asian continent for thousands of years, both as a building material and to make paper, as well as many other everyday objects. Some varieties are also cultivated for food and also, as you'll see, for cosmetics!
Let me tell you more about the properties of bamboo used for the skin and give you my detailed review of the Be Plain Bamboo Hydrating Ampoule Serum!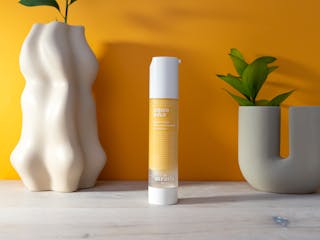 Skincare
Review: Stratia Liquid Gold
Is your skin dehydrated, sensitive, uncomfortable, in short, completely unbalanced and your natural moisture barrier is compromised? Well, first of all, it happens to the best of us, and second, the following product review might interest you. Today, let's have a look at the cult favorite skincare treatment for damaged skin, Stratia Liquid Gold!
Read more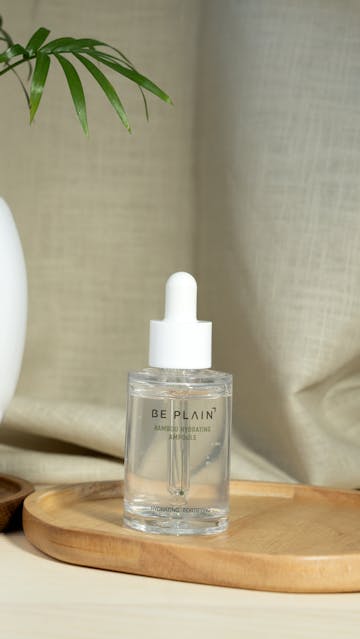 Be Plain Bamboo Hydrating Ampoule, product presentation:
Be Plain is a new Korean skincare brand. I haven't been able to find the exact date of their launch, but I would assume 2018-2019.
They are part of this new generation of "clean" brands that Korean skincare-addicts now love (yes, no one is spared anymore… sigh). The brand notably follows the guidelines of the very controversial EWG, a North American lobbying organization, specialized in misinformation about cosmetic ingredients in my opinion… (if you're curious about it, The Eco Well did a great article detailing why they are problematic. It's on their website.).
In short, apart from their communication, which isn't really my cup of tea, Be Plain is still a cool skincare brand: simple formulas, with great ingredients, nice textures and simple and clean bottles, very genderless.
I just saw on their Korean website that the brand has completely rebranded its packaging, so in a few months, the logo will be a little different. But they kept the same minimalist spirit, and fortunately, the same formulas, phew!
The brand is also cruelty-free, and avoids potentially irritating ingredients in its formulas, such as perfume and essential oils.
This Be Plain Bamboo Hydrating Ampoule was born out of the success of another of their products: their Bamboo Healing Sheet Mask. This one was very popular in Korea and Be Plain decided to release its ampoule version!
And the superstar of these two products is bamboo, a plant with an almost sacred dimension on the Asian continent!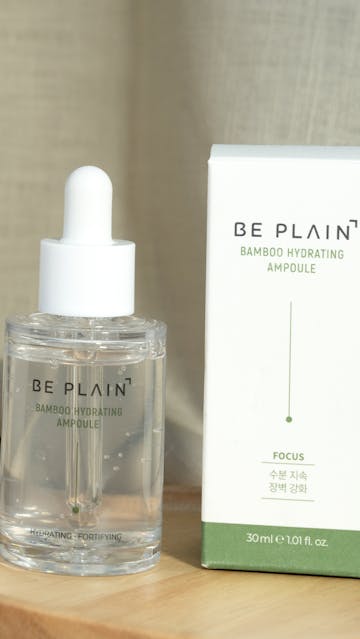 If bamboo is so interesting in cosmetics, it is thanks to its high natural silica content, which gives it anti-aging and fortifying properties. These effects can be explained by the structuring role of silica in the formation of skin collagen; silica has therefore regenerating and revitalizing benefits. It's also naturally rich in minerals and amino acids, for a fortifying effect.
Another plus, bamboo is a very good humectant ingredient: it likes water and retains it, which guarantees the skin a long-lasting and deep hydration. Finally, it also has an antioxidant action, perfect if you want to prevent your skin from the premature signs of aging!
In short, bamboo plays a great part in this formula and it's easy to understand why 😉
The other ingredients of the formula are also very exciting! At first you would think it's a simple hydrating serum, but in reality, it's very versatile:
– it has a hydrating effect thanks to hyaluronic acid, bamboo juice and sap, and glycerin,
– it's also soothing due to panthenol and allantoin,
– but also repairing with its ceramides and cholesterol, which are natural constituents of the skin barrier,
– and finally it's antioxidant thanks to caffeine and bamboo.
In short, an ideal serum for dehydrated and/or sensitive skin!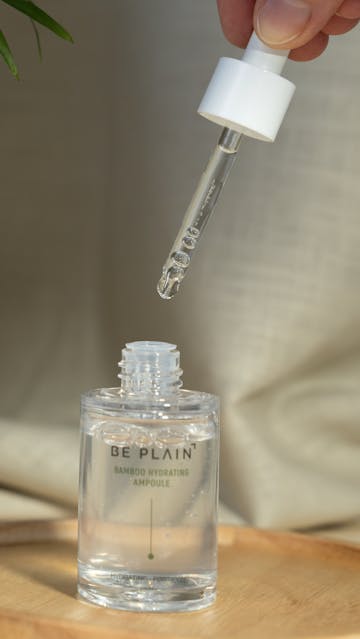 Be Plain Bamboo Hydrating Ampoule, my experience:
We always need a bit of hydration, don't we? So a hydrating serum is always welcome in my routine!
But if it's soothing and helps to strengthen the skin barrier, it's even better, especially when you have to wear a mask every day and/or use strong actives in your routine like I do with tretinoin!
This is why I got interested in the Be Plain Bamboo Hydrating Ampoule, its multi-tasking effect! And all this in a rather lightweight texture, ideal during the day! In fact, I chose to use it in my morning routine.
My skin has changed since I've started using tretinoin, it's drier than before but I still prefer textures that aren't too oily during the day, especially since I live in a warm country!
I started this serum at the end of July, the bottle lasted me for about 3 months (I just finished it) and I found it perfect for summer and early fall!
It moisturized and plumped my skin immediately, with a fresh feeling as a bonus, and I also found it soothing and repairing enough for my sensitive skin.
It did help to keep my skin comfortable all day without being too heavy. In short, if you have dry and/or sensitive skin and you want a good hydrating serum that strengthens your skin barrier, it really does the job!
I find that for this type of formula, the price is also decent (between $20 to $26).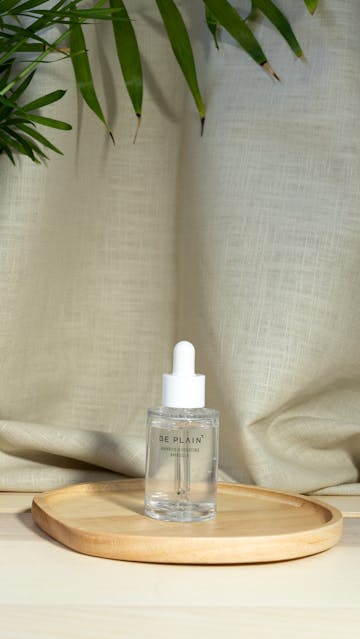 In conclusion:
In short, the Be Plain Bamboo Hydrating Ampoule is a pleasant, effective and very gentle product, which is perfect for dehydrated skin, but not only!
It made me want to discover the other products from the brand, including the famous Bamboo sheet-mask and their Cicaful ampoule with Centella Asiatica, which seems to be their bestselling product 🙂
The Be Plain Bamboo Hydrating Ampoule retails between $20 and $26 for 30ml depending on the retailers.
Product Review in detail
Summary
Be Plain Bamboo Hydrating Ampoule
"A powerful hydrating ampoule that moisturizes and vitalizes the skin with bamboo water.
Low molecular Hyaluronic Acid and Ceramide strengthen the skin barrier and keep the skin moisturized.
The firm and concentrated ampoule texture spreads smoothly on the skin with a moist and fresh finish."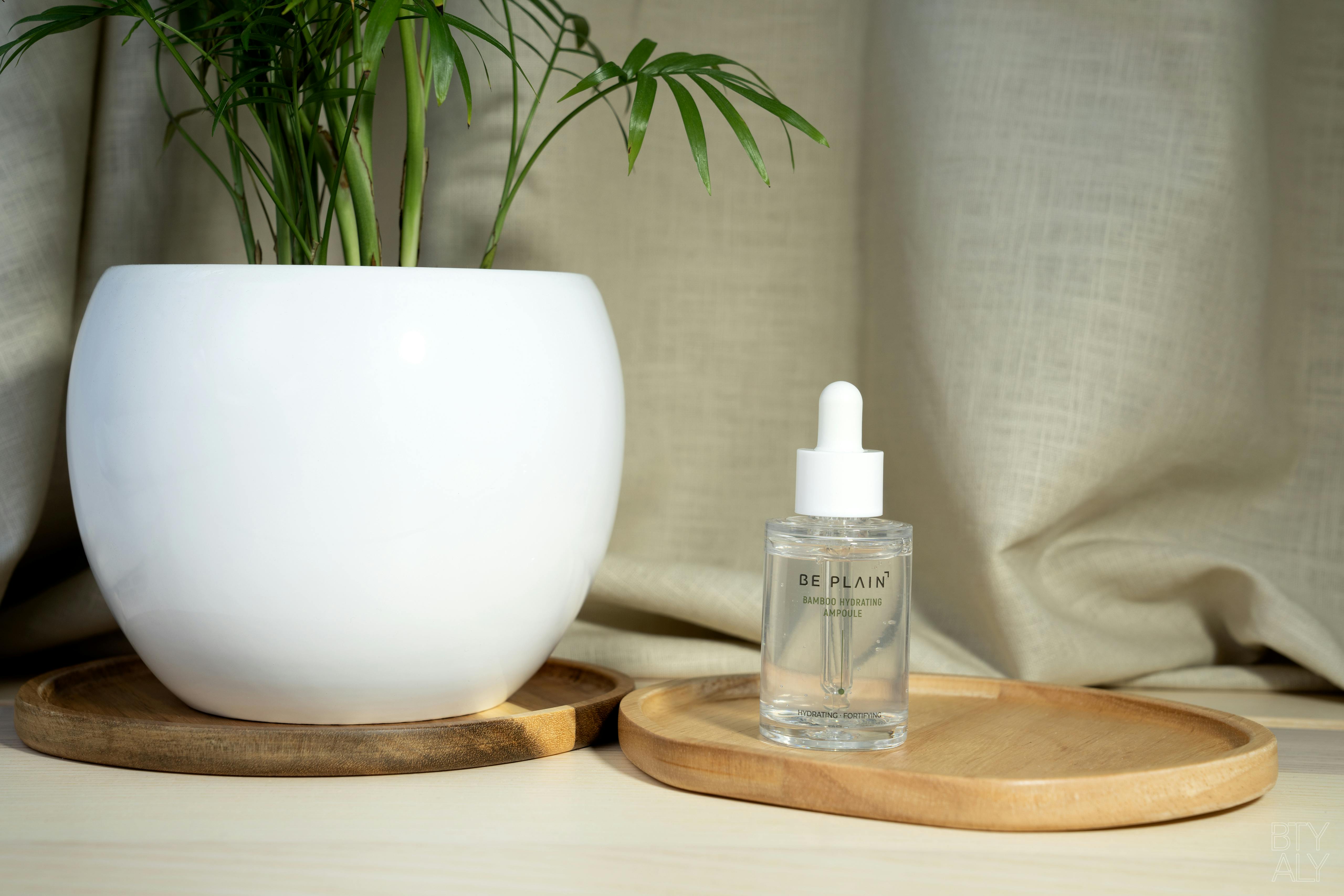 Recommendation
A
A good multi-tasking product!
Pros
- a very interesting formula, full of effective skincare ingredients!
- a fresh gel texture that leaves the skin comfortable but not greasy or sticky,
- the soothing and refreshing effect, perfect for irritated skin,
- the repairing effect on the skin barrier thanks to its skin barrier-friendly ingredients: ceramides and cholesterol,
- it moisturizes and nourishes efficiently but the texture is lightweight,
- its antioxidant effect thanks to bamboo and caffeine,
- its plumping effect (perfect for a morning use),
- the formula is suitable for sensitive skin.
Cons
- the bottle is not very qualitative (it looks quite cheap) but the brand has recently redesigned all its packaging, so I'm confident that it will quickly be improved!
- the communication of the brand is very "Clean Beauty"/" yay for EWG" oriented, not my cup of tea,
- the brand is not easy to find at the moment.
product name
Bamboo Hydrating Ampoule
packaging
A plastic bottle with a dropper (not very qualitative, it feels a bit cheap).
fragrance
Fragrance-free (and it doesn't smell like anything)
texture
A relatively liquid gel texture that spreads and absorbs easily.
For Who
– all skin types,
– all ages.
Concerns
– dehydrated skin,
– sensitive, sensitized skin,
– dry skin,
– wrinkles, fine lines,
– lack of comfort,
– anti-aging prevention.
Method
I use the Be Plain Bamboo Hydrating Ampoule in the morning, after my essences, and before my daily moisturizer.
I apply about 1/3 pipette of product and massage it my face and neck with it for a few seconds. It penetrates relatively quickly, and doesn't leave a greasy or sticky feeling. Once it's almost absorbed, I finish by pressing it into the skin with gentle hand pressures and continue with the rest of my routine.
Key Ingredients
The formula of this serum is very interesting! It looks like a basic hydrating serum, but in reality, it's very versatile:
– its moisturizing thanks to hyaluronic acid, bamboo juice and sap, and glycerin,
– soothing thanks to panthenol and allantoin,
– but also repairing thanks to ceramides and cholesterol,
– and finally antioxidant thanks to caffeine and bamboo.
Ingredients
Bambusa Vulgaris Water (80%), Dipropylene Glycol, Glycerin, Diglycerin, Phyllostachys Bambusoides Juice(20,000Ppm), Sodium Hyaluronate, Hydrolyzed Hyaluronic Acid, Panthenol, Allantoin, Ceramide NP, Ceramide AS, Ceramide AP, Ceramide NS, Ceramide EOP, 1,2-Hexanediol, Hydroxypropyltrimonium Hyaluronate, Hydrogenated Lecithin, Ammonium Acryloyldimethyltaurate/​VP Copolymer, Acrylates/​C10-30 Alkyl Acrylate Crosspolymer, Xanthan Gum, Caffeine, Tromethamine, Disodium EDTA, Glyceryl Stearate, Cholesterol, Hydroxyacetophenone.
Ingredients not included
– mineral oil,
– silicones,
– alcohol,
– dyes,
– fragrance,
– essential oils.