Intro
My mini-review of Vitamin Hyaluronic Vitalizing Toner from the natural K-Beauty brand Iunik, which moisturizes while giving radiance!
As you know, I'm a huge fan of Asian essences, which I find both super effective on skin hydration and also very pleasant to use! Today, I want to introduce you to the Vitamin Hyaluronic Vitalizing Toner essence from the Korean natural brand Iunik.
Essences are one of my great passions, if you read me regularly, it won't surprise you!

They're perfect for my dehydrated combo skin: they leave it comfortable without feeling heavy and the moisturizing effect lasts all day!

I've tried plenty of them now (I have also done multiple reviews of them), and even if I have my favorites (the ones from Hada Labo are still in my top 3), I love testing new ones!

I have already introduced you to the natural Korean brand Iunik, with their serums rich in great skincare ingredients and their reasonable prices.

When I saw that the brand also had essences, I couldn't resist. I had to try them!

Here is my mini-review of the Iunik Vitamin Hyaluronic Vitalizing Toner!
Skincare
Do you need an essence?
Recently, and probably thanks to the influence of Asian beauty, a new type of product appeared on most skincare addicts radar: essences. Like a kind of "beauty water" or "liquid skincare", an essence is a hybrid liquid product that is a cross between a toner and a serum. Can it replace them or do you have to add it to them? I'll tell you everything you want to know about essences!
Read more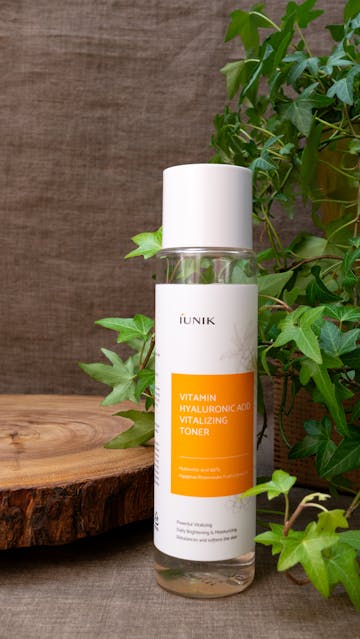 Mini-review:
If you want to know more about Iunik, I talked about the brand in more detail in my mini-review of the Tea Tree Relief Serum.
The Iunik Vitamin Hyaluronic Vitalizing Toner is a moisturizing essence with a slightly gel-like texture, you can typically find in Asia (but I'm seeing it more and more in French cosmetics too, especially in pharmacie skincare brands!), which you apply as a "pre-care", before your serum and moisturizer.
This essence is mainly focused on hydration (it contains a lot of hyaluronic acid) but it also boosts skin radiance, with a lot of brightening ingredients (niacinamide and sea buckthorn, naturally rich in vitamin C) which are also anti-oxidant and has therefore an anti-ageing effect on the skin.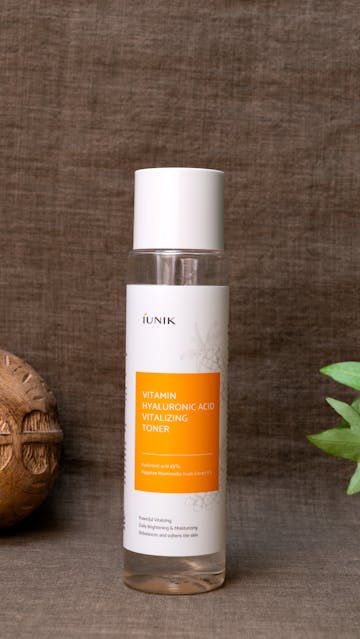 It's a very complete treatment!
I know that many people consider essences as an extra, unnecessary product, but for me, they became essential in my routine, and I don't hesitate to replace my serums with them from time to time, if I want more lightweight textures in my routine without compromising on the efficiency of my products!
That being said, I also love to use the Iunik Vitamin Hyaluronic Vitalizing Toner as an hydrating complement to my current vitamin C serum, to add even more glow to my skin!
It's indeed quite comfortable for my dehydrated skin, and most of the vitamin C serums I tried were often not the most hydrating products ?
I've been using it for more than 4 months (I'm halfway through it, it's a 200ml bottle) and I really like its moisturizing effect.
On the other hand, if I had something negative to say about it, it would be that it's sticky. Fortunately, it doesn't stay and as soon as you apply another skincare product on top, this effect disappears, but to be fair, I must admit, I don't have as much pleasure using it as other moisturizing essences…
In short, it won't replace my beloved Hada Labo lotion anytime soon, which I prefer for its more pleasant texture, but this Iunik essence is an interesting option if you prefer a more natural formula ?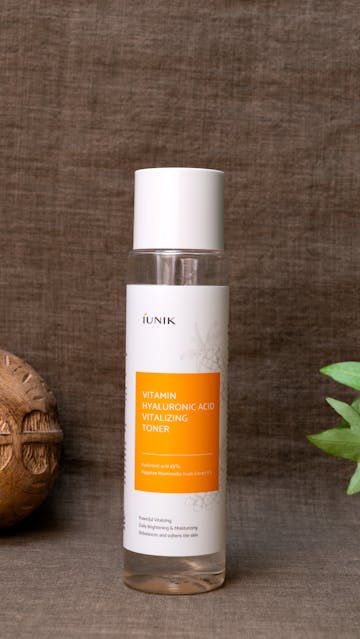 In conclusion:
As you probably understood, my opinion about this Iunik Vitamin Hyaluronic Vitalizing Toner essence is a little mixed.
Let's say that it does the job and its composition is good, but I have to admit that knowing that there are other essences that are just as effective and more pleasant to use, I can't really motivate myself to keep using it and not leave it to try something else! Well you know I love trying new products anyway.
That being said, this mixed experience won't discourage me, and I look forward to keep on discovering other cool products from Iunik!
The essence Iunik Vitamin Hyaluronic Vitalizing Toner retails between $16 and $23 for 200ml depending on the retailers.
Product Review in detail
Summary
Iunik Vitamin Hyaluronic Vitalizing Toner
"This gel type toner can help to make powerful vitalizing and moisturizing with Hippophae Rhamnoides Fruits Extract 5% and Hyaluronic Acid 45%."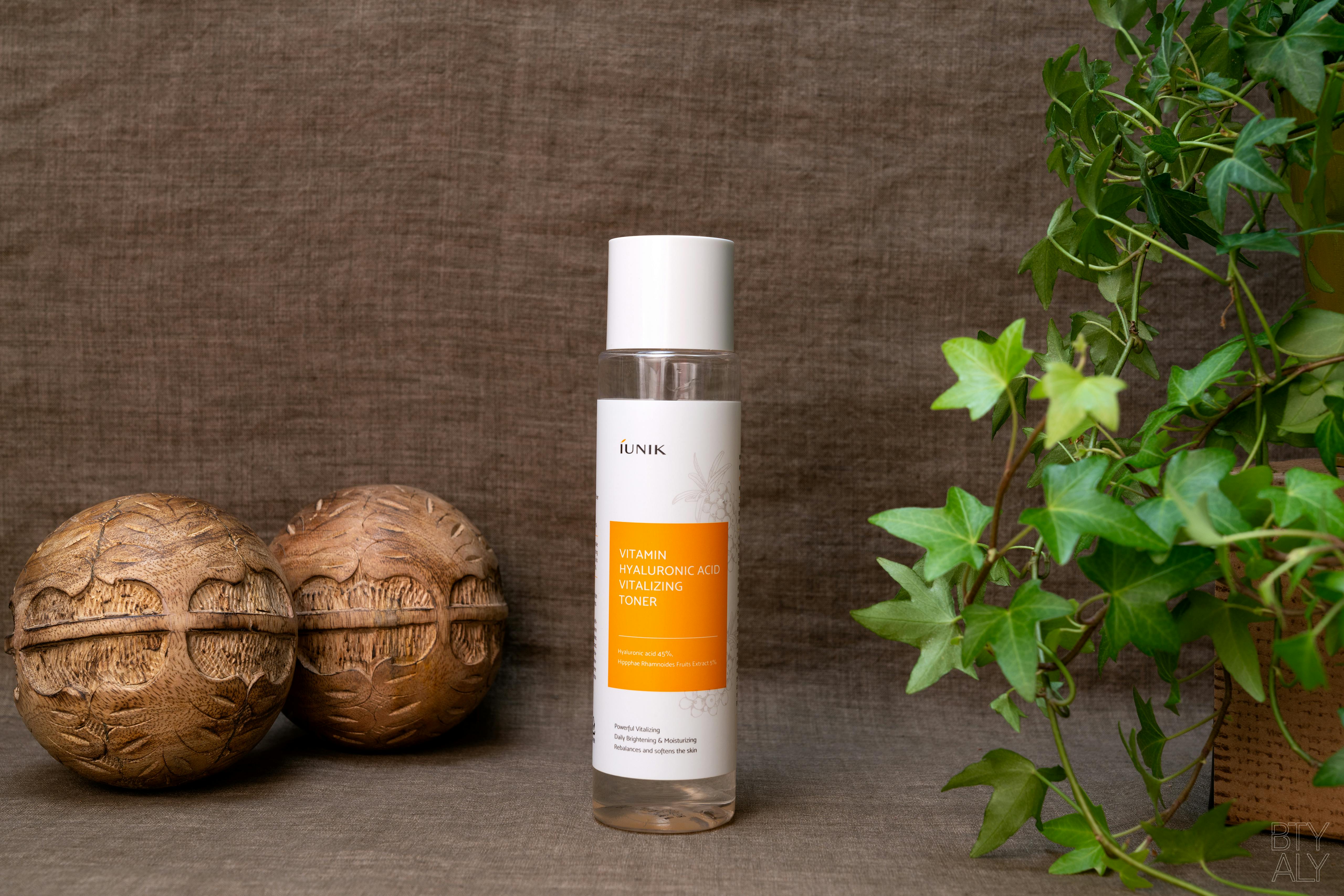 Pros
- the formula, with good skincare ingredients in high concentrations,
- the moisturizing, but also radiance boosting and anti-ageing effects!
- the simple and sleek packaging,
- the great price/quality ratio,
- the product lasts a very long time (8 to 10 months using it once a day)!
Cons
- the sticky texture, it's a bit of a shame.
product name
Vitamin Hyaluronic Vitalizing Toner
packaging
A transparent plastic bottle, with a white and bright orange tag. The style is rather simple, but sleek, and also quite "cool".
texture
A liquid texture, slightly gel-like, which unfortunately leaves my skin a little sticky.
For Who
– all skin types (dry, combination, oily),
– dull skin,
– dehydrated skin,
– mature skin.
Concerns
– dehydration,
– dullness,
– dryness,
– wrinkles, fine lines.
Method
I use the Iunik Vitamin Hyaluronic Vitalizing Toner essence in the evening and/or morning, on cleansed skin, after using a slightly acidic toner, but before my other targeted treatments (my serums and oil) and my moisturizer.
I apply it on my face, including my eye contour and neck.
I pour the essence directly into the palm of my hand. I shake it about three to four times, in order to have enough product in my palm. You can also use a cotton pad to apply it, but I personally find that you lose far too much product using this method.
I then apply it directly on my skin, with light pressure from the palms of my hands until the product is absorbed.
I finish by dabbing my skin lightly to help absorption. It's a little bit sticky but once I've applied my next product in my routine, the feeling doesn't stay, fortunately!
Key Ingredients
The formula of this essence/toner is really interesting, it contains many good skincare ingredients!
Like for example:
– low molecular weight hyaluronic acid (the one that penetrates deeper into the skin) for an intense moisturizing effect,
– moisturizing glycerin,
– Sea Buckthorn extract (Hippophae Rhamnoides Fruit Extract) naturally rich in vitamin C for a brightening and brightening effect,
– Niacinamide, for smoothing, radiance, anti-ageing, purifying effects…
– some antioxidant ingredients: Thuja Orientalis leaf extract, Polygonum Cuspidatum root extract,
– Licorice root extract (Glycyrrhiza Glabra/ Licorice Root Extract) for a soothing effect and to boost the complexion's radiance.
Ingredients
Sodium Hyaluronate (45%), Water, Hippophae Rhamnoides Fruit Extract (5%), Glycerin, Butylene Glycol, Niacinamide, 1,2-Hexanediol, Trehalose, Caprylyl Glycol, Thuja Orientalis Leaf Extract, Zanthoxylum Schinifolium Leaf Extract, Polygonum Cuspidatum Root, Ethylhexylglycerin, Hydroxyethylcellulose, Pentylene Glycol, Aspalathus Linearis Extract, Glycyrrhiza Glabra (Licorice) Root Extract.
Ingredients not included
– mineral oils,
– synthetic perfumes,
– dyes,
– silicones,
– parabens.