Intro
Discover my mini-review of the Cho Gong Jin Cream Foundation Compact (Sweet Flower collection 2019) by the Korean brand Missha.
I suspect this review will mainly interest collectors today, but I had to show you this little gem from the Korean brand Missha! So, here is my mini-review of the Cho Gong Jin Cream Foundation Compact (from the Sweet Flower 2019 collection), a limited edition.
For the Chinese New Year, Asian cosmetics brands get usually even more creative than usual and release gorgeous limited edition collections with special packagings.

This lunar year will begin on February 5th, and it will be the year of the pig.

As a result, many brands released entire pig themed collections, absolutely adorable (I couldn't resist this oh-so-cute Etude House Piglet blush).

Missha chose another approach, and to celebrate the Spring Festival (because the New Year of the Lunar Year also corresponds to the beginning of the Spring Festival), they decided to collab with a Korean artist, Choi Ji-Yoon to create illustrations for their limited edition Sweet Flower collection.

The Sweet Flower collection has 2 foundations, 1 blush (all three in a compact box format), and 3 lipsticks. They all have special packaging, with illustrations of birds and flowers.

The three compact base products are all to die for, and I had to restrain myself not to order them all. I chose the peacock and plum blossom motif, but honestly, the other two are just as stunning!

Speaking of ordering these, it's a collection intended primarily for Asia, so they were definitely not easy to find online.

I found a link on eBay, but that's all (I went through Gmarket but I'm not sure I would recommend it, international shipping costs are quite dissuasive…)

It was also impossible for me to find an English translation for the product description, so my review will probably be a little less thorough than usual, sorry! I did what I could with Google Translate 😉

So here is my review of Misha Cho Gong Jin Compact Cream Foundation: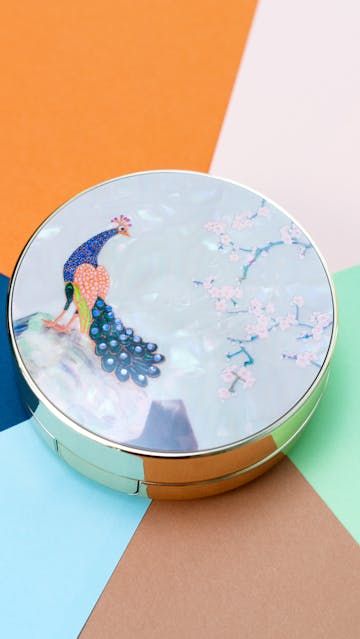 Mini-review:
I must admit that when I saw the packaging, I didn't really care what was in it, I absolutely had to have it!
Koreans are incredibly talented at creating irresistible packaging (remember this stunning Sulwhasoo collection!) and the fact that they are often limited edition makes them even more attractive IMO.
So I'm not an expert at all, but if I understood correctly, the peacock and the plum blossom both have a particular meaning in Asian culture: the peacock is a symbol of beauty and dignity, and the plum blossom symbolizes continuity and renewal, but it's also the evocation of spring.
I imagine that this type of product is perfect as a gift option during Chinese New Year's celebrations.
Without being a connoisseur of this fascinating culture, I can still appreciate the aesthetics of the object! It's clearly one of the prettiest compact cases in my collection!
I must admit that I was a little apprehensive before I received it, I was afraid it would look cheap and too plasticky, because well, Missha is not Sulwhasoo. But I was pleasantly surprised by the quality of the product! It's not as well done as Sulwhasoo (knowing that the price of this Missha compact is half that of the Cushion from Sulwhasoo) but it comes pretty close!
And the product inside is not so bad either!
At first, I thought it was a cushion foundation since I couldn't read the Korean description on the Missha website. In reality, it's a compact foundation, and from what I understood, the formula is half foundation, half skincare cream.
The compact Cho Gong Jin is part of Missha's Misa range, which is their "hanbang" line (= anti-aging, and which uses the benefits of oriental herbs and plants).
This range contains mainly a complex of ingredients, the Gongjindan Complex, which has anti-ageing properties.
The range of colors is super limited, as often in Korea (not sure the Fenty Beauty effect has hit there yet…). There are only two shades in this collection: #21, a light beige, with slightly yellow undertones (this is the one I chose) and #23, slightly darker but pinker.
The color #21 is a little too light for me but since the coverage is quite sheer, I can get away with it.
The finish is satin, without being too shiny. I have a combination skin, so I have to set it with powder to make it last longer. It lasts rather well, it tends to migrate a skin into my fine lines at the end of the day, but nothing too dramatic.
As for the formula, it was impossible to find the details of the ingredients (I tested the limits of the translation via Google Translate lol) but I understood that since it was a foundation mixed with an anti-aging cream, there were quite a few interesting ingredients inside, such as ginseng, lotus flower extract, mushroom, and other fermented ingredients.
It also contains a SPF50 PA ++++ sun protection.
I apply it using the puff in the case and it's super fast and simple: in a few seconds, the complexion is done!
Regarding the price, it's more expensive than the brand's other foundations, and it doesn't come with a refill, so in the end, you only have 15g of product. It's clearly not the value for money out there, but I must admit that with such pretty packaging, I'm a little less demanding…
Here is a swatch and a photo of the foundation on my skin: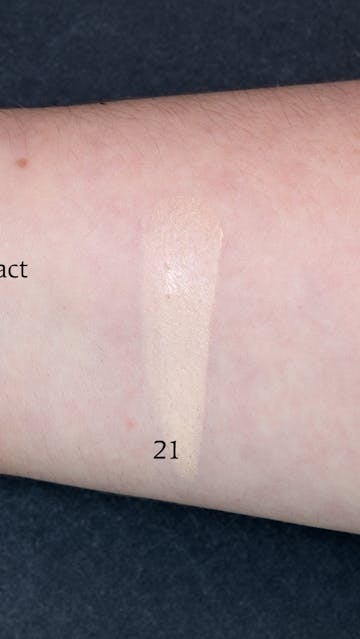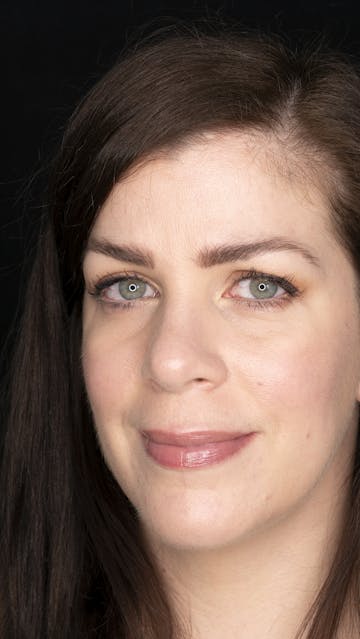 As you can see, the result looks very natural on the skin, and I must say I like it very much!
In conclusion:
In short, I'm delighted with my purchase and I find the foundation pretty great, even if I totally bought this compact for its gorgeous packaging!
So if you find it pretty, don't wait too long! In my opinion, it won't stay in stock for very long 😉
The Missha Cho Gong Jin cream foundation compact from the Sweet Flower collection retails for $32 depending on the retailers.
Edit 01/02/2019: It's finally available on YesStyle, I just added the link!