Intro
Disclosure:
We, or the author, purchased this item.
We may receive commission (from a sale) if you click on and purchase from affiliate link(s) below. You'll be helping to support the magazine.
I tried CeraVe Hydrating Foaming Oil Cleanser, which is NOT a makeup removing product. Let me give you my review of this misunderstood product!
A few months ago, when the American skincare brand CeraVe announced the launch of their Hydrating Foaming Oil Cleanser, I was super excited! I'm a huge fan of CeraVe cleansers, and I was thrilled that the brand finally released a product dedicated to makeup removal. Except… well, they didn't! I'll tell you the story about this misunderstanding, and give you my thoughts on this Hydrating Foaming Oil Cleanser 🙂
Because nope, CeraVe Hydrating Foaming Oil Cleanser is not a makeup remover, but rather a face and body wash!
I know I wasn't the only one engrossed in wishful thinking (yes, my desires are often related to skincare, what can I say, you're passionate or you're not 🤪). Most people who reviewed this product on social media were quite confused about the concept!
I must say that the name of the product is indeed a bit confusing: Hydrating Foaming Oil Cleanser. Usually, an Oil Cleanser is another name for a makeup remover.
But there was a clue in the name: "Foaming".
In French, there is less doubt. The name "Huile Lavante Moussante Hydratante" is rather clear (if you speak French obviously lol). The name suggests it's a face and body wash oil, not a makeup remover. And it's also a category of products that is quite common in France, especially if you visit pharmacies. Most of the pharmacie brands have one (Aderma, La Roche Posay, Avène, Bioderma, Eucerin… and so on!).
Typically, you'll find this kind of product in the shower of people with very dry or sensitized skin! I myself use one very often, especially in winter when my crocodile skin is acting up.
But for the purpose of this review, I tested it first on my face. Let me tell you all about it!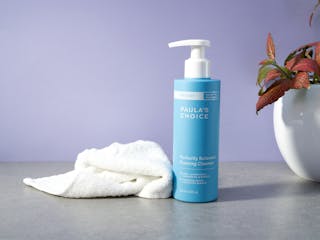 Skincare
How to cleanse your skin properly
Facial cleansing isn't always done properly, yet it's probably the most important step in a skincare routine. Today let's take a closer look at the best way possible to cleanse your skin, and all there is to know about it!
Read more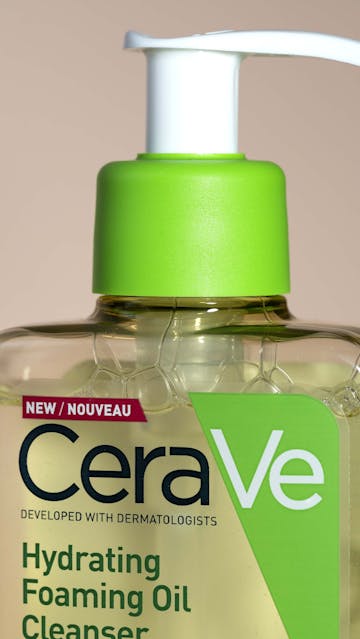 CeraVe Hydrating Foaming Oil Cleanser, product presentation:
This product is a new addition to the CeraVe line of cleansing products, the brand's specialty! 🙂
CeraVe is an American drugstore skincare brand, which has been around for 15 years.
From the beginning, the brand has been focused on repairing drier skin types, with formulas designed to repair and strengthen the skin's barrier function. In fact, this famous "skin barrier" is 50% made up of ceramides, and with that in mind, the dermatologists associated with CeraVe created a range of skincare products enriched with ingredients naturally present in the skin: essential ceramides, hyaluronic acid and fatty acids such as cholesterol, to help repair the skin effectively.
The "Cera" of the name "CeraVe" is actually for ceramides! For the record, the "Ve" refers to the MVE® technology contained in all CeraVe products. Medicine inspired, this technology allows the active ingredients to be encapsulated and diffused into the skin for a prolonged period of time, for continuous hydration all day long.
The brand is intended primarily for sensitive (or sensitized) skin. It's a dermo-cosmetic brand. Another particularity of CeraVe products, the formulas are all fragrance-free!
The range has grown a lot since 2005 and they also have specific formulas for oily skin, with salicylic acid, but they're still very respectful of the skin barrier. With CeraVe, the skin won't be stripped!
CeraVe is well known for its range of facial cleansers, which are both effective and very gentle, while being also super affordable!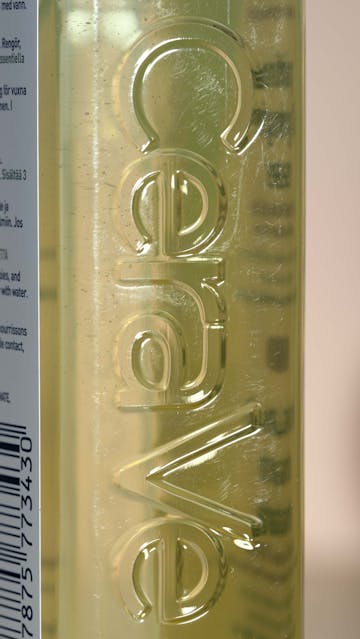 They have a whole range of cleansers, suited to different skin types and needs. CeraVe Hydrating Foaming Oil Cleanser is the latest one, but strangely enough, it hasn't launched (yet?) in the United States (I don't know why!). But it has been sold in Europe and Australia for several months already.
CeraVe Hydrating Foaming Oil Cleanser is a cleansing oil for the face and body, which is primarily intended for dry or very dry skin.
Its gel in oil texture, rather liquid, transforms on wet skin into a fine and delicate foam which leaves the skin clean and comfortable, without greasy residue.
No doubt, it is indeed a foaming cleanser, not a makeup removing oil. In fact, it can only remove super light makeup. If, like me, you wear a sunscreen every day plus a full makeup look with foundation and mascara/liner, you'll have to remove your makeup first with a proper makeup removing product, no doubt about it!
Formula-wise, it contains gentle cleansing ingredients, plenty of essential ceramides to preserve the skin barrier, squalane, hyaluronic acid and cholesterol, and its pH is neutral (so 7, which is a bit high for my preference, but it never stripped my skin; just goes to show that the formula is still queen 😉 )!
If you want more details on this pH thing, feel free to check out my detailed article on skin cleansing where I explain all this and more 😉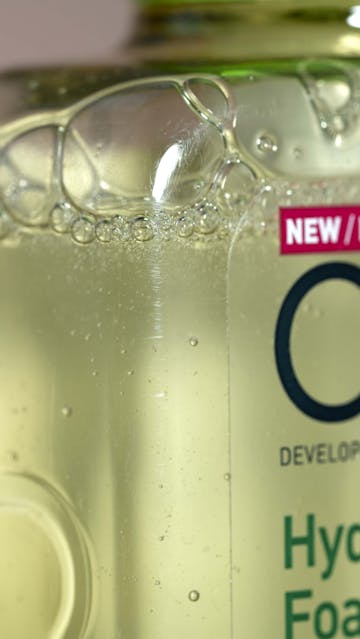 CeraVe Hydrating Foaming Oil Cleanser, my experience:
I purchased this cleanser very soon after its release, thinking it was a makeup removing oil. I must say that most of the English speaking influencers who were talking about it when it was launched suggested that it was this kind of product, and since the brand communication was not yet available, I just relied on what they said.
I was wrong! When I received my order and tried the product on my face, I immediately understood my mistake: it is a shower oil!
Well, if I'm more precise, it's a shower oil that also works very well as a facial cleanser, not just for the body!
And I have to admit that it's even very convenient, actually! Most shower oils I've tried are all very fragrant, which I don't mind for the body. But for the face, I prefer more subtle scents or no scent at all (you know me, it's not because I think scent is irritating for my skin, but rather because it's often too overpowering, and I don't find it pleasant on my face). And this one doesn't contain any fragrance, precisely 🙂
It has a fairly liquid texture, so you have to use a bit more of it, to be able to properly cleanse your face. But it gives a nice, fine lather when used on wet skin (which the brand advises to do). And it leaves my skin completely clean and very comfortable.
I used it a lot as a foaming face wash in the morning, or at night, after I removed my makeup.
Then, after a few months of use, I decided to leave the bottle in my shower, to use it on my body as well as on my face in the morning, when I'm in a rush!
But then, it made me want to repurchase my beloved CeraVe Hydrating Cream-to-Foam Cleanser that I use more in the evening, as a second cleanser after removing my makeup. I definitely prefer it to the Oil, because the texture is so pleasant and sensorial! Perfect for my evening cleansing ritual 😉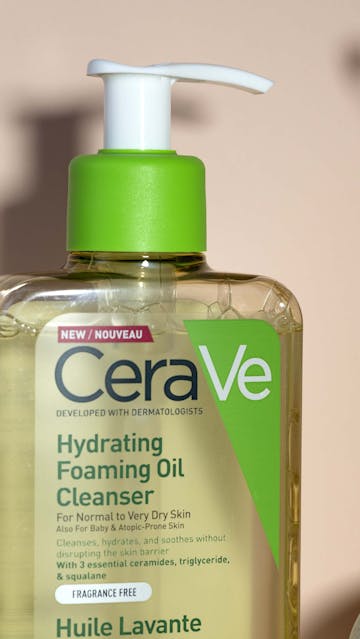 In conclusion:
Finally, despite my initial misunderstanding, I think that this CeraVe Hydrating Foaming Oil Cleanser is a good product to have in your shower! It does a great job, leaves the skin of both your face and body clean. All without being stripped and it's even suitable for very dry skin.
I'm thinking of buying a bigger bottle next time, probably next winter!
In short, it's another win from CeraVe! And as usual with them, it won't break the bank 🙂
The CeraVe Hydrating Foaming Oil Cleanser retails from $9 to $14 depending on its size (236 ml or 473 ml) and the retailers.
Product Review in detail
Summary
CeraVe Hydrating Foaming Oil Cleanser
"Developed with dermatologists, CeraVe Hydrating Foaming Oil Cleanser gently cleanses and replenishes the skin's moisture levels for all day hydration. The ultra-mild foaming texture provides a gentle approach to cleansing, without drying out the skin. The transformation of oil to foam when lathered on the skin effectively removes excess dirt and impurities, without stripping the skin barrier, an ideal squalane cleanser formula for those with dry or sensitive skin."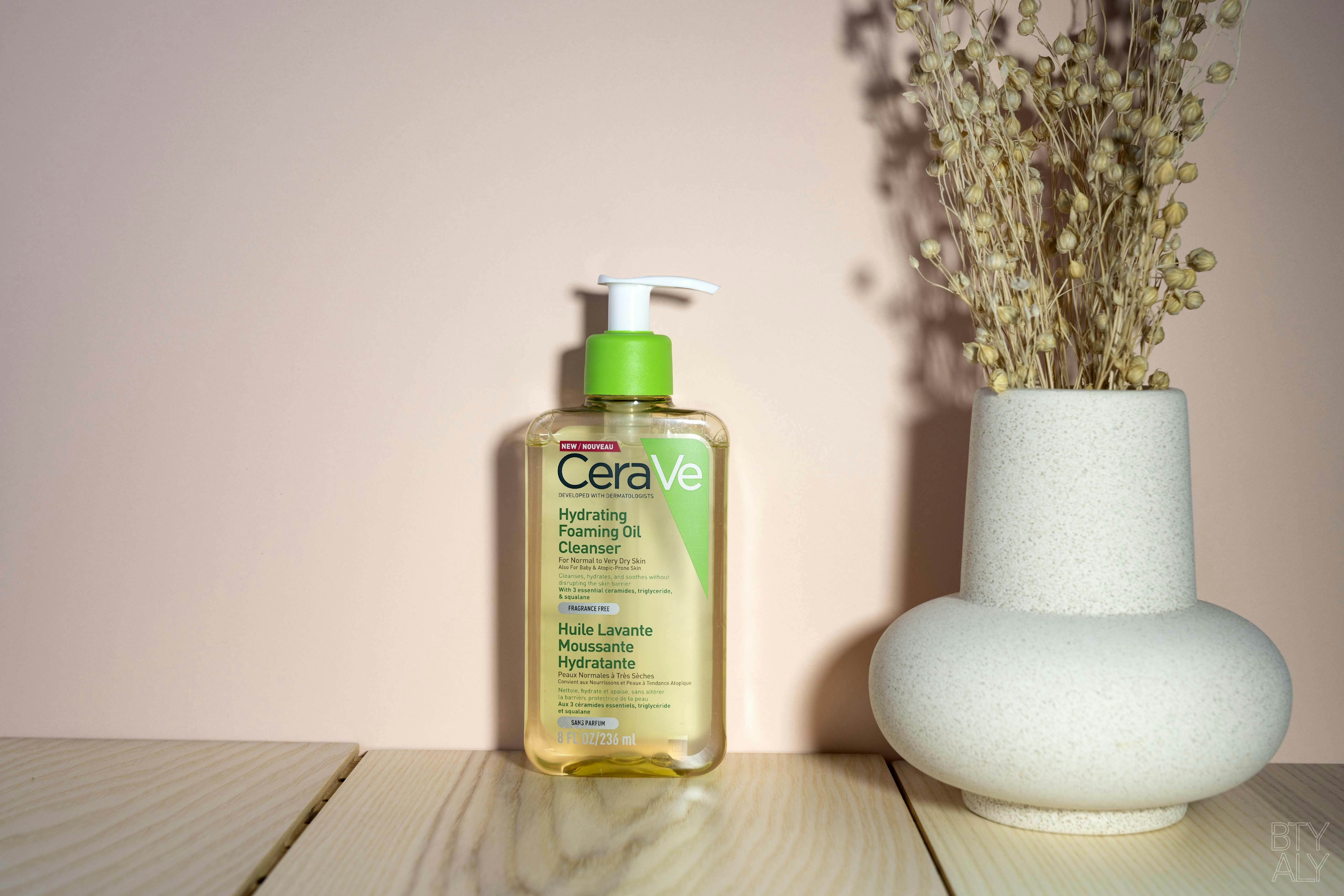 Recommendation
A-
It's a great shower product 😜
Pros
- its formula is great for the skin barrier, perfect for sensitive or sensitized skin,
- the formula is very soft, and doesn't sting my eyes,
- it leaves the skin clean, clear and comfortable,
- it's very easy to rinse, and leaves the skin fresh and with no residue,
- the price is decent, it's an affordable product.
Cons
- it's not a makeup removing oil at all 😆
- the product is unscented, and the formula doesn't smell sensational. Fortunately, it's not strong and doesn't linger.
- the texture is quite liquid at first, you can tend to use too much to compensate and it's unnecessary,
- despite what the brand says, it's not a product that I would recommend for removing makeup. I much prefer my makeup removing oil or balm for that (I wear a lot of makeup and apply sunscreen every day, so this product just doesn't cut it).
- it's currently not available outside Europe.
product name
Hydrating Foaming Oil Cleanser
packaging
A transparent and bright green rectangular bottle, with a pump, very practical (and not very pretty, it has to be said 😅)
fragrance
It's fragrance-free (but you can smell the ingredients and it's not great, but fortunately, the smell doesn't last)
texture
Quite liquid at first; it's a kind of gel in oil that produces a fine foam, and rinses off perfectly, without leaving any greasy residue.
For Who
All skin types, all ages.
Concerns
To cleanse the skin (used as a second step cleanser, after makeup removal). Great for sensitive skin!
Method
I use the CeraVe Hydrating Foaming Oil Cleanser in the morning at the very beginning of my skincare routine and in the evening after I removed my makeup with my cleansing oil or balm.
I take one or two pumps of product and apply it to my face and neck, on wet skin. Its liquid gel texture turns into a fine foam. For one minute (or 30 seconds if my skin is a little sensitized), I gently massage it with my fingertips on my face and neck, avoiding the eye area.
After one minute, I rinse it with tepid water.
Key Ingredients
It's a pretty conventional formula (it's a drugstore brand after all) but that doesn't stop it from being packed with good skin barrier ingredients!
These include:
– ceramides and cholesterol to maintain the integrity of the skin barrier,
– hydrating glycerin,
– squalane, a natural oil similar to the skin's sebum,
– and hydrating hyaluronic acid.
Ingredients
Aqua/​Water, Glycerin, PEG-200 Hydrogenated Glyceryl Palmate, Coco-Betaine, Disodium Cocoyl Glutamate, PEG-120 Methyl Glucose Dioleate, Polysorbate 20, PEG-7 Glyceryl Cocoate, PEG-150 Pentaerythrityl Tetrastearate, PPG-5-Ceteth-20, PEG-6 Caprylic/​Capric Glycerides, Squalane, Ceramide NP, Ceramide AP, Ceramide EOP, Carbomer, Triethyl Citrate, Sodium Chloride, Sodium Hydroxide, Sodium Cocoyl Glutamate, Sodium Lauroyl Lactylate, Sodium Hyaluronate, Cholesterol, Citric Acid, Capryloyl Glycine, Hydroxyacetophenone, Caprylyl Glycol, Caprylic/​Capric Triglyceride, Trisodium Ethylenediamine Disuccinate, Phytosphingosine, Xanthan Gum, Benzoic Acid.
Ingredients not included
– alcohol,
– mineral oil,
– silicone,
– SLS,
– soap,
– fragrance,
– essential oils,
– dye.