Intro
Disclosure:
We, or the author, purchased this item.
We have an affiliation system in place with the brand / company.
We may receive commission (from a sale) if you click on and purchase from affiliate link(s) below. You'll be helping to support the magazine.
My thoughts and test of the super soft Paula's Choice Skin Recovery Softening Cream Cleanser.
In the "gentle cleanser that cleans without stripping but still cleans properly" category, I request the Paula's Choice Skin Recovery Softening Cream Cleanser! And boy, isn't this one a winner!!!
I feel like I don't talk about Paula's Choice that much anymore around here… But if you thought it's because I used their products less, think again!
The truth is, I always have at least two or three (if not more!) Paula's Choice products in my routine, which I constantly repurchase. But since I've already reviewed them, I don't really repeat myself here.
But no matter what time of the year it is, you can be sure that I use at least their vitamin C serum, the niacinamide serum, the azelaic acid booster and probably one of their exfoliants on occasion as well, if not my favorite moisturizer, the Omega+ Complex Moisturizer which I especially love during winter!
I think that if I were forced to use only one brand for the rest of my life, I would probably choose Paula's Choice and I wouldn't even be so mad about it! (by the way, I don't mention it very often, but did you read my interview with Paula Begoun, the founder of the brand? I'm very proud of it, she's such a fascinating person, a real legend in the skincare industry!).
Anyway, after this declaration of unconditional love to the brand in general, let's talk about the Paula's Choice cleansers!
I had the opportunity to test a few of them already (which I mentioned in this article on how to properly cleanse your skin) and the Skin Recovery Softening Cream Cleanser had been on my wish-list for a while!
I've been waiting to finish up a few of my current face cleansers and took advantage of a Black Friday discount to finally treat myself. And, I'll tell you more below, it arrived exactly at the right time!
I'll introduce it to you in detail 🙂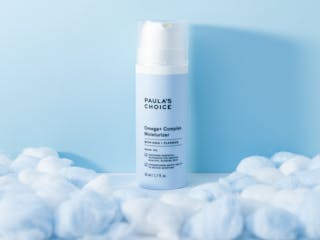 Skincare
Review: Paula's Choice Omega+ Complex Moisturizer
The Paula's Choice Omega + Complex Moisturizer is really close to perfection… Almost from the very first time I applied it, I knew it was going to be one of my favourite winter products!
Read more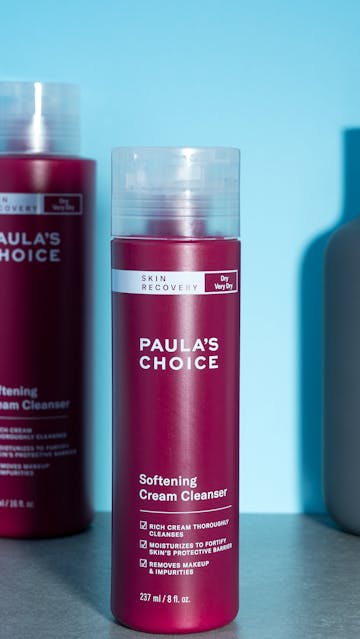 Paula's Choice Skin Recovery Softening Cream Cleanser, product presentation:
Paula's Choice Skin Recovery Softening Cream Cleanser is clearly aimed at dry, very dehydrated, sensitive or sensitized skin and also mature skin (the packaging is burgundy, that says it all 😜).
I've talked about this many times, I now swear by cream or milk cleansers in the morning.
I love them as gentle cleansers when I wake up, but not necessarily for removing my makeup (in general, cleansing milks aren't super effective at removing the long-wearing makeup and sunscreens I use every day unless I really rub them, which is a bit counterproductive, really).
I have to say that my skin has changed in the last few years. It's drier than before and as soon as I feel a bit under the weather, it gets irritated (that's what getting old does for you!).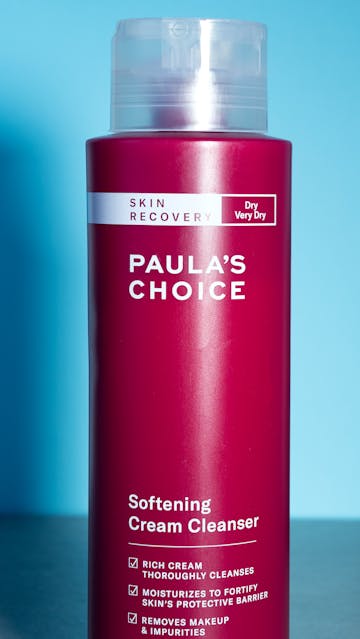 And that's exactly what happened to me last month. I got the flu and my skin started to fall apart around my nose from blowing my nose 150 times a day!
Cleaning was the most 'dangerous' part of the routine! In this case, even using water can be painful…
So the gentlest cleanser possible is a must-have for these situations! But… it still has to clean. I still have in mind the epic fail of La Roche Posay Toleriane cleansing milk (review here), very gentle indeed but it didn't leave my skin clean at all 🙁
So hey, I know the brand Paula's Choice quite well and I know that cleansers that don't cleanse is not their style. With them, the cleansing step is always effective!
The Skin Recovery Softening Cream Cleanser's formula is really focused on gentleness with super soft, rather emollient cleansing ingredients so the skin still feels very comfortable afterwards!
There are just a few active ingredients in the formula: soothing chamomile and moisturizing beta-glucan.
Its texture is a kind of creamy milk that you're supposed to apply with your fingertips on wet skin, massage it delicately and remove it by rinsing with water.
It can be used on the face, the neck and the contour of the eyes.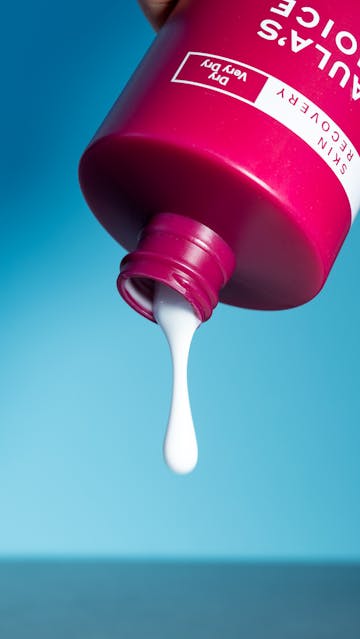 Paula's Choice Skin Recovery Softening Cream Cleanser, my experience:
I won't ramble on (too much), I love this product!
The Skin Recovery Softening Cream Cleanser manages to be super gentle on my sensitized skin but still leaving it completely clean and comfortable.
The texture is super pleasing, a true melting cream that is easy to massage into the skin without stickiness and also rinses off quickly without any trouble.
This cleanser checks off all my gentle morning cleanser boxes. And yes, even when my skin was in shambles last week, it didn't feel harsh at all, and that's a major achievement!
If I had to criticize it (a little), I would probably mention its smell and its packaging.
In true Paula's Choice fashion, there is no added fragrance in the formula and it's true that the scent of the product is not the best, but you can hardly smell it when you use it, so it's fine! Regarding the sensoriality of this cleanser, you still get some with the pleasant and melting texture, so it's definitely not a frustrating product to use!
The packaging is also not the best. I would have preferred a pump!
It's also not the cheapest cleanser in my collection, I admit it, but very good point, it comes in a big economical size, and since you only need little for your face and neck, it lasts a long time!
In short, another success for Paula! What do you want me to say, it's an excellent brand 😀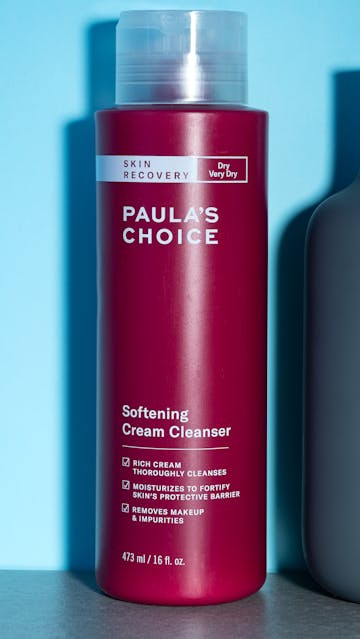 In conclusion:
Do I really need to say more? 😉
I'm a fan of this product, and even though I know it's a little more expensive than my average face cleanser, I still find that it's worth it knowing that I enjoy using it and that it feels good on my sensitized skin!
The Paula's Choice Skin Recovery Softening Cream Cleanser retails between $18 to $26 for 273ml or 473ml.
Product Review in detail
Summary
Paula's Choice Skin Recovery Softening Cream Cleanser
"This skin-softening cream cleanser gently removes makeup without stripping skin of essential moisture. Hydrating ingredients replenish skin to keep a dewy beautiful glow.
- Preserves skin's moisture content
- Cushions and softens skin
- Creamy smooth formula glides over skin
- Use as the first step in your AM/PM skincare routine"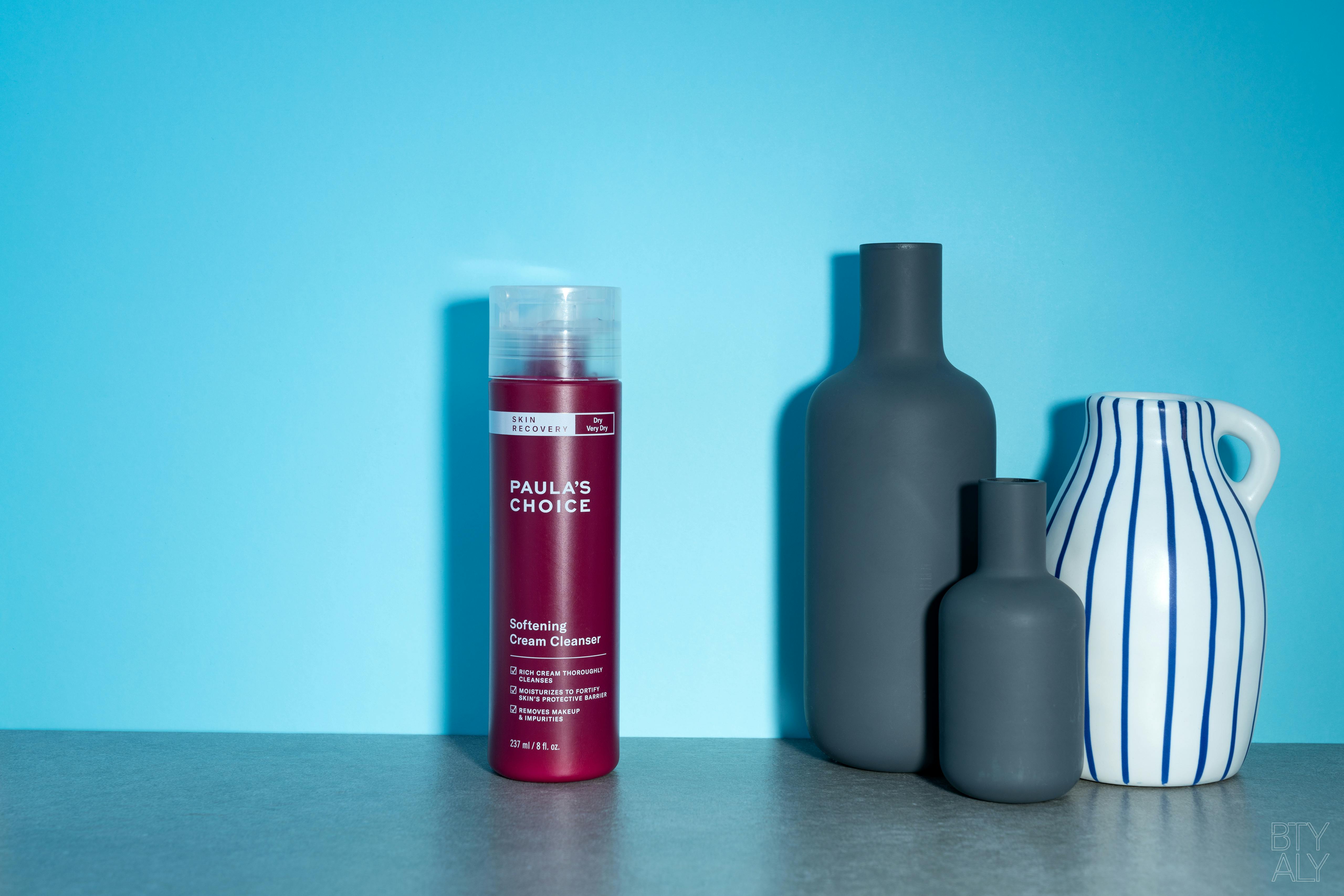 Pros
- it's a very gentle formula, and really suitable for dry, sensitive or intolerant skin,
- it doesn't contain any harsh cleansing ingredients, but it still cleanses the skin properly,
- it doesn't contain fragrance, good point for the skin sensitive to it,
- I love its melting cream texture. It feels very pleasant on the skin, and it's easy to massage,
- it rinses easily and leaves the skin perfectly clean and comfortable.
Cons
- I would have preferred a packaging with a pump, I'm not a fan of the dispenser cap,
- the scent of the product (it's fragrance-free) is not incredible but fortunately, the formula does not have a strong smell.
product name
Skin Recovery Softening Cream Cleanser
brand name
Paula's Choice
packaging
A squeezable burgundy plastic bottle and a cap that opens by pressure to deliver the product.
fragrance
Fragrance-free (you can still smell the formula but it's not a strong scent at all).
texture
A milky-creamy texture, quite smooth and easy to massage. Very pleasant!
For Who
– sensitive or sensitized skin,
– intolerant skin,
– dry or dehydrated skin.
Concerns
– irritated or sensitive skin that wants a cleanser as gentle as possible.
Method
I use the Skin Recovery Softening Cream Cleanser in the morning at the very beginning of my skincare routine (you can use it morning and evening if you want).
I take a dab of product and apply it to my face and neck, on my dry skin. I then gently massage it with my fingertips on my face and neck for a minute.
I finish by simply rinsing with warm water. You can also use a wet cloth to remove it, but I'm not a fan of this technique either, which I find a bit too "stripping" for my taste. And it's very easy to rinse with just water, so there's really no need anyway.
I then pat my skin dry and continue with the rest of my morning routine 🙂
Theoretically, it can also be used as a makeup remover milk, but I find it less effective than my usual makeup removing oils or balms. I guess if you only wear light makeup (which is rarely my case), it can work!
Key Ingredients
The formula is quite simple, with relatively few active ingredients, only some soothing chamomile and moisturizing beta-glucan.
The rest is composed of gentle cleansing/surfactant ingredients.
Ingredients
Water (Aqua), Hydrogenated Polydecene, C12-15 Alkyl Benzoate, Glycine Soja (Soybean) Oil, Disodium Cocoamphodiacetate, Polysorbate 80, Acrylates/C10-30 Alkyl Acrylate Crosspolymer, Laureth-4, Cocamidopropyl Betaine, Chamomilla Recutita (Matricaria) Flower Extract, Beta-Glucan, Mineral Oil (Paraffinum Liquidum), PEG-7 Glyceryl Cocoate, Butylene Glycol, Disodium EDTA, Sodium Hydroxide, Hexylene Glycol, Caprylyl Glycol, Ethylhexylglycerin, Phenoxyethanol, Chlorphenesin.
Ingredients not included
– alcohol,
– silicone,
– soap,
– fragrance,
– essential oils,
– dyes.