Intro
My review of the moisturizer Pink Cloud Rosewater Moisture Creme, from the "Clean Beauty" American brand Herbivore Botanicals. In this article, I also talk about the brand's "non-toxic" communication and their questionable choice regarding the preservation of their products.
This review of the Herbivore Botanicals Pink Cloud Rosewater Moisture Creme moisturizer wasn't easy to write, to say the least…  
Herbivore Botanicals is one of those American skincare brands that has been on the rise in recent years.

It's absolutely everywhere on social media, especially on Instagram.

Looking at it from the outside, it ticks all the boxes of the perfect "Insta-brand":
– a simple and very "millennial-friendly" aesthetic (not original at all, but it definitely looks pretty),
– "clean" and "non-toxic" formulas, with trendy ingredients such as CBD for example,
– a concept that highlights the "self-care" trend we see everywhere right now,
– trendy accessories with rock crystals that look so pretty on Instagram pics…

In short, this skincare brand is everything millennials love at the moment!

In general, these types of brands are not necessarily my cup of tea (maybe because I'm not a Millenial 😉 ), but after reading so many raving reviews about their products, I thought maybe I should give them a chance.

So I took advantage of Black Friday promotions at the end of last year to order several products to try.

I was especially intrigued by their moisturizing cream, the Pink Cloud Rosewater Moisture Creme.

A moisturizer with a "clean" formula is not easy to formulate. You can find more and more of these recently, but from experience, the textures aren't the nicest and especially when you have combo skin like me, it's rare to find lightweight ones.

So clearly, the promise of a cloud texture was really appealing. And if it's pink (Pink Cloud), it's impossible to resist!

I had no idea that this Pink Cloud wasn't entirely rosy.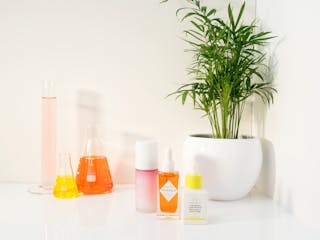 Skincare
IS THE "NON-TOXIC" COSMETICS TREND IRRELEVANT?
Today, let's talk about cosmetics' vocabulary, marketing, and legislation. No, don't go! I swear it's not as boring as it sounds!
Read more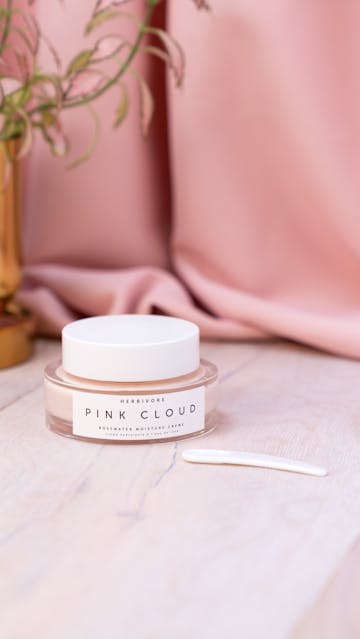 Herbivore Botanicals:
Herbivore Botanicals is an American skincare brand, founded by Julia Wills and Alexander Kummerow in 2011 in Seattle.
In their own words, Herbivore is a "safe, non-toxic, and highly effective" brand. They're also very proud to include natural ingredients and avoid "synthetic ingredients", "fillers" and "chemicals" in their formulas (all this is on the "About Us" page of their website).
If you read my article on the "non-toxic" trend or subscribe to my personal Instagram, you already know that this type of communication is definitely not my favorite…
I explained it in detail in this article, but for me, speaking of "non-toxic" cosmetics, without "chemicals" is completely abusive (do I have to remind these people that everything on this Earth is a chemical, even the water we drink and the air we breathe?).
This 'non-toxic' moniker is generally used as a marketing argument that increases consumers' anxiety and aims to confuse them by playing on their fears.
In short, not the kind of brand I usually want to support.
But as I said earlier, Herbivore products' reviews are so positive that I thought I could go beyond that, remain neutral and test the product in a fair way, without taking into account the questionable concept of the brand.
But as you will see, even if I was full of good intentions, this test was a little bit more complicated than I thought!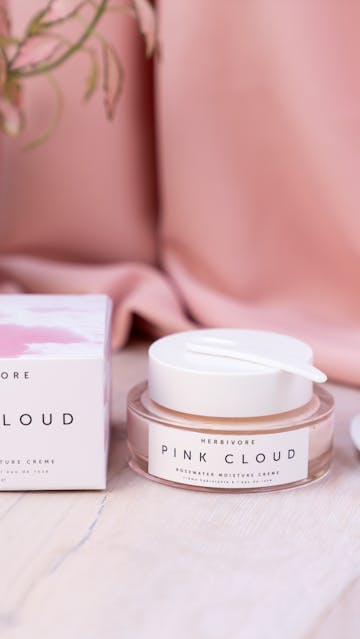 Product presentation: Herbivore Botanicals Pink Cloud Rosewater Moisture Creme
The brand describes Pink Cloud as the "perfect moisturizer", which deeply hydrates the skin without being greasy and is also ideal as a makeup primer.
More prosaically, I would say that it does the job, which is to moisturize and protect the skin, and its texture is neither too thick nor too light, and it's also suitable for all skin types and all ages.
As announced, it contains many natural ingredients in its formula, with many interesting skincare ingredients: rose oil and water, aloe vera, white tea extract, Kukui oil, rice extract, natural hyaluronic acid…
It's not an anti-aging cream, rather a moisturizer, but I already explained it several times in my reviews of similar products, it's not something that bothers me. I prefer to use anti-aging serums and/or essences because, thanks to their texture and high concentration of active ingredients, they can treat my skin more deeply and I can then use a simple moisturizing cream, which will protect my skin on the surface.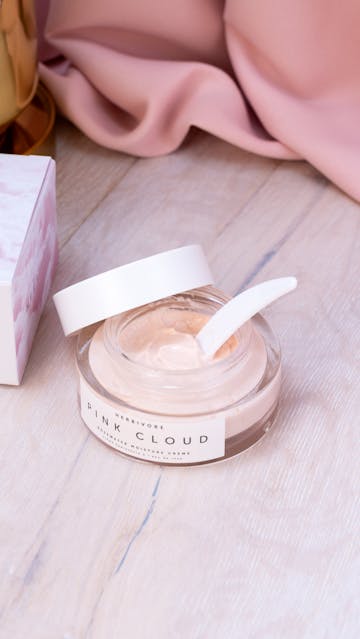 The formula of the Pink Cloud cream is therefore very natural, as described by the brand, but when I looked at the ingredients more closely, something bothered me.
I didn't find any "conventional" preservatives (such as parabens, phenoxyethanol, EDTA, etc.) or even preservatives often used for natural cosmetics (benzoic acid, benzyl alcohol, salicylic acid, sorbic acid, dehydroacetic acid).
Instead, there are ingredients such as sodium phytate or sodium anisate, and also alcohol, which diminish microbial growth, but in a rather more limited way.
I don't think it would have bothered me as much if the packaging of this cream provided more protective for the formula. But this is not the case with Pink Cloud.
It's just a conventional jar that doesn't protect the formula from oxidation from the air or bacteria exposure. No "air-less" or sterile packaging as you can see more and more in organic cosmetics.
Another disturbing detail is that the brand doesn't mention a product use-by date or a manufacturing date on their packaging. Only a lot number.
I know it's not illegal to do this. Indeed, providing use by dates is not mandatory, but I find that for a natural brand, which also decides to use few preservatives because they find them to be "toxic" ingredients (insert the rolling eyes emoji here), the least they can do is help their consumers determine whether the product they use is fresh or not.
I started to wonder, when I got the impression, several weeks ago, that the texture of the product had changed…
How could I be sure that my Pink Cloud cream was fresh and still effective?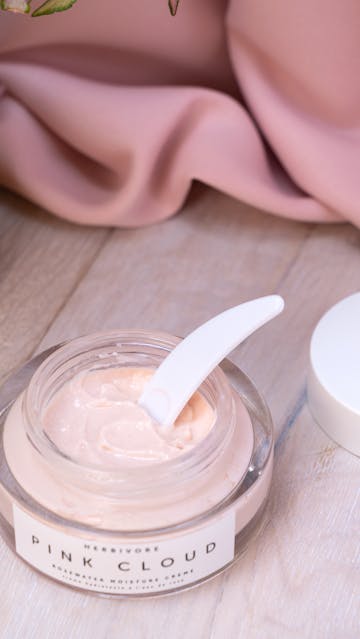 So I contacted the brand and what I discovered really scared me…
I have to give it to them, the brand is easily accessible and they answer all questions really quickly, whether you contact them by email or directly via social media.
I asked them how long their products remained "fresh" and effective after their manufacturing date.
As a general rule, an equivalent cosmetic product using conventional preservatives can be used between 24 and 30 months after its manufacturing date. This period of time is indeed necessary, especially if you consider the delivery of the finished product to the distributor and the time for them to then sell it to the final consumer.
However, at Herbivore, a product remains "fresh" and effective only 12 to 18 months after its date of manufacture.
It's very, very short.
When they told me that, I immediately thought of the fact that the brand was distributed to major distributors (Sephora, Space NK…) which are very large companies, with sometimes thousands of stores and huge warehouses.
I couldn't help but think of a recent interview I read with the founder of the natural brand May Lindstrom. In a very interesting interview (if you are interested in natural products, really, go give it a read, it was eye-opening on so many levels!), she explained that she chose to withdraw from several of her big distributors because she couldn't guarantee that the products they sold to their customers were fresh and that it was a very big ethical problem for her.
May Lindstrom has a similar approach to Herbivore Botanicals, with products that also have a very short shelf life, but unlike them, she mentions both a manufacturing date and a limit of use for each of her products on the packaging.
Even with this transparency towards her consumers, she decided to make the choice to be 100% faithful to her own values and to follow through with this ethical approach, even if she had to lose money. She therefore broke off relations with any trading partners who could not guarantee that stocks were renewed, ensuring that the products sold there were always fresh and fit for consumption for end consumers.
Having worked in the cosmetics field for years, I know that stock rotation requires a huge logistical investment, even with products that have a fairly long shelf life.
I also had the opportunity to discuss this topic with people who run online shops and clearly, making sure that the products they sell to their customers are fresh is one of their biggest concerns.
When I asked Herbivore about it for their big distributors, they assured me that they were working closely with them to ensure that the products sold there were fresh and effective for customers.
But, just a few days ago, Sephora Canada announced that Pink Cloud was recalled from their stores due to mould contamination.
You can draw your own conclusions but personally, I stopped using my Pink Cloud cream.
I won't be repurchasing until the brand decides to include worthy preservatives in its list of ingredients or a packaging that protects the formula properly, and if they could mention a use-by date on their products, it would be great too.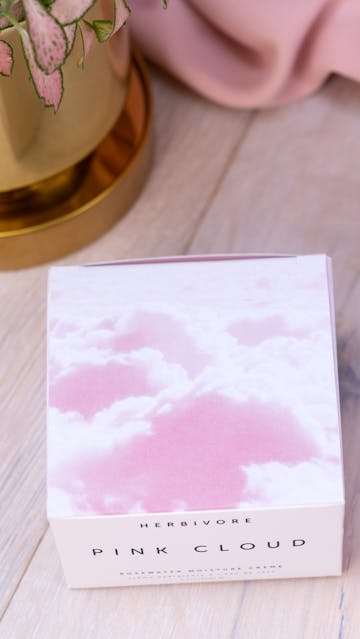 My experience:
*Warning, traces of irony may be found in this review (but I guarantee it's 100% mold-free). *
Before I knew that my cream could potentially become a moldy summer camp, I used Pink Cloud cream for more than 2 months, as my day moisturizer.
It's a good moisturizer, it does the job, which is to moisturize my skin without being greasy.
The texture is pleasant, soft and it absorbs quickly into the skin, which is a little bit scary when you know that bacteria can develop in its formula.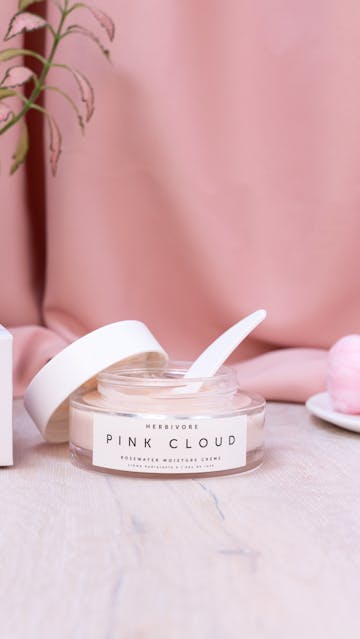 Result:
With this cream, my skin feels very comfortable and this feeling lasts all day.
It doesn't really have a mattifying effect, so I tend to be a little bit shiny with it during the day, but nothing crazy.
It didn't trigger a skin infection, but apparently, if I waited a few more months, it would have been difficult to avoid it!
Value for money:
If the formula didn't have the potential to become a large swimming-pool for bacteria, the value for money isn't so bad.
I find that the packaging itself is very aesthetic and sleek, hey the fact that it doesn't protect the formula properly is very secondary after all, as long as it looks good on the Gram!
Pink Cloud cream retails $48 for 50ml.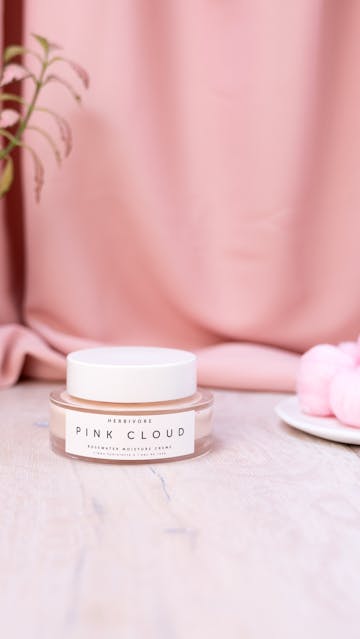 In summary:
As you probably understood, it's very difficult for me to do a normal review of this product and even more to recommend it to you!
I can totally understand the brand's desire to remain true to its values and avoid certain ingredients that they consider problematic (according to their own criteria). But in this case, I would appreciate it if they could follow through: at least offer packaging that would make it possible to, as they do, use fewer preservatives. This should provide more of a guarantee it is safe to use for its customers.
It also seems essential to me to mention a use-by date with a product that has such a shorter shelf life than the average. This fact alone seems to merit warning customers.
And for a natural brand, the choice of its business partners is also extremely important. Of course, working with huge distributors provides high visibility and attractive benefits. But if in turn, they cannot guarantee and track the sale of fresh and safe products, it becomes extremely problematic.
Herbivore Botanicals Pink Cloud Rosewater Moisture Creme retails for $48 for 50ml.
Product Review in detail
Summary
Herbivore Botanicals Pink Cloud Rosewater Moisture Creme
"Finally, the perfect moisturizer. Pink Cloud hydrates, visibly plumps, and smooths skin leaving it with a glowing + slightly dewy finish. Includes Rosewater, Aloe Water, and White Tea Extract to moisturize, soothe and reduce the appearance of redness. Formulated for all skin types -- never greasy, oily, or sticky. Perfect under makeup or worn alone to let your skin breathe."
Recommendation
D
I can't recommend this product in its current formula.
Pros
- at first glance, the formula is great: many natural and great skincare ingredients in a high concentration,
- a nice and very chic packaging (it's also very "Instagram-friendly"),
- the long-lasting moisturizing effect,
- the texture is pleasant, creamy but non-greasy,
- the cream smells good, it is pleasant to use,
- Herbivore is very accessible as a brand and they answered my (many) questions pretty quickly.
Cons
- the lack of conventional preservatives in the formula. I know it's a biased approach for the brand, but personally, I'm uncomfortable with the idea of using a product that can easily be contaminated by mould,
- the packaging doesn't help to preserve the product better; it's a non-air-less jar, therefore exposed to air and bacteria,
- the brand doesn't mention the manufacturing date nor the expiry date of the product on the packaging, you have to contact them to find out if you can still use your product (and it is not very practical or really transparent of them, in my opinion),
- the shelf life of the product is very short: 12 to 18 months, which makes me wonder a lot about the real freshness of the products you buy from the brand's big distributors...
product name
Pink Cloud Rosewater Moisture Creme
packaging
A very pretty and simple glass jar (on the other hand, it doesn't really help to protect the formula, which is a shame because it doesn't contain a lot of preservatives).
fragrance
A fresh, light and pleasant natural scent.
texture
I expected a whipped cream texture given the name of the product but it's a classic cream texture, nevertheless very pleasant, and not greasy.
For Who
All skin types, all ages.
Concerns
– dehydrated skin,
– dry skin,
– discomfort,
– sensitized skins,
– dull skin.
Method
I use it more often in the morning but you can use it morning and/or evening.
I take the equivalent of a pea size of cream using the spatula provided with it, and I apply it on my face and neck at the end of my routine, after my serums.
I wait for a few minutes and then apply my sunscreen.
Key Ingredients
The formula is very appealing at first sight, with many natural ingredients of interest to the skin, such as:
– antioxidant ingredients: white tea leaf extract (Camellia Sinensis Leaf Extract), rosemary leaf extract (Rosmarinus Officinalis Leaf Extract), rose oil (Rosa Damascena Flower Oil)
– moisturizing ingredients: natural low molecular weight hyaluronic acid (Sodium Hyaluronate), glycerin, sunflower oil (Helianthus Annuus Seed Oil), coconut extract (Cocos Nucifera Extract), shea butter (Butyrospermum Parkii Nut Butter),
– soothing ingredients: aloe vera (Aloe Barbadensis Leaf Juice), Kukui nut oil (Aleurites Moluccana Nut Oil), rose water (Rosa Damascena Flower Water),
– vitamin C (Ascorbic Acid), which is anti-oxidant and gives the skin a glow,
– rice extract to boost the complexion's radiance and softening effect.
But I must admit that I'm a little disappointed by the lack of effective preservatives in the formula, which makes me doubt the stability of the cream in the medium term.
Indeed, the preservatives it contains (Sodium Phytate, Sodium Anisate, Alcohol) don't extend the product being stable for a long time.
Ingredients
Aloe Barbadensis (Aloe Vera) Leaf Juice, Helianthus Annuus (Sunflower) Seed Oil*, Sodium Hyaluronate*, Diheptyl Succinate*, Capryloyl Glycerin/​Sebacic Acid Copolymer*, Glyceryl Stearate Citrate*, Cetearyl Alcohol*, Populus Tremuloides (Aspen) Bark Extract*, Rosa Damascena (Rose) Flower Water*, Aleurites Moluccana (Kukui) Nut Oil*, Glycerin*, Cetyl Palmitate*, Undecylenic Glycerides, Cocos Nucifera (Coconut) Extract, Oryza Sativa (Rice) Seed Extract, Camellia Sinensis (White Tea) Leaf Extract, Butyrospermum Parkii (Shea) Nut Butter, Propanediol, Myrothamnus Flabellifolia Extract, Ascorbic Acid, Eclipta Prostrata Extract, Melia Azadirachta Leaf Extract, Moringa Pterygosperma Seed Oil, Rosmarinus Officinalis (Rosemary) Leaf Extract, Rosa Damascena (Rose) Flower Oil, Sodium Phytate, Sodium Anisate, Glyceryl Caprylate, Xanthan Gum, Alcohol, Citric Acid.
*: Certified Organic
Ingredients not included
– parabens,
– phenoxyethanol,
– sodium laurel sulfate,
– phthalates,
– silicones,
– mineral oils,
– synthetic perfume,
– synthetic dye.